[Please read the entire blog, including the editor's comments at the end, regarding the flooding threat. First, intern "applican" Jon lays out the next few days for us:]
Summary
After a brief drying period, rain has arrived and will continue through Saturday night. A flash flood watch is in effect for the entire Middle Tennessee region including Davidson and Williamson counties from tonight until Saturday evening as the potential exists for an additional 2- 4 inches of rain, with locally higher amounts where storms tend to "train" or sit over an area dumping rain. The concern for flooding is big. Another issue that we may have to deal with is a potential severe storms Saturday afternoon. More on this later. A cold front sweeping through Sunday will bring a much needed end to the rain with temperatures remaining right around normal or just a couple degrees above.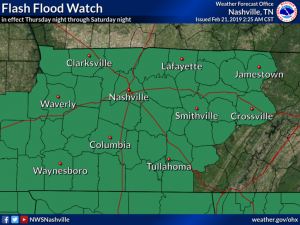 This Evening into Tonight
Rain showers pushing into our counties will continue to increase in coverage and intensity as we head into the evening commute. Light rain will continue through the overnight hours with rainfall amounts near 0.5 inches, with the highest amounts to the south and west of the Nashville metro area. Temperatures should drop to 43° in Nashville. Here's the NAM 3km's take on the rain tonight….through 6 am tomorrow.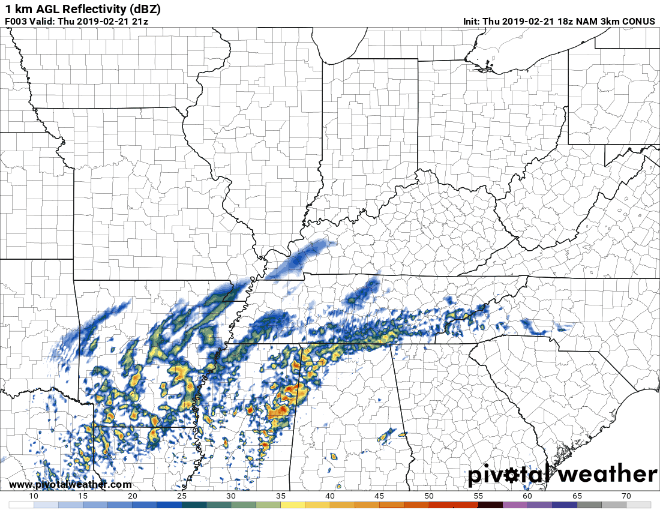 Friday and Friday Night
Periods of rain will continue throughout the period with additional rainfall amounts of 1.5 inches in the forecast for Friday. High temperatures will range from 50 – 54 with the warmest readings in downtown Nashville. A warm front will start to lift through the area Friday night bringing milder temperatures into Saturday.
Saturday
We are tracking a possible severe weather setup during the day as a very warm and moist air-mass moves through the area out ahead of a deepening low pressure system set to track northeastward into the Great Lakes. The Storm Prediction Center has all of western Tennessee including Davidson and Williamson counties in an enhanced risk for severe storms Saturday with the primary threats being damaging winds in association with the possible development of a squall line. We will need to pay attention to this over the next couple of days. For folks heading out to the Dierk's Bentley concert at Bridgestone Arena, make sure to have an umbrella handy and pay attention to all watches and warnings that may be issued in case of severe storms.  Temperatures will be quite warm with highs surging well above normal with a forecast high of 69°. Winds from the south will make it feel even warmer at 10-20 mph gusting as high as 30 mph.
This is the latest 3K NAM model's take on Saturday's squall line from 3pm through midnight Saturday night/Sunday morning.
Sunday
A cold front will sweep through the area Saturday night bringing drier and pleasant conditions. Highs will fall back to near normal in the mid 50's. Winds will switch from the South and turn West at 10 – 15 mph gusting as high as 30 mph at times.
[Editor's Note about the flooding situation. First of all, thanks to Jon for writing!
This afternoon, our NWS put out their forecast discussion, which they issue a few times a day. Here is some of that discussion.
This isn`t a forecast discussion I write lightly. After yesterday`s widespread flooding across all of Middle TN, even with the 18 hour break in rainfall, the addition of even another 1 to 1.5 inches is going to create some major issues. The problem is, we`re now forecasting 1 to 3 inches of rain just through tomorrow afternoon and a total of 3 to 5 inches from tonight through Saturday night. The highest amounts are currently thought to fall across southwest portions of Middle TN, basically west of I-24 and south of I-40. While there were already swift water rescues yesterday, this amount of rainfall is likely to cause more of the same and probably even cause some people to be thinking about a plan to evacuate. This needs to be your focus prior tonight. If you live near a stream or a creek or a river that you know floods easily, you need to have a plan in place to evacuate and get to higher ground in the event waters begin to rise as this has the makings of a life-threatening situation. The main time of concern begins early tomorrow morning, runs right through most of the day tomorrow and probably won`t let up much, if at all, tomorrow night. While there is a severe weather threat Saturday evening across the mid-state, the focus right now needs to be the extreme amount of rainfall we`re expecting. Please don`t take this lightly. Have a plan in place now so you can evacuate to higher ground quickly, if need be.
That's pretty strong wording. Here's their forecast graphic created at 4:26 pm this afternoon. It depicts expected rainfall amounts through Saturday night.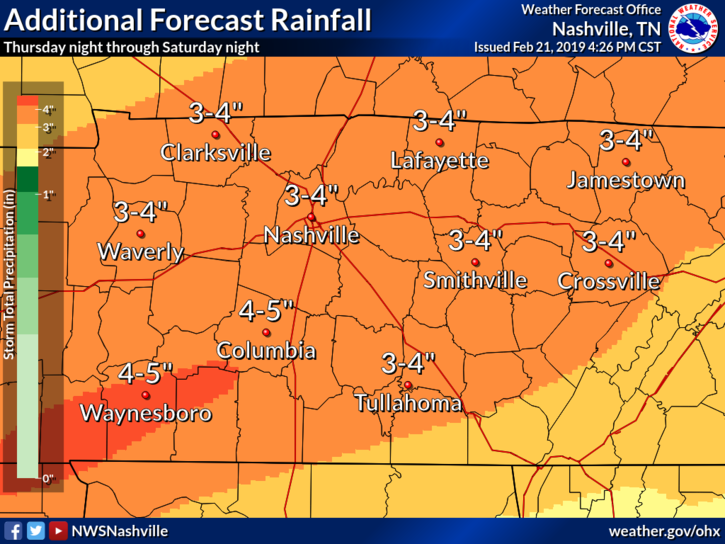 Will everyone receive the max accumulation listed on the map? Hopefully not, and we don't believe so. In fact, model data says: 
Model data range is insane. NAM3 only has 1″ to 1.5″ total through Saturday night. Euro model has 5″. The key will be where the biggest axis of rain will set up, and there is no model agreement on that. Someone in Middle TN is going to get hosed super bad.

— NashSevereWx (@NashSevereWx) February 21, 2019
I'll summarize with these main points. If you live near a flood prone area, have a plan in case you need to leave. Have a way to get warnings. If you've turned WEA alerts off on your phone, turn them on. Flash flood warnings come through on WEAs based on your location. Have a way to get warnings while you sleep. If you must drive, if you encounter water over a road, please don't drive through it. There's no way to know if the roadbed still exists, and there's no way to know how deep the water is.]