Summary
We've had Flash Flooding this morning. More rain, a bit lighter than what we saw this morning, is on the way this afternoon. It should end tonight. Thursday we will have have a short break from rain, with more rain approaching Thursday night and arriving Friday. Additional flooding possible Friday. Saturday will also be rainy, with potential for additional flooding and severe thunderstorms.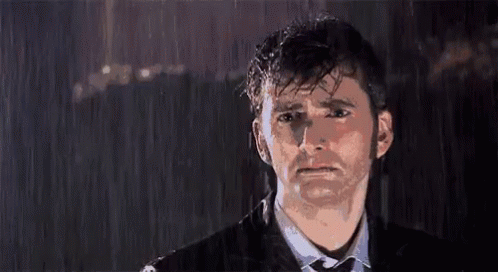 Today
A warm front arrived, sending our afternoon temps around 60°F.
However, the rain still lingers today, along with a Flash Flood Watch which is in effect through Thursday morning. As a write this, there is also a Flash Flood Warning which is in effect until 1:30pm this afternoon. Stay aware and do not attempt to cross any flooded roads!
Here is a current look at the watches and warnings in the area (red is the Flash Flood Warning).
The NAM model shows showers moving through the area until about 6pm, the heaviest rainfall passing this morning and slackening off during the afternoon hours. A thunderstorm or two can't be ruled out, but we are not expecting anything severe.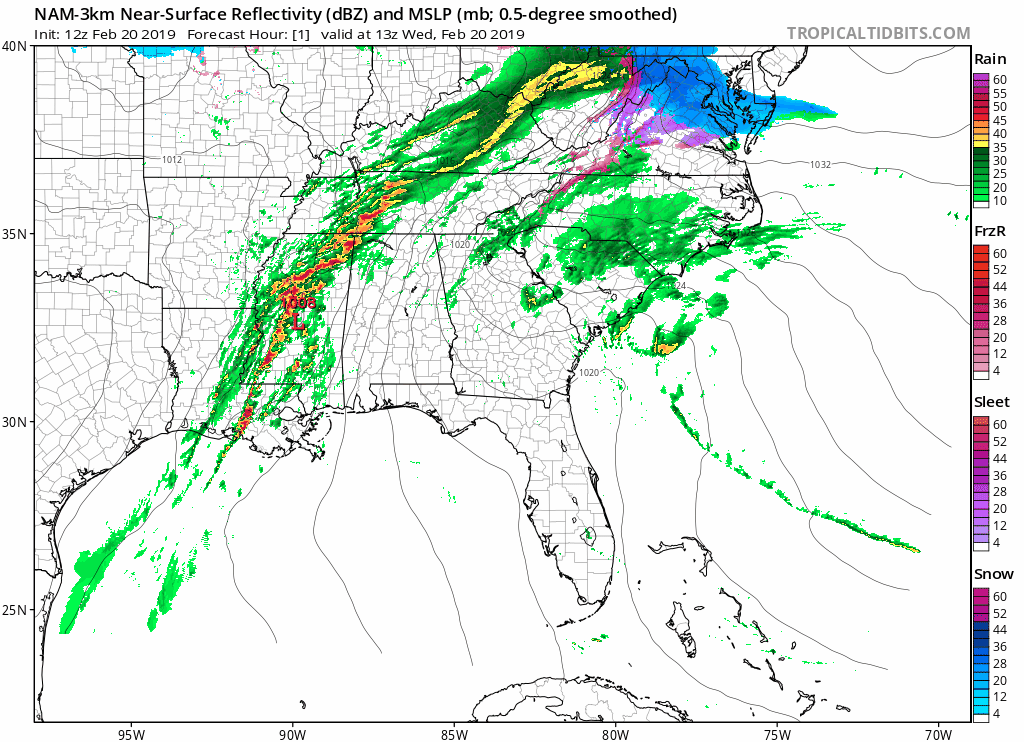 The HRRR model agrees. Rain should end early tonight.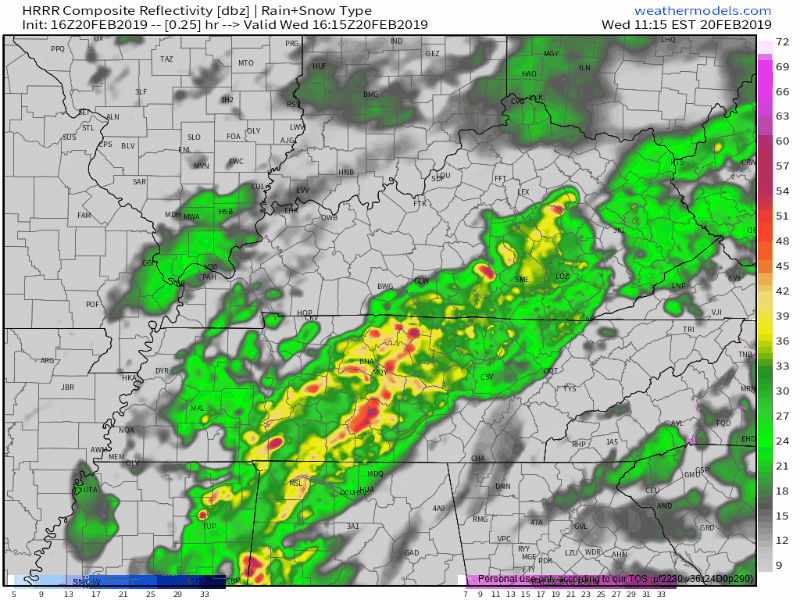 Thursday
We finally get a break in the rain- it's a small break, but nonetheless it is an opportunity to get some fresh air. The high temperature will reach the lower 50s today with partly cloudy skies and a light breeze.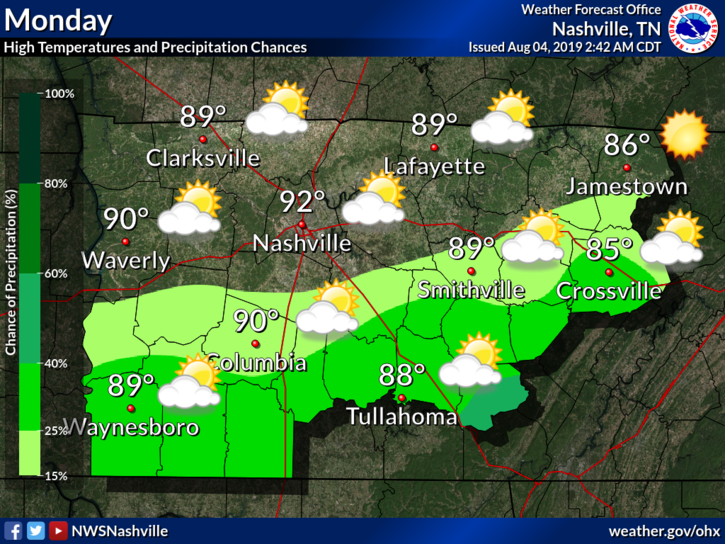 However, rain is expected to move back into the area Thursday night, kicking off our second round of heavy rainfall this week.
Friday
High temperatures are expected to reach the mid to upper 50s, but the rain is back and here to stay once again with the potential of a thunderstorm.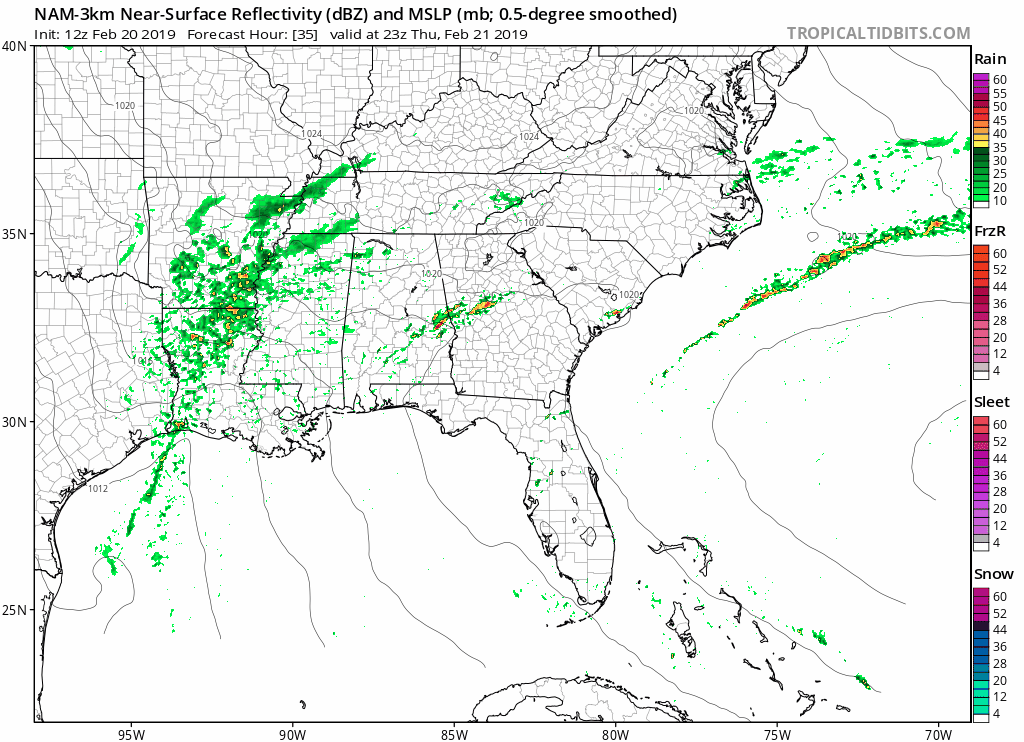 Another Flash Flood Watch will probably be needed for Friday and Saturday.
The Weekend
While our second round of rainfall is expected to last into the first half of the weekend, there is now the chance for severe weather. The Storm Prediction Center (SPC) still has a portion of the southeast in a 15% risk for severe thunderstorms Saturday, and we are included in that risk. Storm ETAs remains uncertain, but we will keep monitoring this potential severe threat.
SPC says that a "short wave impulse" and an "intensifying cyclonic mid-level jet" will lead to an environment that "may become conducive to the evolution of a significant organized mesoscale convective system, potentially accompanied by considerable damaging wind gusts." Heavy rainfall, damaging winds, and even a tornado cannot be ruled out as a squall line may sweep the area, so stay weather aware and check back for updates in the days to come.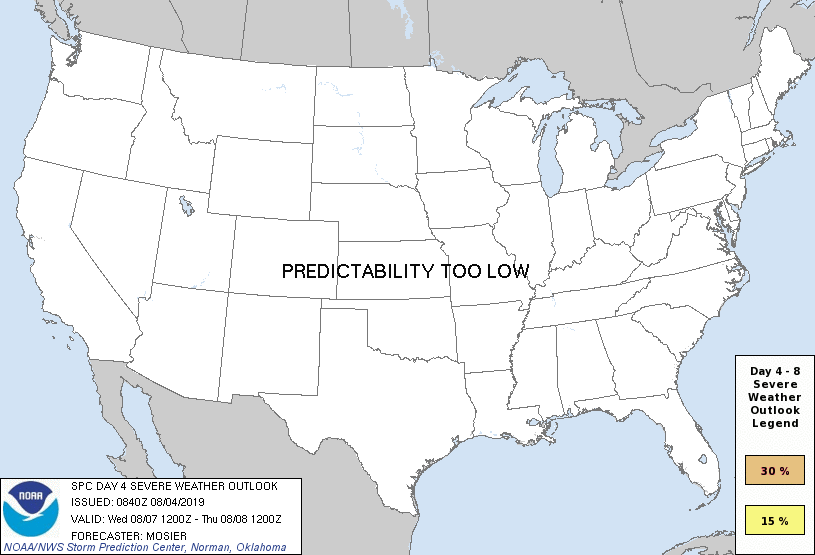 As for Sunday, the rain will move out of the area and the sun will hopefully/probably make an appearance, leaving for a nice day with a high temperature of 57°.
Between Thursday night and early Sunday morning, an additional 2-3 inches of rainfall is predicted, leaving for an overall total of 5-6 inches after the week is over.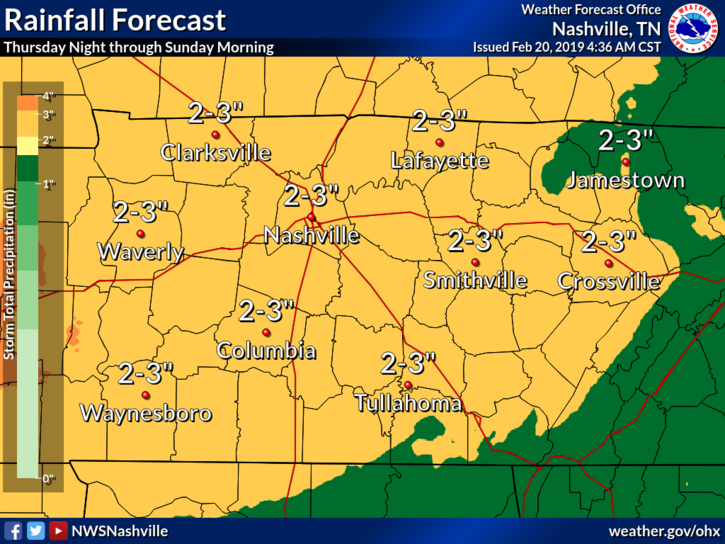 Our main concern right now is additional flooding Friday and Saturday.

Updated and additional information can be found on Twitter @NashSevereWx.