Overview
Forecast totals from NWS-Nashville:
Several rounds of heavy rainfall are expected this week into next weekend.
The first round arrives this (Tuesday) afternoon through Wednesday afternoon (2″ to 4″ total).
The second round begins Friday and ends Sunday (3″ to 4″ total), with waves of rain coming through.
Total rainfall amounts from Tuesday through Monday are forecast to reach 5 to 7 inches across Middle Tennessee.
Some strong to potentially severe thunderstorms may affect parts of Middle Tennessee in the form of a squall line (QLCS, quasi-linear convective system) Saturday night. However, details such as timing and possible impacts remain uncertain this far out in time.
Current Weather Hazards – Round 1

A Flash Flood Watch goes into effect this afternoon and lasts until Thursday morning for Nashville, Williamson County, and most of Middle Tennessee.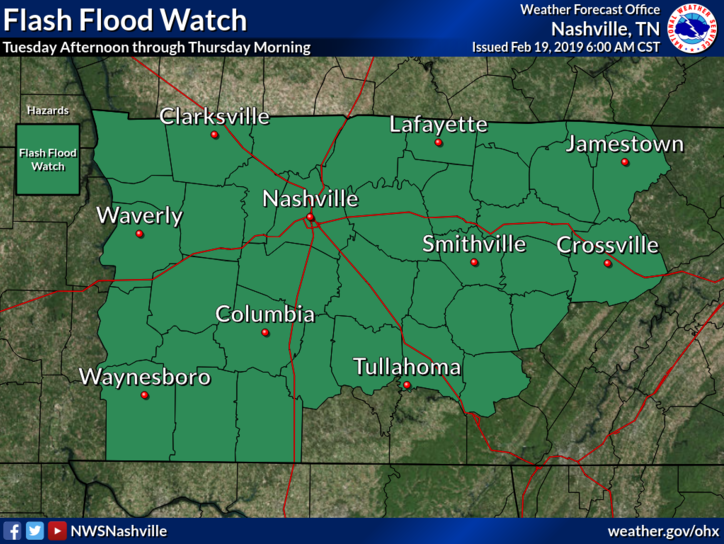 Rain will start this afternoon, so be sure to have that umbrella handy. Rain will intensify during the evening commute, becoming more widespread by 4:00 PM – 5:00 PM, and continuing into the evening.
Here's the HRRR model running through 2 AM Wednesday morning. Notice the snow storm forming in Illinois, Indiana, and Ohio. We won't get any snow from this system.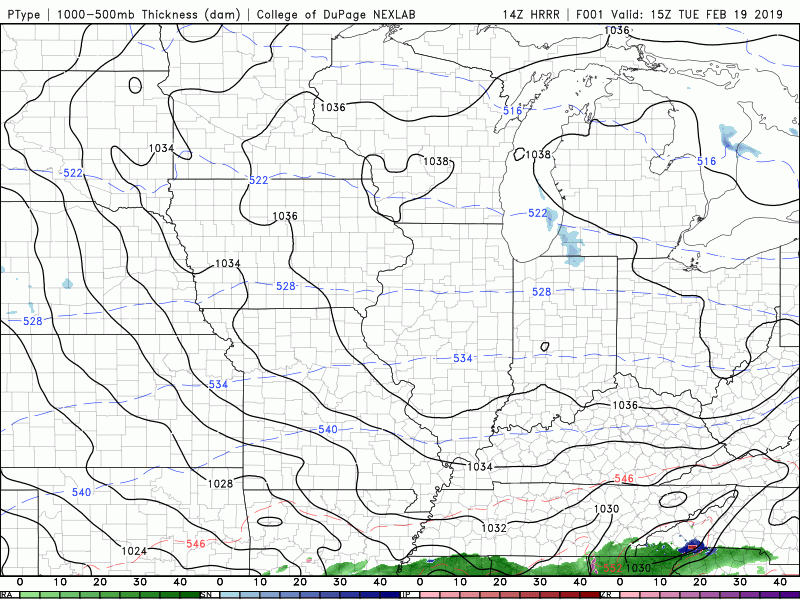 And here's the HRRR running through 6 PM Wednesday night: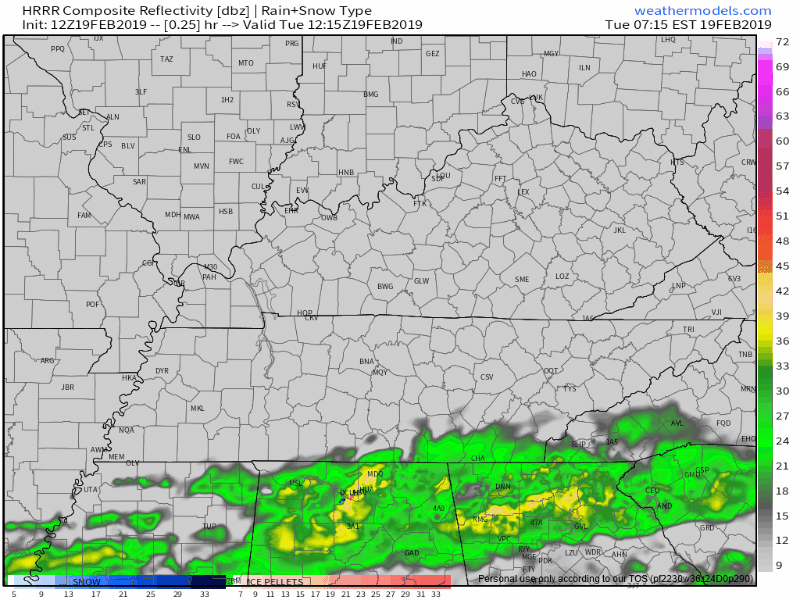 Expect all rain — no snow — with this as temperatures begin to rise due to a warm front moving through.
The rain should continue until early Wednesday evening.
Potential Hazards Include:
Flash flooding, especially considering how wet the month has already been. The ground is saturated.
River flooding. Some spots along the Cumberland River are already nearing flood stage.
Smaller creeks and streams will fill up quickly tonight and tomorrow, causing more immediate and time-sensitive localized flooding.
Weekend Rain/Flooding/Storms — Round 2
Expect a rain break Thursday.
Rain chances return Friday morning as another system starts to push through the area. Models depict dewpoints near 60F, which is quite high for February, indicating potential for very heavy rainfall.
Rain in heavy waves should pass through. Timing is uncertain, but right now we think one big wave Friday afternoon/evening, and another one during the day Saturday perhaps ending with a bang Saturday night.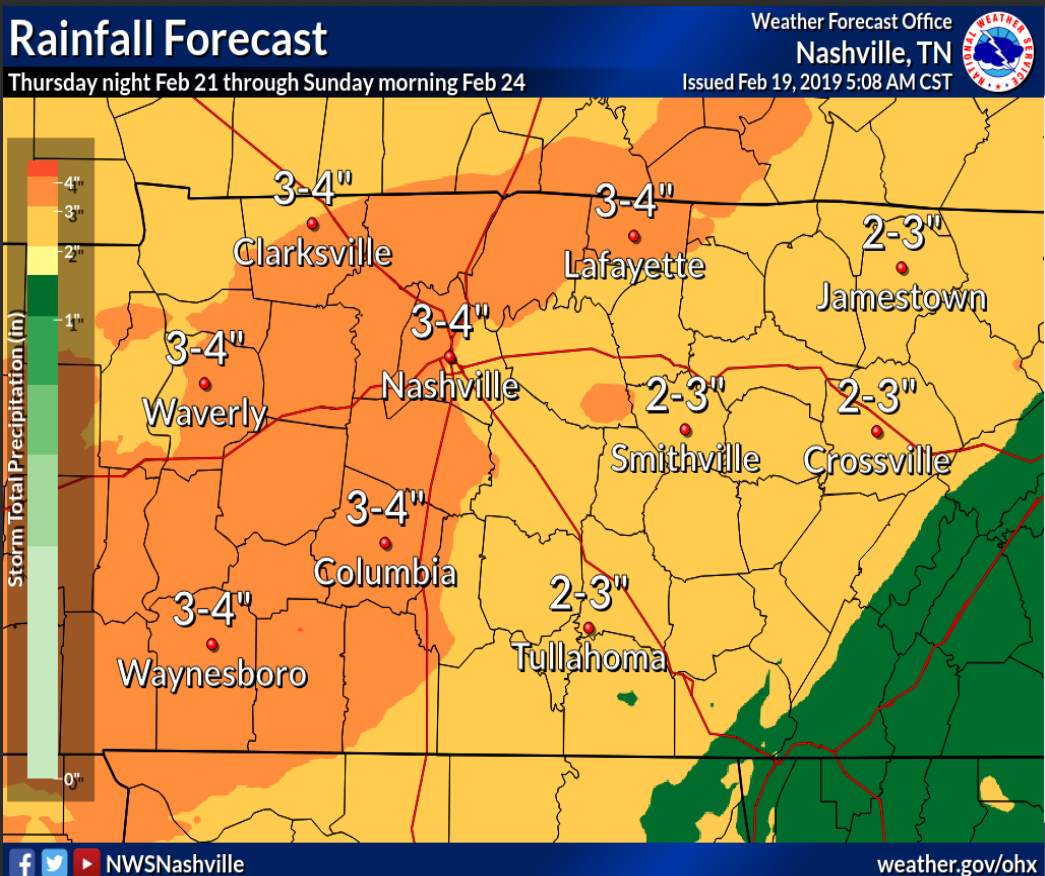 That wave Saturday night may set off severe weather. Below is the Storm Prediction Center's Severe Weather Outlook for Saturday into Sunday.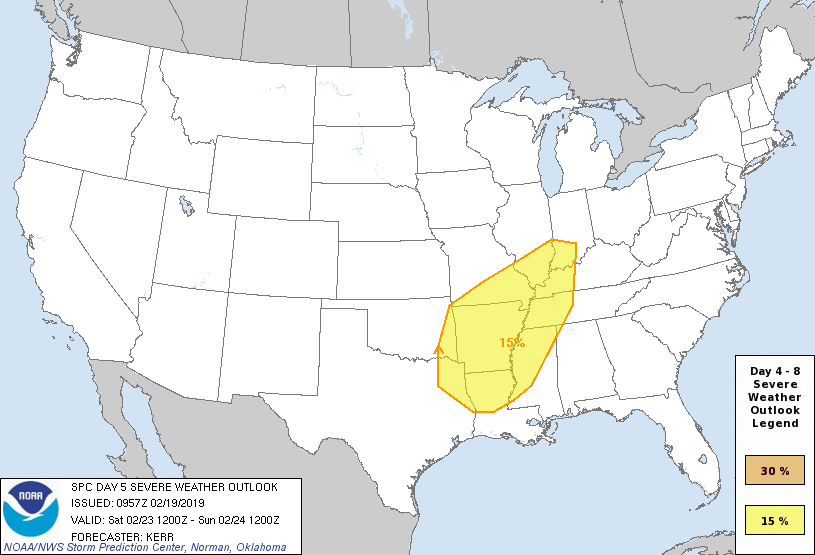 What does this mean? It's a 15% chance of severe weather occurring within 25 miles of a point in the area highlighted in yellow. Currently, Nashville and Williamson County are bisected by the highlighted area drawn along I-65.
Significant uncertainties exist about storm threats. Instability may decline sufficiently such that we dodge this severe weather bullet by the time the line arrives here late Saturday night.
This will be monitored and updated in the days ahead.
Right now flooding is our main concern. Check out the number of local rivers and streams expected to reach some level of flood stage at some point(s) through Monday: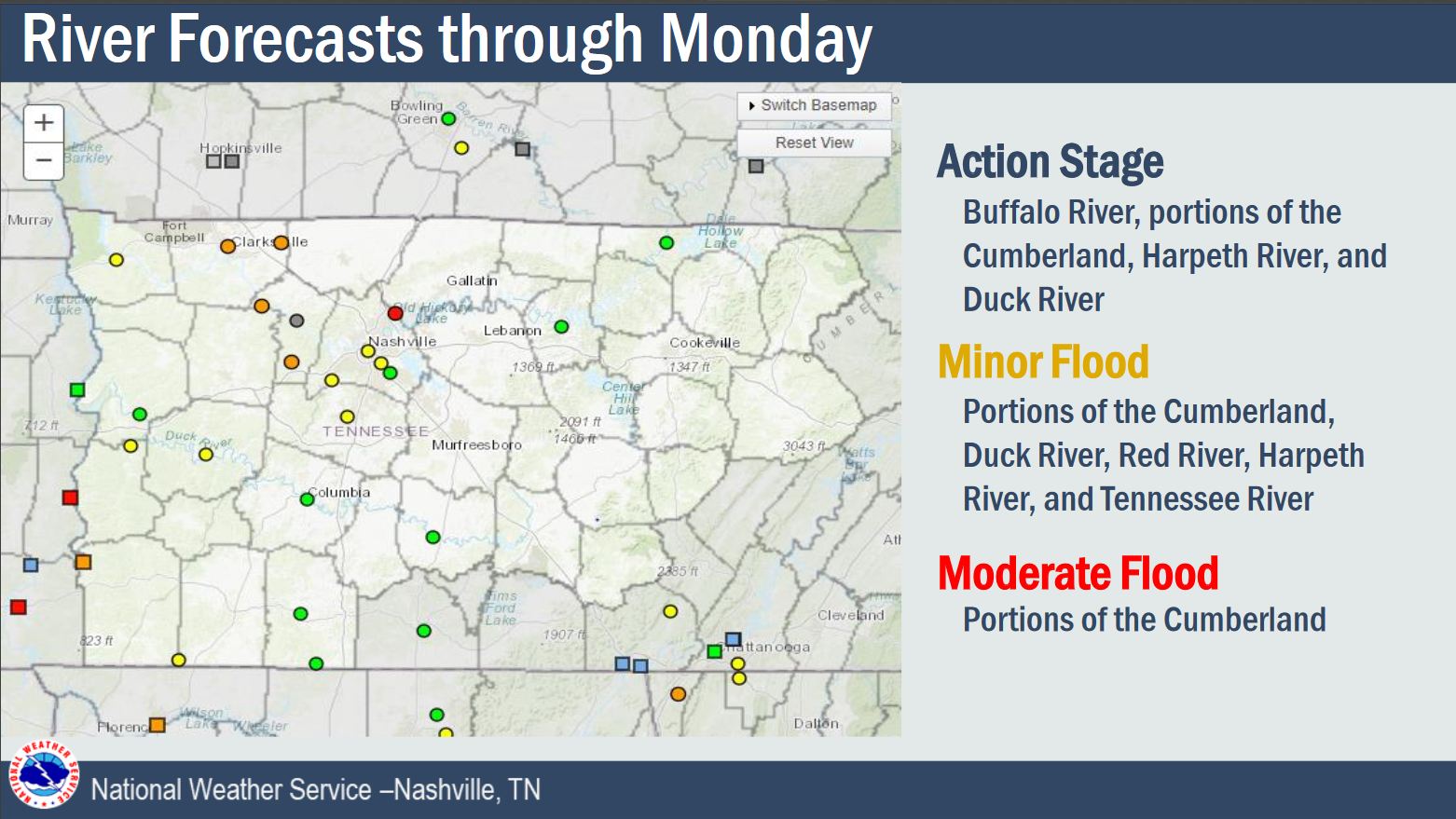 An Explanation of all the Rain
So, what exactly is going on here? I'm going to be more technical here, so bear with me…
One of the ingredients to this coming rainfall is vorticity. You can see an area of vorticity — those reds and purples — situated over Tennessee tonight, ahead of a deepening trough to our west.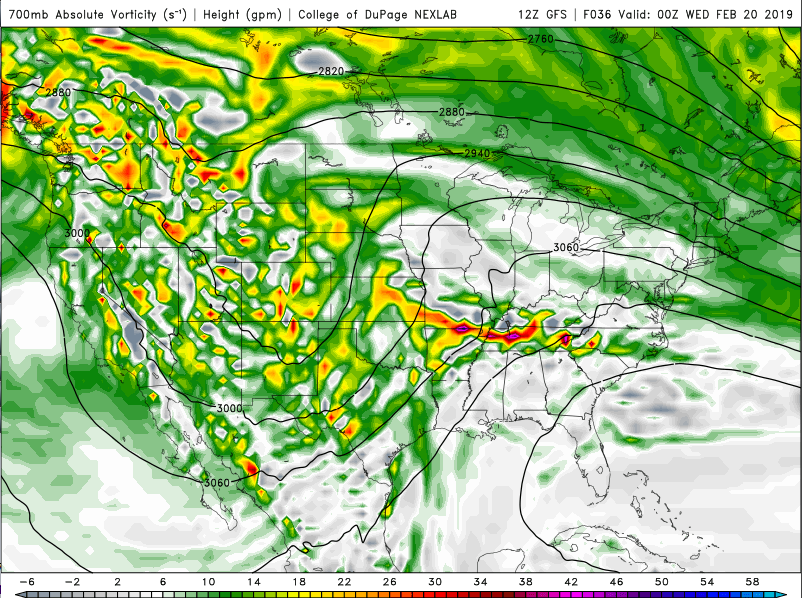 Pair that with a surface low, and we get upward vertical motion in the atmosphere in those areas of positive vorticity. What goes up as clouds, must come down as rain.
Meanwhile, winds are coming in from the south, tapping the Gulf of Mexico, and delivering us a lot of moisture.
As we feed moisture into a region of positive absolute vorticity, parcels of air rise containing plenty of moisture. These parcels will saturate as they rise, and then you have rain. Lots of it, in this case. Here we have the amount of precipitable water, which is basically how much water can fall from the atmosphere.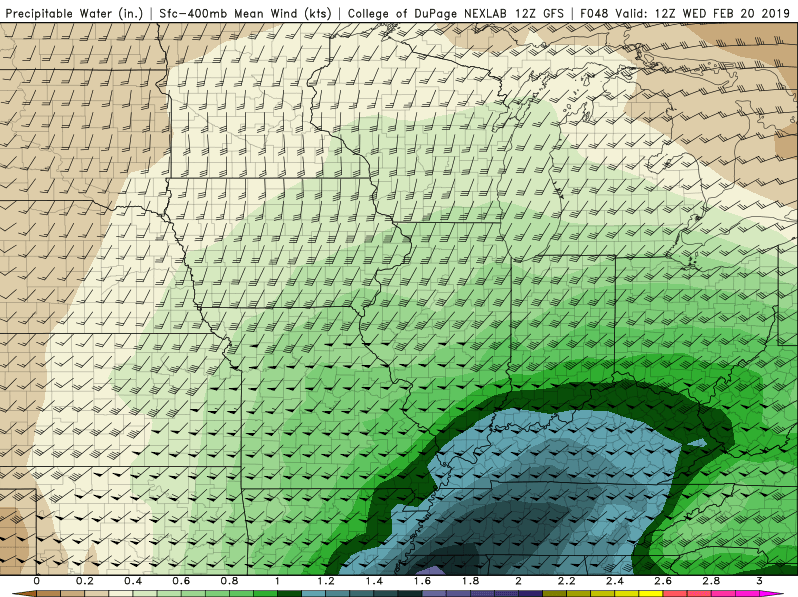 For February, which is usually cold and dry, this is very warm and wet.
This process will occur tonight into Wednesday, and again this weekend.
Generally, 5″ to 7″ is expected today through Monday morning, the 25th of February.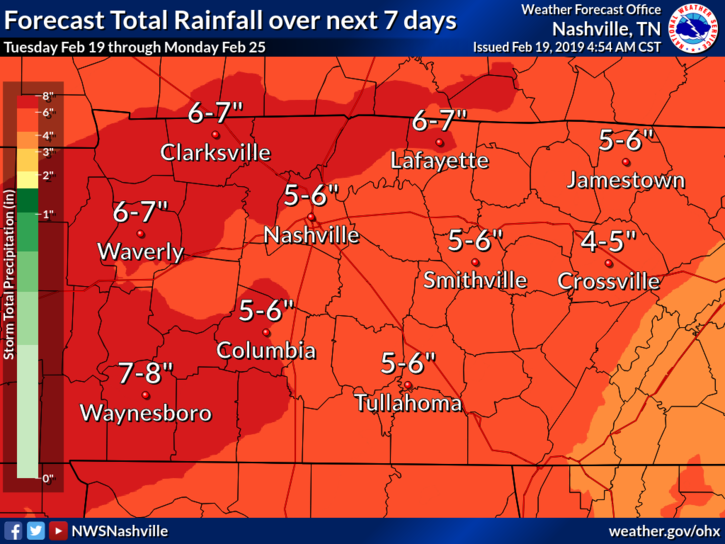 Be sure to have that umbrella handy, and remember: turn around, don't drown.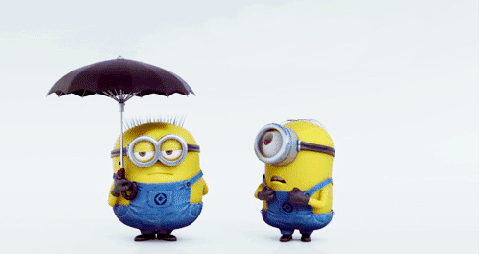 Unfortunately, longer range models keep this pattern going into next week.
Pay attention to the weather today, tonight, and this week.