When will the rain end?
Hang in there, HRRR and NAM think the rain should come to an end about midnight. Temps will drop overnight, falling to the upper 30°s by Monday morning's commute.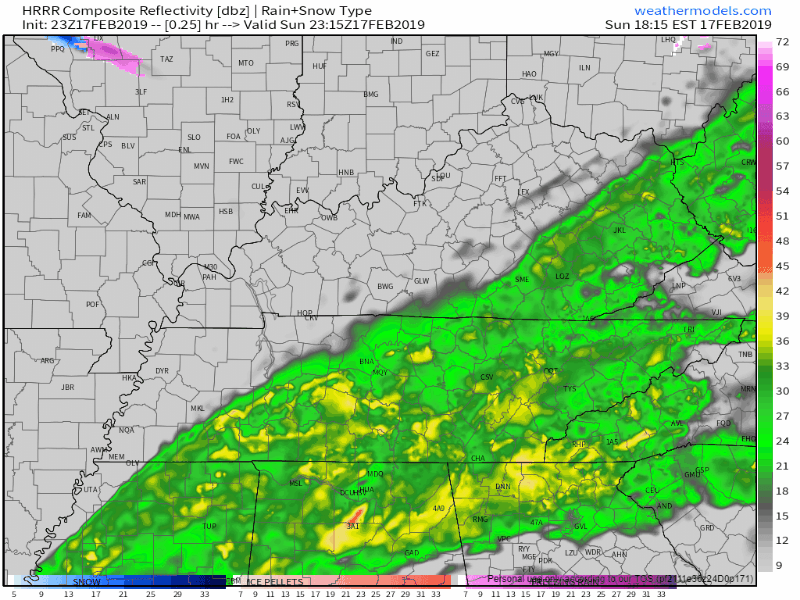 The band of rain has slowed down, allowing more rain to fall over Nashville than previously thought, we could expect 0.5″ to 0.8″ through the night. NWS Nashville does not expect flooding concerns today.
Monday – Dry Skies and a Bit Cooler
Morning temps will be in the mid 30°s, starting off the day on the chilly side. Cool, dry air will continue pushing down into Middle Tennessee, but it won't have much of an effect. Clouds could break up a bit in the afternoon, but they'll be sticking around. High will reach mid/upper 40°s.
Tuesday & Wednesday – The First Wave of Rain
The NAM 12 km shows the first big wave of rain starting midday Tuesday and continuing well into Wednesday. The rain will lift from the southwest to the northeast. The pinks and blues (wintry precip) mixing in with the rain show where the cooler air is meeting the rain, but it'll be too warm for any wintry precip. High temp on Tuesday is 46°.
South winds bringing warmer air on Wednesday will push the high into upper 50°s.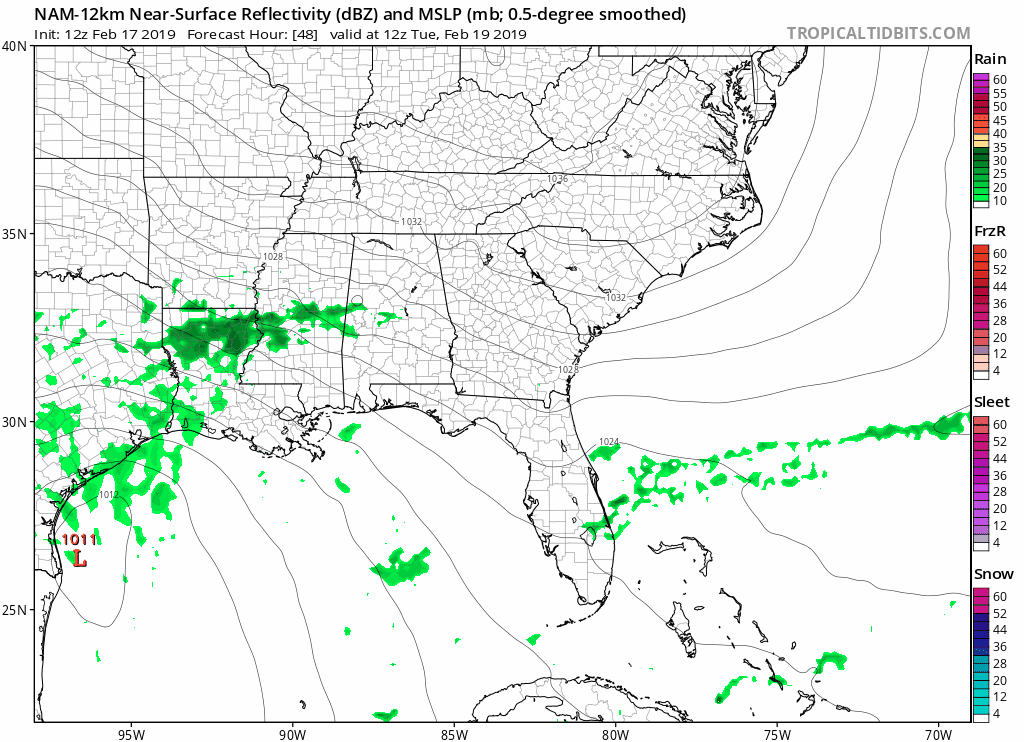 Severe storms aren't expected Tuesday and Wednesday, but a few rumbles of thunder could be possible.
The NAM has us receiving 2″ to 3″ from Tuesday morning through Wednesday morning. That's a LOT of rain!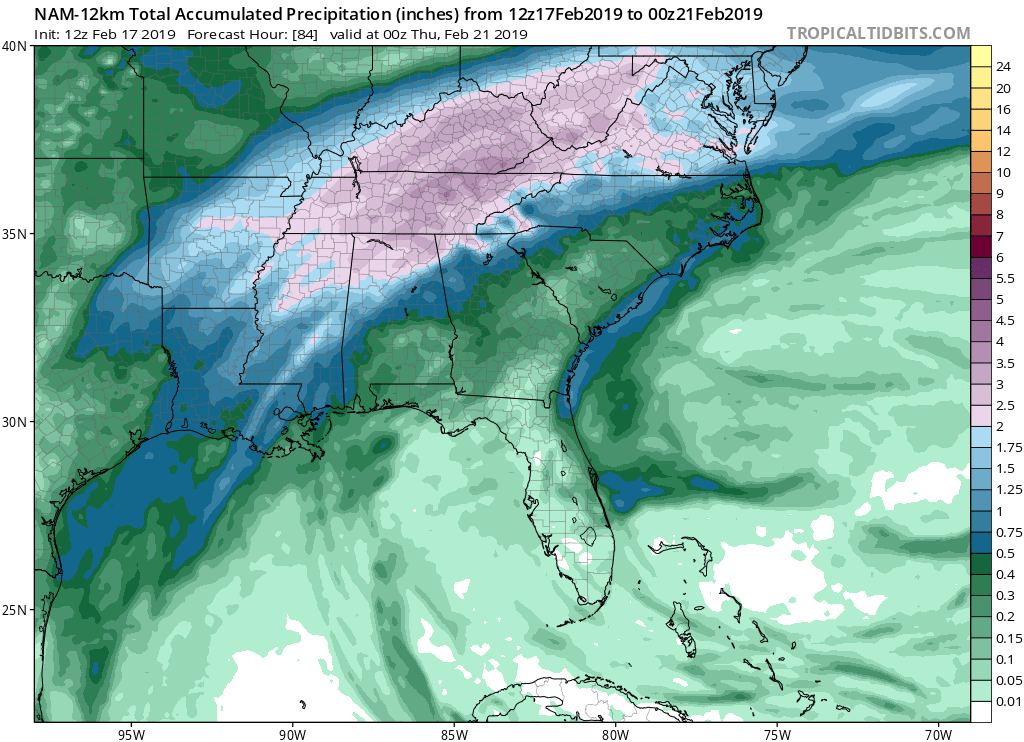 Flooding Considerations
As of now, NWS Nashville has not issued a Flood Watch, as it's still too early to do so – expect one to be coming soon. Though, they did have this to say about the coming rain and flooding concerns:
"These forecast rainfall amounts, combined with the unusually wet start to the year and already saturated ground, will likely lead to flooding along area rivers, creeks, and streams, as well as some roadways, low lying areas, and other poor drainage locations."
So, it's important that we emphasise the amount of rainfall we will be getting this week. Not only do we need to watch the rain that falls over Nashville, but upstream rainfall will make its way towards us too.
Remainder of the week
Rainfall intensity should ease up on Thursday and Friday, but showers will still be possible. Daytime temps hovering in the upper 50°s.
Another shot of heavy rainfall could fall on next weekend, but we're far too far out to know any specifics.
The Next 7 Days
As we mentioned yesterday, the outlined zones of rainfall totals are not set in stone. They can shift north to south or west to east depending on where the heaviest rain falls each day. NWS Nashville has shifted the higher totals to the northwest, bringing Nashville into 6″ – 7″ of expected rainfall over the next 7 days.
Editors Note: We are very concerned with the risk for flooding and will be working hard to bring you the latest forecast, watches, and warnings. Please stay weather aware. Turn around don't drown. Have a plan for dealing with flood waters if you live or travel near low lying areas and waterways.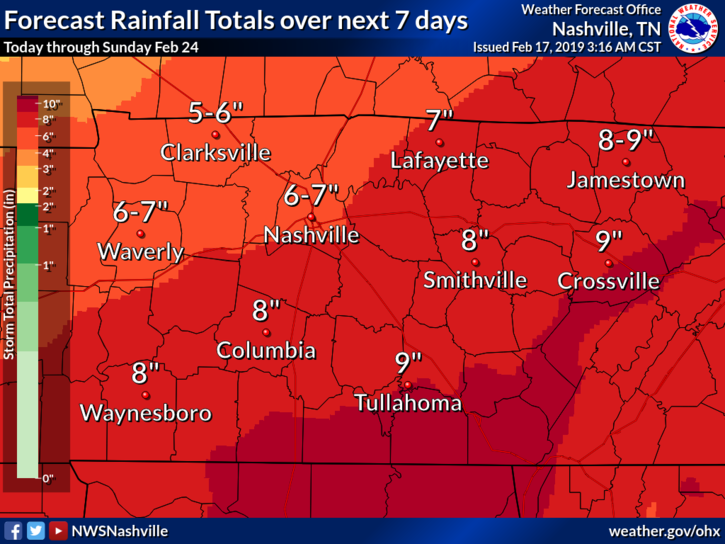 ---