Dry & Cool Today
After yesterday's cold front, we're left with a relatively cool day. High temps will only push into the mid 40°s in the afternoon, a bit cool for what we normally see in mid February.
Dry air will try to mix in with our clouds in the afternoon, so we could see some thinning. Don't expect to spot much of Mr. Sunshine.
No rain chances for most of today. It's a great day to get out and buy rain boots if you don't have any! A few sprinkles could invade just before midnight, but we'll be dry until bedtime.
Rainy Sunday
The cool temps from the cold front will departure quickly on Sunday. Our winds will turn back to the southwest ushering in warmer air. Morning temp in the low 40°s will easily warm into the upper 50°s in the afternoon, even with the rain.
The Rain
This NAM run begins at 9 PM Saturday evening going through Sunday night at midnight. As it shows, rain could begin as early as 11 PM tonight and continue through the night and a majority of Sunday.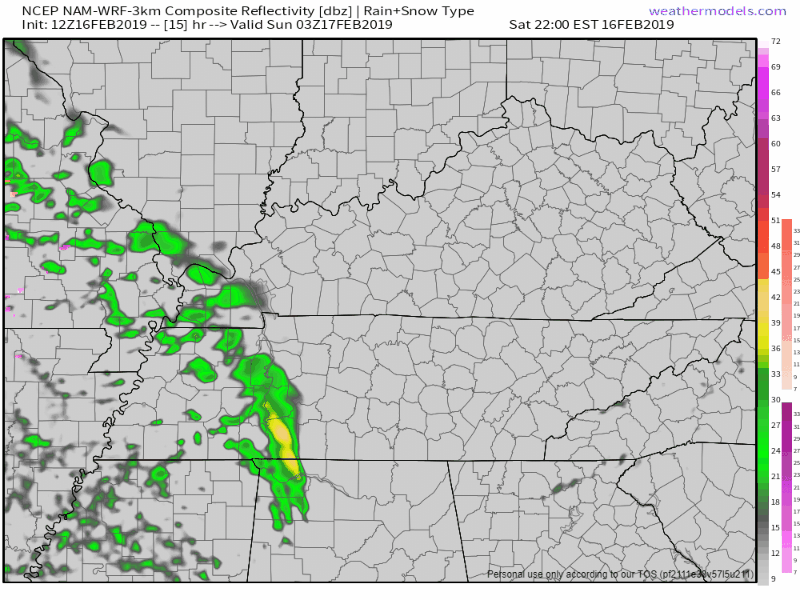 The heaviest rain will set up to our southeast, but we could see anywhere from 0.25″ in northern Davidson County to 0.75″ in Williamson County. As of now NWS Nashville does not expect us to have flooding concerns over the weekend.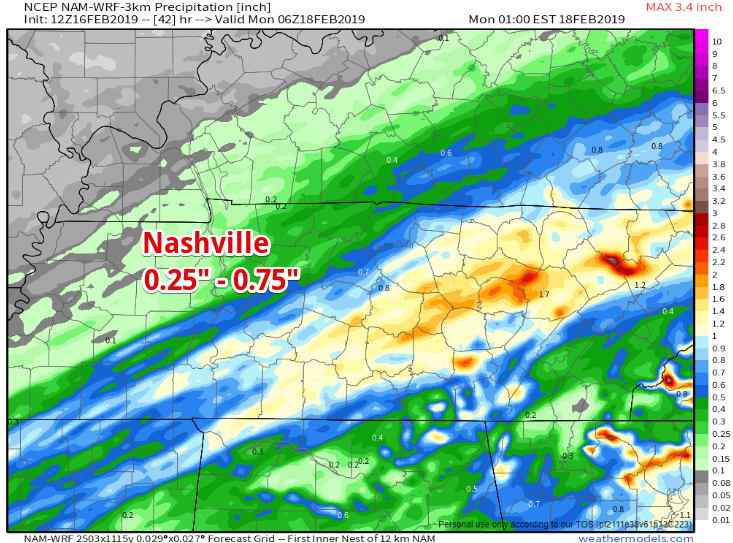 Quick Dry Out on Monday
We'll have a short chance to dry out Monday as north winds bring relatively dry air and temps cooler than Sunday. Temps during the morning commute will be in the mid 30°s, reaching the upper 40°s for the drive home.
Tuesday – Friday
Here come the waterworks!
The EURO model is able to show us what water vapor imagery could look like Tuesday and Wednesday of next week. What it's showing here is the strong flow of moisture from the south Pacific right over the southeastern US. This constant flow of moisture is the reason we'll see so much rain.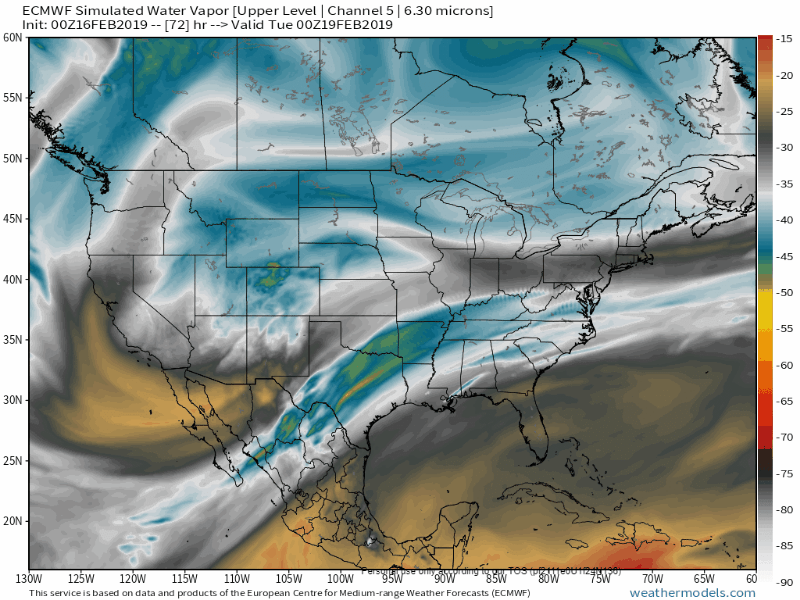 Rainfall Totals and Flooding Concerns
Right now the thinking is that the highest rain totals will settle to our southeast. We're quite a few days out, and depending on where the bands of heavy rain set up, these higher totals could shift toward or away from us. Either way, we're expecting a lot of rain.
Normally, when rain is spread over several days it will help combat flooding concerns, but with the prospect of receiving 4″ – 5″ in the Nashville area, we'll have to keep a close eye on things.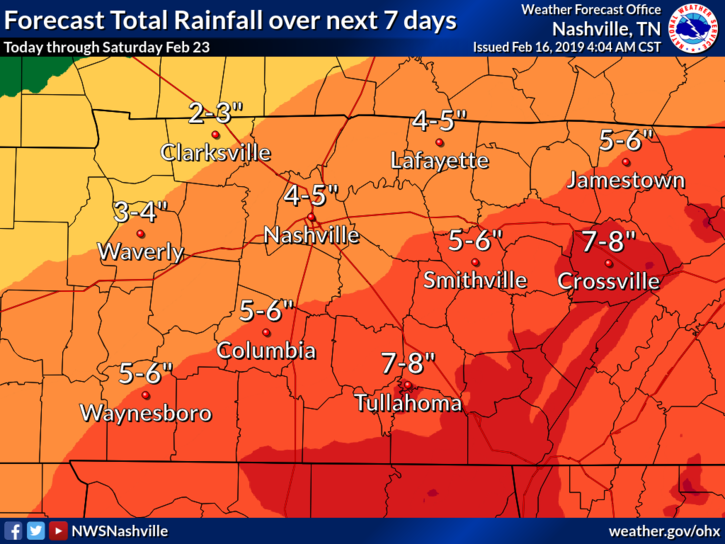 It's going to be a long, wet week, but we'll get through it together. We'll keep you updated with the latest here and @NashSevereWx on Twitter!
---