Opposite Day!
The temperatures think today is opposite day. Instead of warming through the day, temps will be cooling through the day. Why? A cold front passed through during the morning hours.
Drizzle is already showing up on the radar in west Tennessee, moving closer. However, air is super dry aloft, so it'll take time for rain to hit the ground. Therefore, for most of the afternoon Williamson and Davidson Counties will be rainless and overcast.
Late this afternoon or early tonight, we will see rain move in again, most likely ETA around sunset, as seen below on this morning's run of the HRRR model: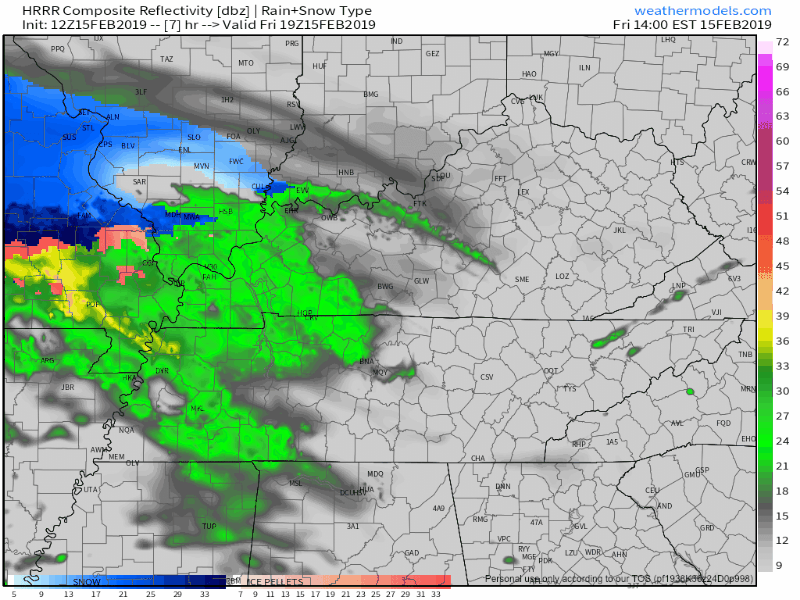 Sub-freezing air will be close but is forecast to stay north and northwest, where ice may be a small concern. The National Weather Service was very careful in their wording this morning to leave Nashville out of any winter weather discussion.
That being said, if you have any reason to be north and west of the city tomorrow morning, watch out for slick spots before 9-10 AM.
This Weekend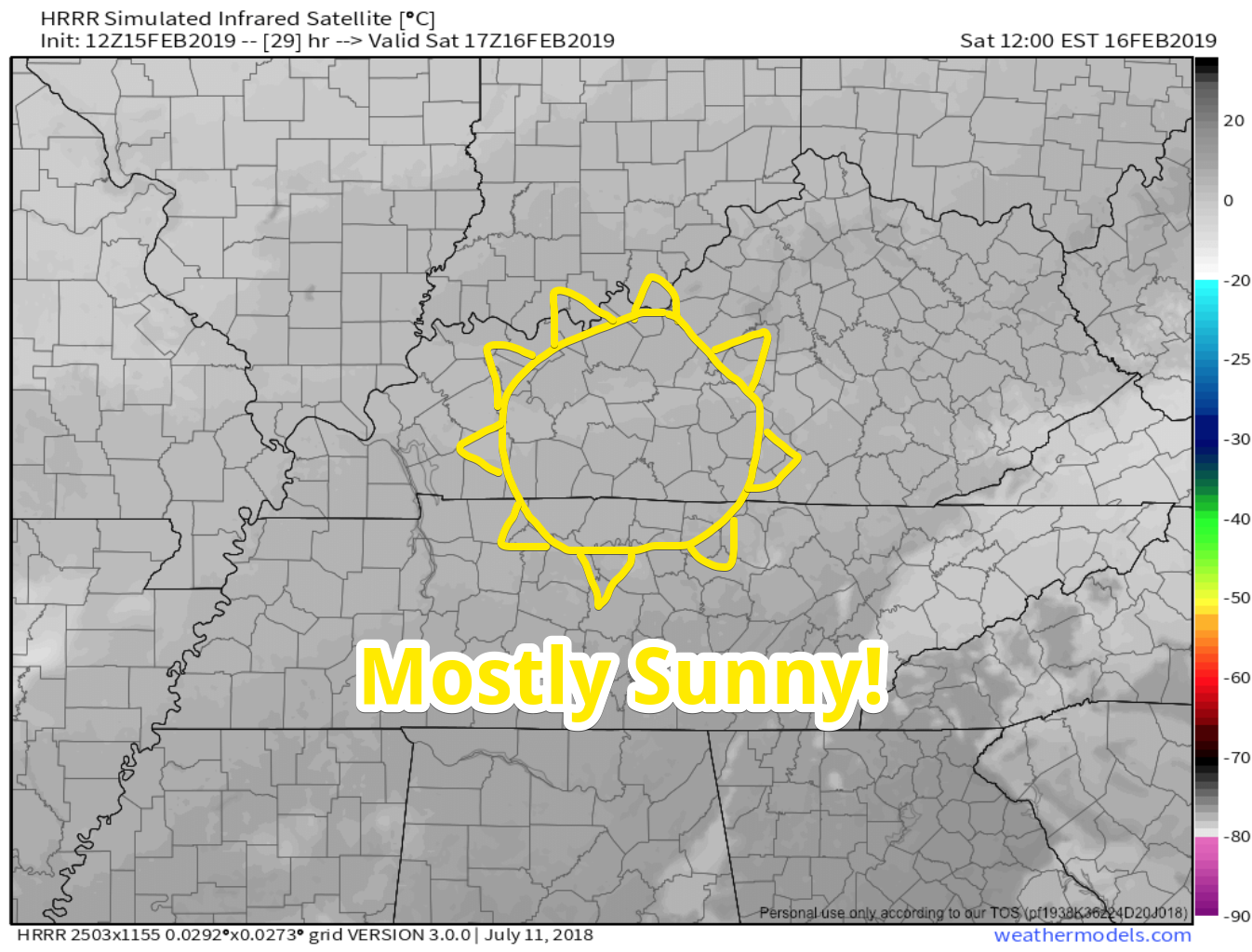 Tonight's rain will end by sunrise on Saturday. It'll be a cold rain, with wind chills around freezing.
Saturday is shaping up to be a pretty nice day. Expect partly cloudy skies with afternoon high temperatures in the mid 40ºs, a couple of degrees below average for this time of year.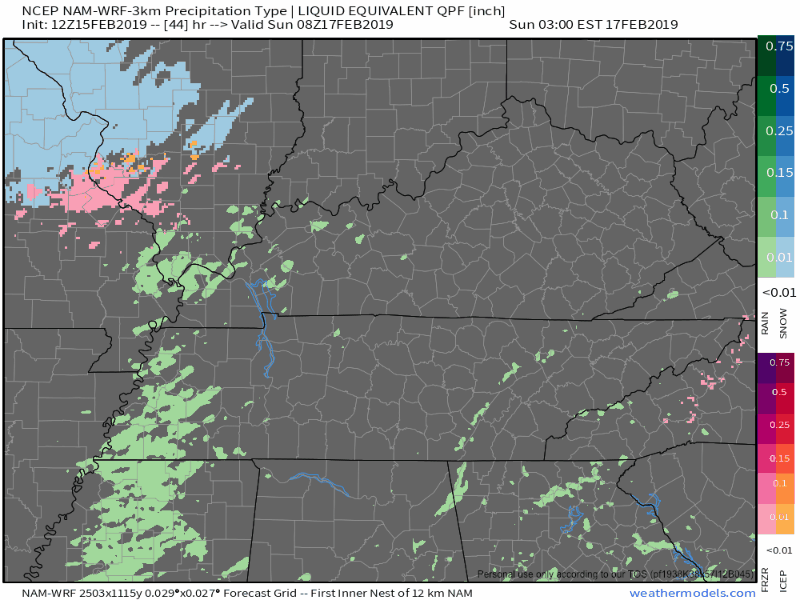 Another shortwave will roll through Nashville early Sunday morning. Rain (it should be all rain, no winter weather expected) will be light and is expected to depart around noon. Expect an overnight low near 40º.
Next Work Week
Our soggy forecast continues. Here is what NWS-Nashville had to say about it this morning:
…A wet pattern will be in place. A series of systems will move across the region within moist southwest flow aloft. The heaviest rain looks to occur Tuesday through Wednesday evening as an inverted trough develops across Middle Tennessee and becomes the focus for [moisture coming] out of the Gulf of Mexico. [Precip] totals for next week are significant with several inches of rainfall possible… Still, flooding could become a concern across the area through next week as rain totals build. This includes potential local flood problems as well as stream and river flooding.
Below is the official NWS forecast regarding rainfall totals through next Friday. We will watch closely to see what changes Nashville. Note we're on the edge of a rain gradient, so we may see much more or much less.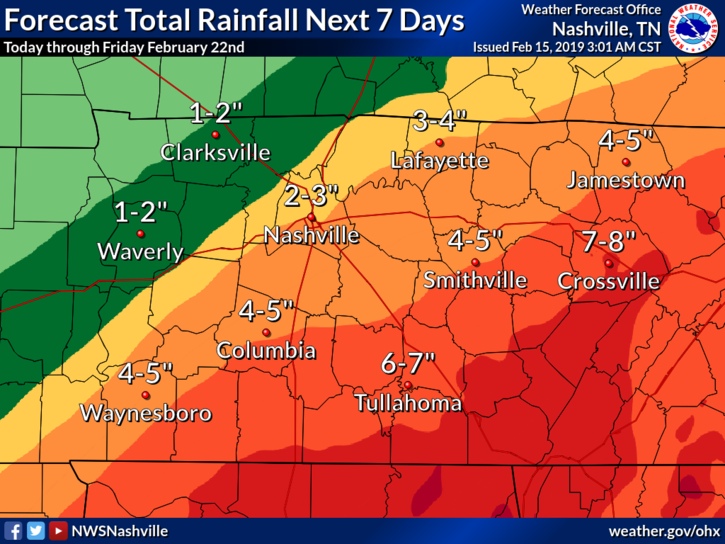 At any rate, get your umbrella ready for tonight's drive, and enjoy tomorrow!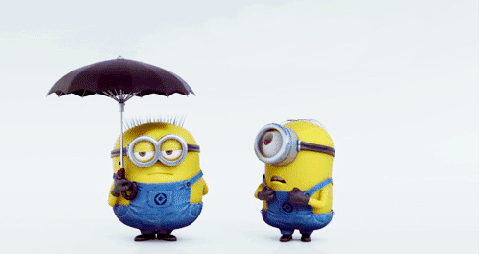 ---