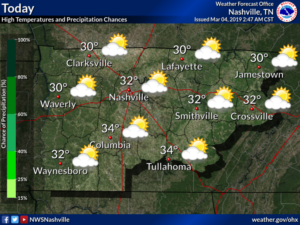 TODAY
It is a very pleasant and mild afternoon out there today without temperatures topping out in the low 60's. These conditions will not last however, as an approaching cold front will bring temperatures back to near normal for this time of the year, along with renewed chances for rain. I have a map below which shows the location of our cold front marked with the blue triangles as of 12 PM Central Standard time. Out ahead of this front, we are in a warm sector with a mild and breezy southwesterly flow. As this front approaches and moves through tonight we will see a drop in temperatures and even a slight chance of a shower.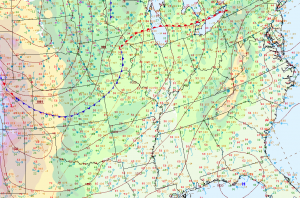 TONIGHT
Tonight's forecast calls for mostly cloudy skies with a few passing showers, breezy with a Southwesterly wind of 15-20 mph with gusts as high as 30 mph this evening, turning to the Northwest late tonight and subsiding to 10-15 mph, with occasional gusts around 20 mph. Temperatures will be slow to fall due to the gusty winds but we should see low's in the lower 50's.
TOMORROW
As the cold front stalls just to the east of the area, skies will remain mostly cloudy, but we may see a few breaks before our next system arrives for the weekend.  Temperatures will be on the chilly side as the cold air rushes in with highs only near 50 degrees and dropping through the 40's during the afternoon.  Rain looks to arrive by mid afternoon, increasing in coverage and intensity overnight.
Here is the latest NAM model which shows the timing starting between 3 and 6 PM which follows closely with our forecast.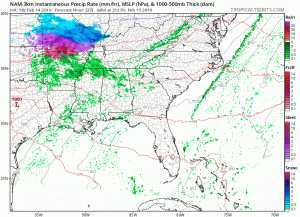 A weak wave of low pressure will slide off to the east Friday night bringing an increase in rain. Rainfall amounts from this first system will generally be around 0.25 to 0.5 inches.
This is the Global Forecast System model showing our unsettled pattern through Monday.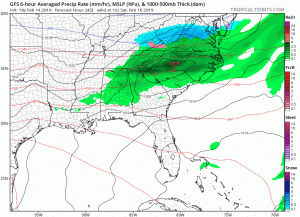 WEEKEND
The weekend will remain cloudy and unsettled as several disturbances slide through the region with additional chances for rain. Temperatures will remain below normal for Saturday with highs only in the mid to upper 40's and lows in the mid 30's. Sunday will turn warmer as an area of low pressure tracks to our region bringing another round of light rain with highs rebounding into the mid and upper 50's.  This warmth will be short lived as another cold front sweeps through the region Sunday night into Monday.