It's been raining most of the day along and N of I-40. Rainfall through 3 PM: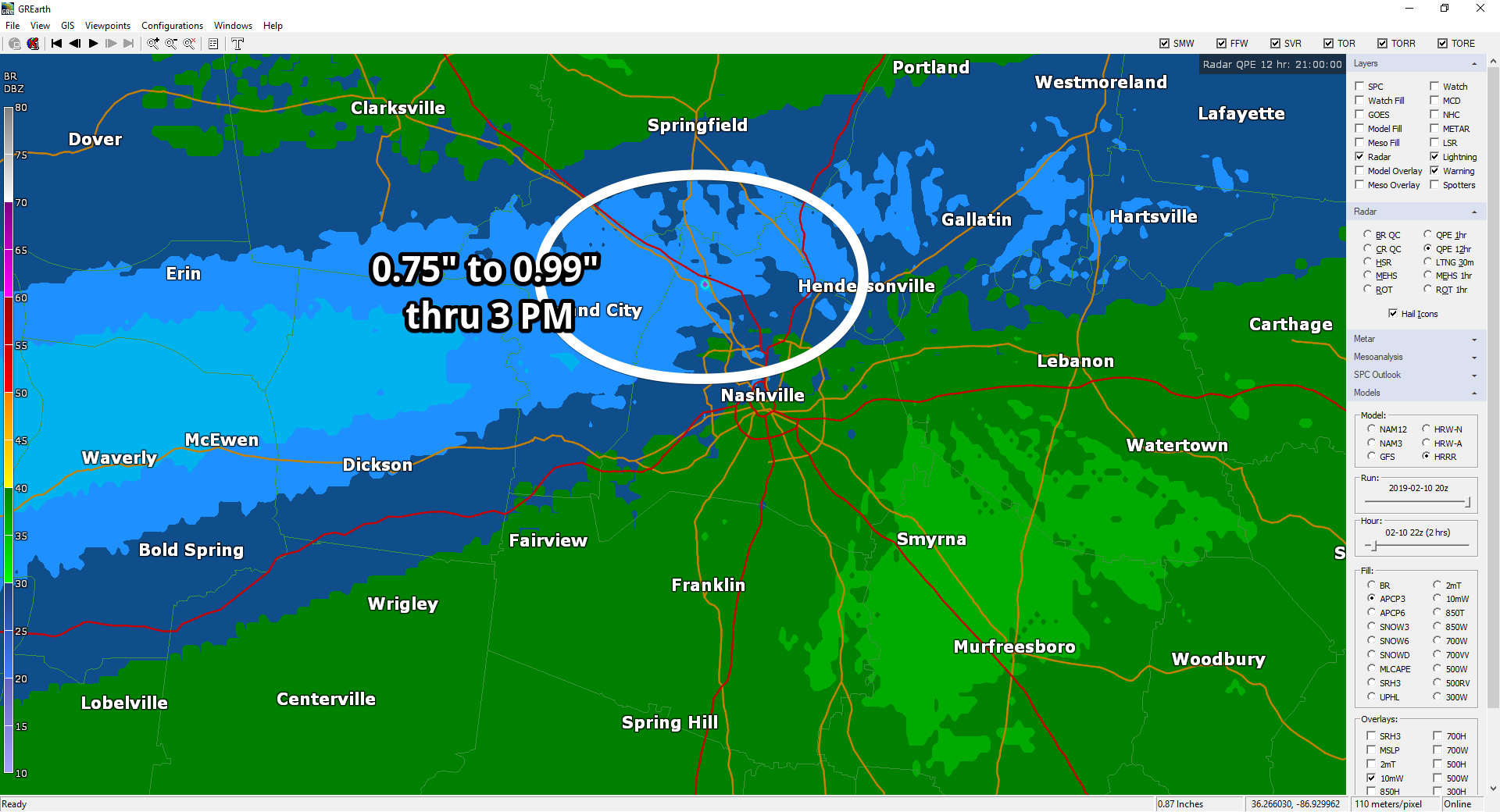 More rain is on the way.
A Flood Watch goes into effect tonight through noon Tuesday for Nashville, but not Will Co.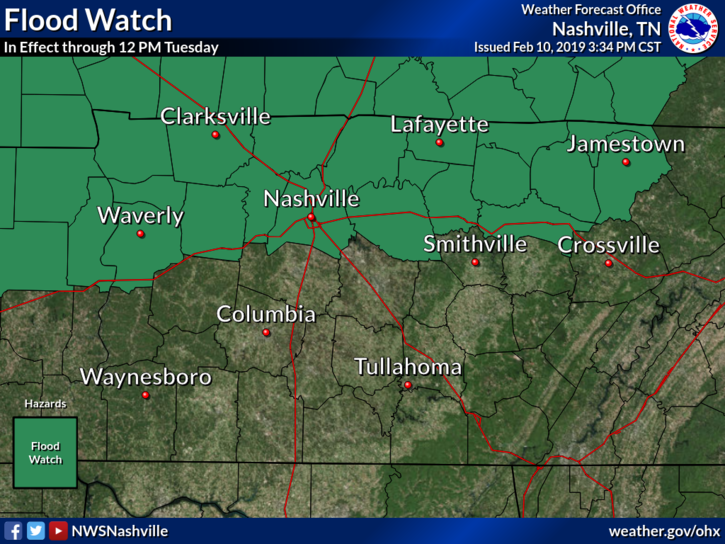 From NWS-Nashville:
Total rainfall amounts of 2 to 4 inches (locally higher) are forecast through Tuesday along and north of I-40.
This rainfall falling on already saturated ground will cause flooding issues (street flooding, low lying areas, small creeks and streams) along and north of I-40.
Main rivers will begin rising again and are expected to crest around midweek
The Flood Watch excludes Williamson County because:
Less rain fell in Will Co last week, so the ground is less saturated than the ground in Nashville.
Heaviest rain will fall north of I-40 through Tuesday, probably not enough to cause flooding in Will Co. Stay tuned on that tho.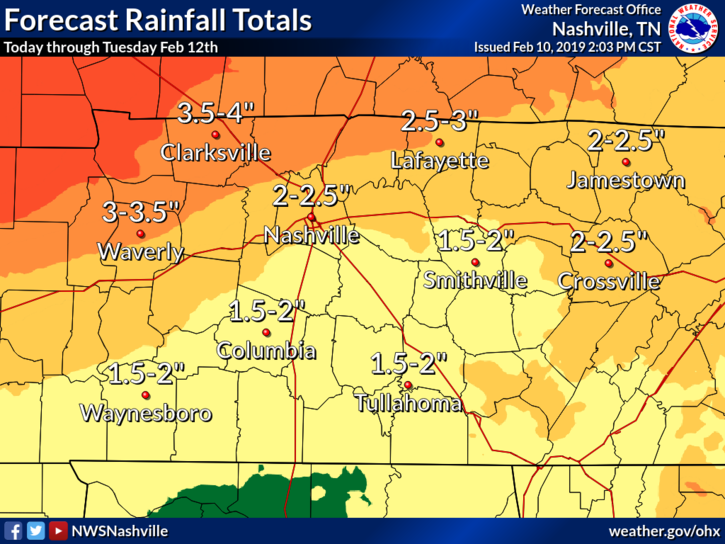 Below is the HRRR model running Sunday afternoon through 11 PM Monday. Heaviest and steadiest rain stays north of I-40. Notice the rain/no rain line is a bit further north than previous runs thought, which would be good news for us.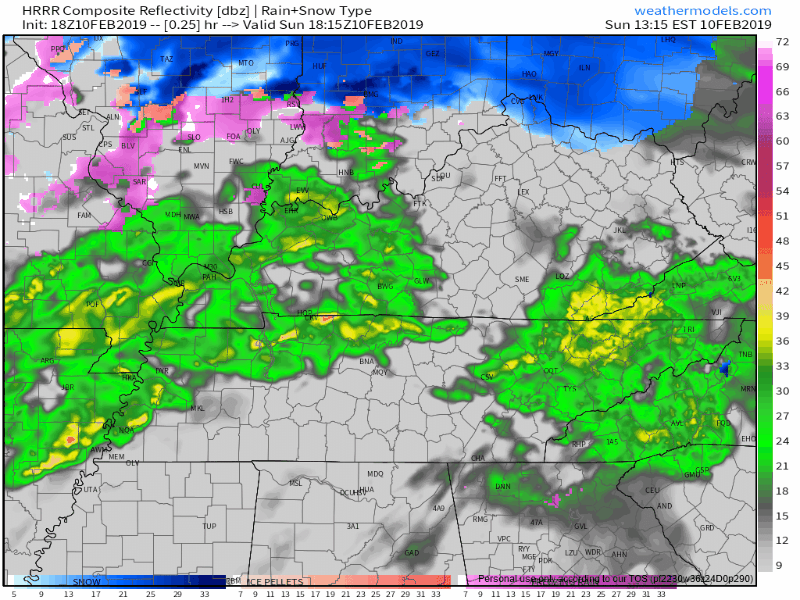 Another model, the NAM3, running through Sunday, and Monday, and ending noon Tuesday, has the rain a bit further south, and more of a problem for us: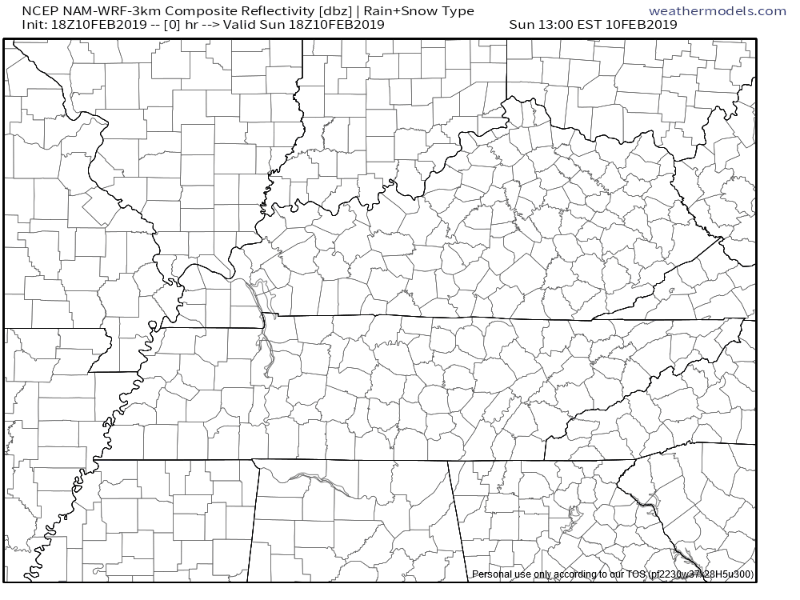 We may have long stretches of no-rain Monday. Let's hope so. It'll be close.
Heaviest rain arrives late Monday night into early Tuesday morning. Embedded in this heavy rain should be a thin, brief line of frog-strangling rain expected Tuesday morning. A few thunderstorms are possible in that thin line, but nothing severe is expected.
A few more points about the Flood Watch:
Rain may switch off and on tonight through Monday, but there are no obvious "no rain" windows coming up.
Flooding danger is greatest along and north of I-40.
Flood concerns increase Monday night and again Tuesday morning.
This is not expected to be as much rain as we got during our Flash Flood event last Wednesday, February 6; however, our rain tolerance is less because the ground is saturated and rivers, creeks, and streams are up. So, the impact may be similar.
Flood waters are fast and deceptively strong. Flood waters obscure roads which may contain tire destroying, vehicle disabling potholes. Or flood waters may obscure a washed away section of the road. Water is strong. It can carry your car or truck away. Just six inches of moving water can knock you down, and one foot of moving water can sweep your vehicle away.
Your car or truck is not a boat.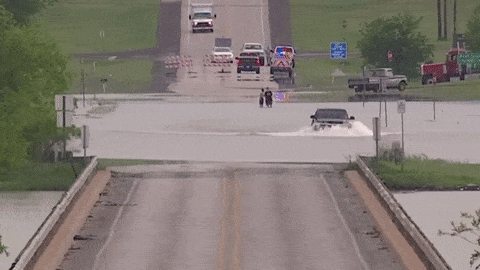 Stay connected for updates and changes to this forecast, here and especially on Twitter @NashSeverWx.
Pretty warm for February this week:

I don't think snow chances are over for the year — far from it — but I don't see anything all that snowy on the horizon.
More rain is expected late Thursday night into Friday. About a half inch of rain total, and another probably-disappointing "back edge snow LOL seriously doubt it" chance Friday night.
---