Old Man Winter Returns
If you stepped outside early this morning, this may have been your reaction: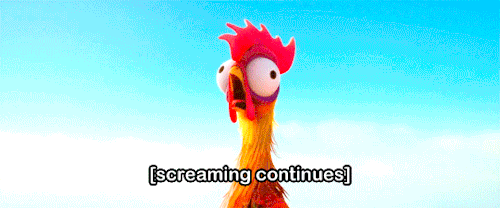 Old Man Winter is back. We are only going to reach a high of 37º this afternoon with plenty of sun. A north-northwest wind around 10 mph is making it feel sub-freezing.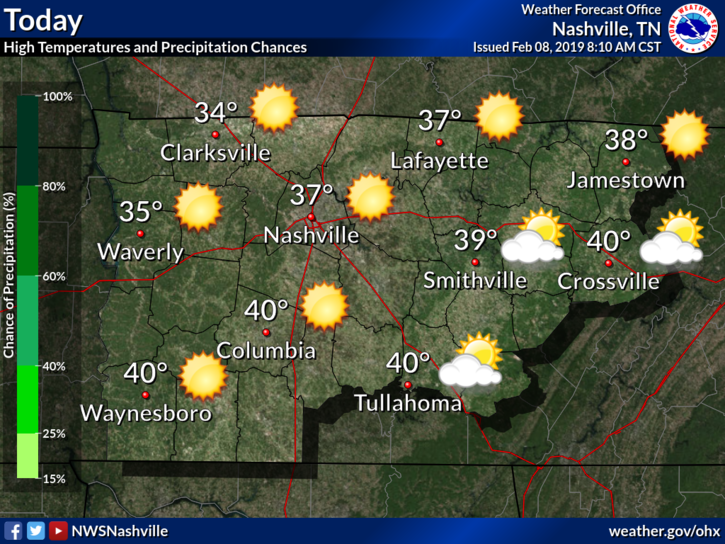 Saturday will be a bit warmer. Start off low 20ºs, with afternoon high temperatures 5-7º above today (low-mid 40s).
Rain Returns Sunday…Begins as Snow?
Rain will be approaching again late Saturday night, arriving Sunday morning. If it gets here before/around sunrise, it may start as mixed precipitation; however, it will all transition from a snow/mix to rain very quickly.
From the NWS-Nashville discussion this morning:
"The next precipitation moves into Middle Tennessee [Saturday night] after midnight [into] Sunday. It is possible the extreme west will see some snow mixed in with the rain as it starts. This won't last long and shouldn't be a factor as temperatures on Sunday and through the rest of the rain period will be above freezing."
Flooding and Flash Flooding Concerns
The rain will start on Sunday… and… won't… stop… until… late Tuesday night.
Precip totals may be enough to warrant a Flood Watch or Flash Flood Watch to be issued this weekend. The official forecast has 2.5″ to 3.5″ possible Sunday through Wednesday morning. Maybe more.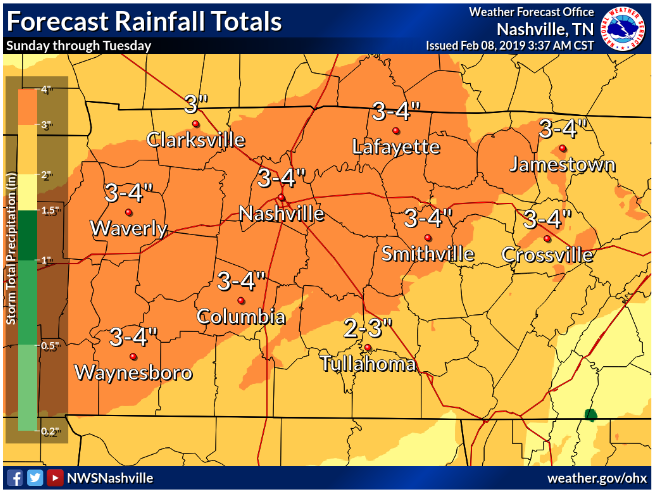 Note this is only half as much as we got in one day last week (February 6), but with streams and rivers already up, it won't take much more to cause additional flooding.
WPC already has us outlooked for a 5% to 10% chance of Flash Flooding on Sunday.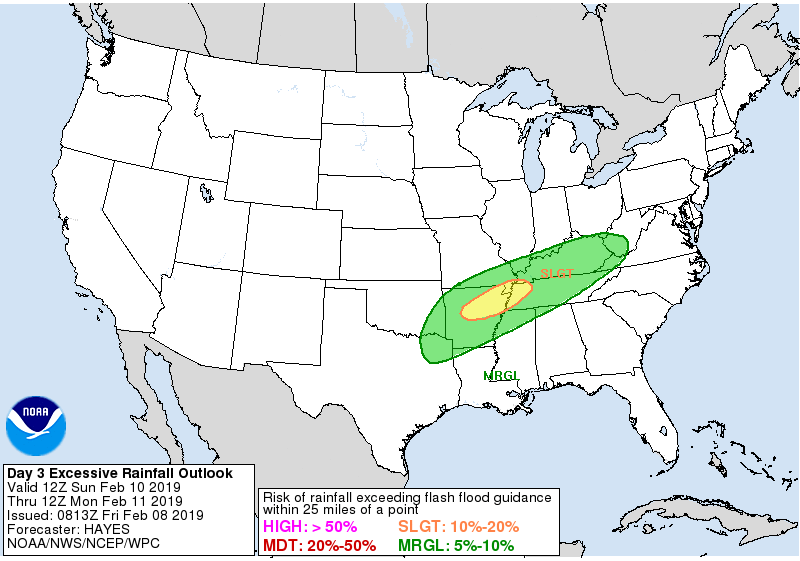 Their outlooks don't extend beyond three days, but you can expect flood concerns to rise again Monday and Tuesday.
Flooding kills. We lost one person last week, in Cheatham County, near the Davidson/Cheatham line.
We will keep an eye on this, this weekend. Check back for updates here and on our Twitter page, @NashSevereWx.
---