A flash flood watch is in effect from 3 PM through late evening for Davidson County. Williamson is excluded from this watch.
From NWS Nashville:
  Up to 1 inch of additional rainfall will fall in areas that
  already have saturated ground conditions from yesterday`s
  heavy rainfall.

  Street flooding will be a big hazard for travelers. Low lying
  areas and poor drainage areas will be at risk for flash
  flooding. Also watch for flooding along small streams.
A wind advisory is in effect from 10 AM until 7 PM tonight for both counties. As a cold front approaches today, we'll have sustained winds 20 to 30 mph with gusts up to around 40 mph. After rainfall begins, winds will begin to decrease.
Yesterday's Record Rain
Here's the Record Event Report for Wednesday's rainfall:

You read that right. The record has stood since 1884.
[Editor's note: It should be mentioned that yesterday's flash flooding is working its way down into the rivers. While most creeks have dropped quickly, the Cumberland is on its way up. It is not currently forecast to reach flood stage, but advisories are in effect as it rises through a "pre-flood" stage called Action Stage. See river levels here… https://www.nashvillesevereweather.com/flood ]
Warm Today, Rain Storms(?) This Afternoon
Get ready to ride the temperature roller coaster between today and Friday morning. We could break another temperature record this afternoon with a forecasted high of 76°. 
The current record high for February 7th was 70° set back in 2001. Due to the constant stream of warm, moist air we've had, we're on track to break the old record.
Severe Weather Today
The Storm Prediction Center has us placed within the Marginal (1 out of 5) area for storms this afternoon. The strong cold front that sent rain and severe weather to us yesterday will finally push through this afternoon/evening.
While most of the severe weather will remain to our west, Nashville is included within the Marginal area for the possibility of damaging winds. 
What to expect and when:
Middle Tennessee will be windy today with a south wind blowing 20 to 30 mph; gusts sometimes upwards of 40 mph. These are strong enough winds to warrant a wind advisory until 7 PM.
By 2 PM (this HRRR run starts 2PM and ends Friday 2AM) a line of rain and storms will set up just to our west. The front will slide eastward quickly, with models saying rain arrives just in time for the evening commute.
The line should bring with it heavy rain and plenty of wind, especially right as it approaches. Light rain will continue through the evening, coming to an end shortly after midnight – cold air arriving soon after.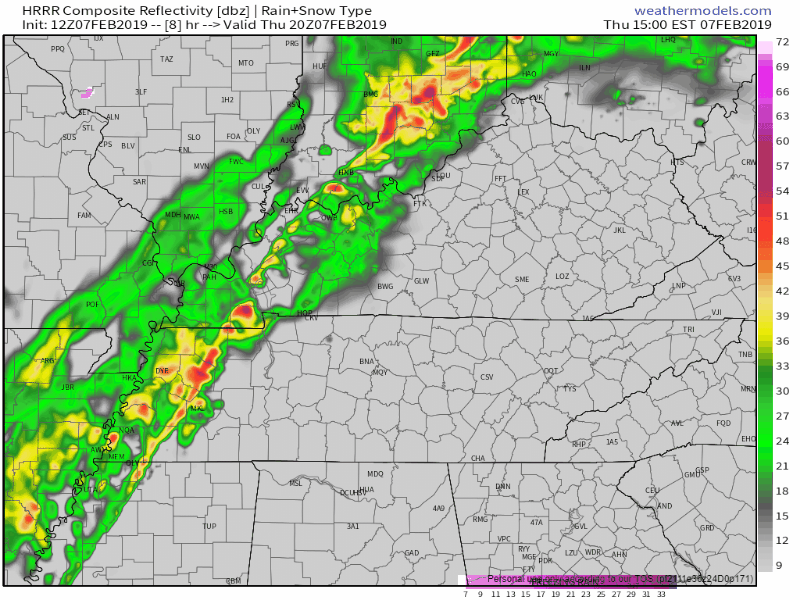 After yesterday's record-shattering rain, I know the last thing we want to see is more on the way. Luckily, we're not expecting nearly the rain totals we saw last night.
The Weather Prediction Center says we could see 0.25″ to 0.5″ of rain this afternoon/evening.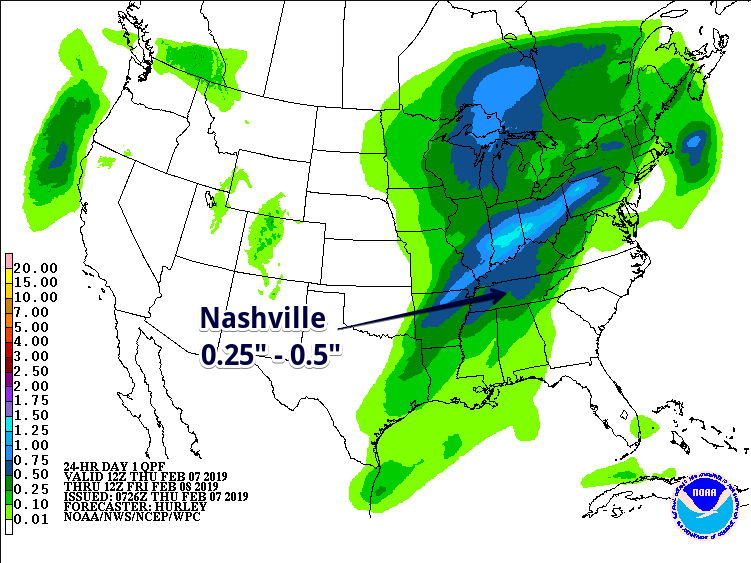 Winter Returns on Friday!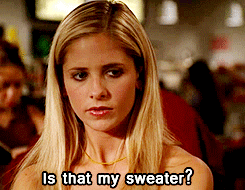 Our temps will fall dramatically overnight Thursday into Friday. By Friday morning's commute, we'll be sitting in the upper 20°s. High temp in the upper 30°s.
High pressure is expected to settle in on Friday, allowing for the skies to clear. Mostly clear skies will continue to accompany us Friday evening. If you don't mind the sudden chill, go out and enjoy the dry skies.
Looking at the same story on Saturday: mostly clear skies in the day; temps a few degrees warmer than Friday. High temp in the low 40°s with an overnight low around 32°.
Clouds will return Saturday evening ahead of another wave of rain on Sunday afternoon/evening. Our high temps will bounce back to the upper 40°s/low 50°s by Sunday so as of now, no wintry precip expected.
---