We're still pretty chilly this morning, but by this afternoon we'll warm up considerably. Our afternoon high temp will be around 40° here in Nashville – a far cry from the extended sub-freezing temps we've been dealing with!
Today marks the first day of a warming period that will last through early portions of next week. Winds have been blowing out of the north for the past few days, but this afternoon they'll shift to the south. This will bring plenty of Gulf moisture and relative warmth back to Middle Tennessee.
Rain chances go up this evening as a weak trough sets up just to our west and pushes through overnight.
Rainy Start Friday
Warming continues on Friday with morning temps just above freezing and an afternoon high in the mid 40°s.
Morning Rain
The NAM 3km below shows the rain showers pushing through beginning before sunrise and continuing through the morning. As the rain approaches, there are some pinks just to our north. This is due to cold overnight temps. There could be a few pellets of sleet mixed in with the rain, but no impacts are expected Friday morning.
[Editor's note: This system is different than the others we've had in recent days. Instead of the atmosphere getting colder as precip moves through, it will be getting warmer. NWS says: 
It will still be on the cold side when the precip begins, so will include a rain snow mix across the north for a few hours. [Otherwise], wet bulb zero heights will be on the increase with the bulk of the precip changing over to rain rather quickly.
They don't sound concerned, and neither am I.]
Most rain should come to and end in the afternoon, but on and off light sprinkles could hang around through the rest of the day.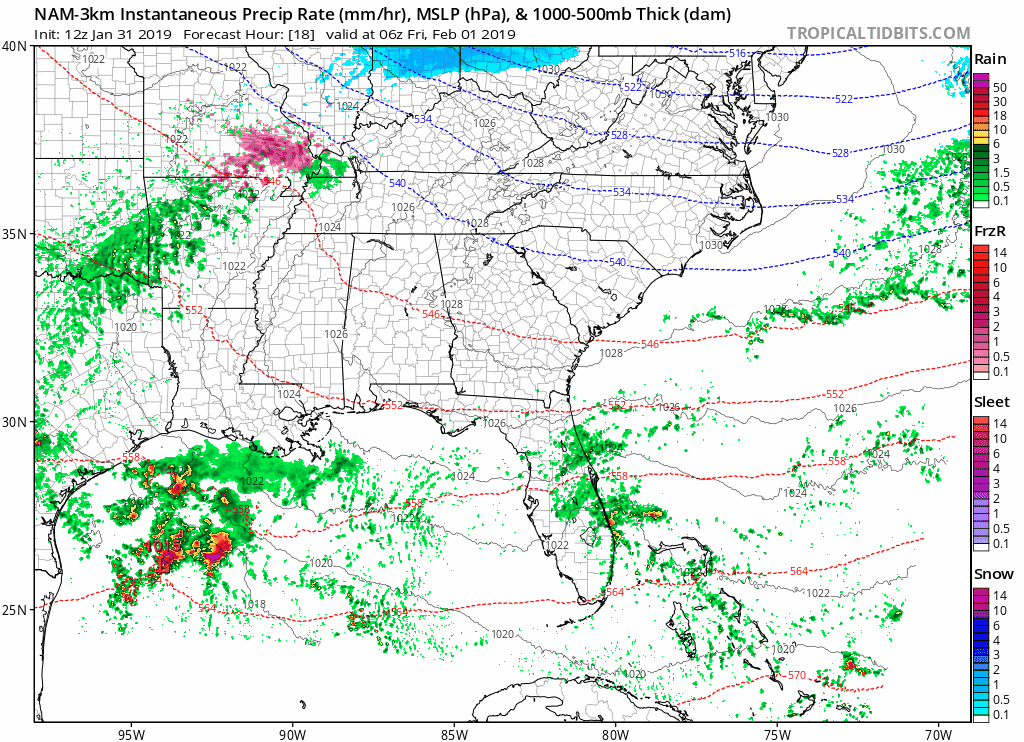 The Weekend
Shed your winter coat on Saturday as we warm into the low 60°s. No rain is expected, so it'll be a great day to head out and enjoy the warmth.
Next chance of rain is Sunday, but it looks as though most moisture will stay to our south. The uptick in rain chances on Sunday is ahead of a frontal passage on Monday.
After Monday, we're watching for another system to develop over the Midwest before moving to the northeast. This will trail a cold front behind it which will likely drop our mid/late work week temps.
We're many days away from the middle of the next work week, so forecasts may change as we get closer. So, stay tuned here and @NashSevereWx on Twitter with further updates!
---