Editor's Note Rant: Thank you for reading the blog.

I do not understand weather providers which speak in terms of accuracy, as if trying the hardest, or being the smartest, or looking at this data vs that data can make a forecast more or less "accurate." We're all working very hard at this. Everyone is smart. We are all looking at the same data. Everyone wants to get it "right."
There is no accuracy, there is only uncertainty, ranges, reasonable alternatives, and best estimates. Expect this, prepare for that. Expressing a forecast as one deterministic solution to a complex problem is a mistake. Every forecast should admit its uncertainties and potential for error to assist and prepare the reader.
As a weather communicator, we will not reduce complexity to clip art. We won't call a donut a well balanced breakfast.
Seek understanding, not answers, when the truth is there are no answers, only uncertainty, ranges, nuance, and information.
Be educated and prepared, not disappointed.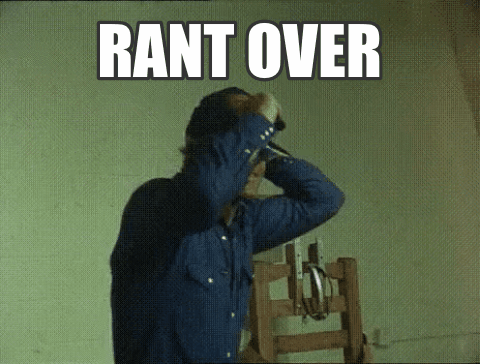 Cold air has arrived in Middle Tennessee. High temps will struggle to warm up to freezing for most of us.
Skies have cleared, expect sunshine with wind chills in the upper teens and low 20°s.
This is just the beginning of frigid temps.
Tonight, and into Wednesday morning, another quick band of moisture will swing through as the big arctic front finally spills into the southeast. We could see a few more flurry showers late tonight and early Wednesday morning. See HRRR below.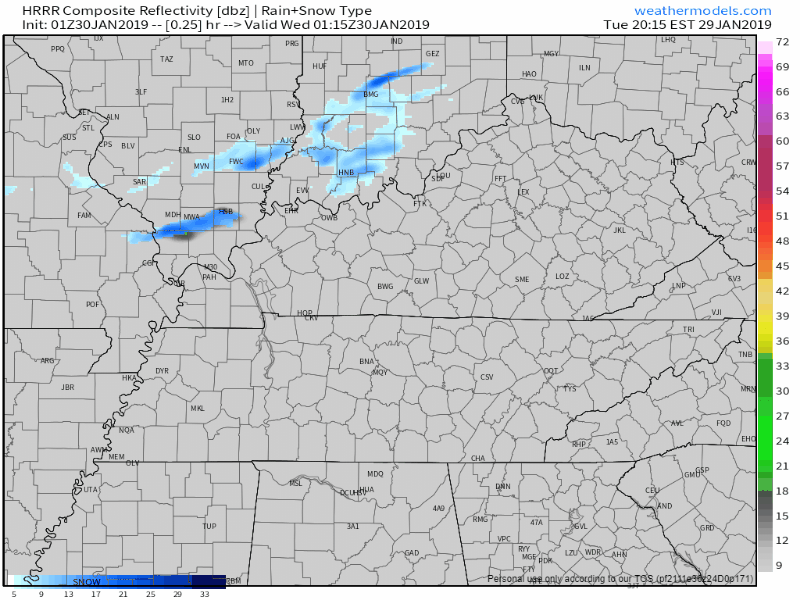 We've got quite a stout dry pocket right above the surface – the Dry Air Monster. If we can fill up the Monster, snow could potentially reach the ground. No travel impacts expected, but this will have to be closely watched. Anything that falls will stick — if there's enough of it.
And there probably won't be.
Here's the NAM3 from 10 PM tonight to noon Wednesday: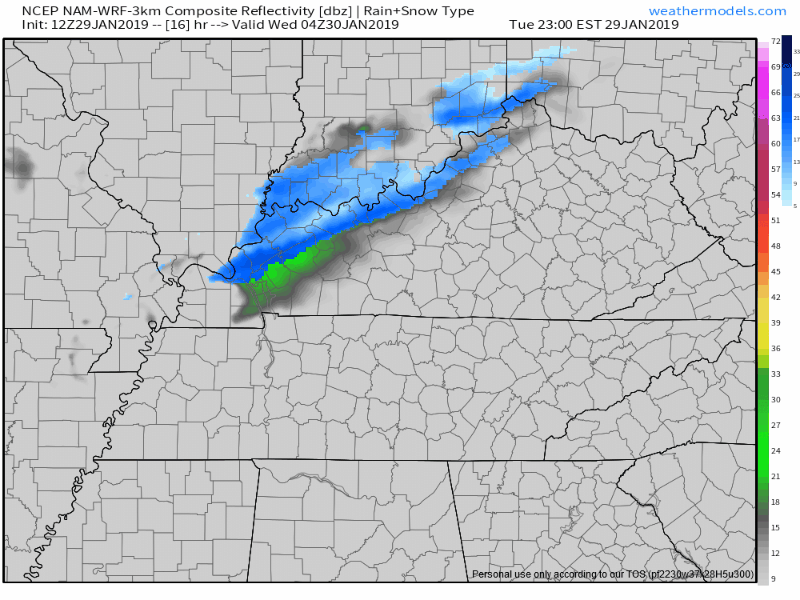 Very Cold Wednesday
By the time we wake up Wednesday morning, arctic air will be settled in over Nashville. Morning temps will be in the mid/upper teens with wind chills reading in the single digits.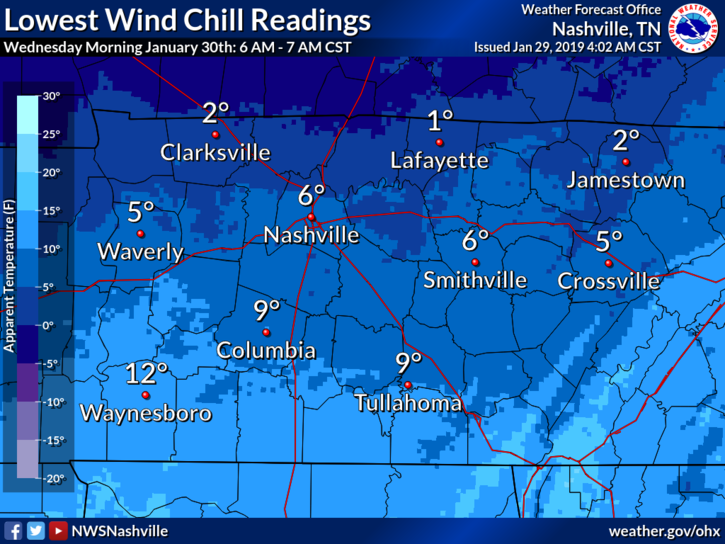 We'll have a hard time warming to the mid 20°s, and with a breezy northwest wind, it'll feel like the upper teens all day.
Overnight low temps will be the coldest we've seen all season. Once the sun sets, a north wind will push our temps into the low teens.
Cold Start Thursday
Thursday morning will feel very similar to Wednesday morning with temps in the low teens.  Wind chills, again, in the single digits for those heading outdoors.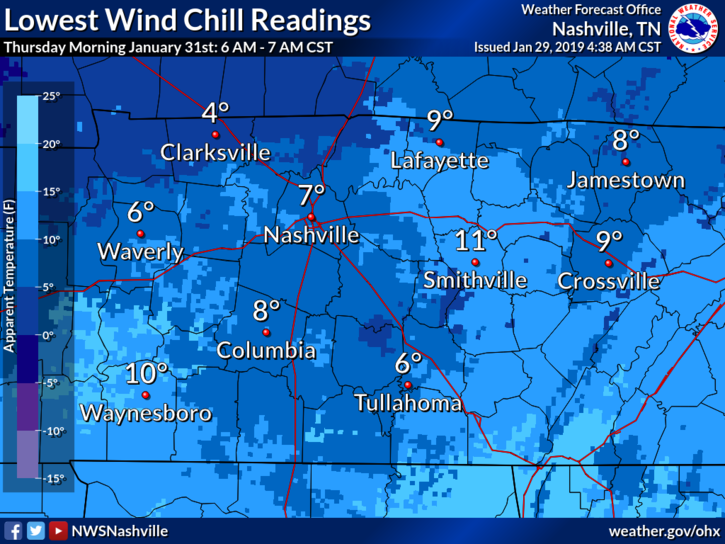 This will change quickly as our winds return to the south, allowing us to warm into the low 40°s Thursday afternoon!
Moisture will return to Nashville Thursday afternoon. Thursday night, a weak surface trough could cause some showers to go up, dropping rain down. Evening temps will fall close to freezing, so there could be a mix of snow with the rain. No impacts expected.
Warming returns this weekend as our south wind continues. The beginning of our next work week looks wet with mild temps. So if this cold isn't for you, warmer temps will return!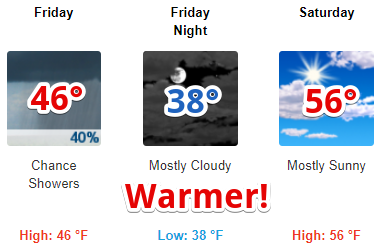 ---