Pretty great today (high 49°) and Monday (high 58°!).
Rest of the week, not so much.
Tuesday's snow potential + exceptionally cold temps prompted NWS-Nashville to issue this Special Weather Statement for all of Middle Tennessee: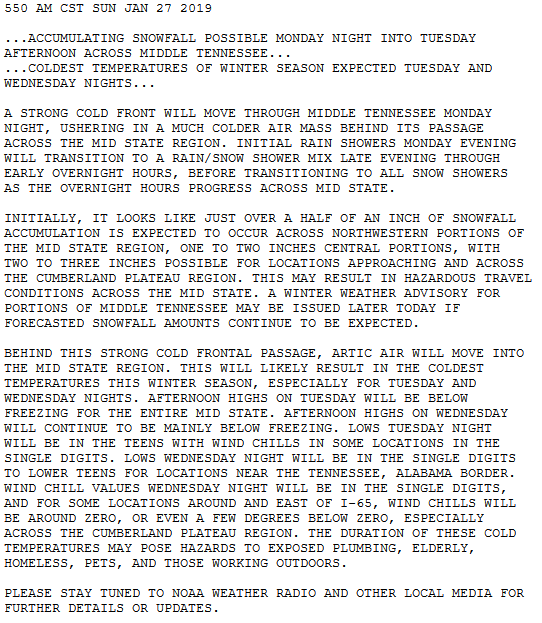 Monday Night – Tuesday: Rain to Snow
The strongest cold front of the season arrives Monday night.
Just behind it, rain. Expect rain Monday night.
Then, later Monday night, rain and snow mixing.
Followed by a transition to snow early Tuesday morning.
NWS-Nashville forecasts 1″ to 2″ of snow for us. This is not a promise or a guess. It's the best idea based on current data. Accumulation forecast may change. See the section on weather models, below.
Temps are not expected above freezing Tuesday. If a big snow materializes, road conditions Tuesday morning will be a mess, and not just bridges and overpasses, with low 20°s temps holding it all in place.
If just rain and a little snow, I would still expect bridges and overpasses to be a problem.
The Models
NWS's 1″ to 2″ forecast is a consensus of all model data. Some models think we'll get more, others just a dusting.
Meteorologically speaking, this setup is not ideal. There is "bust" potential. We get the most snow when a low pressure center moves south and southeast of us. This one is different, with precip riding a powerful arctic cold front. We can get snow this way for sure, and it looks like we should at least a little Tuesday, but the truth is these systems have burned us before. They often run out of precip or the timing messes up. Be advised.
Expect first flakes to melt on contact. Roads will be wet and warm — then they'll freeze very quickly.
Before data digging, NWS-Nashville wrote this in a separate forecast discussion this morning that's worth repeating and later remembering:
LIKE MOST POTENTIAL WINTER WX SYSTEMS THAT COULD EFFECT THE MID STATE REGION, THERE CONTINUES TO BE SOME UNCERTAINTY HERE, AND THUS LATER MODEL RUNS WITH FORECASTERS METEOROLOGICAL INTERPRETATION WILL BE NEEDED AS THE TIME OF THIS POTENTIAL WINTER WX EVENT APPROACHES FOR MOST ACCURATE EXPECTED SNOWFALL ACCUMULATION AMOUNTS.
SREF: 3.5″. This model loves this snow setup and wants to marry it.
NAM12: 2″. This is a low res model but whatever, I see you NAM12.
NAM3: It illustrates the general consensus of what radar will probably look like: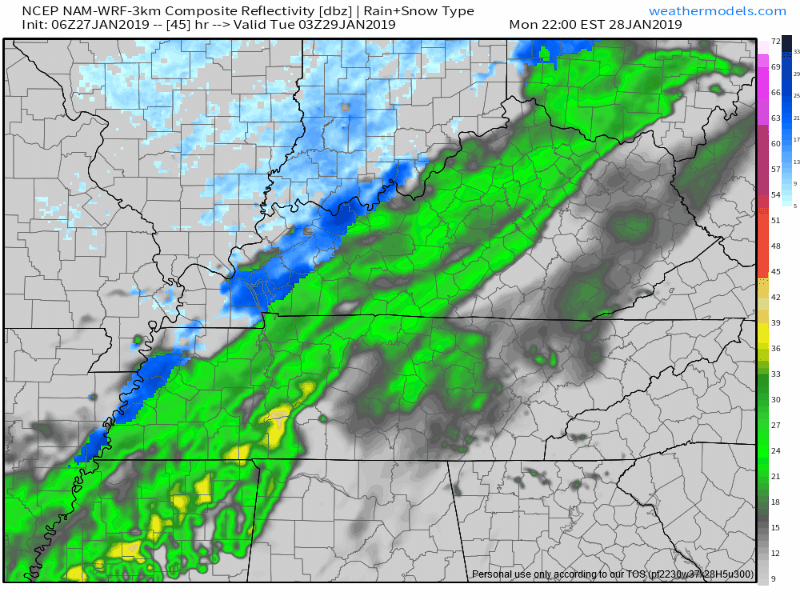 Not sure it has the temp profiles correct, but, yeah, that's about 1″ of snow.
Euro Ensemble: less than a half-inch. This should alarm snow lovers. Euro, once infatuated by snowy Middle Tennessee landscapes, has been trending lower over the past few days.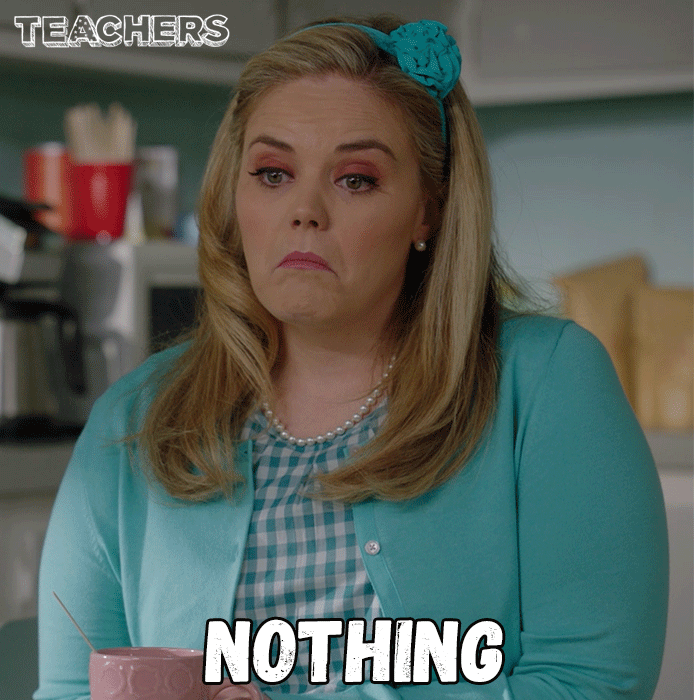 GFS Ensemble: 1.2″
HRRR: not yet in range, but it shows something the NAM3 showed yesterday — the rain coming in too fast and too hot for a big snow event. Early arrival = more rain, less snow. Late arrival = less rain, more snow. HRRR has rain approaching the Ohio River by 2 PM Monday, and there's just not that much precip in it to inspire excitement for a big snowfall.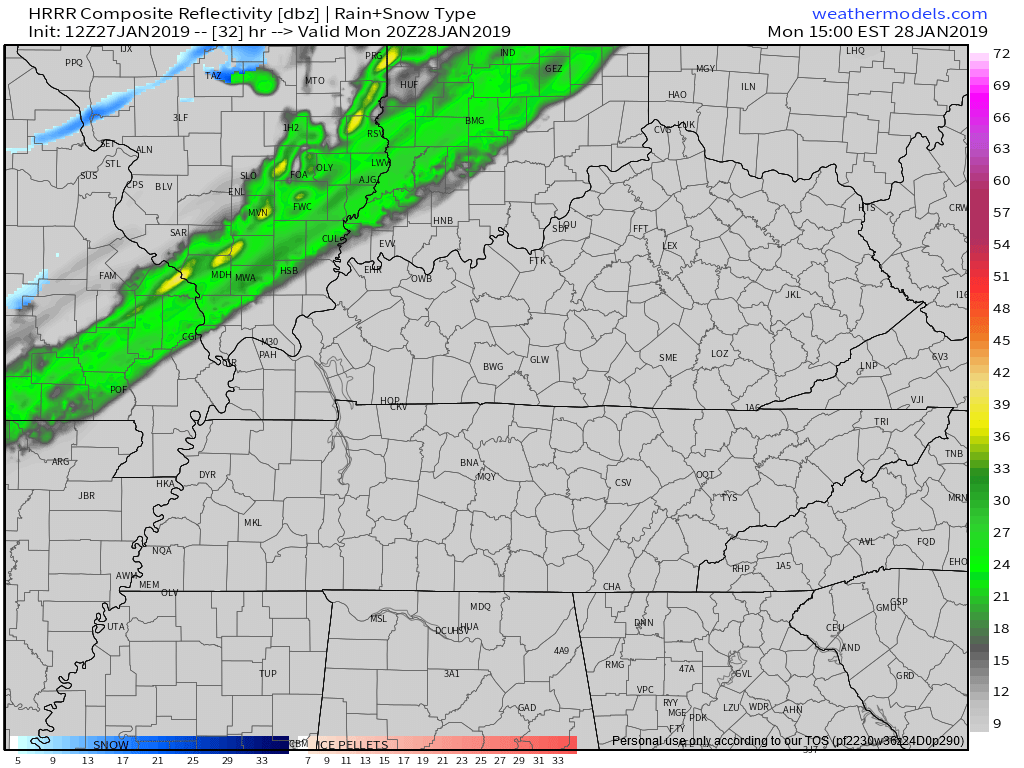 But, that's just the HRRR, and it's not in range of the event timeframe. Just looks weak in warmups, maybe it will have a protein shake and pasta before game time.
I still don't know where my sled is, I don't know if I'll need it, but I'm confident I can find it quickly.
Even if it's almost all rain, or almost all snow, or some middle variation, temps crash below freezing after midnight Monday night and will stay very cold and below freezing throughout the day Tuesday. In the last two "events," temps struggled to drop to freezing, and once they did, they didn't stay below freezing long. They warmed up well above freezing before lunch the next day.
Tuesday is different, we won't see 30°. Tuesday morning, we'll be in the low 20°s, quickly freezing anything and everything that's wet. Temps remain below freezing throughout the day.
The question is how much precip, and when? If we end up with a lot of snow overnight Monday into Tuesday morning, temps won't melt it for a long time.
Crazy Cold
Tuesday morning: 22°, afternoon high 29°.
Wednesday morning: 17°, afternoon high 27°.
Thursday morning: 10°, afternoon high 30°.
Friday morning: 23°, afternoon high: Finally Above Freezing! 41°.
But, those temps aren't the story. It's the wind chill.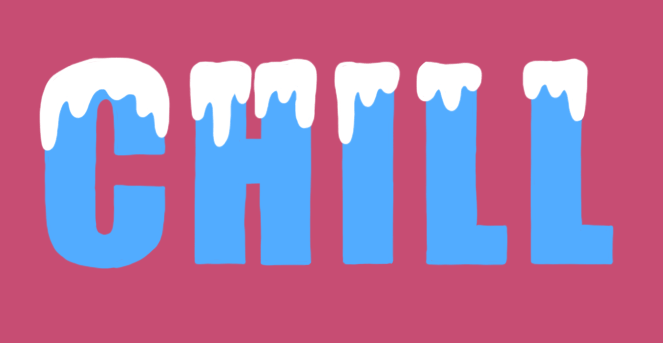 Some will experience single digit wind chills Tuesday morning.
Wednesday morning wind chills may dip near 0°.
Today's the day to winterize those pipes and other exposed things you don't want frozen this week. Shelter your pets. Donate to a homeless shelter.
One Other Thing
Slight chance of a little more snow arrives Thursday night, probably turning to rain Friday afternoon when we poke above freezing. Meh.
Models have no real good handle on next weekend. NWS-Nashville thinks seasonal-normal AM/PM of 27°/46° for Saturday, thankfully. I have things to do next Saturday.
Check back frequently here, @NashSevereWx on Twitter, and watch your favorite local TV meteorologist tonight. Ignore your crap app.
---