At 6PM we're sitting at 38° and looking dry. Clouds cleared out early but they'll soon return as a cold front approaches. There was mention of very light snow flurries earlier, but now models don't seem to be picking them up. We might be lacking the moisture needed to get snowflakes to form.
While models aren't showing flurries, they aren't the end-all guidance on weather prediction. There is still a small chance to see a small flake or two before midnight.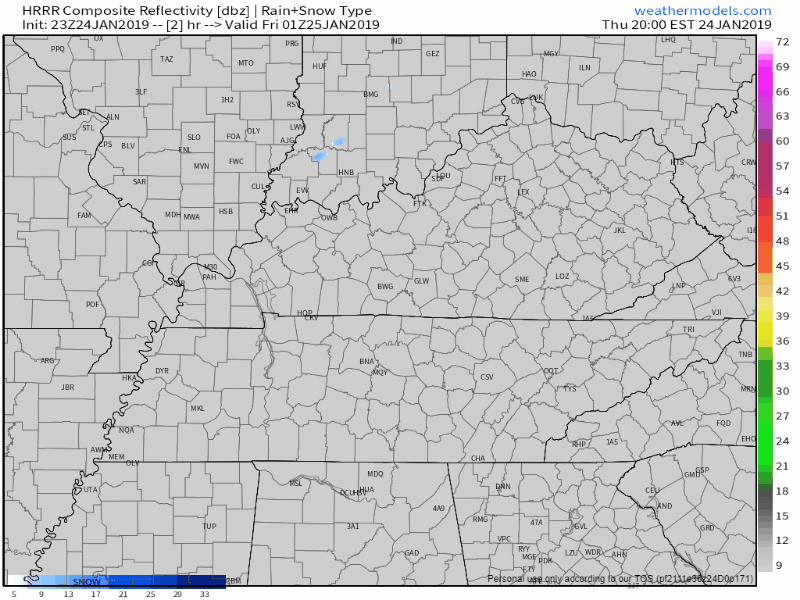 At around 9PM we should see our winds pick up from calm to breezy by midnight when the front passes. We'll quickly dip into the low 20°s, possibly even the teens overnight.
Friday
Bundle up! This cold front is legit. Morning temps in the upper teens with wind chills as low as the single digits.

Skies will be mostly clear, but even with the sunshine, high temps will hover around freezing.
Saturday & Sunday
By the weekend, our winds will turn to the southwest, allowing for a slight warmup. High temps in the low 40°s both days.
Saturday evening, a quick clipper system will pass just north of us, bringing a few flurries to north Middle Tennessee, as suggested by the NAM 3km model below. We likely won't see anything here, but if the clipper sets up a bit further to the south then a light flurry shower could be possible. Again, no impacts.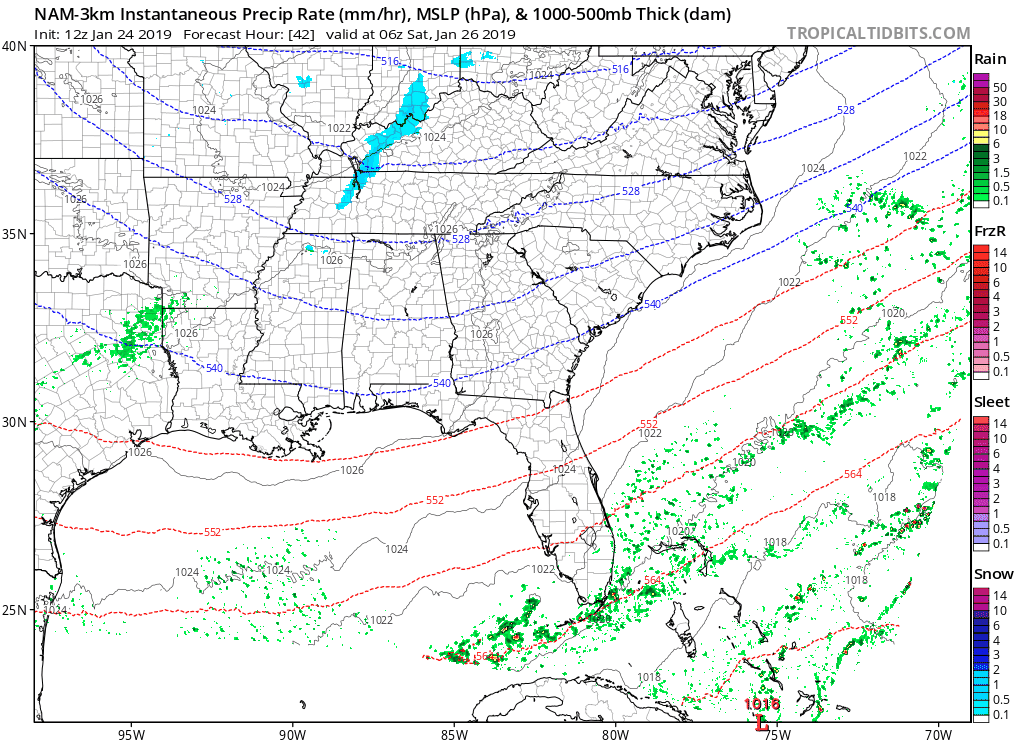 Sunday morning will be cold but dry with a light, south wind. Sunday, January-mild.
Slightly Warmer Monday, Snow – Maybe – Tuesday
Winds will continue to blow out of the south on Monday. With some sun, Monday's high temp should hit the low 50°s. Clouds return with precip – starting as rain – Monday night as we await our next weathermaker.
This one may be strong.
Arctic air will pour into the southeast US Monday night and continue through Tuesday. Rain beginning Monday evening could changeover into snow by Tuesday morning as temps fall below freezing once again.
Tuesday temps will have a hard time warming up to freezing as frigid air continues to spill into Tennessee.
This is the best setup we've had for snow yet this season. (Editor's Note: Marti's right, but note the caveat — Tuesday's snow setup is not ideal for the snow loving, but it's the best we've seen so far. Admittedly, "best this season" is a low bar. This isn't one of those lame frontal systems like we had last night and last weekend).
Some accumulation is possible Tuesday, but we are still quite a few days out, so whether/how much remains unclear to the intellectually honest. Models will change, and forecasts will be updated. Change could go either way, more or less/no snow.
This system is weird. The center of it is north of us, which usually means rain, but the cold air associated with this one is impressive.
We'll be impatiently waiting for the next model runs to arrive.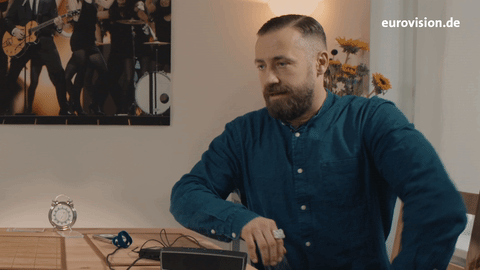 Then when those models get here, I'll be all, "well, IDK, after all these are weather models, fallible tools made by fallible people."
But for what it's worth, the Euro Ensemble models show 70% probability of accumulating snow over 1″ by Tuesday night at midnight.
---