Wind Advisory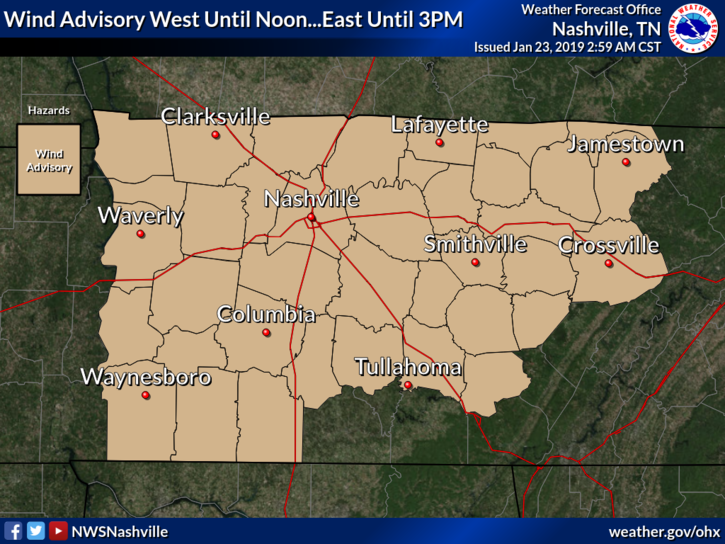 TIMING: Until 3 PM CST today
WINDS: Breezy south winds 20 to 25 mph with gusts around 40 mph.
IMPACTS: Gusty winds can cause tree and branch damage. Loose outdoor objects may be blown around. High profile vehicles, especially those traveling on east-west roadways, may experience travel difficulties.
Today
Aside from the wind, the rain has begun! We will have intermittent showers through the rest of the morning hours. The heaviest rain will arrive around 1 PM according to the latest run of the HRRR model (seen below).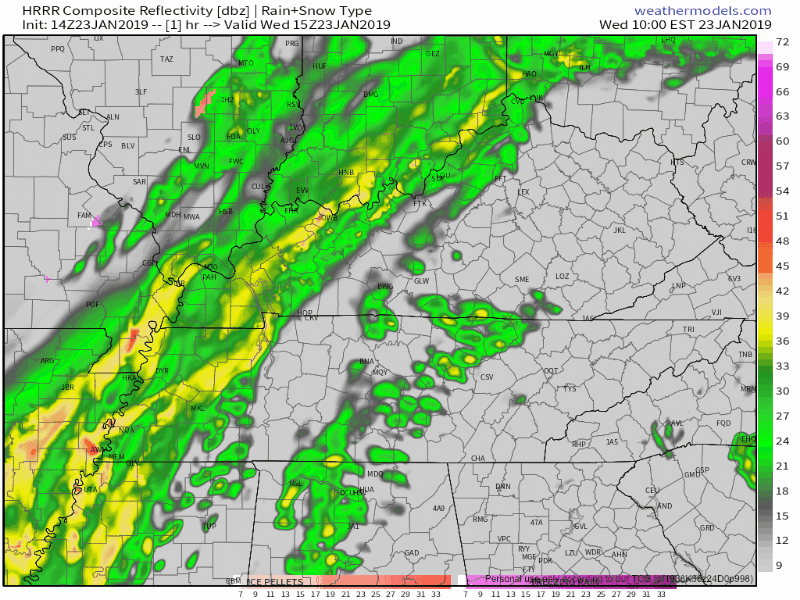 Once the heavy rain arrives, temperatures will begin to take a nose dive. Notice on the tail end of the loop below, there is the opportunity for a brief transition from rain to wintry precip/snow after 8 PM.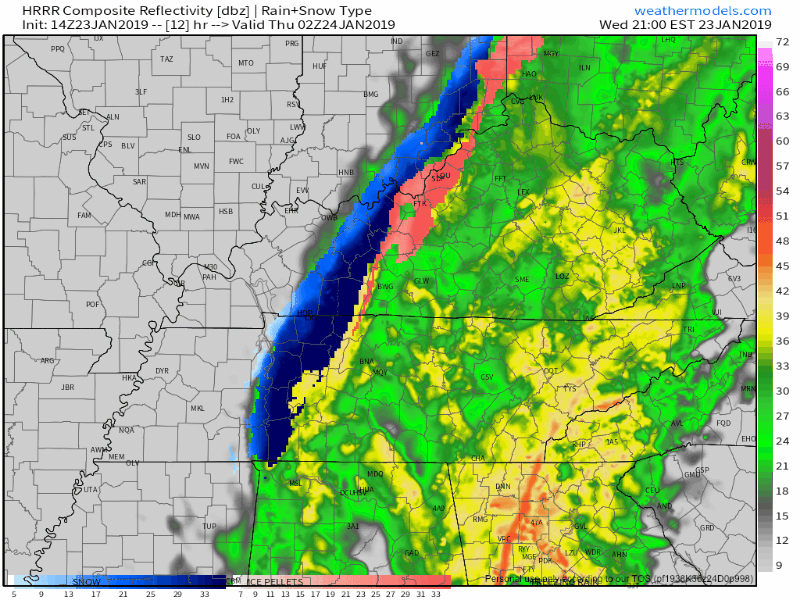 The snow should not be that big of an impact. Here are the details on it from NWS Nashville:
A cold front will bring much colder temperatures this evening. Winds may start to shift out of the northwest as early as noon near Land Between the Lakes. It will be later this evening before the mid levels of the atmosphere cool down enough to support snowfall. Expect snow to begin to mix with the rain after 8 PM. A transition to all snow is expected around or after midnight, however very little moisture will remain at that point, so snowfall accumulation totals are expected to range from 0 in the southern counties to a half inch on the upper Cumberland Plateau.
What does that mean for Nashville? This: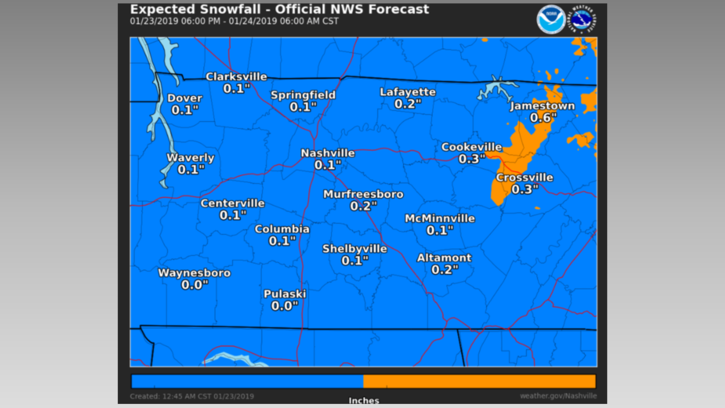 Expect a dusting at worst, nothing at best. The official forecast is for a tenth of an inch of accumulation. [Editor's Note: For those of you wanting a big snow, nothing is not "best." It's relative. But, this event is not the big snow you're hoping for. It's a classic case of the cold air chasing the moisture as it's pulling out of town. This scenario happens somewhat frequently in our part of the country.]
Here are a few other points that were mentioned yesterday, that are still relevant today:
Any initial snowflakes will splat/melt on a warm, wet earth.
Snow will be brief, if at all.
Even if it doesn't snow, temps will drop through the 30°s and fall below freezing around/after midnight. Thursday morning's low is 25°, which we will reach before dawn Thursday. I am concerned wet roads will freeze leftover rainwater or snow, especially on bridges and overpasses, and other areas at elevation. So, snow or not, there is reason to be somewhat concerned about icy conditions early Thursday morning.
Anything frozen Thursday morning should thaw between 9 AM and noon. The forecast temp for 9 AM is 28°, but 37° by noon.
Thursday and Friday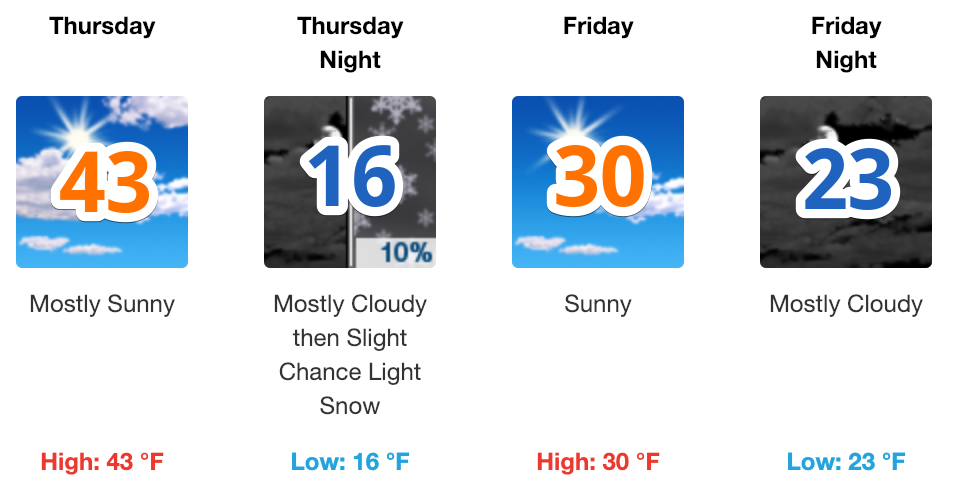 Low temperatures on Thursday morning will be in the mid 20ºs. That mixed with leftover moisture may cause some slick spots, as mentioned above. Dry air is going to be left in the rain's wake. The sun will come out at temperatures rise to near 40º. Another surge of cold air will be pushed in on Thursday night. Low temperatures will fall into the teens with feels-like temperatures in the single digits!
More snow? Here is what NWS Nashville had to say about it:
This could stir up some flurries and will drop temperatures into the teens by Friday morning.
If anything does happen, it will be nothing more than a flurry here and there.
Beyond
Temperatures will rise on Saturday as our winds shift more southerly. Expect high temperatures to be in the low 40ºs. Another snow chance? Back to NWS Nashville:
Then a fast moving wave in the upper trough will dip down Saturday night and bring a slight chance of snow to the mid-state, mainly north of I-40.
My thoughts: another non-event.
Next week though, hmm. That'll be the one to watch. Check back for updates on that tomorrow. More info, updates @NashSevereWx on Twitter!
---