Clouds are arriving. Rain is coming Wednesday, and it may turn to snow Wednesday night.
Alert! Editor's Rant. This isn't about you most of you. Warning: what you're about to skip over read is indulgent and arguably therapeutic (for me). If you came here for No Rants, Just Weather, I respect that, skip the blue words.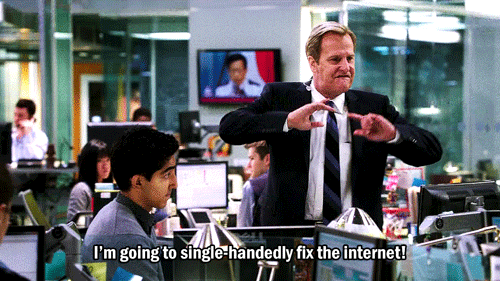 In descending order of beardlyness, Will, Andrew, and I serve up data, interpretation, and opinions in an attempt to predict the future.
Along the way – 100K tweets and counting – I've come to expect various responses to an impending snow:
Blah Blah Blah Just tell me how much it's going to snow! As if. God knows if I knew I'd tell you, and if that was happening I'd be telling you from my palatial weather cave. The truth is nuance and uncertainty is in every Middle Tennessee snow forecast. Maybe probably everyone else running down your Twitter and Facebook feeds are sure about everything and can't understand why you don't agree with them. Weather apps ignorantly reduce complexity down to a nebulous percentage and comically lame piece of clip art, so maybe you expect us to be sure about whether it will snow or not. Certainty is popular in policy and politics but, here, it's just not, because weather certainty is not honest and we won't pretend otherwise. Your weather provider should not be a guesser. Your weather provider should be able to explain uncertainty, provide opinion, and trust that you can exist in a world of nuance and complexity without, you know:

It's your job and you get paid, so get it right! TV weather providers, like everyone else, want to get it all right. But that's an impossible ask. To be clear, TV mets are paid to get and keep the attention of the viewer, so advertisers will pay them. They do that by building trust with the audience. By asking you to give them the too-little time they get to lay it all out for you. The hyperbole? That's the marketing department. That's not the weather people. So if you want a good forecast, turn on 2, 4, 5, or 17. Give them the time they ask. They're very good. Or, IDK, read our blog. Read all our tweets. Bathe in the data. Seek the nuance and uncertainty. If you really want to know.

I want snow! or, I hate snow! Avoid confirmation bias, which predetermines the desired result, and ignores contrary evidence. Confirmation bias gets you into trouble.
Will school/work/meeting be canceled? We aren't in charge of your school or business. They make those decisions.
Snowdome! This again. You aren't promised snow. You live here. Snow is relatively rare. Many times models are Lucy, you're Charlie Brown, snow is the football.

So, then, what? Embrace uncertainty, assess your specific situation, and determine your risk tolerance, then plan for various contingencies. A good weather forecast should equip you to do this. It should not be sensational. It should be honest, containing nuance and uncertainty. It should not predetermine a conclusion and ignore contrary data. It should not be deterministic. It should contain a range of possibilities, including a most likely and least likely outcome. And it should trust to you take it for all that it is, instead of what you want from it.

After my similar rant last week, someone tweeted "who hurt you, @NashSevereWx?"
IDK, but I'm sure the answer involves nuance, detail, and study.
Wednesday
The Wind Advisory remains in effect until 3 PM. Winds strong enough to knock over a few things. 40 MPH gusts possible.
NWS-Nashville:
Gusty winds can cause tree and branch damage. Loose outdoor objects may be blown around. High profile vehicles, especially those traveling on east-west roadways, may experience travel difficulties.
Rain arrives Wednesday morning. First, hit or miss AM showers. A steadier rain shows up around lunch. HRRR breaks it down from 5 AM to 11 PM Wednesday: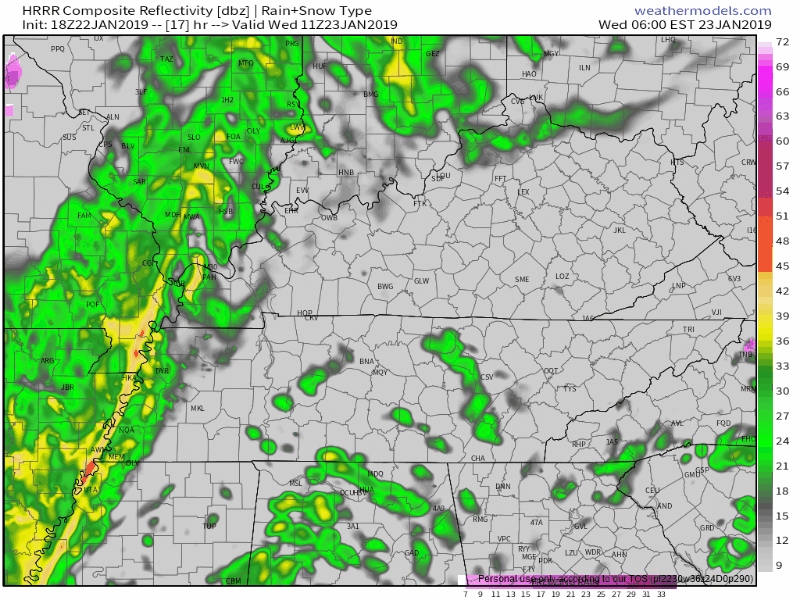 This will be about 1″ of rain, washing out outdoor plans.
Notice the HRRR model above thinks the rain will have pulled east before we get cold enough for snow Wednesday night.
Here's the NAM3 model, same time, 5 AM Wednesday to Thursday at 1 AM: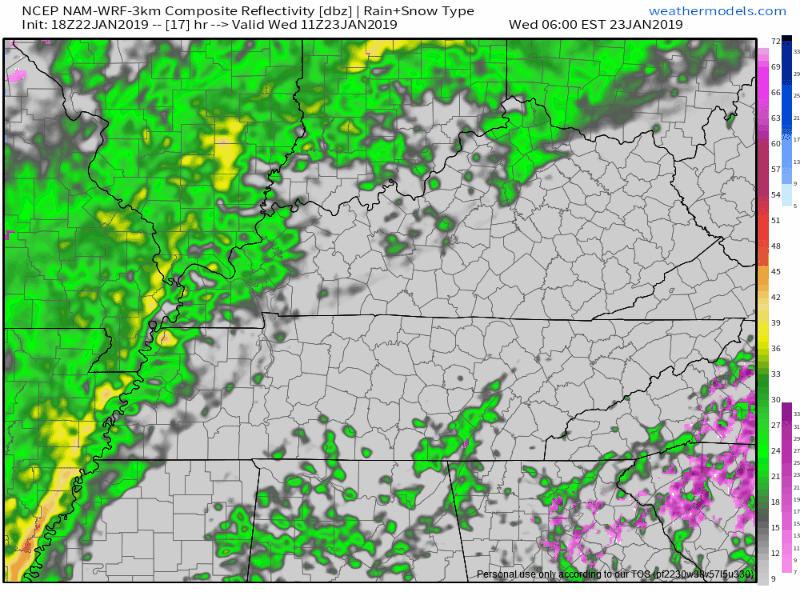 The snow is brief. Precip pulls east quickly.
If these models are off even a bit, we could see some snow, or, if they're off an hour or so the other way, just rain.
A few other points to consider:
Any initial snowflakes will splat/melt on a warm, wet earth.
Snow will be brief, if at all.
Even if it doesn't snow, temps will drop through the 30°s and fall below freezing around/after midnight. Thursday morning's low is 25°, which we will reach before dawn Thursday. I am concerned wet roads will freeze leftover rainwater or snow, especially on bridges and overpasses, and other areas at elevation. So, snow or not, there is reason to be somewhat concerned about icy conditions early Thursday morning.
Anything frozen Thursday morning should thaw between 9 AM and noon. The forecast temp for 9 AM is 28°, but 37° by noon.
NWS-Nashville notes:
Mostly minor snow accumulation potential Wednesday night, some slick travel possible early Thursday morning as temps fall into the 20s.
They think anywhere from 0″ to 1″ of snow Wednesday night. I'm sure they'll update this tomorrow.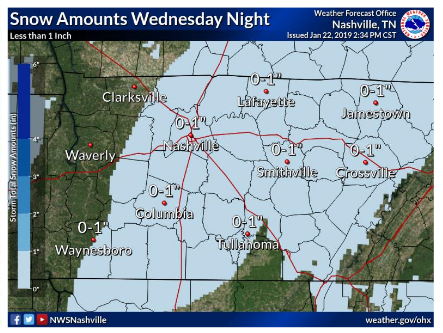 There is hope, snow fans.
Thursday
Temps rebound quickly in the afternoon as we get to nearly 40º with plenty of sun in the afternoon.
Beyond
There are a few more systems on the horizon with snow potential. The first is Saturday night, but that one looks starved for moisture. Meh.
The second is Tuesday. That one may be something. But remember: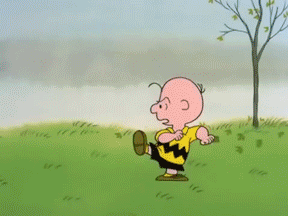 This analogy has limits. In weather, sometimes he kicks that football.
More info, updates @NashSevereWx on Twitter!
---