26° is our pre-dawn low Tuesday morning.
A Wind Advisory is effective beginning noon Tuesday through 9 AM Wednesday.
Strong south winds, 15-25 MPH, gusting around 40 MPH, may topple lightweight elderly and tip mostly empty garbage cans.
High 52°.

Wet Wednesday
Rain begins Wednesday morning and continues through the day. Heavy at times, heaviest early afternoon. 1″ to 1.5″ – that's a washout – expected. NAM3 model illustrates: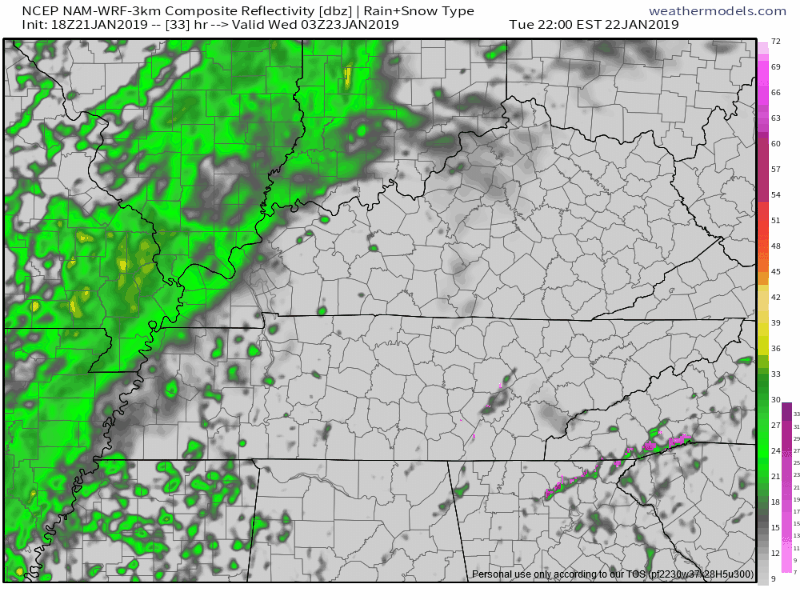 Chance #1 – Wednesday Night
Wintry precip/snow is seen on the NAM3, Euro, and GFS models.
NAM3 is above. Here's GFS: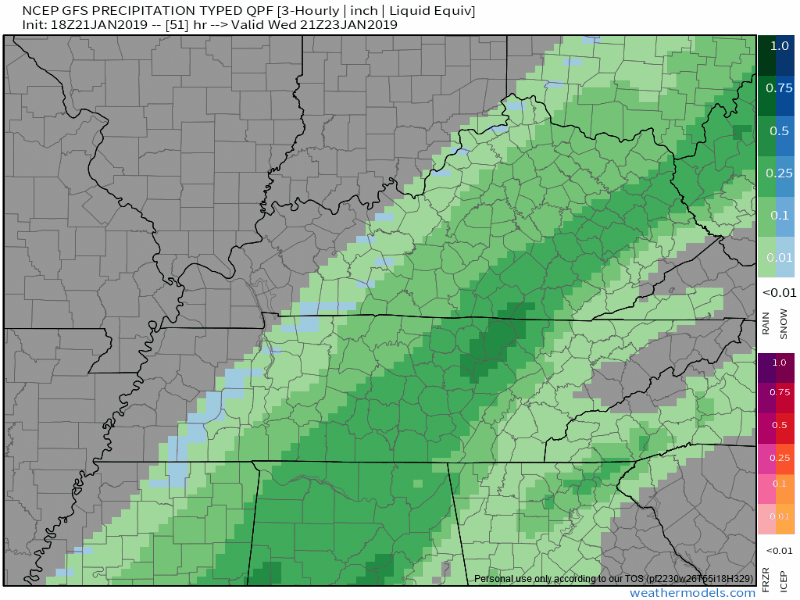 NWS-Nashville led its afternoon forecast discussion with:
Rain will change to a wintry mix Wednesday night. Any accumulations are expected to be minor, but some slick travel will be possible Wednesday night into Thursday morning as temperatures drop into the 20s.
Accumulation likely unimpressive. Why?
The ground will still be warm from 36 hours of temps in the mid/upper 40°s.
The ground will be wet. Moving rainwater is inhospitable to ice formation.
Precip will be moving east quickly, with not a lot of time for the sub-freezing temperatures to mix in before the precip departs.
Surface temps late Wednesday night into Thursday morning will be below freezing for only a handful of hours; we should be above freezing shortly after sunrise on our way to a high temp of 40°.
Editor's Note: Still looks like another bridges and overpasses event with negligible/no impact.
Chance #2 – Thursday Night
Another cold front Thursday night. It contains – don't be surprised – colder air and maybe a snow shower or two. Not a big deal.
Morning lows Friday will be near 20º with wind chills in the teens to single digits. No accumulation or impacts currently expected.
Chance #3 – This Weekend
It's complicated. The global models are all over the place. From NWS Nashville:
A cold pattern will be in place late week through the weekend. A series of fast moving disturbances could bring a few snow showers at times.
Doesn't inspire much confidence in sledding, does it? "A few snow showers at times" is a yawner.
Editor's Note: The Euro model loved snow Saturday until the latest (12z) run, which contained much less precip. This aligns with the GFS model.

I'm not impressed.
More info, updates @NashSevereWx on Twitter!
---