Winds dried wet roads last night. Throughout last night's dusting, winds blew between 13-17 MPH, gusts 25 to 35 MPH.
Some Middle Tennesseans saw snow. Clarksville's emergency manager reported 1.2″. Sumner County CoCoRahs observer near Portland logged 1.0″. Same for Greenbrier in Robertson County.
All north of us.
Williamson County reported a "trace" snowfall, which is not a Natchez pun. It means very little.
A few Nashville observers measured 0.4″: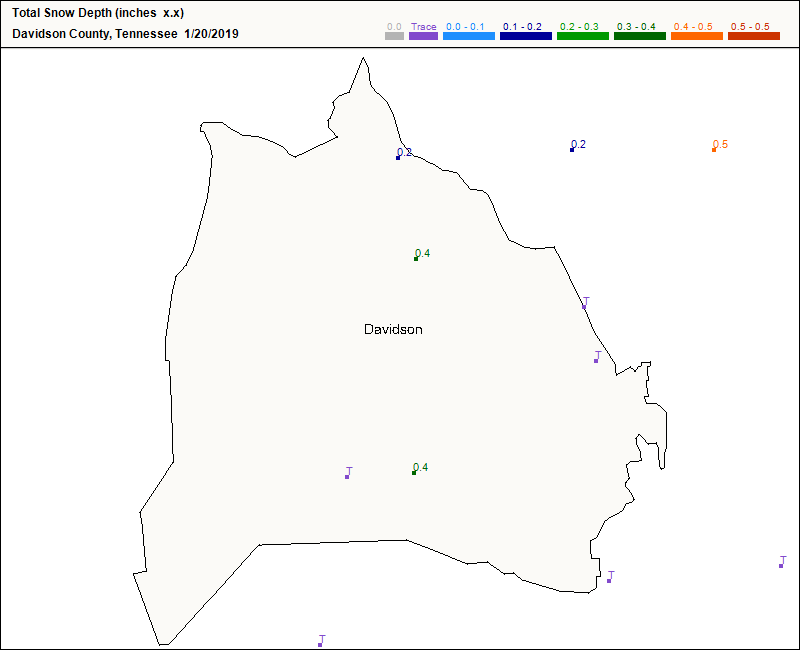 This was a decks, mailboxes, sidewalks, garden gnomes, grills, and fence tops event.
There just wasn't enough snow. Winds too strong. Ground warm and unreceptive, like that date you stood up at a Miami restaurant one June Saturday.
Flurries this morning could not withstand those strong north winds blowing 10-12 MPH today.
Many routes are fine. I'm sure some aren't. TDOT Smartway is your friend. So are traffic follows.
Additional Flurries?
A clipper system should race down I-24 tonight. Like the actual LA Clippers (rare NBA joke alert!), they fall apart when it matters most.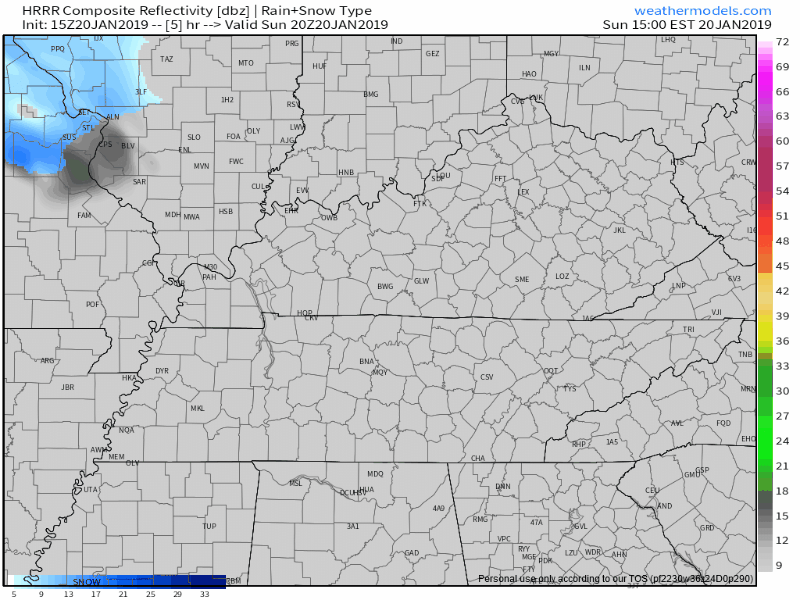 Meh, expect no additional snowfall or impacts. Flurries, maybe.
Very Cold Sunday
High 30°, but the warmest it'll feel until noon Monday is 18°.
Wind chills between now and then, in three hour increments:
16° 18° 16° 15° 14° 13° 11° 14°
Also a few rivers are up: the Cumberland River & Stones River are getting flood advisories for minor-stage flooding.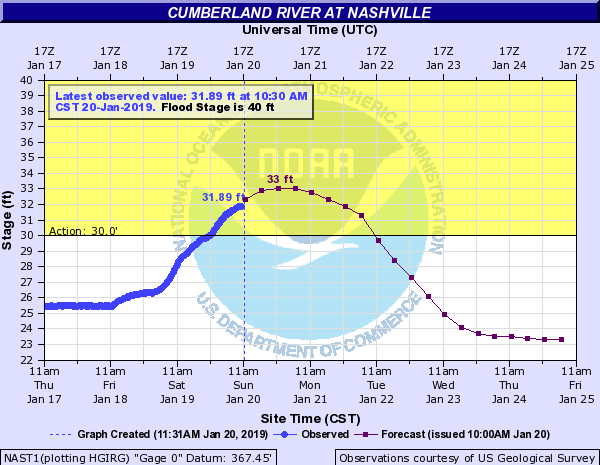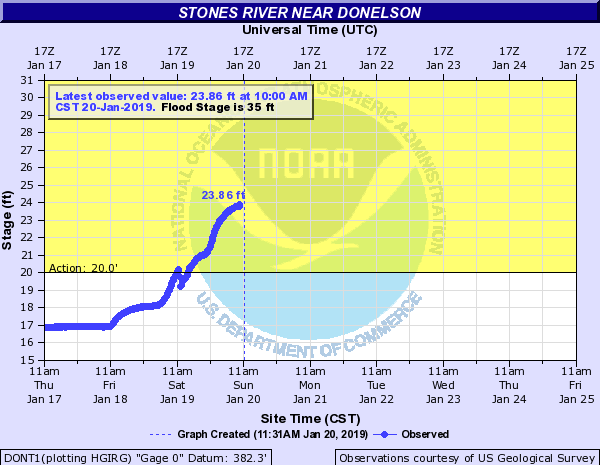 You can follow those and other local rivers and streams here.
Tonight's Lunar Eclipse
EarthSky.org says:

During these times clouds are forecast to be "broken," transitioning to "scattered."
"Broken" means clouds should be covering 5/8 to 7/8 of the sky.
"Scattered" means clouds covering 3/8 to 1/2 of the sky.
Not ideal.
Below HRRR model images depict expected cloud cover from 9 AM through 1 AM. Generally speaking, dark colors mean clear, whiter colors mean cloudy, blue colors mean thick clouds.
9 PM: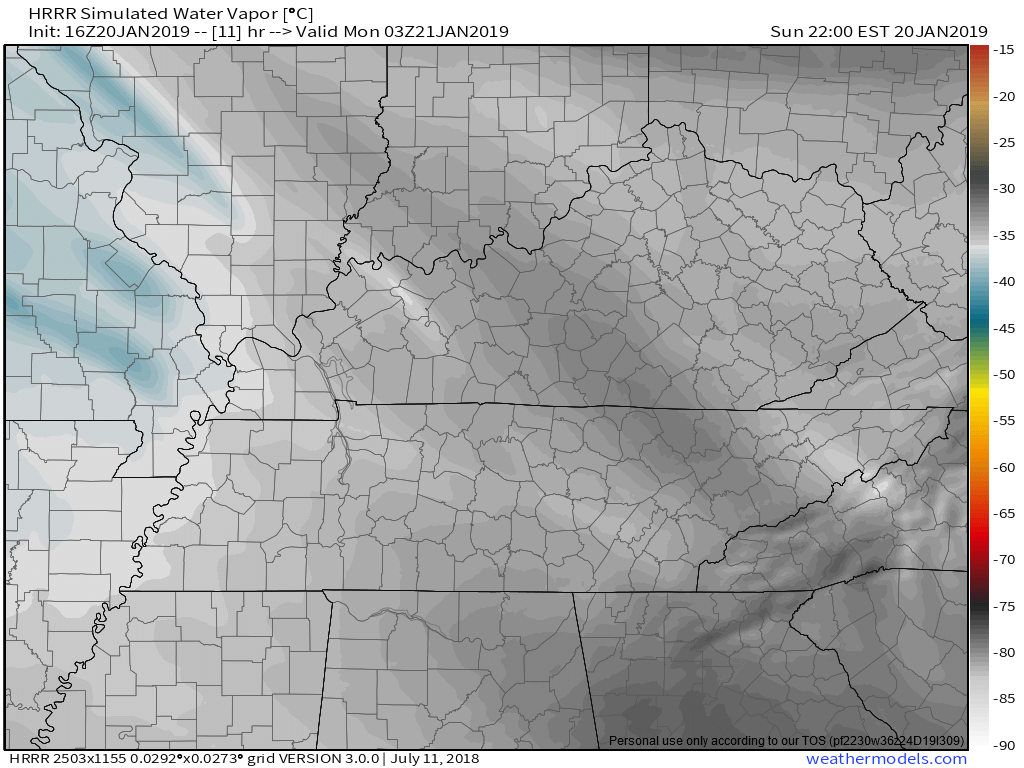 10 PM: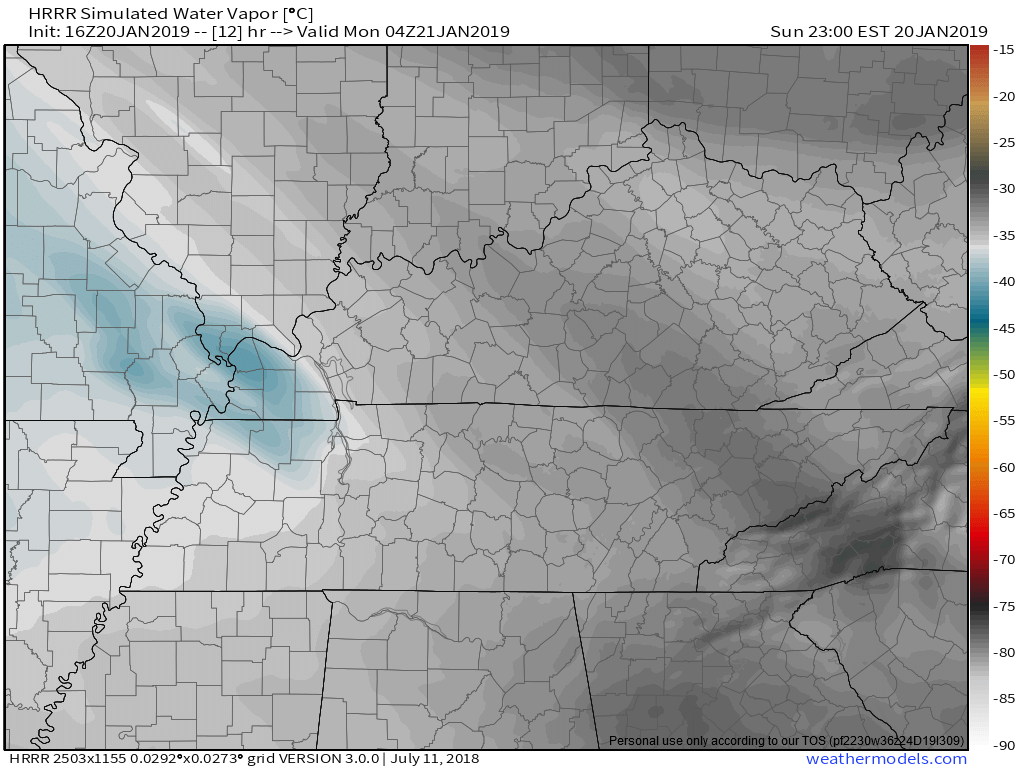 11 PM: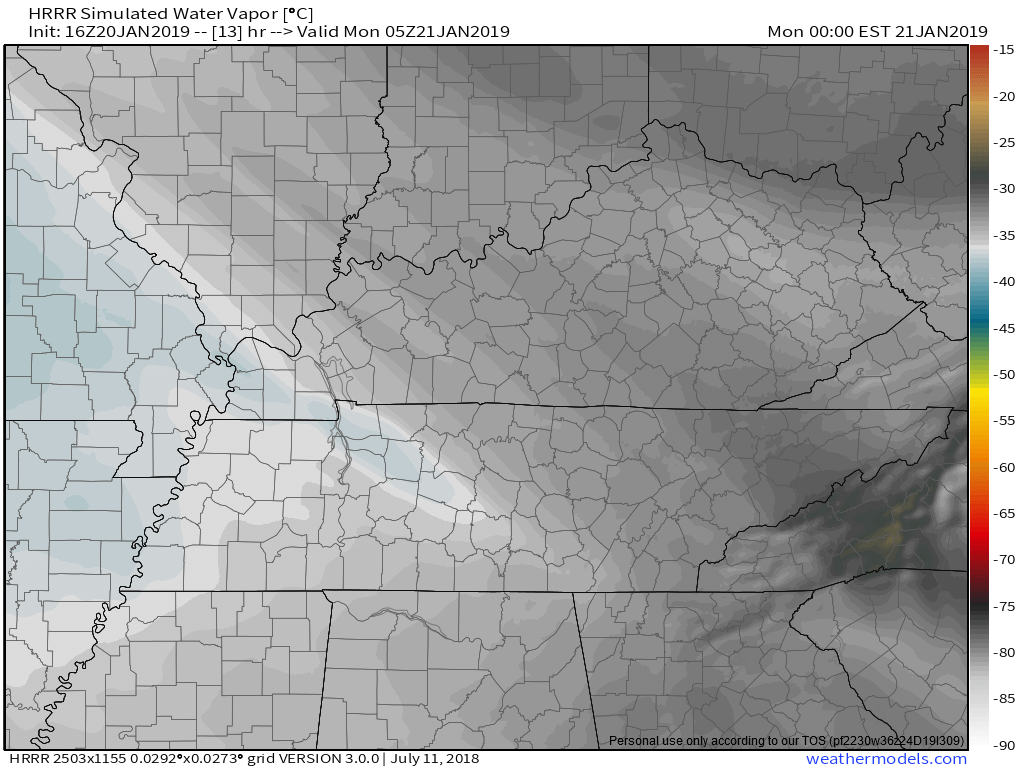 Midnight: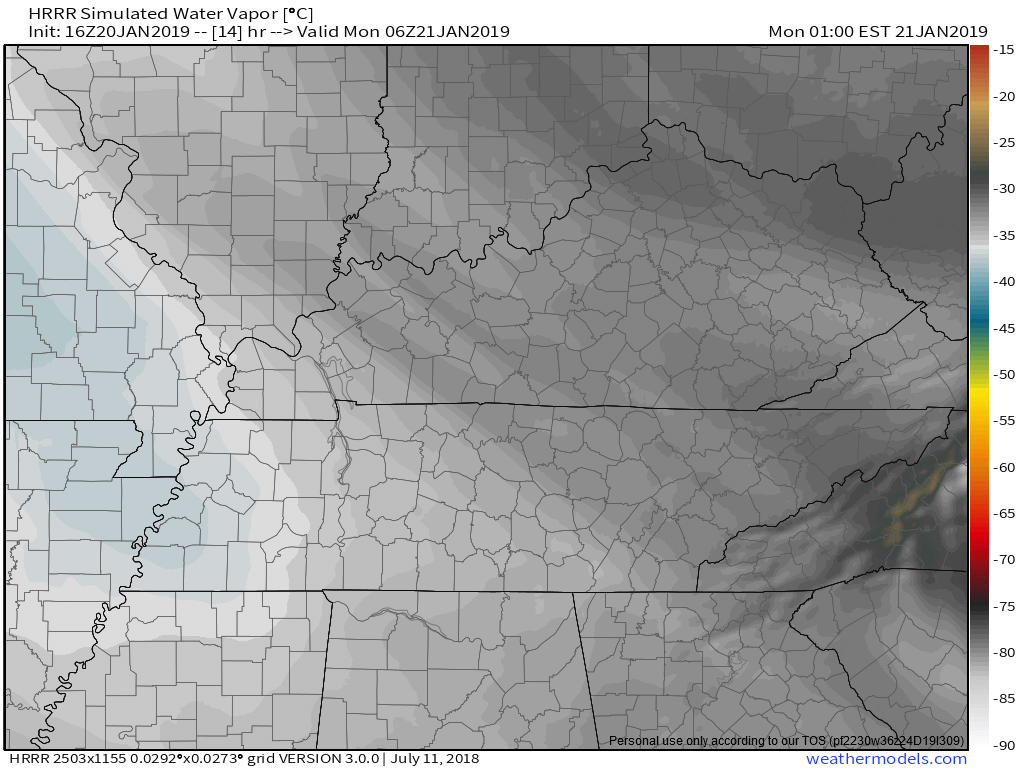 1 AM: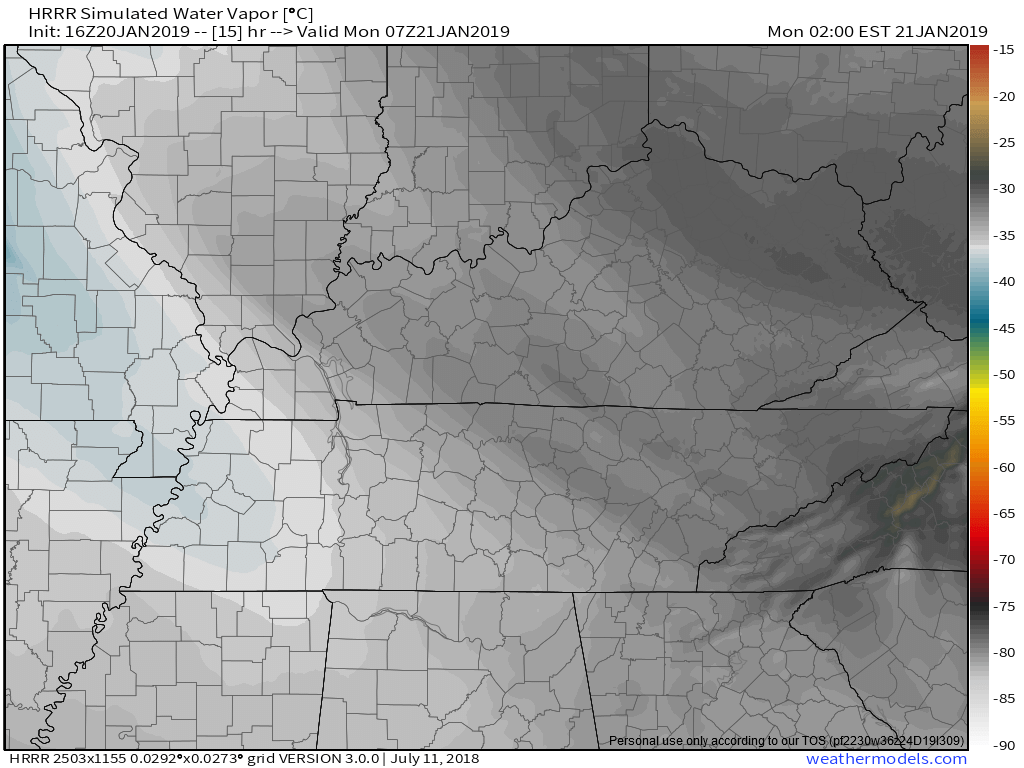 Warm Up
Martin Luther King Jr. Day will be a little warmer. We should see sunshine.
Much warmer Tuesday and Wednesday, except:
Rain Tuesday Night – Wednesday
ETA: Late Tuesday night or wee hours of early Wednesday morning.
Duration: Most of the day Wednesday.
How Much: Maybe a soaker. About an inch, maybe more. WPC thinks 1.5″ or so possible: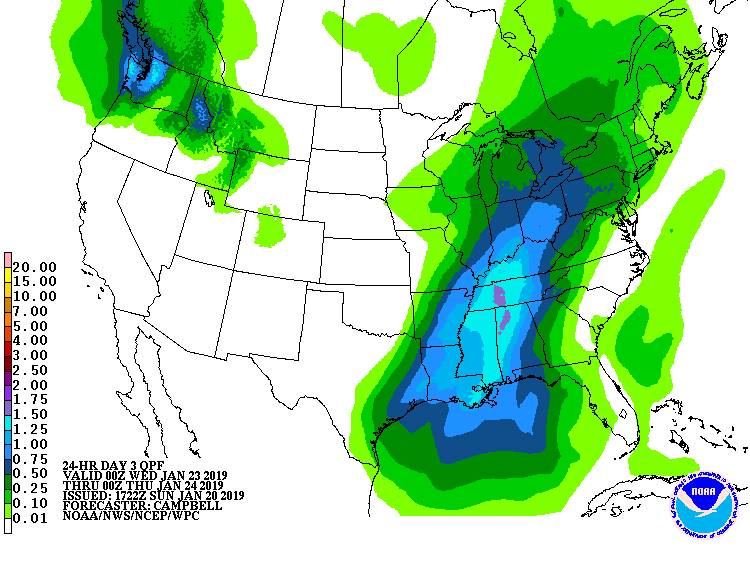 Ending: Wednesday night. That is, the rain should end Wednesday night.
Late-Week Snow Chances
Wednesday night – Thursday AM: A cold front is pushing in Wednesday's rain. Models think a little moisture will get stuck behind the cold front after it passes through, making a little snow possible very late Wednesday night into Thursday morning. Were that to happen, it would fall on a wet, warm ground. Like last night, initial flakes should melt quickly after settling on a warmer surface, and temps will only stay below freezing for a handful of hours, giving the earth very little time to cool and hold snow/ice. When the sun comes up, we should start to push above freezing Thursday morning, limiting impacts. Does not look like a big deal right now.
Thursday Night: Another weak "clipper" system should race down I-24 and perhaps deliver
a quick shot of scattered showers or flurries. Little impact expected with this feature. (NWS-Nashville)
Next Weekend: More from NWS-Nashville:
Cold weekend setting up…with reinforcing blasts of arctic air very late Thu and then again Saturday night from passing fronts. Moisture not excessively deep with either but a few snow showers or flurries are in the picture.
The 0z Euro and 12z GFS models show a weak system with rain and snow potential here late Saturday night, but the system looks relatively weak and not that exciting. 6 days away, expect forecast changes/revisions.
Early February: longer range models show additional chances for snow. Don't give up hopes for sledding this winter.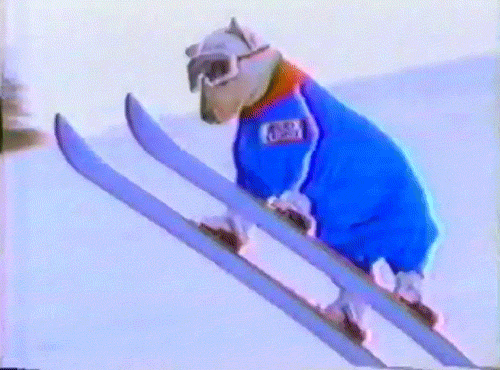 More info, updates @NashSevereWx on Twitter!
---