Here's the low end / high end snowfall probability on either side of NWS-Nashville's snowfall forecast: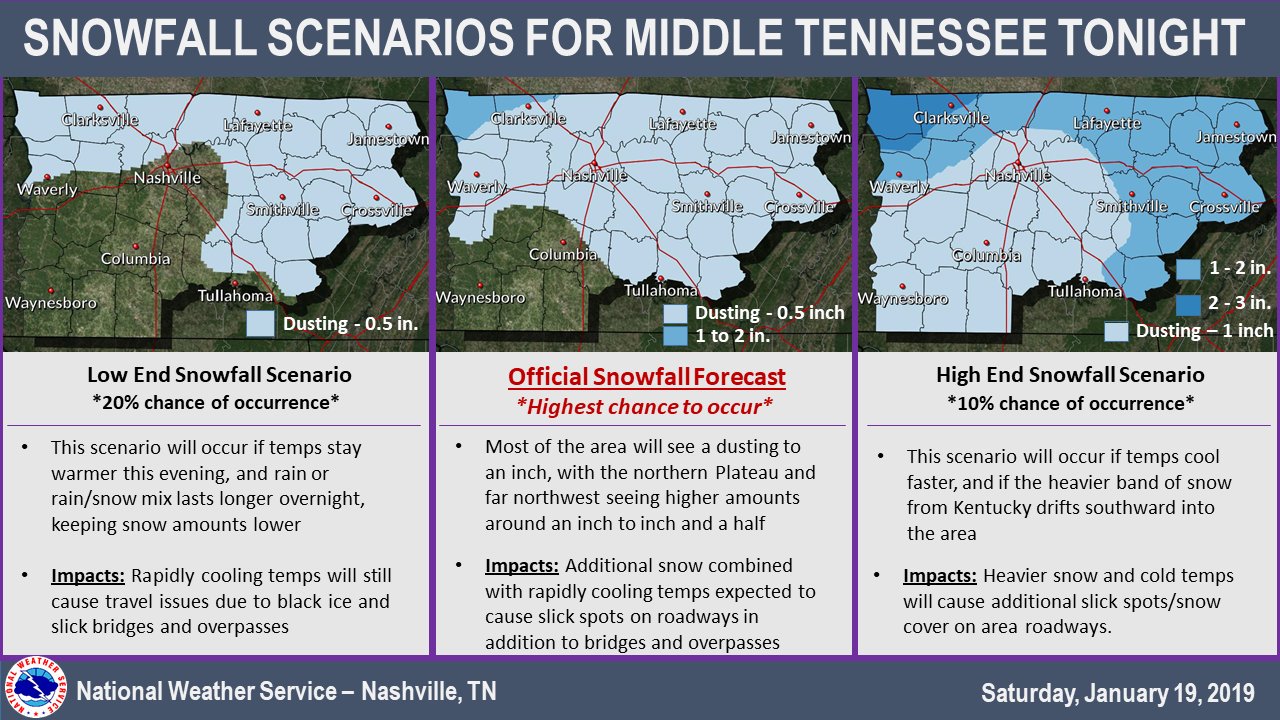 Meanwhile, wind speeds pick up significantly. Sustained winds of 12 mph in the afternoon will quickly jump close to 21 mph after 8 PM – gusting upwards of 35 mph at times in the night.
Wind chill will push the real feel temperature into the low teens and even single digits for some places.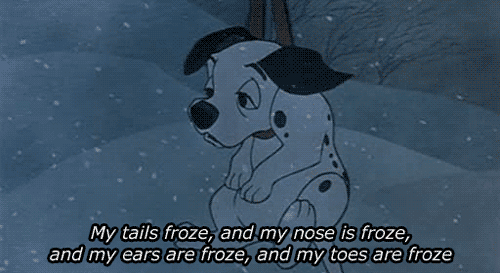 Midnight Tonight – Sunday
First flakes tonight will melt. By midnight, air temps will reach freezing, and quickly after that, leftover rainwater and ongoing snow should freeze, first to bridges, overpasses, areas at elevation, and decks, then sidewalks and maybe some roads.
Travel concerns are greatest between midnight tonight through 9 AM Sunday, and possibly longer.
Specific road/travel forecasts are impossible to predict with any intellectual honesty. As David wrote this morning:
Specific travel impacts tomorrow are difficult. Ground is warm today, will take time to cool. Freezing temps begin around midnight but it'll take time to make ice. Whether/how icy a travel route will be depends on amount of rainwater runoff today, its elevation, whether winds are blocked from drying it, how long (if at all) we're above freezing Sunday afternoon, and the number of bridges or overpasses. Every route is different. Complicating matters is amount of snowfall we see after midnight – if we get a few hours of it, impacts increase. Expect no real advance warning a road contains ice. You can't see it because it looks wet, and may be icy. All that to say, check road conditions before venturing out. Bridges, overpasses, areas at elevation will ice first. Biggest concern timeframe: midnight to 9 AM.
Morning temps in the upper teens, the high will have a hard time reaching freezing at 31°, but a few areas may sneak over freezing. It'll be close.
Remember: Travel Impacts
Any snow that does fall and doesn't melt, along with any standing water, will likely freeze overnight making for icy roadways. If you end up stepping out on a frigid Sunday morning, keep these impacts in mind!
Martin Luther King Jr. Day
Coldest temps will be seen early Monday morning as we start close to 20°. Light wind could be enough to make the real feel closer to the low teens.
Another day of clear and dry, but cold!
Quick Warm Up Tuesday
Temps will quickly bounce back into the low 50°s on Tuesday as our next weathermaker begins to take shape. Another cold front is expected to drop out of the Midwest, bringing us more rain and cold to the midweek.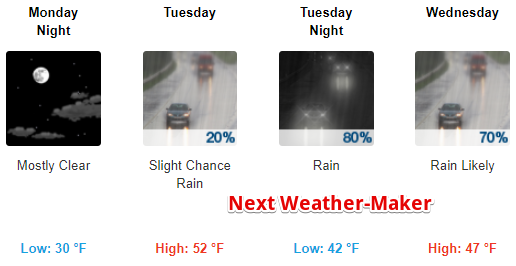 It'll be a rollercoaster of temperatures this week, so hold on for the ride! A brief changeover from rain to snow is possible Thursday morning. That doesn't look like a big deal. Rain/Snow also possible again late next Friday.
Stay connected for updates here and @NashSevereWx on Twitter!
---