(Editor's comments in blue).

Get out and enjoy today. If you need to do anything outside, or put gas in your car, that kind of stuff, do it today or, if you love risk and adventure, Saturday afternoon.

High-pressure is going to zip through Middle Tennessee today, perhaps punching some holes in the overcast skies. Our afternoon high temperature is expected to reach 50º.
Saturday, feat. Spring, then Winter!
Rain starts Saturday morning. No question about it. The HRRR's depiction of it is below (midnight-3 AM)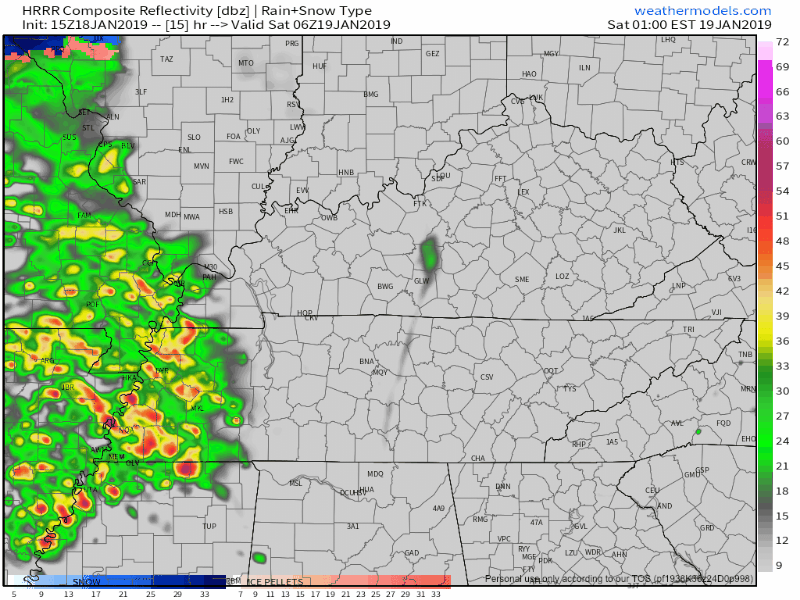 This heavy rain is the first part of the big storm system on its way to the northeast U.S.
But first, it's passing through Tennessee, starting off as rain.
Expect rain most or all of Saturday morning.
Morning and afternoon rain may contain thunderstorms. No severe weather for us; that potential will be confined to our south, in Mississippi and Alabama. Don't be surprised to hear a rumble of thunder as you get your Saturday started.
The NAM3 model (basically the HRRR's annoying loudmouth cousin who is nevertheless part of the family with a seat at the table and gifts under the tree and sometimes brings value to the family dynamic) is able to go further into the future than the HRRR.
It brings the initial round of rain in Saturday morning around 3 AM, a final round of heavy rain and weak storms trucking through around noon.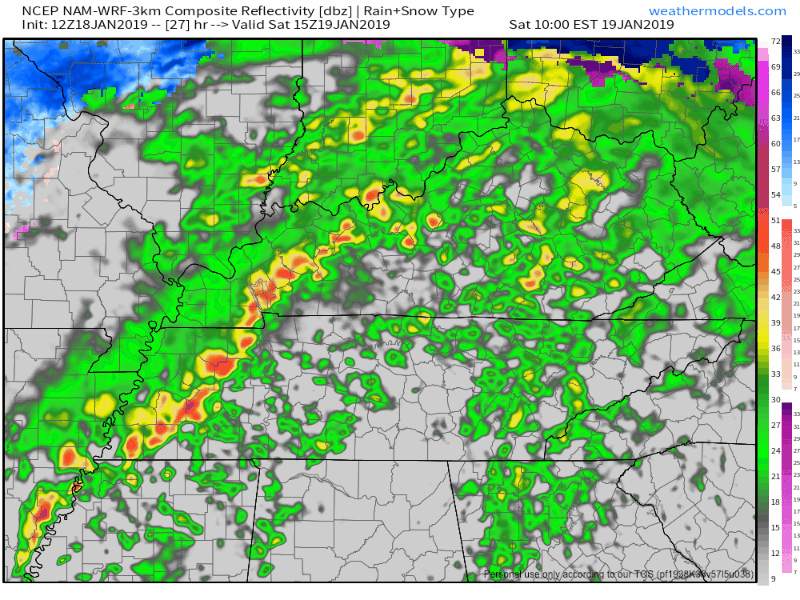 Total rainfall will be around 1.5″ to 2″. Doubt this will cause flash flooding, but localized flooding is possible.
Most of the rain should happen before noon, at least according to these models. Temps Saturday afternoon should approach 60°, as a light, drizzly funk descends on us, with periods of light rain through the afternoon and evening. 
Meanwhile, arctic air out west will be racing east, arriving here late Saturday night.
That arctic air should catch up to precip, and transition from rain to a wintry mix and eventually to snow.
The NAM3 model thinks snow will start to fall sometime around midnight Saturday night.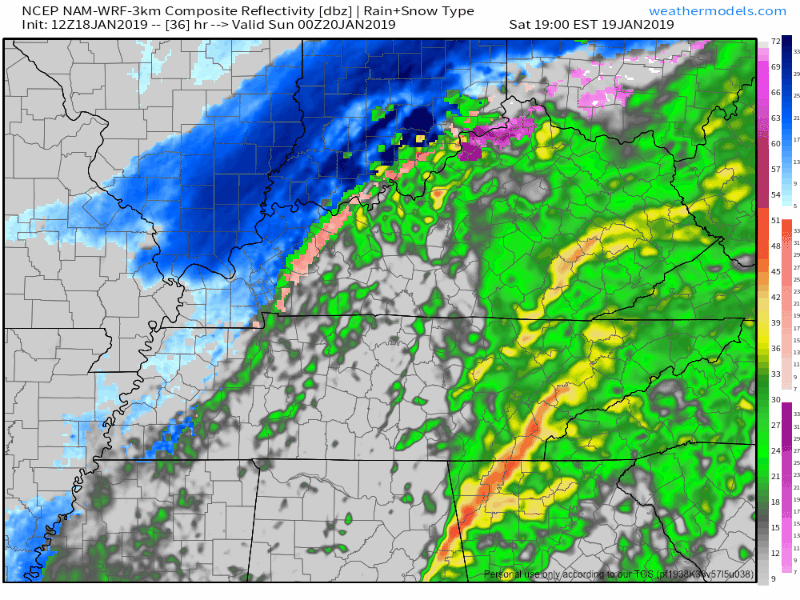 The GFS model has a similar idea: light rain changing to snow late Saturday night, lasting into the wee hours of Sunday morning.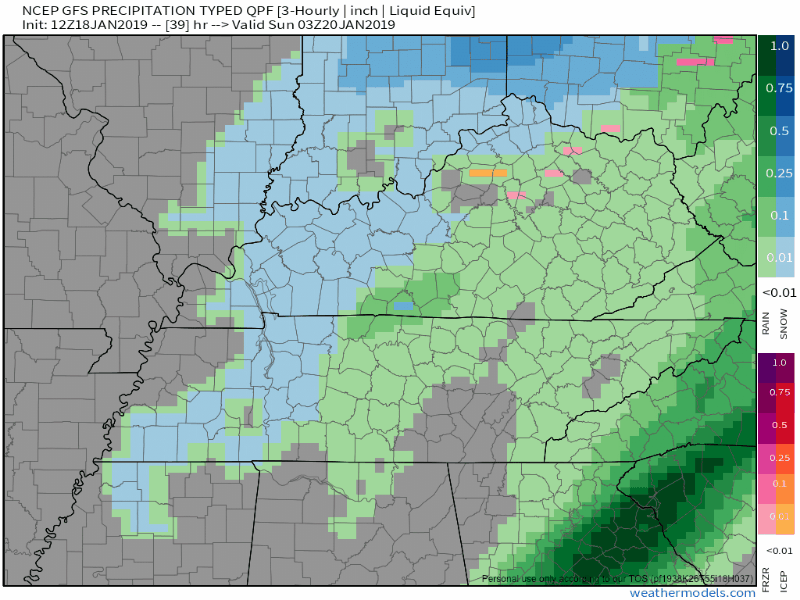 (I can't get that GIF to slow down, either. It's weird.)
Problem solved! Thanks!

Here's a slower version of that gif: pic.twitter.com/mmUJqHwHAG

— EditingAndLayout (@EditingNLayout) January 18, 2019
The European model also has a little snow. I would show you but Europeans don't like their model data being posted publicly.
That's true. Although in their defense, right now European meteorologists are forecasting for pay.
Snow accumulation looks light. My sled index is: I'll be shocked if you need it. The ground is going to be too warm for much snow (or potentially ice) to stick. Initial flakes will melt.
So let's dig into the deets.
Here's the main message, then we'll review timing and snowfall low end / expected / high end totals.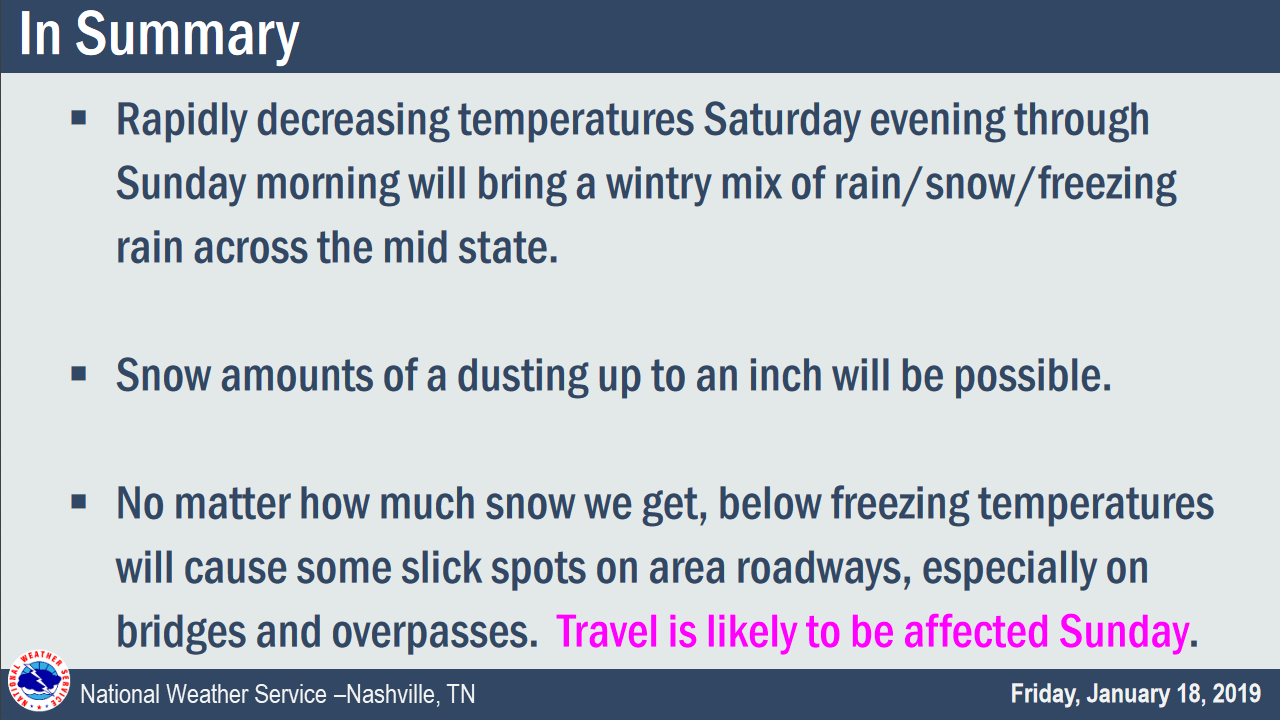 "Travel is likely to be affected Sunday." This includes the wee hours of Sunday morning, aka "late Saturday night" for some of you.
Timing
These are estimated times of arrival.
6 PM Saturday, just rain: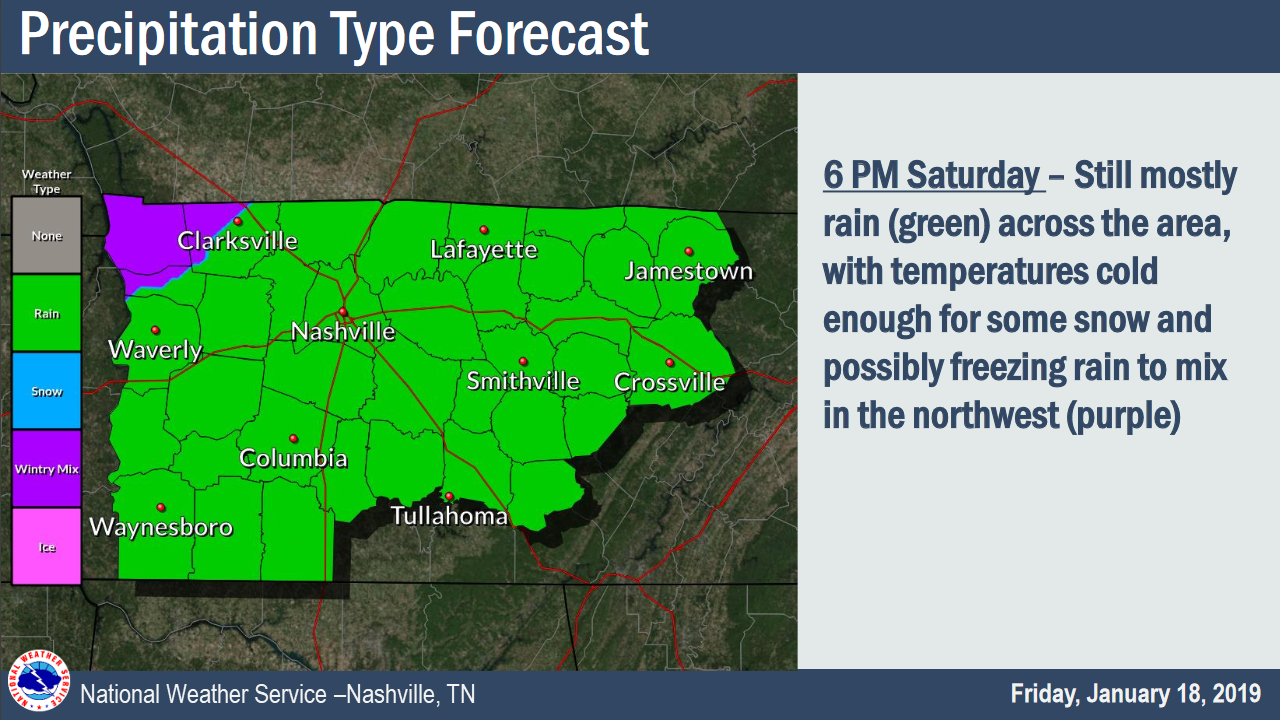 Transition to wintry mix (rain, sleet) expected as early as 9 PM, maybe a little later.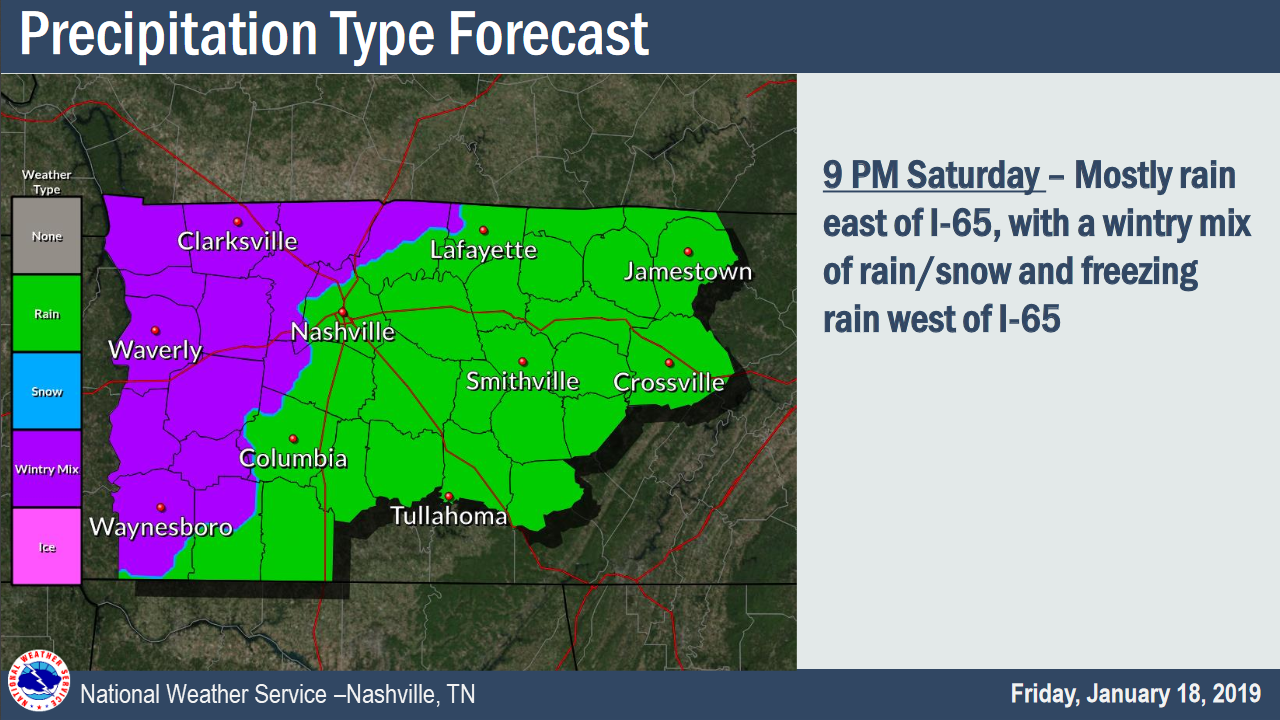 Midnight Saturday night, still some wintry mix (rain and sleet becoming sleet and snow), with the snow about to move in: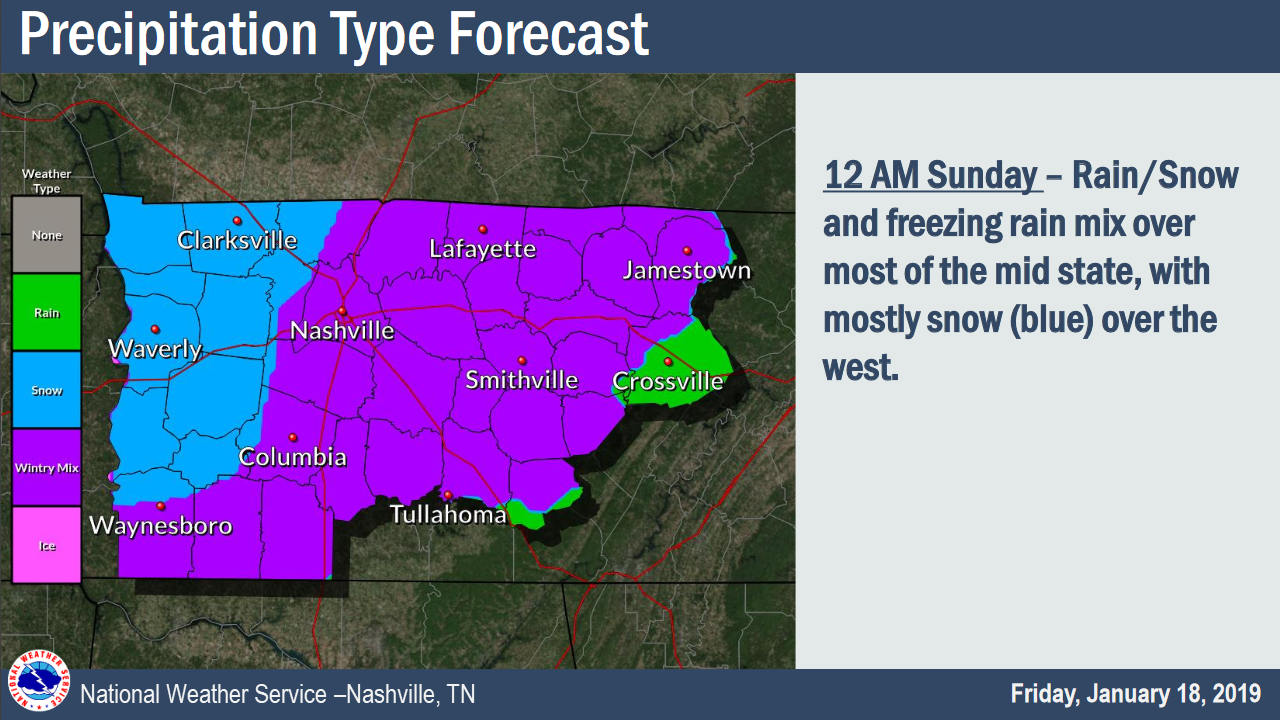 Sunday 3 AM, still light snow: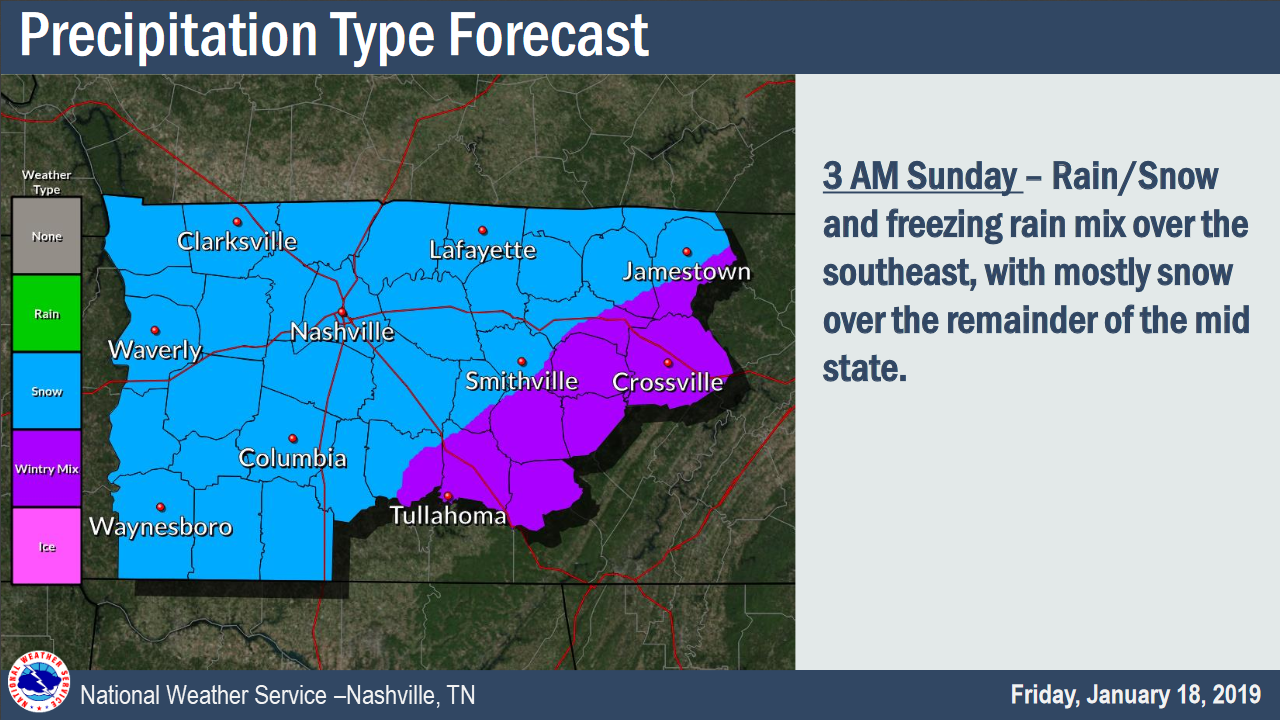 It'll probably end around sunrise Sunday, if not before.
Temps will crash below freezing, and anything wet will eventually turn to ice.
Snow Total Ranges
Most likely snowfall totals: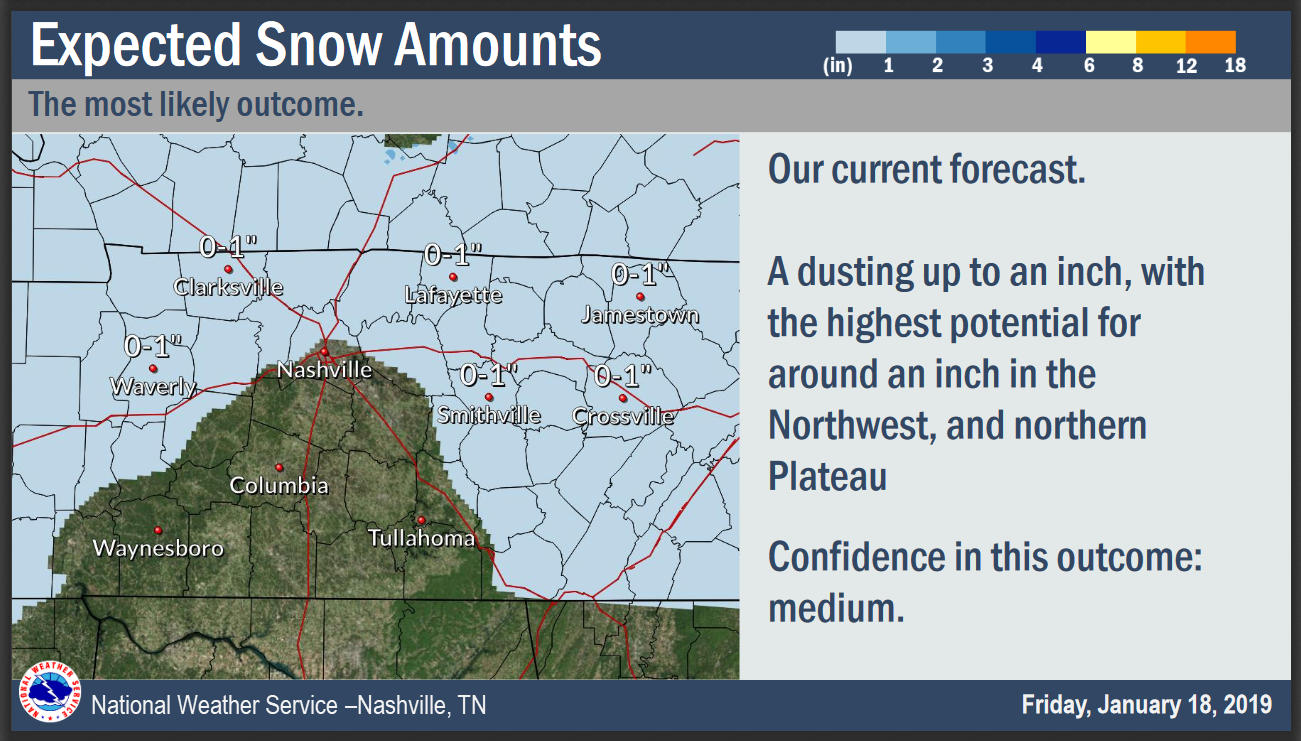 That's the most likely outcome.
All good forecasts need to explain how this forecast may change: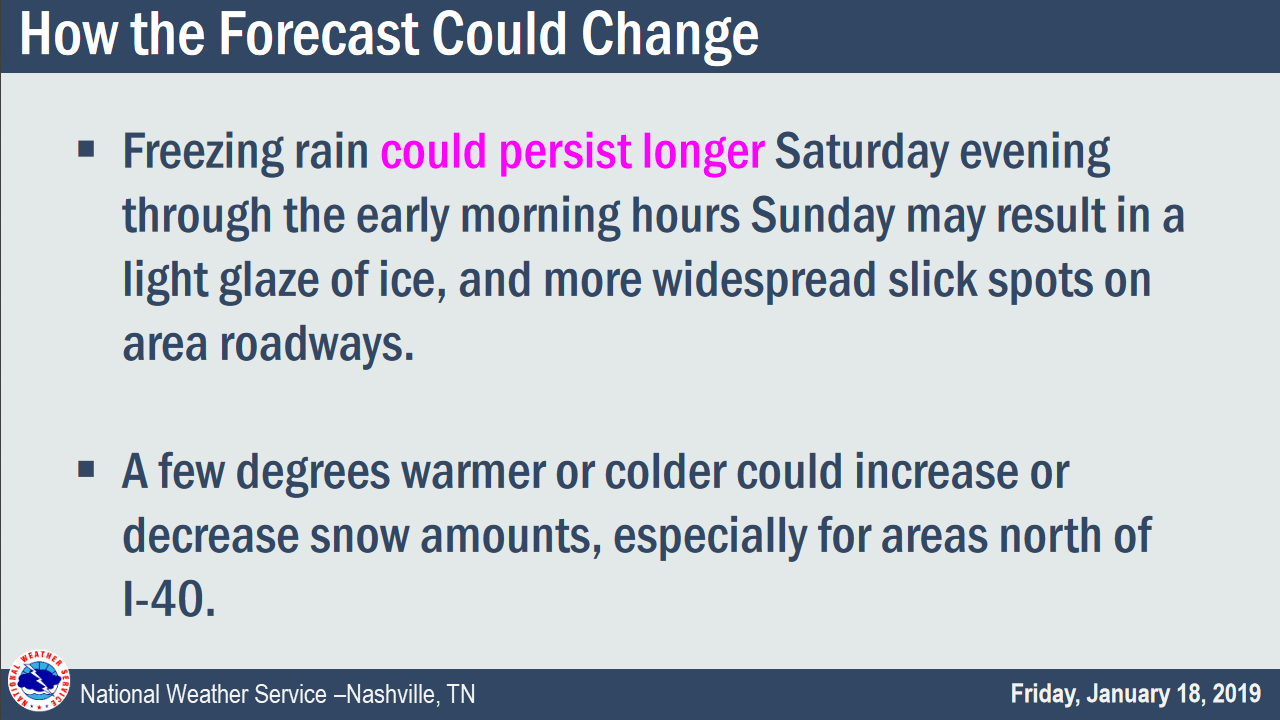 Be ready for at least this much snow (but please, keep reading):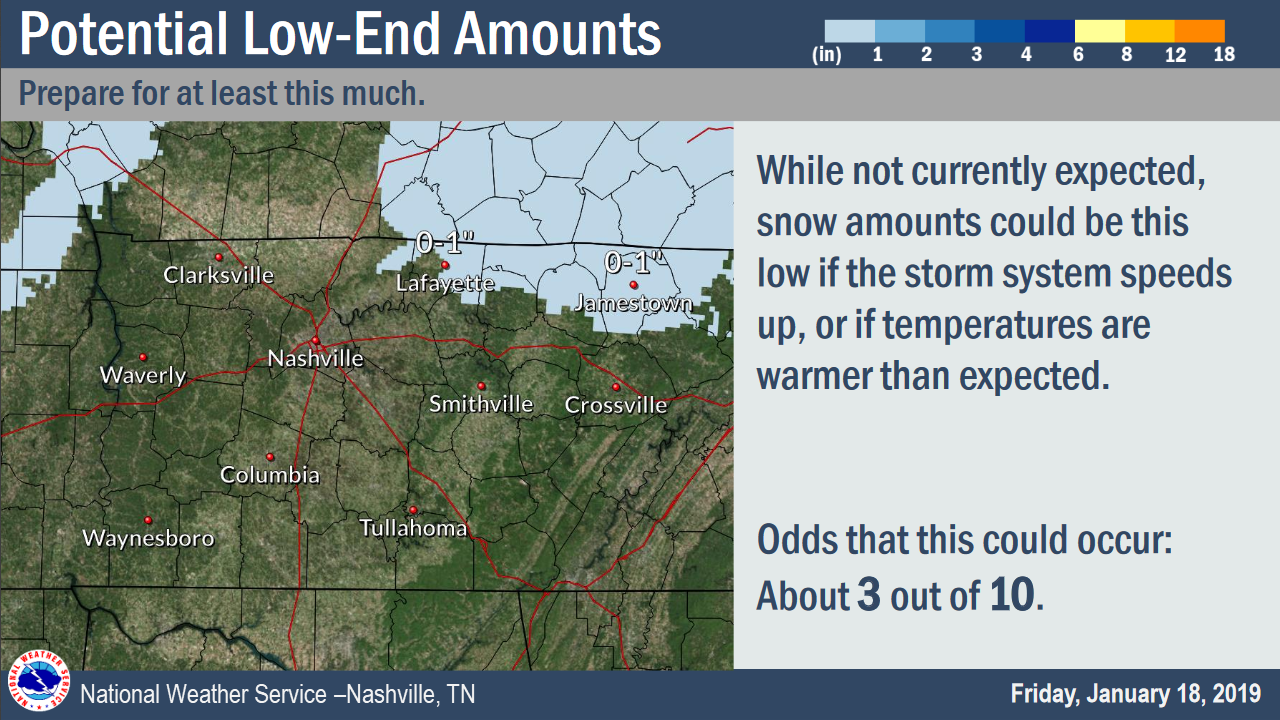 But don't be surprised if this system overperforms, and we end up on the high-end: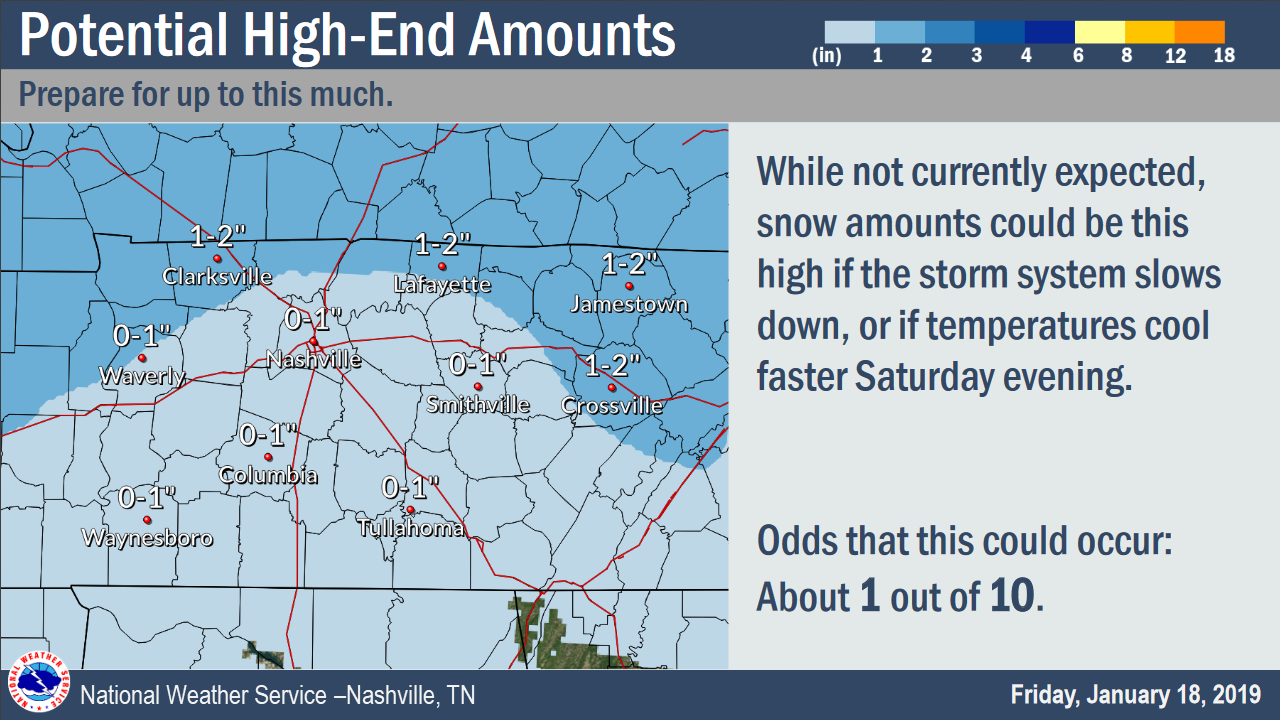 Again, travel late Saturday night into Sunday morning is the main concern.
You probably won't know the sidewalk, road, bridge, or overpass is icy until you're already slippin'.
Winds will be strong all weekend. That'll help dry surfaces. And we should (briefly) get just above freezing Sunday afternoon, which will help some melt. That said, a north wind Sunday at 10 to 15 MPH, with gusts as high as 25 MPH, will send the feels-like temperature into the teens and low 20°s.
We'll dive below freezing quickly Sunday night and suffer through a very cold Monday morning, refreezing any lingering liquid.
So, What's Next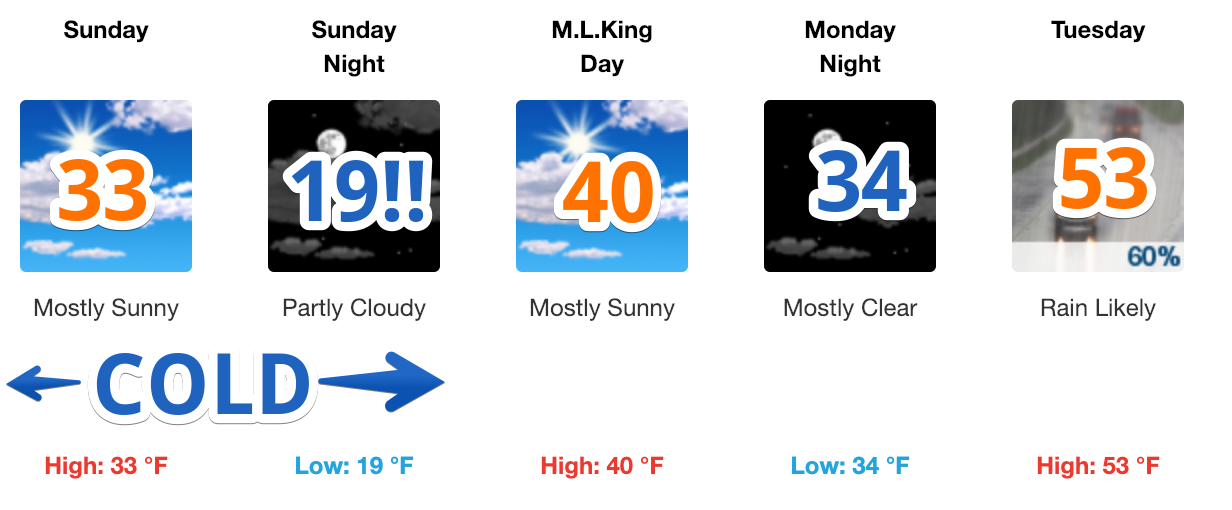 About next week, from NWS-Nashville:
…Rain moves rapidly back in ahead of the next fast moving front. This front buzzes by late Tue night and brings another shot of cold air on Wed…which may hit us with a wintry mix Wed night before ending.
As always, we are watching. Keep an eye on Twitter (@NashSevereWx) and this space for updates. Expect the forecast to undergo revisions.
---