In 48 hours a heavy rain event may turn to snow, possibly cause a flash freeze, and I can't stop myself from doing this special forecast.
There was inspiration.
I went to the gym tonight. Got home – TMI Alert!!! – got in the shower, water was warm, then suddenly all the hot water ran out but I was still sudsy and had to suffer shivering through the cold water, which I flipped off then on, then got out of there. Fast.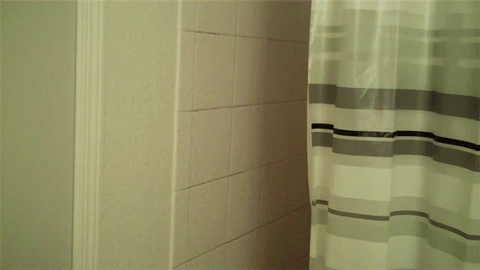 What a metaphor for Saturday's weather!
Because chronology is our friend, let's go in order.
Fog may be a problem Friday morning. Try not to drive like a daft idiot. Low beams, please.
Otherwise, Friday looks great, high 50°, rainless. We may even see the sun. Snap a photo of it, because it'll be gone Saturday.
Rain begins Saturday morning. It's going to pour.
Our IT guy is doing the local move thing Saturday, which we find personally hilarious, though privately we feel bad for him. Talked to him last night and suggested the best time for him to move Saturday is between midnight and 6 AM.
This is the last thing I will find amusing about the weekend weather.
Because Saturday could turn out to be a thing.
First off, the rain. NWS-Nashville hasn't shut down the possibility of flooding. They expect 0.22″ by 6 AM, then 1.43″ between Saturday at 6 AM through 6 PM, then another 0.21″ of precip Saturday night (more on this below).
Is that enough rain to flash flood us?
Probs not.
The below map says it'll take between 1.9″ of rain in Nashville and almost 3″ of rain in Will Co in a 6 hour period for flash flooding to occur: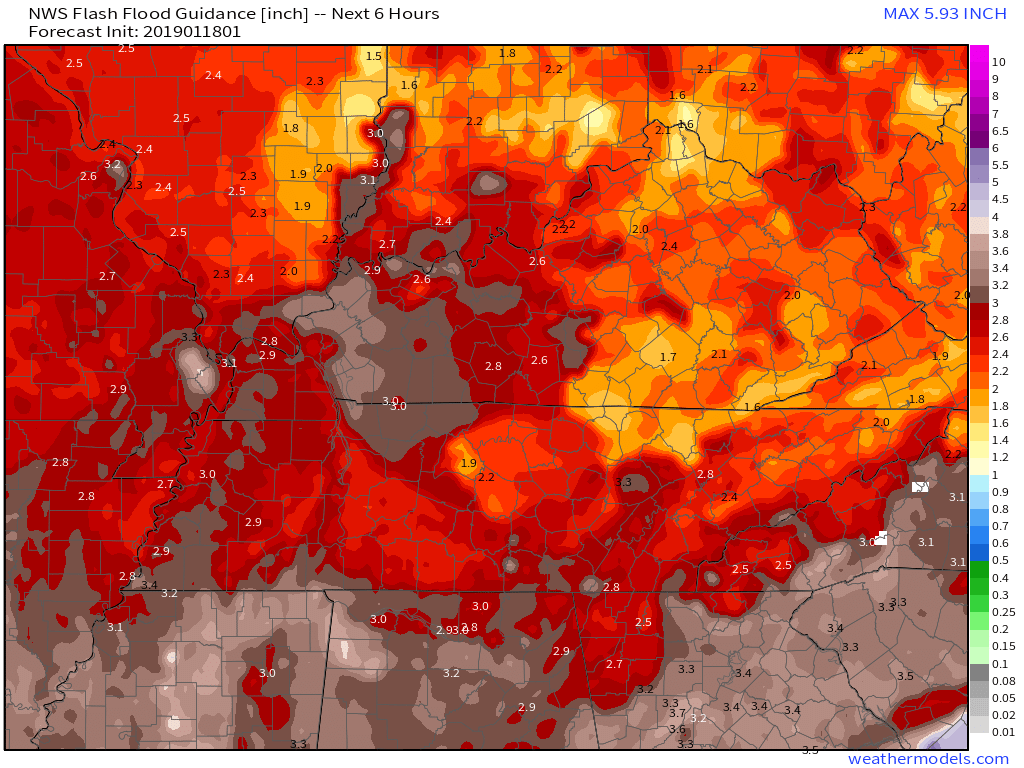 Doubt it'll rain that much that fast, but this will be very closely watched.
A few area streams and "well it's no surprise the water is up there" places may see minor, localized flooding. The rain should be pretty steady and angry.
We may see a few thunderstorms with heavy rain Saturday morning and afternoon. Nothing strong or severe. And it's going to be pretty windy.
The high Saturday will be 61°. Sixty-one!
Saturday night, let's call it 9-10 PM or so, winds will shift dramatically from south to north; in a few hours' time, that mild/warm airmass will be replaced by arctic air.
With precip obeying all physical laws, it should turn to snow.
The NAM3 model thinks it'll happen: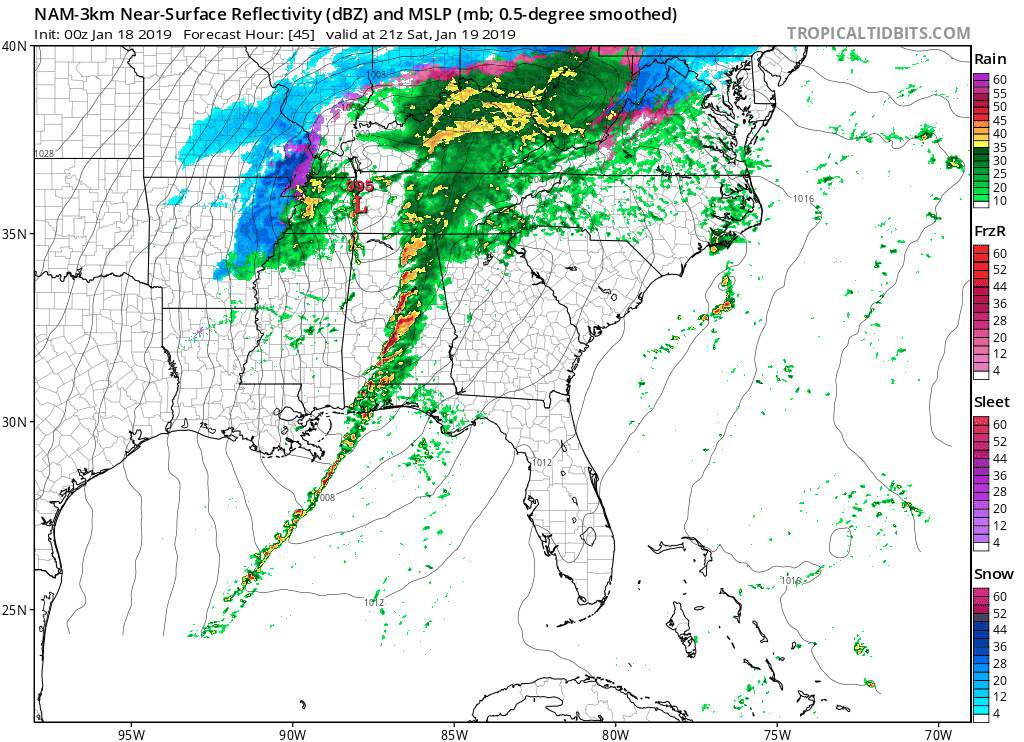 The Euro model (not shown) agrees with the NAM3.
The GFS model thinks only a very brief snowfall: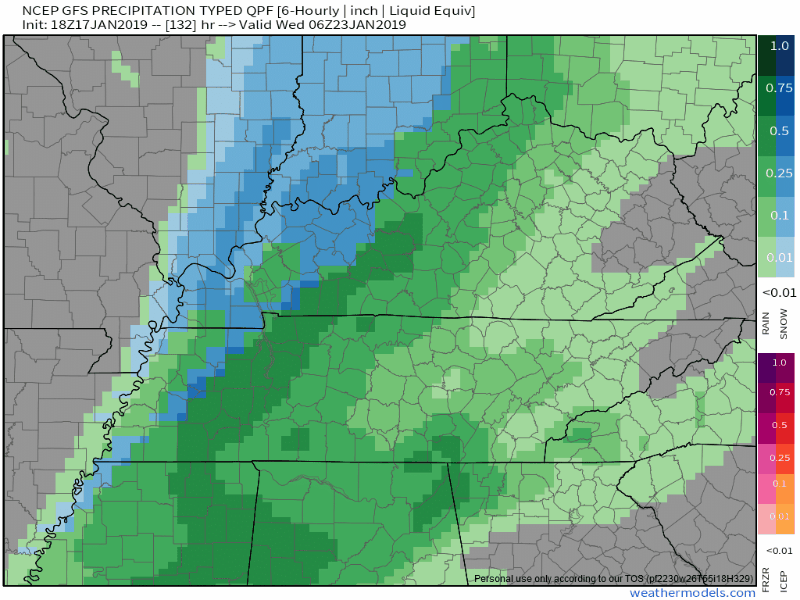 The first snowflakes to fall will definitely melt, going splat on a warm wet, surface, as the arctic air tries to turn us all to Frozen.
Here's the freecast graphic from @NWSNashville: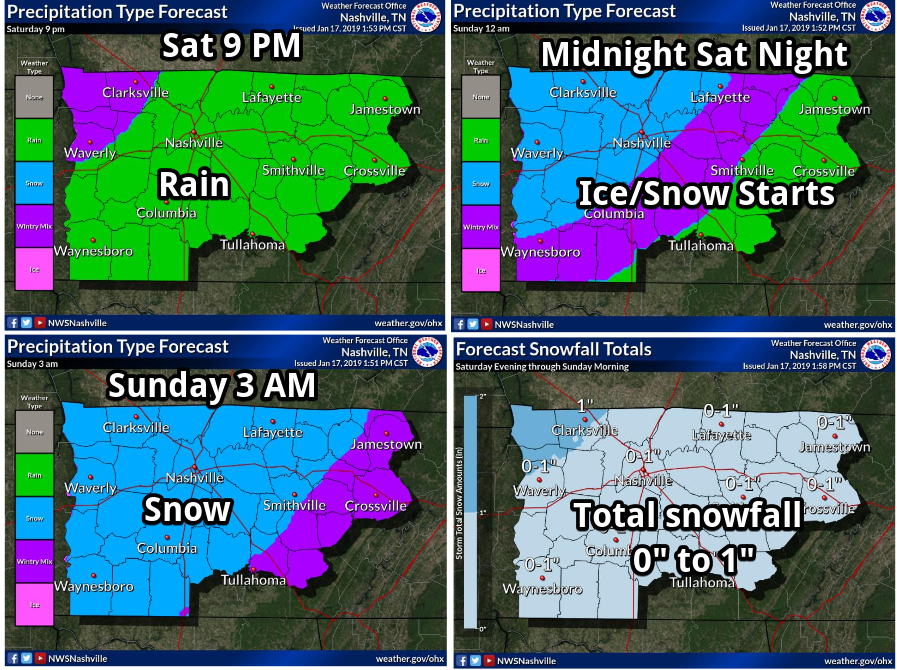 There may be some snow accumulation, under 1″, but my main concern is freezing leftover water from Saturday's rain, rinking our roads and slicking sidewalks, decks, and tightropes.
Temps will drop so fast Saturday night, any liquid on roads, whether from soaking rain or a rain/sleet/snow mix Saturday night, will start to freeze super quickly.
First, areas at elevation will freeze.
Then, bridges and overpasses, which will freeze before ground-hugging roads. Around that time, your deck, sidewalks, steps will freeze.
Then, regular roads.
When will that happen?
That'll depend on the specific surface. But like in most icing events – aka "flash freeze" – you won't know there is ice there it until your car is sideways, or that moment when you've slipped, you're horizontal to the ground, and you think "this is going to hurt."
The NAM3 model thinks we'll be at 58° at 4 PM, then freezing by 11 PM, and 26° at 6 AM Sunday morning. The Euro agrees. Therefore, best thinking — we may later move this time earlier or later — is freezing impacts will happen around midnight, give or take a few hours.
Snow should taper off in the wee hours of Sunday morning, with all precip gone by noon, probably before then.
How confident are we in this Saturday night/Sunday morning forecast? Well, the amount of precip, snow, and ice — confidence is kinda meh on that right now. Models aren't sure about it. We might see more snow or less, more ice or less, but for now we think less than 1″ of snow. Again, ice is the main concern. We are reasonably confident slick spots will develop on roads. Timing and ETAs may need adjustment.
We will update this forecast multiple times.
Sunday's official high is 33°. Wind chills will be in the teens. This complicates the forecast and your next question: how long will icy conditions last? A few hours of above-freezing temps Sunday afternoon will help the melt. Strong winds will help dry roads. And alot of rain Saturday will have run off. But temps will drop quickly below freezing again Sunday night, with a Monday morning low of 18°, so if any ice survives the day Sunday, it'll definitely refreeze Sunday night and Monday morning.
Late Saturday night into Sunday morning is my main travel concern.
Don't at us about "x" or "y" route. That'll all depend on elevation, bridges crossed, and very localized conditions.
This isn't the end of the world.
But I suggest you reconsider, or delay making a decision on, late Saturday night and Sunday morning travel plans.
And don't let calcium deficient loved family members try to walk outside Sunday morning without bubble wrapping them.
By the way, another rain/snow event is possible Tuesday into Wednesday. However, afternoon high temps will be way over freezing during this time, so no big impacts expected. But let's just take one event at a time, y'all.
More tomorrow morning.
---