We've already had some rain fall this morning, with a few more showers lingering through this afternoon and evening.
High temps today will run a few degrees warmer than yesterday at around 50°.
The Nam 3km model illustrates the progress of the showers through the day today. It's looping through 6:00 am tomorrow morning.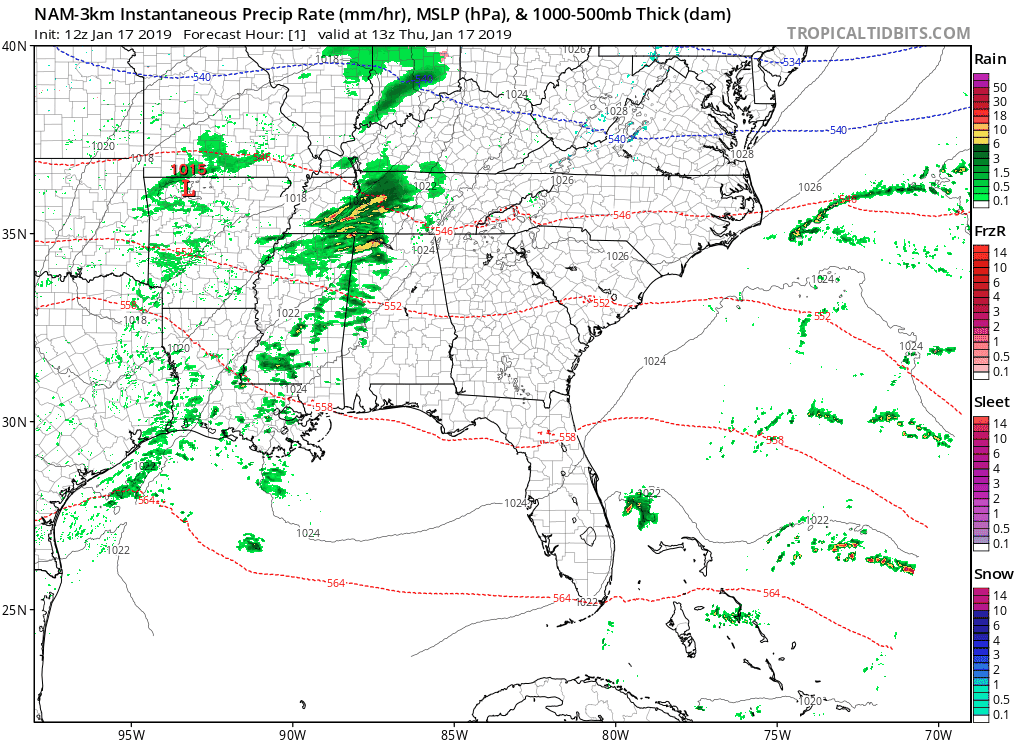 Friday
The warming trend started Wednesday will continue on Friday with high temps in the low 50°s. Clouds will hang around through the day, but we should remain dry.
Friday is the last day we'll see this week where it's both warm(ish) and dry. Great day to finish any small outdoor tasks before Old Man Winter arrives late Saturday.
Saturday
First, a quick aside: Now that we're drawing closer to Saturday, we're beginning to see where the specific forecast challenges are. Keep in mind, snow/winter forecasting is tricky and could change at the drop of a hat! Stay tuned for more updates as they come!
Late Friday, a swift-moving warm front will push north through Middle Tennessee. This warm front will bring our high temp on Saturday into the low 60°s and plenty of Gulf moisture into the area. The moisture is key to why we expect so much rain.
A large, strong cold front will then swing through in the early morning hours of Saturday. The NAM 3km has heavy rain/thunderstorms approaching Nashville just before sunrise. See gif below – the animation begins just after midnight on Friday, ending Saturday about 6 PM.
The NAM model is known for being aggressive when it comes to storms; meaning its bark is worse than its bite more often than not. NWS Nashville is calling for plenty of rain with a few thunderstorms in the mix – not expecting severe storms. The big thing to watch for Saturday morning and afternoon is the heavy rain.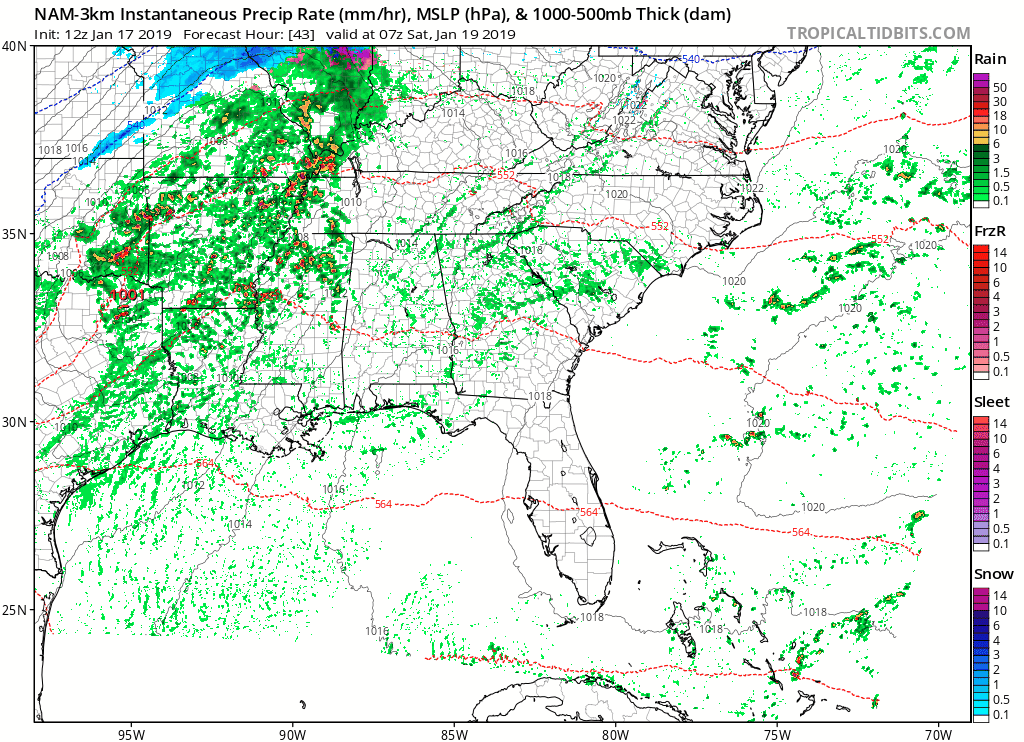 The Weather Prediction Center is still expecting us to see upwards of 2 – 3″ of rain between Saturday and Sunday morning. As of now, there is a concern of flooding along rivers and creeks if this much rain does fall over us but no watches or advisories have been issued yet.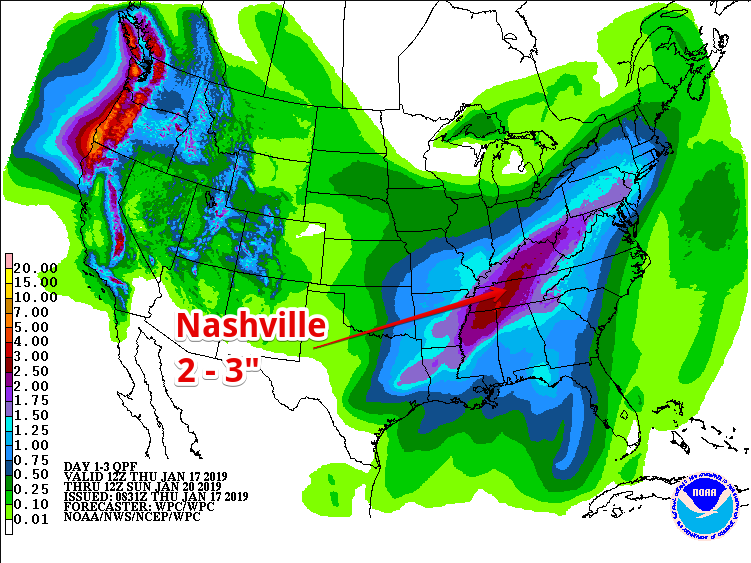 So.. to Snow or not to Snow?
As of now, it's still hard to say. On Saturday evening, the cold Arctic air will make its arrival, but will there be enough moisture in the air to form snowflakes? The sad answer: not very likely, at least not enough to make a good snowball with.
NWS Nashville forecast has this to say about snow:
"My latest forecast snowfall
totals still remain in the dusting to 1 inch range, with lowest
amounts in our southwest, and highest amounts over our northwest
counties where colder air arrives earliest..."


[Editor's note: Our National Weather Service offered these graphics during a briefing call this morning. Let's just step through a few.
They believe the changeover to mixed precip will occur around midnight Saturday night/Sunday morning with a changeover to snow by 3:00 am. 

The forecast right now is for between 0″ and 1″ of snow through Sunday morning after the changeover occurs. Notice the 0. No accumulation is in the range of the forecast. Worst case scenario is for a little more than an inch in N Davidson along the Highland Rim and still an inch or less for the rest of us.

Their Summary. We'll need to watch for rain water freezing into ice….even if snow isn't an issue. It's going to be a cold, wet system.
Check back on the forecast. Uncertainty remains as a couple of the big models battle out differences. Also, don't pick the greatest amount of snow in the forecast range and label that as the forecast. The range is the forecast. ]
The Big Freeze
Another big concern Saturday night and Sunday morning is how much water will be on the ground that could freeze. Overnight temps will easily drop into the upper 20°s for Sunday morning. Any heavily soaked ground, small puddles of water, or wet steps could freeze over and become a hazard for walking on.
We could also see driving impacts as bridges and overpasses could become icy.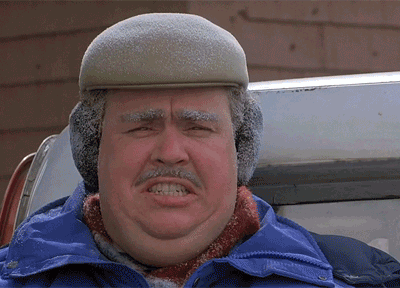 We should see our coldest temps on Monday morning. It'll be in the teens as you're on your way out the door, so be prepared!
As we get updates, we'll bring them to you here and on Twitter @NashSevereWx, so stay tuned!
---