These sad clouds refuse to let go. Check out the satellite before lunch: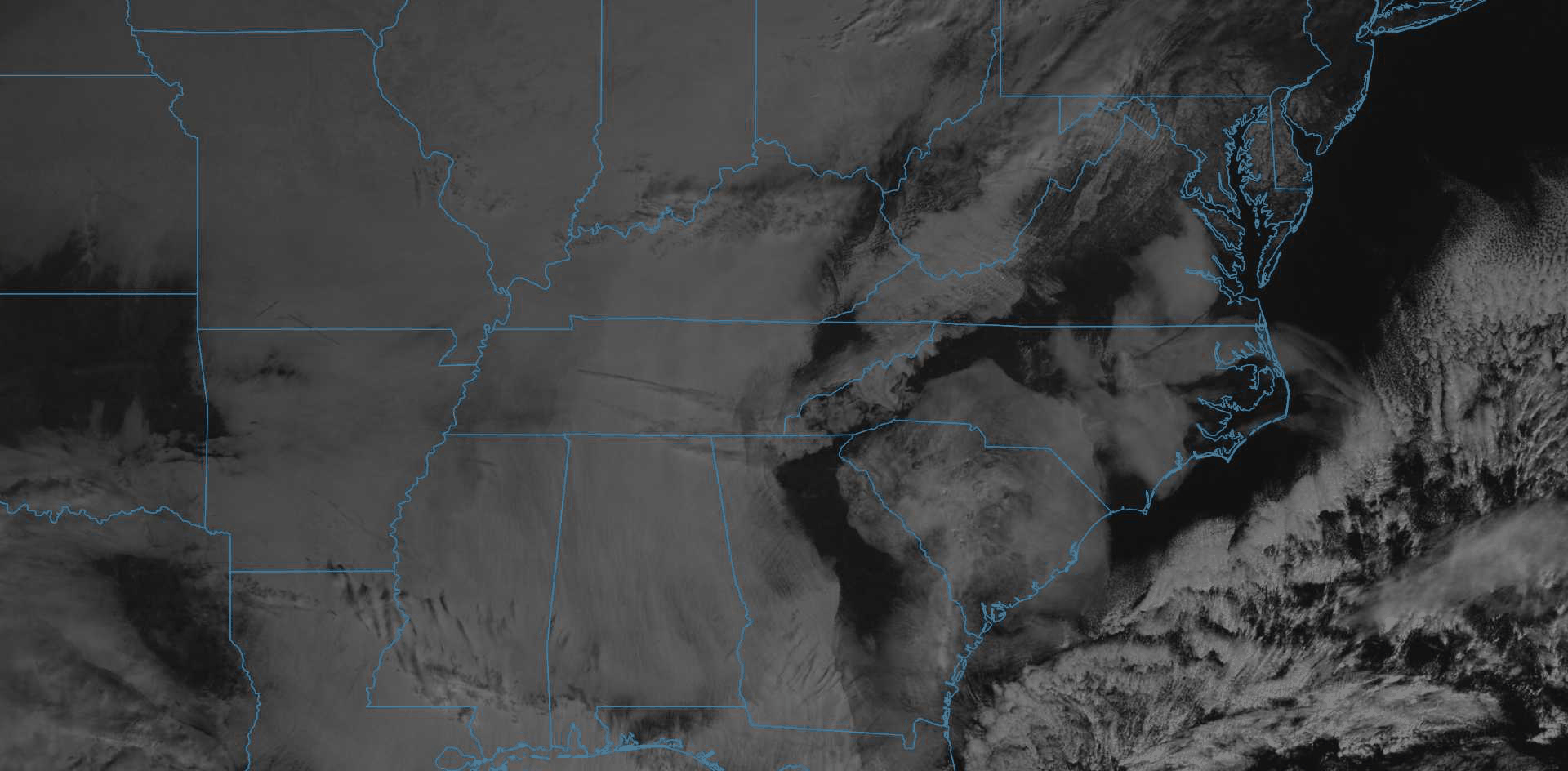 Total blerg.
That could change late this evening. We'll stay dry and cool today with high temps struggling to break into the low 40°s. And the sun may break through later today. Hopefully. Maybe.
Tonight our winds will turn southwest, blowing in warm air, combining with dry air aloft to hopefully break up these clouds a bit. If clouds are gone overnight, our morning low could be in the upper 20°s/lower 30°s.  Clouds are a blanket, when they're gone, it gets colder at night.
Wednesday Warm Up – Then Rain Thursday
We warm up Wednesday thanks to a large ridge building into the southeast U.S., sending high temps into the low 50°s.
Clouds return late Wednesday ahead of a quick moving, short wave trough packing rain, expected here later Wednesday night into Thursday. Light rain could begin as early as midnight Wednesday but most of the rainfall will arrive before daybreak Thursday morning.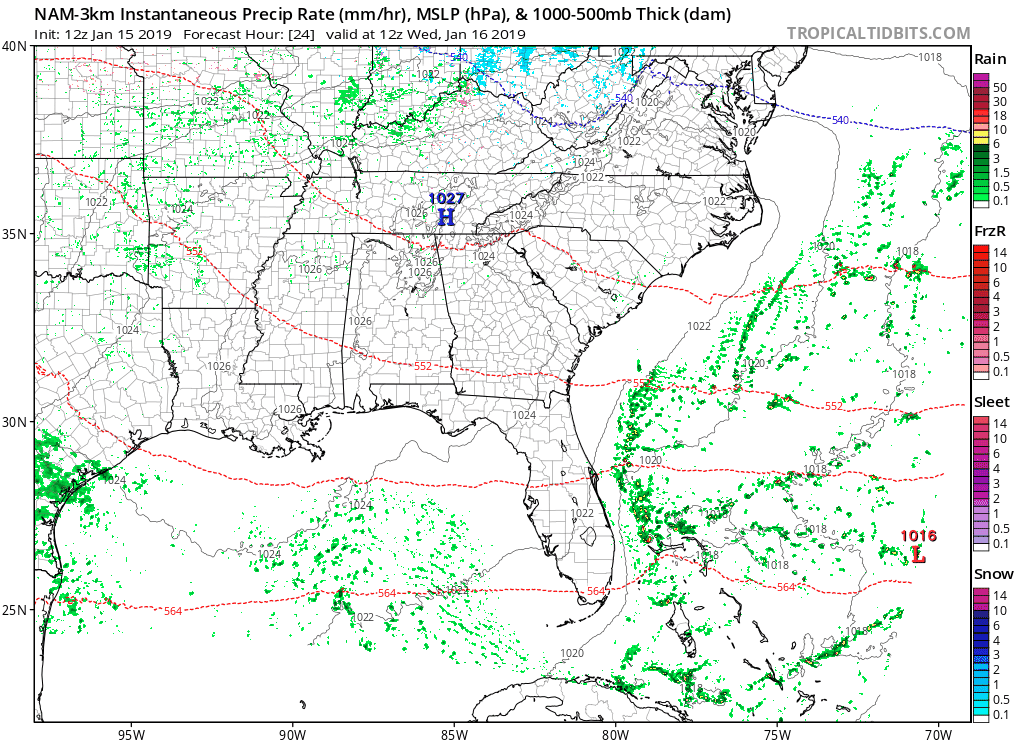 Gross, light rain will stick around all day Thursday, coming to a close Thursday evening. Rainfall totals light.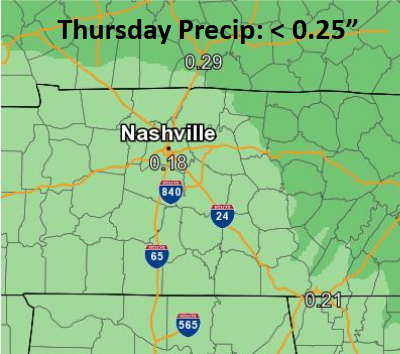 No cooldown expected with this rainy shortwave, high temps in the low 50°s.
Friday
We'll have another chance to dry out on Friday with mild high temps in the 50°s. It'll be a pleasant day for outdoor fun – enjoy it while it lasts because a LOT more rain is coming, with some snow possible Sunday with frigid temps.
Details are becoming clearer the closer we are to the weekend. As of now, the GFS and EURO models do agree on a strong trough passing across the entire US this weekend, setting up a very wet Saturday, with snow potential Sunday.
Heavy Rain, Warm Saturday
A hefty low pressure center develops over Arkansas in the early morning. As it begins its march north and east of us, a warm front will push north through Mississippi, Alabama, and Tennessee in the morning hours.
Rain should begin early Saturday, with a few weak thunderstorms possible to the west of Nashville. Rain will spread over the area throughout the day, with pockets of locally heavy rainfall possible.
This is a lot of rain, and may lead to rising streams and creeks. No thanks.
The low will begin to move out of our area late Saturday, allowing for chilling, Arctic air to spill into central Tennessee. Overnight low temps will easily drop into the 20°s for Sunday morning.
Arctic Air, Wintry Travel Concerns
The weather may turn messy, but forecast details remain unclear. Common for us here in mid-latitude Tennessee.
Arctic air will come diving quickly from the north, possibly catching the back side of the precip which will be racing east. If it catches it, area services will angst, with sleet/snow possible.
There could still be some light rain falling when the arctic air arrives, causing a switchover to sleet/freezing rain and maybe some light snow. The type of frozen precipitation we get will depend on how much moisture we have when that arctic air arrives. Wintry mix/snow chances improve the further northwest you are.
The GFS has moisture moving out quickly, just missing the cold air, while the EURO has moisture hanging back longer and producing some snowfall.
Editor's Note: I don't think we will need sleds, but there's reason to introduce some concern about icy roads Sunday and Monday morning.
The ground will be very warm for January. Saturday afternoon's high will be 61°, with a few inches of rain trying to run off. Then, arctic temps arrive early Sunday morning. Regardless of whether wintry precip falls Sunday morning, temps are not expected to get over freezing at all any time Sunday. Therefore that arctic air will be our biggest hazard as it attempts to overcome the warm surface and bring roads, decks, sidewalks down to freezing, converting lingering and departing precip to ice. Bridges, overpasses, and areas at elevation likely will experience hazards first, especially Sunday night, as leftover precip sits there while temps dive into the 20°s and down to 13° Monday morning. I don't think it'll be a big deal, but it could be a regular deal, depending on how much precip falls after that arctic air settles in. Uncertainty is high because this is all about the timing. As are most things.

We should barely break freezing Monday afternoon, but only to 35°, and only for a few hours. Southwest winds return Monday afternoon, so I'm not comfortable speculating about more freezing temps/black ice for those looking at returning to school Tuesday morning.
The big picture for this weekend: we're still a few days out, so fine details could change as models continue to work out a solution. The difference between hazard and no hazard has to do with those details.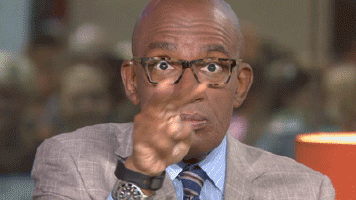 What we do know is that we'll see a strong cold blast late this weekend, so be ready for the cold!
Check back here for more updates on this weekend!
---