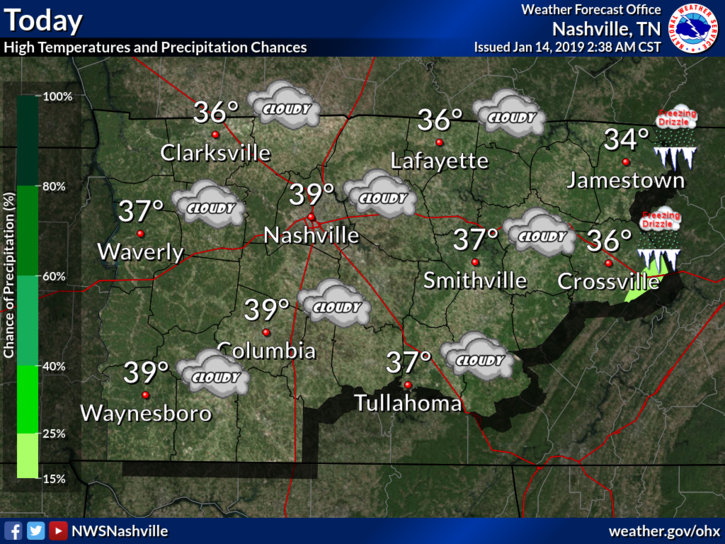 Today is going to be one of those days where you look outside and think it's going to snow. Except it's not. Those overcast skies are not going to budge at all today, and temperatures are staying put with the clouds.
No precip expected.
Overnight lows will dip just below the 30º line, with Tuesday morning lows in the upper 20°s, as the clouds begin to break.
Then We Warm Up

Temperatures are only uphill from today. Expect a gradual warming trend through the week, with rain by Thursday. Highs will range from the middle 40°s to the middle 50°s, with lows between freezing and the low 40°s.
When is it going to rain? Here is a breakdown:
Thursday Afternoon: Rain Likely
Thursday Night: Rain Likely
Friday: Rain Turns Off
Friday Night: Rain Returns
Saturday: Rain Likely
Saturday Night: Rain, maybe Winter Weather (more below)
Sunday: Snow? (More Below)
How much rain?
Thursday's first wave of rain: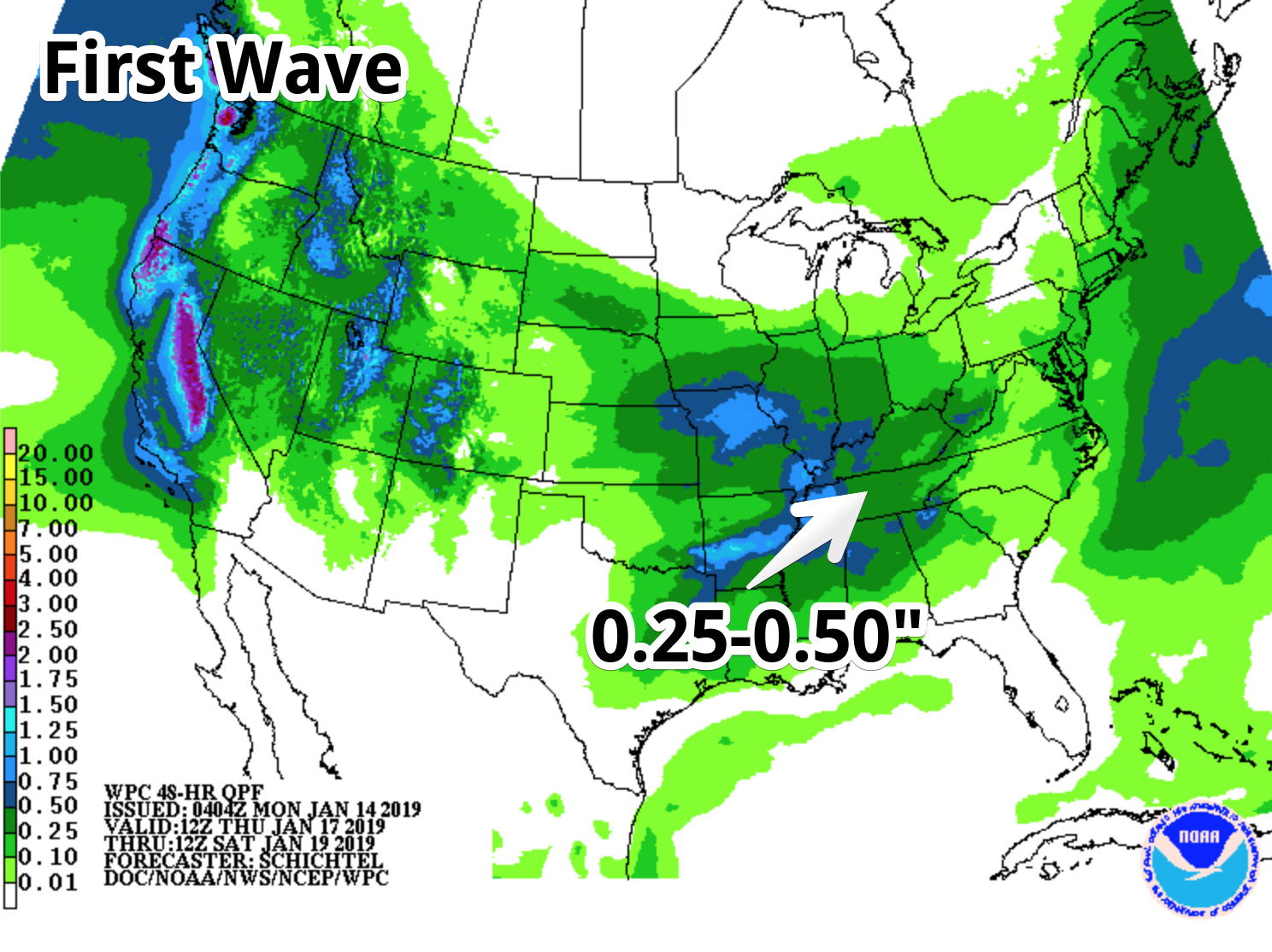 The first wave of rain will only dump between a quarter and a half of an inch in Nashville. Butttt, Friday night into Saturday ….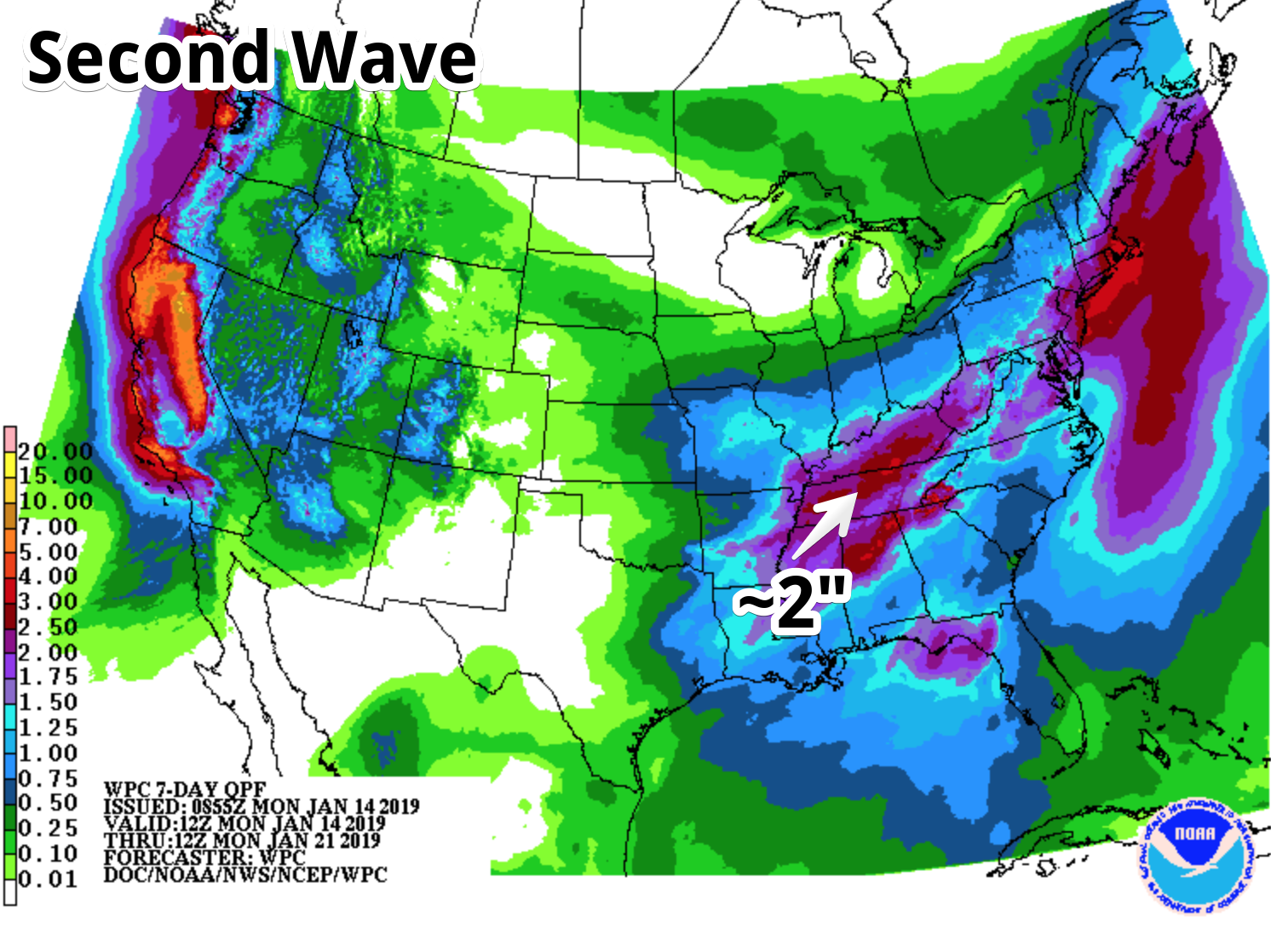 The second wave should push us into the 2″ range when it is all said and done. Not looking like a great weekend ahead, folks.
Storms? Maybe, probably not. Check back. Nothing extremely reliable yet to say one way or the other.
Winter Weather??
As the main rain event concludes Saturday night into Sunday, cold air rushing in from the north may catch lingering precip, so winter weather becomes possible.
Here is the latest thinking from NWS Nashville:
Both the 00Z GFS and ECMWF show an Arctic airmass and associated 1040ish mb surface high lurking just to our northwest, and this bitterly cold air looks to [move] rapidly across our neck of the woods Saturday night as the surface low shifts off to the east. Thus as precipitation continues Saturday night, any rain would transition to a brief wintry mix then all snow prior to ending on Sunday. As usual, any wintry precip potential remains very uncertain this far out in time, and any shift of the surface low track to our north of south would have big impacts on rainfall totals and wintry precip chances.
We could split hairs between the models, but we are talking about an event 6 days away, so there is very little value to diving all in on it. Those models are going to change a hundred times between now and then. As NWS Nashville said, any shift in the track of that low-pressure system will change everything. So, keep checking back with us; we will keep you posted on this through the week.
Editor's Note: but, just for fun, and because I was raised by Proper Math Teachers (Show Your Work!), here's the GFS model 12z run today: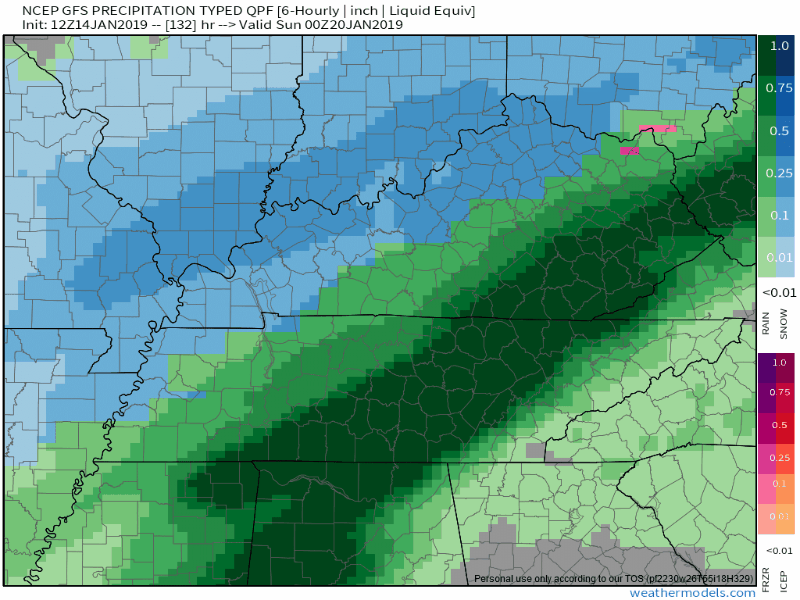 So hard to say between rain and snow for Sunday. If it's snow Sunday morning and not rain, to me looks like maybe a dusting, mostly on grassy areas? It'll be 55° Saturday, the ground relatively warm and unfriendly to snow flakes. But the high Sunday should be only 35°, and with sub-freezing temps expected Sunday night, maybe a black ice event Sunday night into Monday morning. Note although this is not wild speculation, it's low confidence right now, and of little value, and I don't think I'd repeat "it's going to snow" to anyone has a forecast right now. Give this the uncertainty it deserves. This winter weather setup usually disappoints snow fans.
What About After?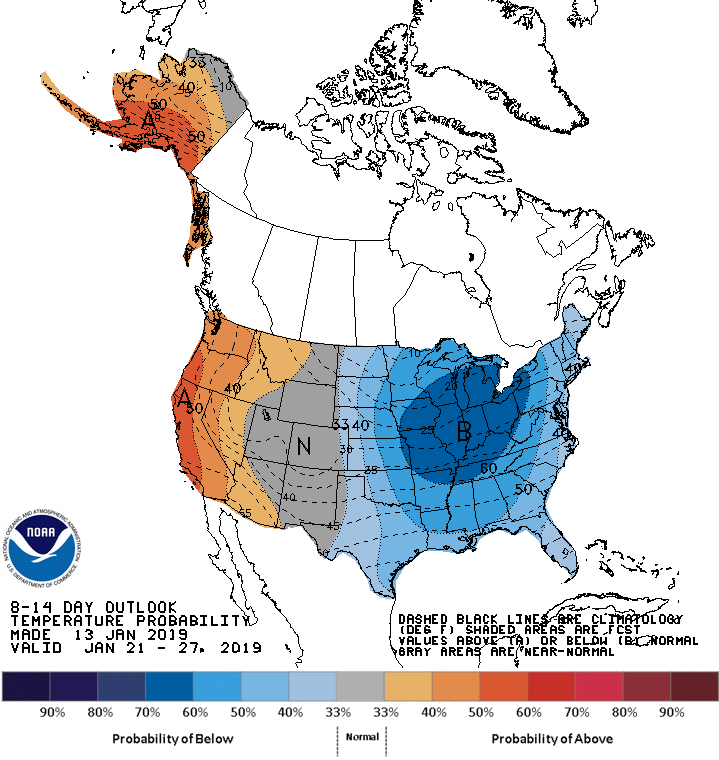 Cold.
We will enter an extremely cold period next week. Check back for more as we get closer.
---