A few sprinkles are hanging around just east of Nashville at the 9 PM update. More light showers should develop overnight. Still no thunder expected with these.
HRRR has these light rain showers hanging overhead during the morning commute, but they'll be on the way out by late morning and gone by afternoon. Cold front and dry air arrives tomorrow afternoon.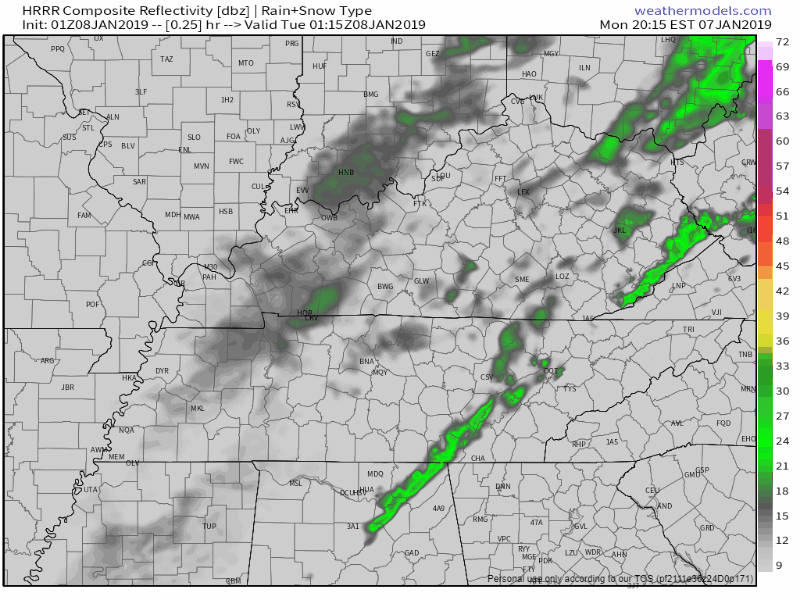 Tuesday
Overnight clouds will, again, leave us with a warm start to the day at 51°. We'll warm to the low 60°s before the cooler, drier air arrives in the afternoon.
After sundown you'll begin to see temps falling, and by Wednesday morning we'll be much cooler! Bundle up Wednesday morning as we start in the low 30°s.

Cold and Dry Wednesday Through Friday
Wednesday and Thursday will be sunny with morning temps in the low 30°s/upper 20°s, and high temps in the low 40°s. By Friday our high temps push into the upper 40°s as we prepare for our next weather maker.
As the next system moves in we'll already have relatively cold air in place, making it easier for frozen precip to fall. Models are still unsure of the outcome as each run seems to change its solution for the weekend. As of now, we think there will likely be rain or snow, but probably just rain. This does not look like a true snow event even if we were to see some. It would melt on contact, or shortly after sunrise Saturday. Again: this is mostly likely going to be just rain, and it's even possible we won't see anything at all.
We'll be keeping a very close eye on the coming weekend as models continue to work out their outcome. Stay clicked here and @NashSevereWx on Twitter for more updates!
---