A Wind Advisory starts at 9 AM and ends at 6 PM. Winds will gust into the 30 MPH range, with scattered occasional gusts up to 45 MPH. With heavy rain last night, sick or shallow-rooted trees may come down should one of those 45 MPH gusts find them. These are winds independent of storms coming later today.
Our afternoon high is 70°.
A cold front is speeding our way. Storms will develop ahead of it, and arrive here this afternoon.
Strong/Severe Storm ETA: 3-5 PM. This is when the HRRR and NAM3 models think it'll be here.
HRRR: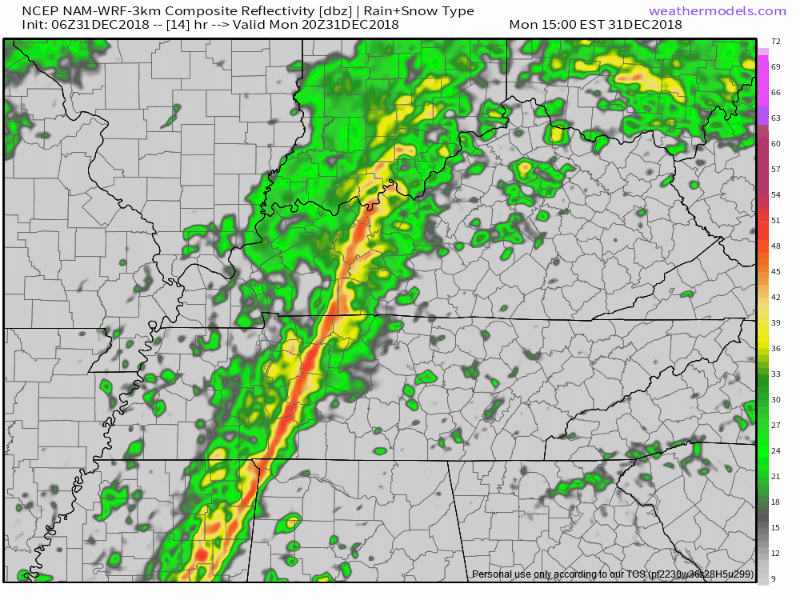 NAM3: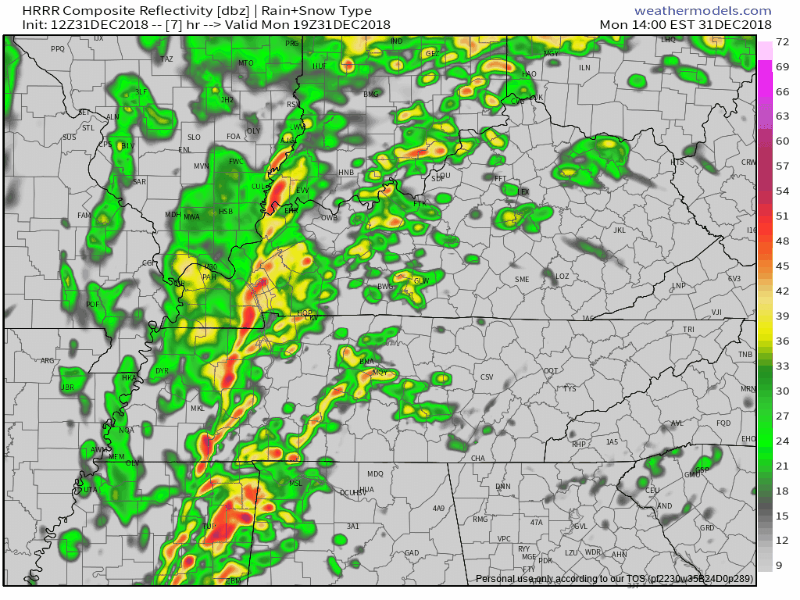 These models can be wrong, so give them a plus or minus of a few hours for planning purposes, and check back frequently throughout the day for changes.
Storm Prediction Center (SPC) probabilities of "x" happening within 25 miles of you include:
Damaging straight-line winds: 15%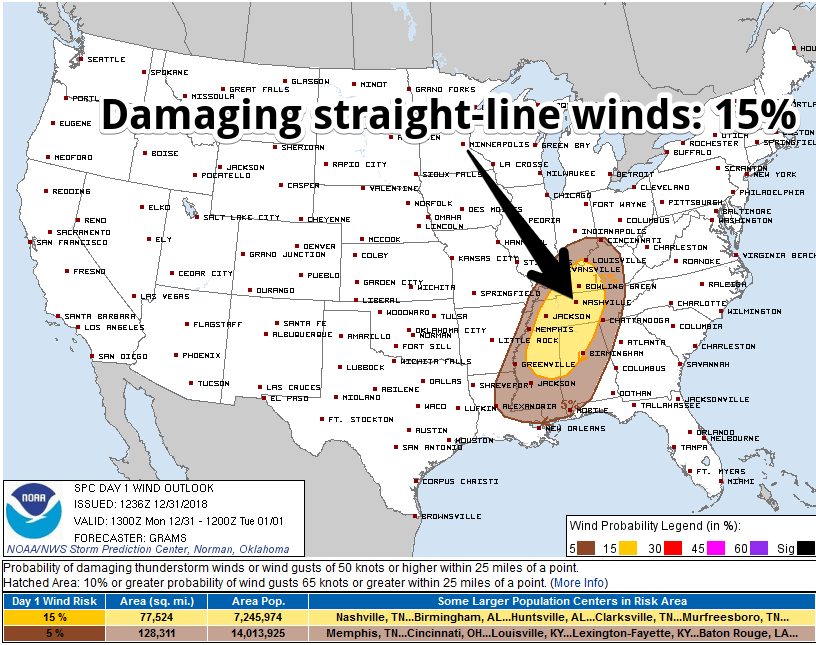 Tornado: 5%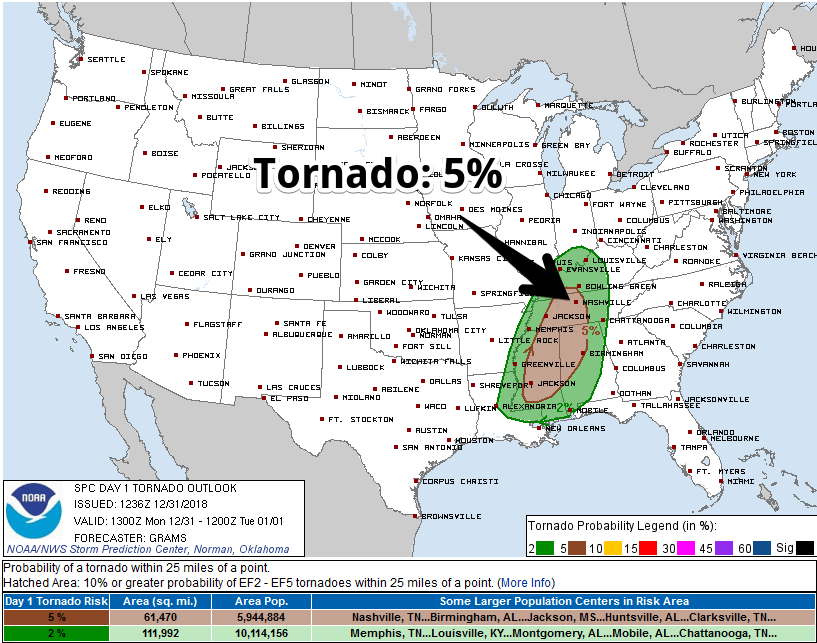 SPC removed us from its Hail outlook.
A few comments about this system:
We may see rain arrive ahead of the main line.
It's entirely possible this fast-moving system will just be some wind and a lot of rain, and not much else. Note the inverse of the above probabilities.
Tornadoes are unlikely, but possible. Any tornadoes would most likely be embedded inside the skinny squall line. These are often difficult to warn. Despite the use of multiple radars updating as fast as possible (there's no such thing as a truly "live" radar), many times these "spin-up" squall line tornadoes touch down and lift between scans, or they present a "messy" radar signature where it's very difficult to say whether there's a tornado. I point this out because these tornadoes, while usually weak, can be strong, but they're often brief and many times the warning doesn't get out as quickly as we all would like.
Shear is needed to make damaging straight-line winds and tornadoes, and there will be plenty of that today. But this system has little instability. We will watch this morning and this afternoon for any breaks in the clouds and sunshine, because that will increase instability. There's still expected to be enough instability to cause storms, and there will be some tornado risk even if we stay cloudy all day, but if the sun comes out, watch out.
The new run of the NAM3 model thinks the "Significant Tornado Parameter" drops off just as the storm pull line pulls into Nashville and Williamson Counties this afternoon. So, that's good: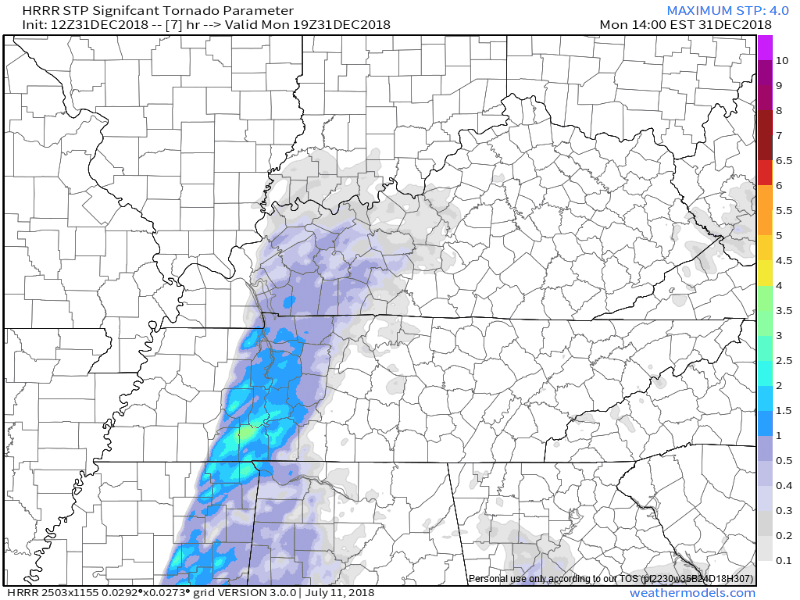 The HRRR version of the Significant Tornado Parameter also zeroes out as the storm line arrives here: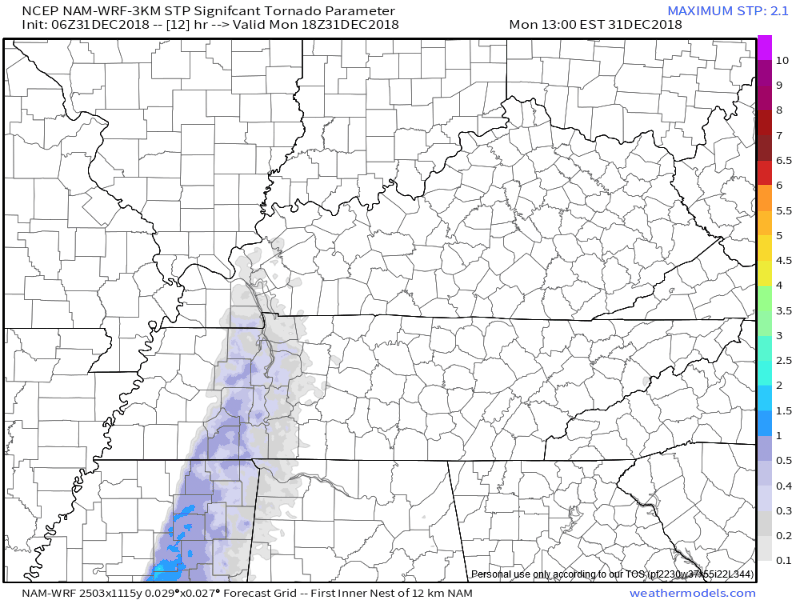 That said, the HRRR model does show a marginal tornado threat as this line arrives. For weather nerds, here's that forecast sounding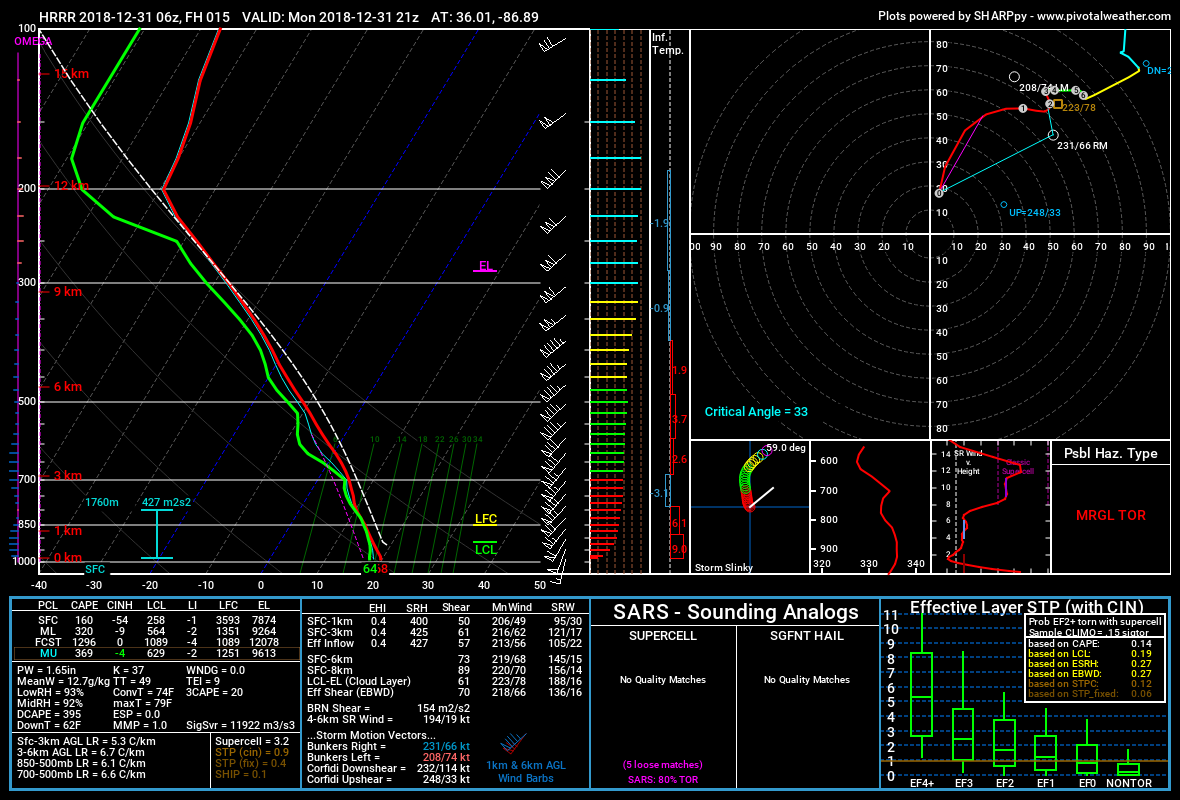 I'm not alarmed, but I don't think this is something you should ignore today. I honestly have no gut feeling about what may or may not go down, but we'll be staring at the satellite and radar data all day.
If a Tornado Watch is issued, we'll let you know. We'll be live tweeting this event through its completion, and Andrew will be on Periscope should we get a warning. If you're new to severe weather here, click this link to get some basic on terminology and "what to do" info.
Temps should fall into the 50°s tonight. We think the rain will be gone around 8-9 PM (if not before) and give us a few final hours in 2018 rain-free.
One other thing. That snow-rain-snow chance Wednesday night through Friday morning looks now like just rain, no snow. More about this tomorrow.
Updates throughout the day can be found on Twitter @NashSevereWx.
---