Rain ETA
Light rain is arriving now. On Twitter I'll be covering the impact, if any, this rain has on the Titans game, so let's just move on to New Year's Eve, because there's a lot to say about it.
Rain should be ongoing Monday morning between midnight at 7 AM. It may be heavy at times. The HRRR model has heavier rain starting after midnight: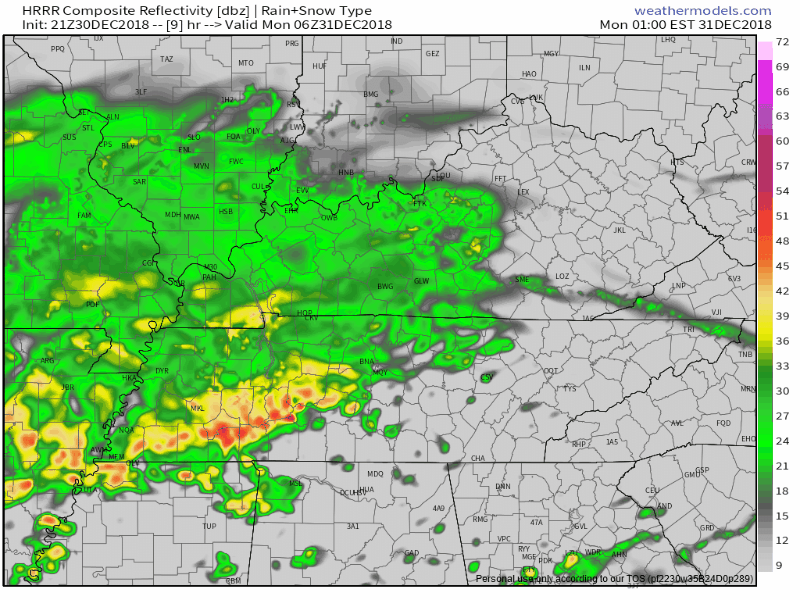 Whereas the NAM3 model thinks heavier rain will start around 11 PM tonight then end at 5 AM Monday morning: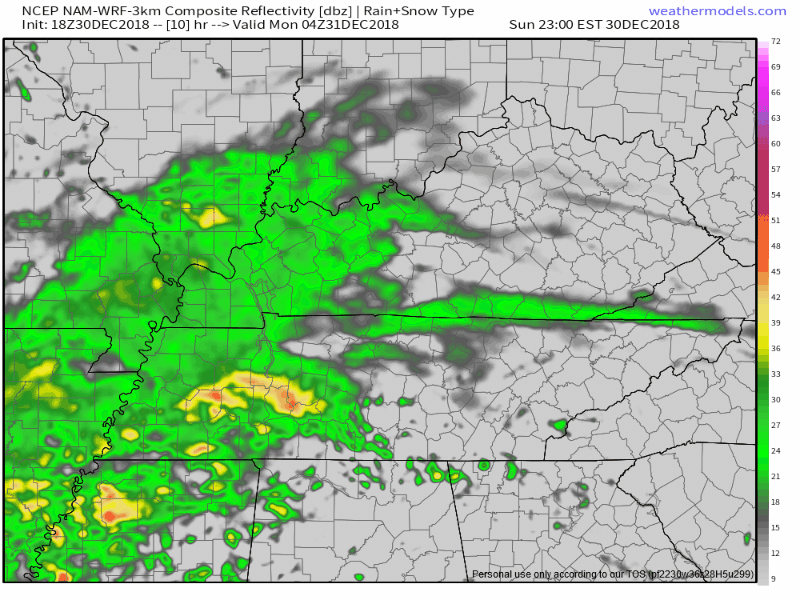 Either way, this should be a lot of rain. NWS-Nashville thinks 0.64″ will fall between now and 6 AM Monday.
Windy Monday
A mid-morning break in the rain is expected. During this time, wind speeds will increase, sustained at 15-25 MPH, with gusts up to 35 MPH.
Monday Mid/Late Afternoon Severe Weather
Rain activity should increase again around lunch. Heavier rain and storm cells should develop to our southwest then quickly speed through during the early afternoon.
By around 3 PM or so, a line of strong/severe storms should be forming – or have already formed – near the Tennessee River. These will race east into Middle Tennessee and Nashville and Williamson Counties , containing a risk of:
damaging straight-line winds (this is the main concern)
a few storms may be capable of small hail, and
there's a chance of an isolated tornado or two.
The probability of any of these severe storm events happening within 25 miles of you is 15%, according to the Storm Prediction Center. Here's the outlook graphic from NWS-Nashville: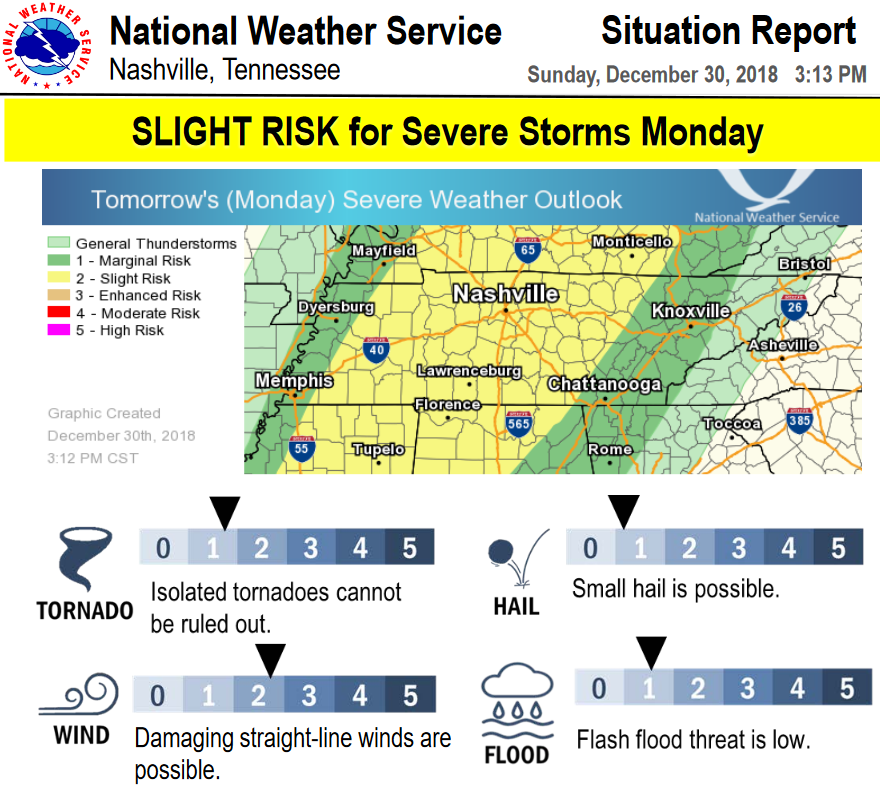 The main line should arrive around late afternoon. The HRRR model thinks around 3-4 PM: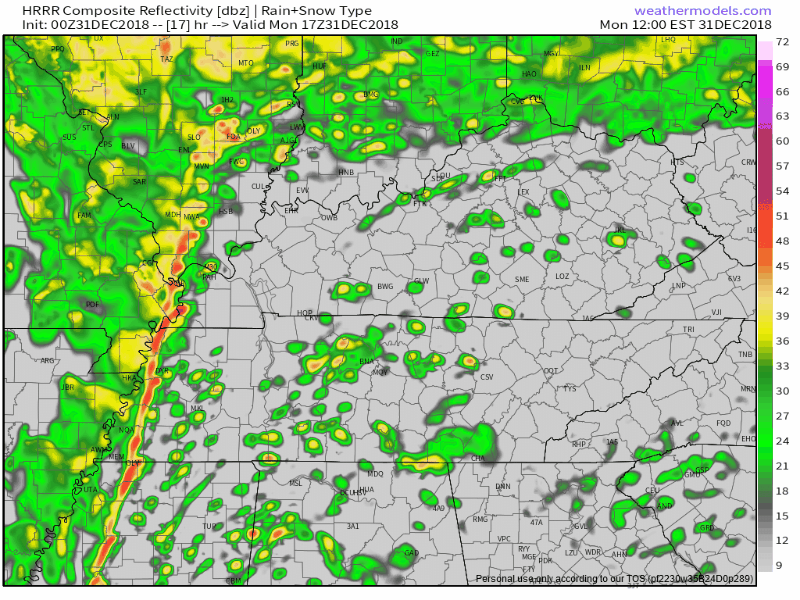 The NAM3 model storm ETA is between 4 PM and 5 PM: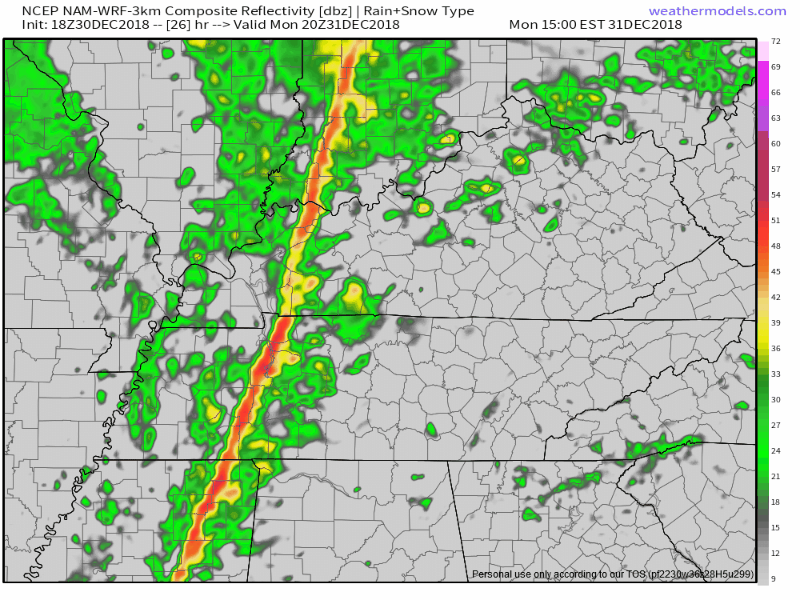 ETAs will likely need adjustment later. For planning purposes, leave yourself a plus or minus of at least a few hours.
Watch for sunshine during the late morning/afternoon rain breaks. Sunshine tomorrow is bad because it will increase our instability. Increase the instability (by adding more sunshine) ahead of this line, and these storms could pack very strong winds, and maybe even a tornado.
To underline this point, I quote NWS-Nashville:
[I]f we see additional sunshine prior to the line reaching Middle TN, the surface based CAPE numbers could climb enough to bring the low-level helicities into play and create the potential for a couple of tornadoes. If you`re paying attention tomorrow, watch for the sun. More sun = more surface based instability and a more widespread severe threat.
Even without sunshine, there should be just enough instability to power up the storm line.
As usual, we will be live-tweeting the event through the day, and broadcasting "wall to wall" on Periscope should there be a warning.
Monday's Rain/Storm Departure Times
Rain and storms should be gone in time for your NYE party.
NWS-Nashville thinks the rain/storms will be over by 8 PM: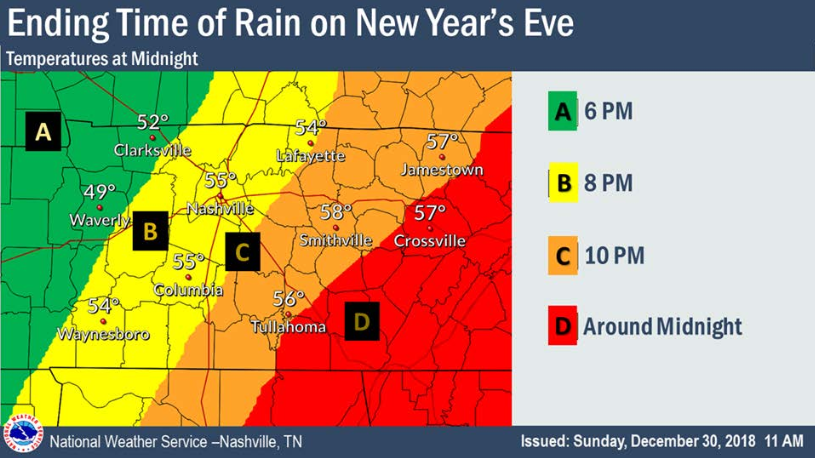 Again, check back later for updates and adjustments to the ETA.
I'm just going to insert the comic strip below so you can see the temps, then skip ahead to the next precip event.

Wed-Thu-Fri Rain/Snow Event
This forecast remains a mess. More from NWS-Nashville:
Problem is, models are all over the place with the trajectory of this system, leading to very low confidence regarding the wintry aspect of it.
It's going to rain, for sure, probably beginning late Wednesday night, continuing Thursday, and ending in the wee hours of Friday morning. The question is whether it'll start snowing in the pre-dawn hours of Thursday (and again Friday) when the temps fall near freezing.
Even if there is snow, high temps should stay above freezing when the sun comes up to limit/eliminate any impacts. But, the track of the storm is so uncertain, we may end up having to remove snow from the forecast entirely, or we may have something to talk about again mid-week.  As NWS-Nashville put it today, in graphic form: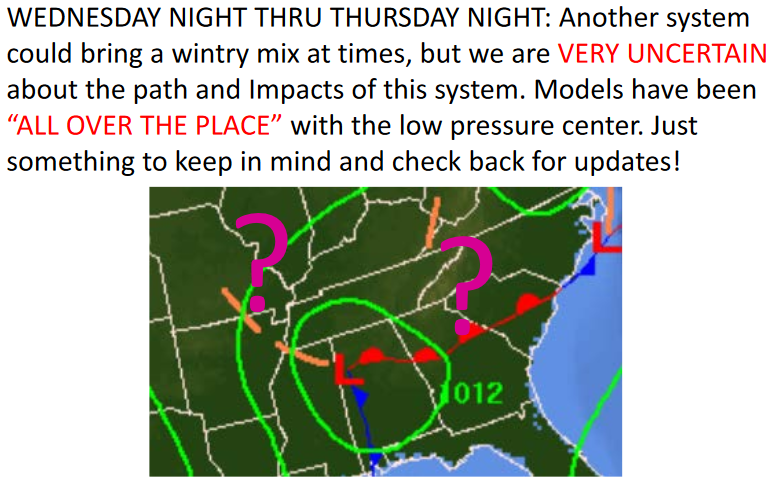 The rest of Friday and the weekend looks dry, with seasonal temps, morning lows near freezing, highs low/mid 50°s.
---