Dear NSW,
Colts at Titans kickoff at 7:20 PM. I have tickets and my cousin Marbles is a degenerate gambler. Will it rain?

/s/ Fish
The truth is weather models still disagree, but if we look through them we'll get an educated guess.
The Euro model thinks it might start very lightly raining in the fourth quarter, but probably not.
The HRRR model (my go-to model at this range, but it's not perfect) thinks rain will arrive in the second half, not really effecting field conditions too much, but enough to make the ball slippery.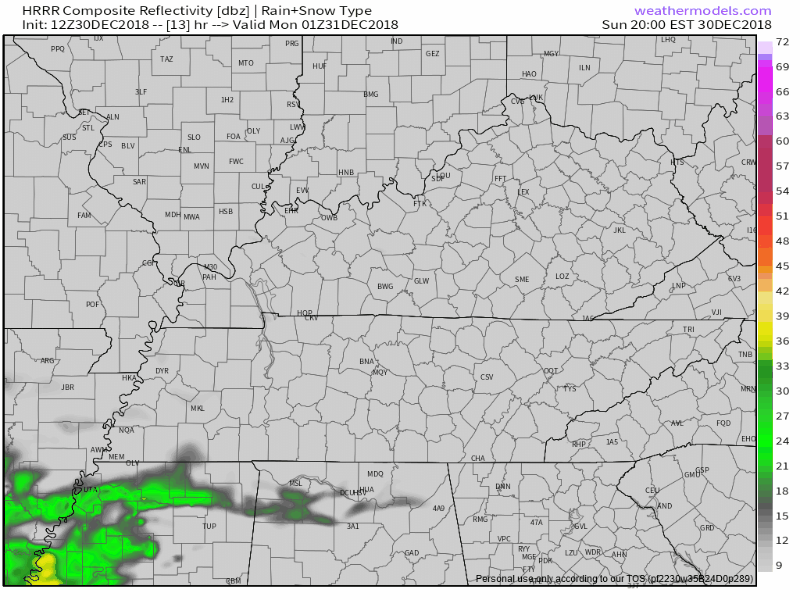 The NAM3 model is the rainiest (as usual, it loves to say Watch Out! Gonna Rain!). Here it is, below, from 7 PM to 11 PM tonight, delivering rain throughout the game: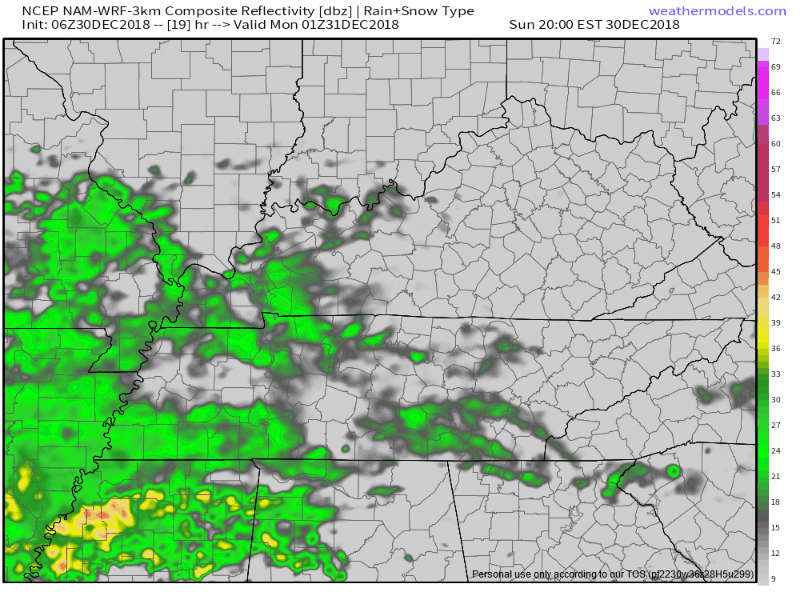 By mid-afternoon we'll have a good idea which model will land closest to the truth when we look on radar to our southwest and see how close the rain actually is to us.
I'd bet small on second half raindrops.
Winds will be under 5 MPH, coming from the east/southeast, of little football influence. As for temps, the warm front will be working its magic tonight so instead of mid 40°s, look for temps right around 50° throughout the game. Before that, the afternoon high is 56°.
I'd have rain gear for the game.
We'll be live-tweeting this rain event tonight at @NashSevereWx because Go Titans.
Dear NSW,
I see rain in the forecast tomorrow. Gonna ruin the fun tomorrow night?
/s/ Clamp
The day is a mess, evening might be salvageable. Monday's biggest weather event will a late-afternoon/early-evening arrival of a line of very heavy rain and storms capable of strong winds.
First, very windy Monday – as NWS-Nashville wrote this morning –
wind gusts to around 40 mph look possible.
Those are non-thunderstorm wind gusts. "Regular winds."
Rain should start late Sunday night into the wee hours of Monday morning, and although rain will probably continue Monday morning into the early afternoon, it should just be off and on.
However, by mid-afternoon, a lot of rain will be piling up to our west and start moving in, likely washing out late-afternoon/early-evening/mid-evening activities.
Exact timing on this heaviest rain remains unclear. The NAM3 model predicts rain from 2 PM to 8 PM, with the heaviest rain around 5 PM: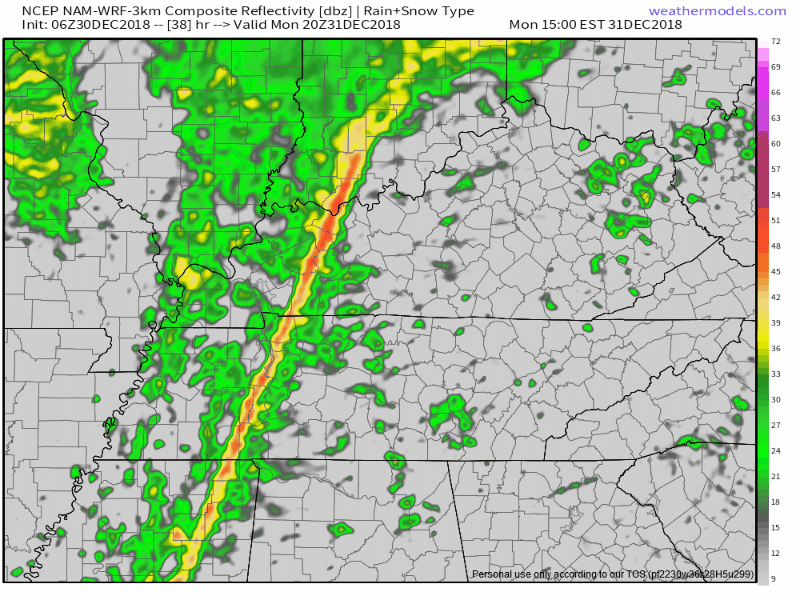 The HRRR model thinks the heaviest will arrive around 4 PM. Here's the HRRR from 2 PM to 6 PM: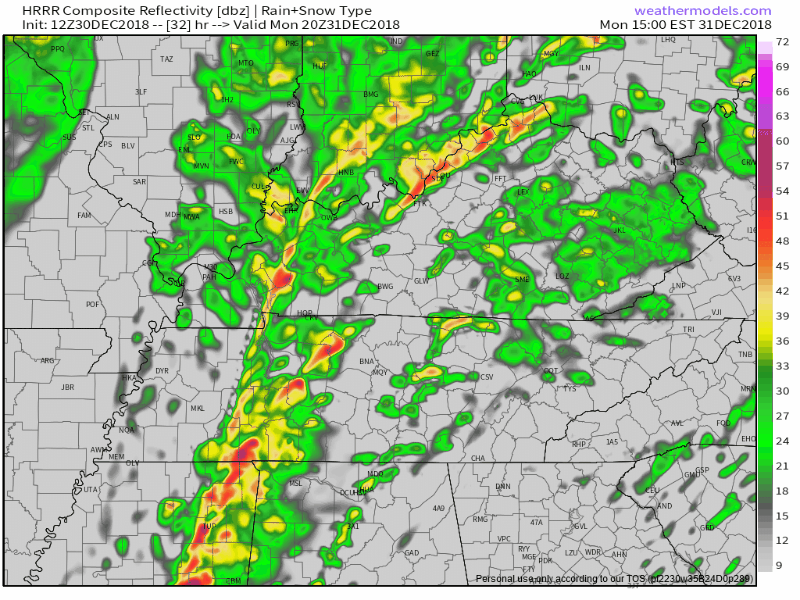 Give that ETA a range of plus or minus a few hours. This rain line should be watched because:
Storms are also possible with that main line of rain. From NWS-Nashville:
a couple strong storms capable of damaging winds can`t be ruled out. Models are showing 250-500 J/Kg of CAPE ahead of a thin line of forced convection that will sweep through Middle Tennessee between 18z and 00z Tuesday. There is more than ample shear associated with the system, but abundant cloud cover and poor lapse rates will limit the severe potential.
This line of very heavy rain with the chance of thunderstorms capable of damaging winds will probably happen, all models have it. We will pay close attention to it all day. The Storm Prediction Center has us down for a 5% probability of a severe storm (damaging winds) event tomorrow afternoon: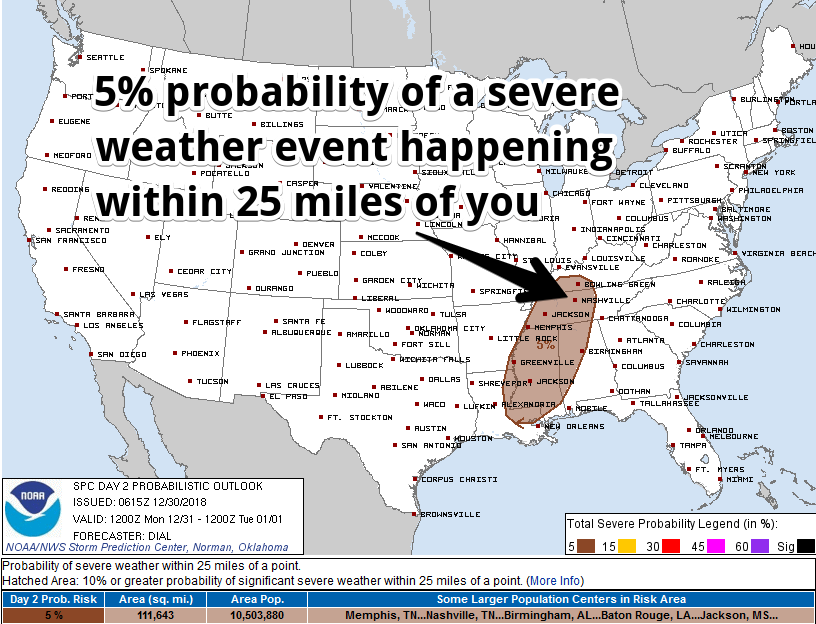 About the NYE guitar drop party, NWS Nashville wrote:
New Year`s Eve celebrations still look to be in good shape with the precipitation mainly confined to the plateau by 9 PM Monday and east of the entire area by midnight.
This is a close call. The Euro thinks the rain won't leave until sometime around 11 PM. However, as we wrote above, the NAM3 has the rain shutting off around 8 PM, and the HRRR model turns it off at 6 PM. So I feel pretty good about getting in the parties with a clear out time around 9 PM, but pay close attention because ETAs can vary meaningfully. Be sure to look at the most recent information.
We should get more than 1″ from Monday's rain event.  Temps will top out almost at 70° Monday afternoon, but drop to 54° by 2019.

Dear NSW,
Ummmmm, what's that about snow?
/s/ Alert Crap App Users Everywhere
Pretty much unchanged from yesterday's blog about it.
The center of a big rainmaker will pass to our south, but it's a big system, big enough to send us rain as early as Wednesday night. As precip continues to fall into the pre-dawn hours Thursday, temps aloft may be cold enough just long enough to turn rain briefly into sleet or snow. However, with surface temps expected to be at or near freezing, and with a warm, wet earth, any flakes should melt on contact. Then, by sunrise Thursday, we'll warm back up, well above freezing, while rain continues. It should rain most of the day Thursday. Then, as the storm moves east of us Thursday night into Friday morning, lingering precip may again turn to snow, but just like on Thursday morning, temps Friday morning will quickly warm up and melt anything that's freezing, if anything is freezing (freezing seems unlikely). Thursday's high is 47°, Friday's high is 50°, so this is mostly a rain event, at worst it's a low-impact bridges/overpasses/elevation problem for a few hours Thursday and Friday mornings. I think flakes are more likely Friday morning before sunrise.
All that said, there's substantial uncertainty about what this storm will do. But, it's of little value reviewing them all because I don't see anything that convinces me we will be cold enough for long enough for this to turn into a thing.
---