If you read this blog this morning, the blue ink is new.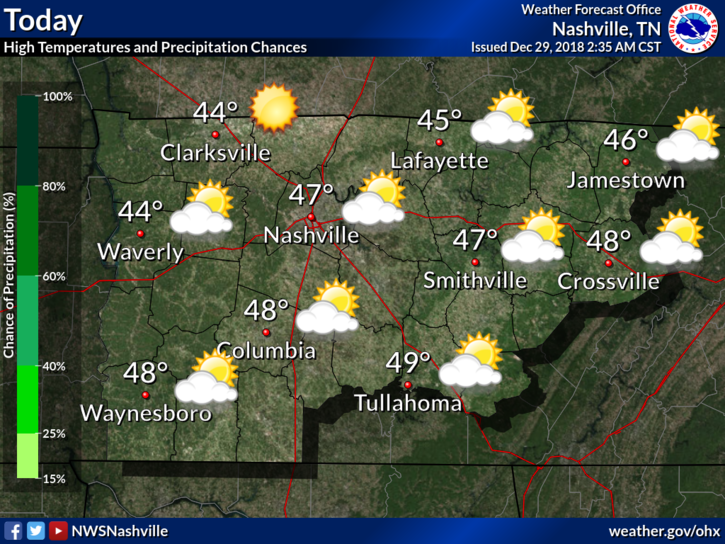 Today – Dry, Temps in the 40's
Most of the low clouds will mix out of our area from West to East today. As they do, high clouds will be establishing themselves as a front approaches. Great afternoon to watch some college football.
Editor's note: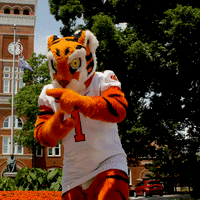 Other Editor's Note: Will's a Clemson grad. If Clemson were playing Tennessee (LOL right) in the semifinal today there would be Words, but since they're not, no man, woman, or child should stand between Will and his Clemson devotion. I once saw him stand up to 6 grown (intoxicated) South Carolina men downtown (they were in town to play Vandy) and Will gave them a Huuuuuge "GO TIGERS." The South Carolina dudes wilted.
Tonight – Dry, Temps in the mid 30's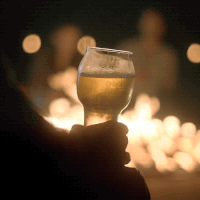 No big changes expected tonight. Cool temps with a light north wind. Find a fire pit, enjoy.
Some very light showers should pass just south of us. No model has them coming through but don't be surprised if you get a few sprinkles tonight.
Sunday – Mostly Dry with a Late-Day Warm Front – Temps near 50º
On Sunday, a surface low will develop over the southwestern US and begin its eastward march. This won't impact us until much later Sunday night. Which begs the question:
Titans vs. Colts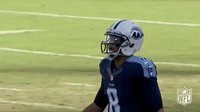 Temps in the upper 40°s for kickoff, staying steady throughout the game. Calm east/southeast wind of 3 to 4 mph. 
Will it rain? Maybe, more likely during the end of the game:
The NAM3 model has a showers in the area before the 7:20 PM kickoff. See below, running from noon Sunday to 3 AM Monday: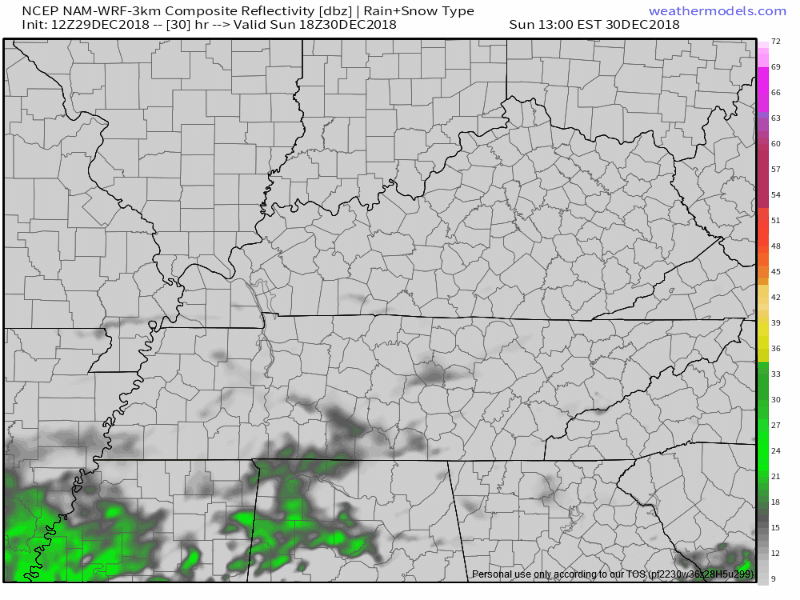 For the game, this is off and on light rainfall, with occasional moderate rain, briefly.
This is just the NAM3 model, with a pro-rain bias.
The HRRR model is my favorite. It's not perfect, but it's quality, and it is finally in range. Anyway, here it is from noon Sunday to 11 PM tomorrow night:
It thinks no rain for us at the beginning of the game. By 11 PM, the rain still isn't here — but it's on the doorstep. So, maybe some fourth quarter rain if the refs are tossing lots of laundry and Luck's passes hit the earth? It'll be close. The next run of the HRRR at this range is due in about 4 hours; I'll update that then. And, of course, we'll be watching and live-tweeting the rain Sunday night.
The Euro model thinks very light rain will arrive around 8 PM, and continue into the second half of the game. Rainfall rates are very light, around 0.01″ per hour (that's not rain, that's a spritzing), increasing to 0.1″ per hour closer to midnight. This is more of a dampening than a rain, and it's possible it will fall more like a mist or drizzle than a rain.
When models fail to agree like this, it's frustrating. Such is future prediction.

There is no indication of, or concern about, a lightning delay during the game, but I don't think we're totally clear of a remote lightning chance because the Euro spikes the K index after midnight and if that's off by just a little, then, well, we may see a few bolts. That disclaimer aside, lightning is exceptionally unlikely for the game.
With the late start time and the warm front pushing through, it's better to be prepared for a few gametime sprinkles before heading out.
NYE Forecast

Monday, the surface low should begin moving to our north and east, causing our winds to increase significantly. Gusts upwards of 35 mph are possible throughout the day.
We've got good news and bad news for your NYE evening.
Good news first: Any rain in the area SHOULD be gone from Nashville by the late night celebrations; with the wind becoming calm. I'm nervous about this because it's a super close call.
Now the bad news: Until the late night, it's going to be a windy, rainy, gross day. Our friends at the NWS Nashville office say we could see 1 to 2 inches before the rain finally moves to our east Monday evening.
So, looks like the new year will begin wet. We'll be watching this very closely and will continue to keep you updated!
Next Big Event: Thursday – Friday, Rain to Snow?
Models disagree.
The Euro says a prolific rainmaker to our southeast will pass close enough to us that we'll get its colder NW side. Thursday looks wet. The question is rain or snow?
Temps very early Thursday morning should be below freezing aloft – which may make some snow aloft because science – but with temps from 5,000 feet down to the surface expected above freezing Thursday morning, any snow falling aloft should change back to rain before it arrives on the earth. So, mostly rain Thursday morning.
Thursday afternoon's high is 44°, obviously warm enough to keep all precip rain.
But Thursday night, as the system pulls away to our E and NE, much colder air and precip should wrap around the back side of the system, setting us up for a chance of wintry precip into the wee hours of Friday morning. The last two Euro model runs show this.
The GFS model totally disagrees. It's doesn't even think it'll rain. It tracks the rain system south of us more to the east (the Euro tracks it northeast), so not only no rain, but also no rain. See below: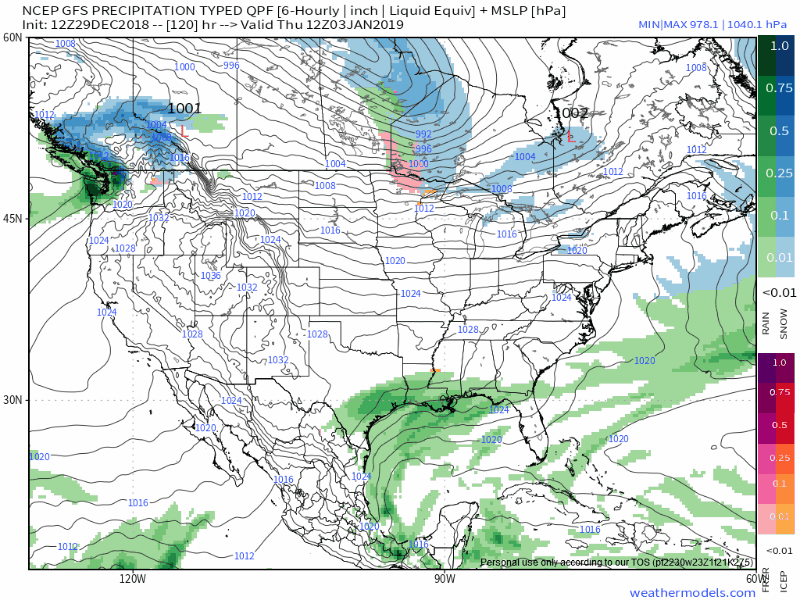 The Euro is a better model. Give it more weight. But GFS isn't trash. Your crap apps probably are hedging bets by putting in a less than 50% chance of snow Thursday night/Friday morning. I think that's fair, I think 20%-30% is more like it. The chance of accumulating snow is even lower than that.
And even if we get some flakes Thursday night into Friday morning, the ground will be wet and warm, and we're expecting temps Friday afternoon near 50°. It would melt fast. Sorry, sledders.
---