A Wind Advisory has been issued for both Davidson and Williamson counties from 6 AM today to 6 AM Friday.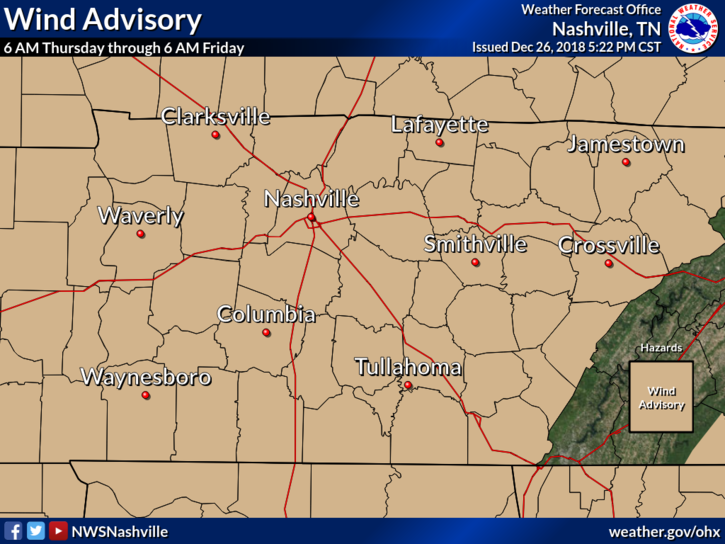 With this we can expect sustained south winds of 15 to 30 mph with gusts upwards of 45 mph. Hold on to your hats!
Active Weather Day Ahead
The following radar gif goes through 11:00 PM tonight.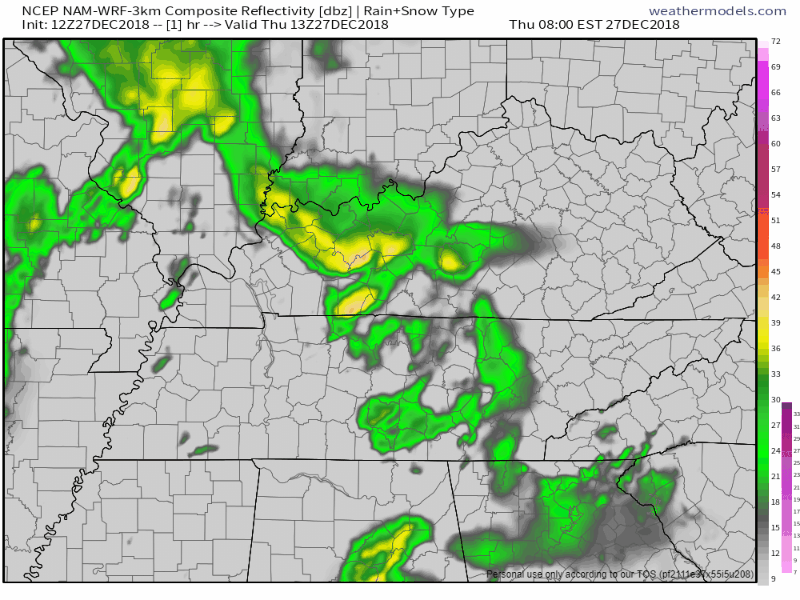 As you can see from this, light, off and on rain should pass through this morning and afternoon.
Then, around 5 PM or so, give or take an hour or two, a main line of very heavy rain will arrive and stay here at least a few hours.
No severe weather is expected. The Storm Prediction Center has us within an area of general non-severe thunderstorms. If storms happen they'll be contained in this line of very heavy rain.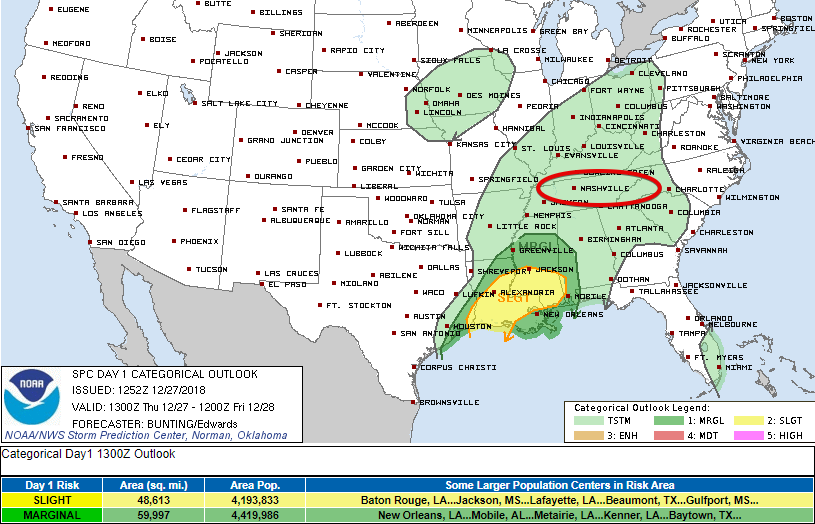 Remember, winds will be strong enough to destroy your umbrella.
This afternoon, our high temps will push into the mid 60°s. Overnight rain and clouds will keep our temps from falling too low, into the upper 50°s.
Friday – Music City Bowl Weather Update
The NAM model has been doing a pretty good job so far with this system, so I'm picking up right where I left off from Thursday's forecast.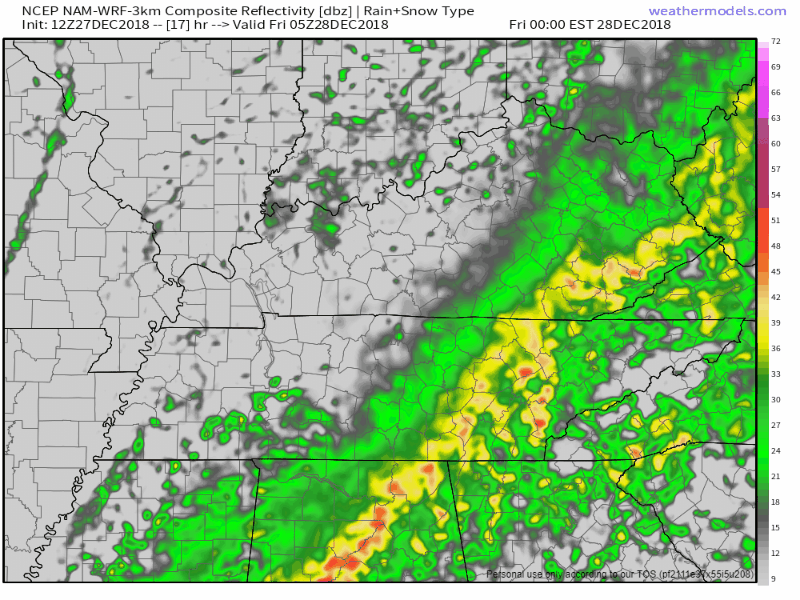 For Friday, expect a gross, steady rainfall into the morning hours. High temps in the low 60°s, with the rain ending around lunch time.
If you plan to attend the Music City Bowl: rain should hang around through the morning hours, and a few sprinkles could still be falling by the 12:30 PM kickoff, but for the most part we think the rain will be gone for the game. Good news for the wind, the Wind Advisory expires at 6 AM, marking about the time winds will be calming. Winds could still be breezy [sustained 8-10 mph] out of the west for kickoff, but will be calming as the game goes on.
The wind will shift from the south to the west and finally the northwest, marking the arrival of cooler air for Saturday morning.
Drying Out on Saturday
The cold front will have taken over by sunrise on Saturday – morning temps in the mid 30°s!
No rain expected as of now, high temps in the upper 40°s, it'll be a great day to be out and about!
Sunday
Another upper level low is expected to develop over the southwestern US and push east throughout the day on Sunday. Our winds will shift to the south, bringing moisture and warmer temperatures back to the mid-state as the day progresses. Highs should top out around 50°.
The uptick in moisture could lead to a few showers in the afternoon/evening. Officially, rain chances stand at 40%.
Planning to attend the Titan's game? You may need to pack a poncho.
Editor's Note: I still think this rain may pass southeast of us. It'll be close. Draw few conclusions.
---