Today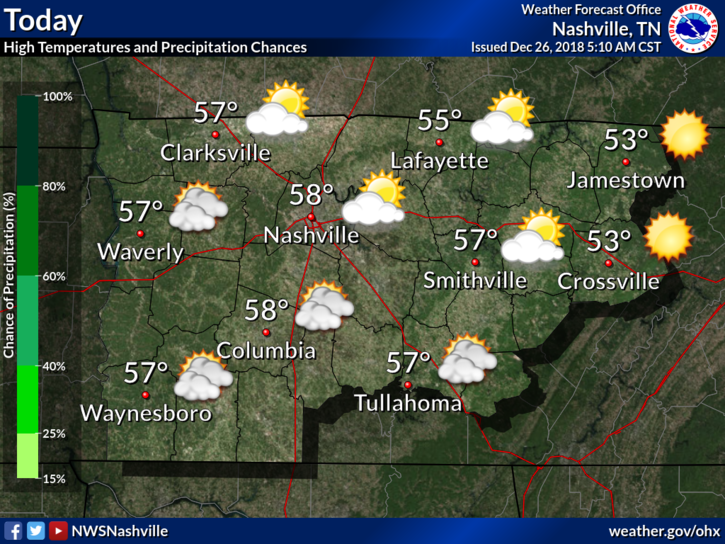 Enjoy this calm weather while we have it. Despite clouds hanging around, we've managed to reach the upper 50s. After the sun sets, mother nature will be setting the stage for our next weather maker. A surface low-pressure system will move across the Great Plains and into the mid-west, pushing a cold front towards the Nashville area.
 → Wind Advisory: Thursday Morning to Friday Morning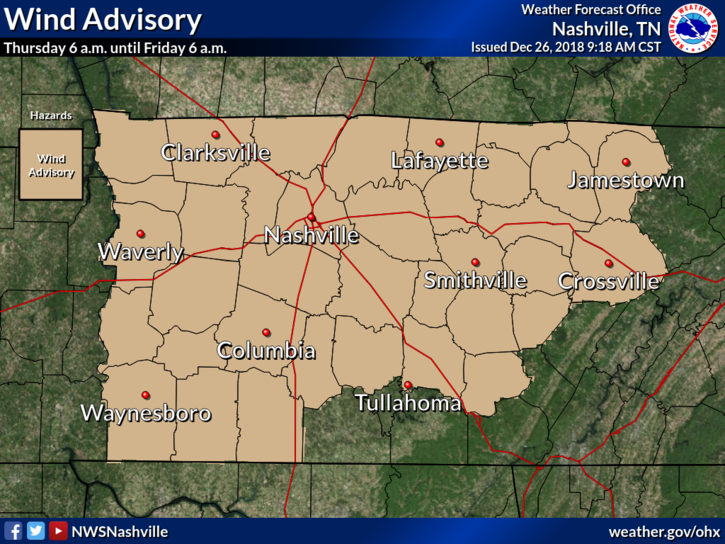 The National Weather Service in Nashville, in coordination with surrounding offices, issued a Wind Advisory this morning for Thursday primarily. In their morning forecast discussion, NWS-Nashville broke down their reasoning and gave a great synopsis of what will happen.
Best potential for strongest winds should be before midnight on [Thursday] night, but can not rule out some gusts between 40 to 45 mph after midnight, especially across the Cumberland Plateau Region. Thus…the length of this advisory may be adjusted accordingly. Advisory needed per the development of a strong surface and low level…pressure gradient ahead of, around, and possibly behind timing of [surface] frontal passage expected across the mid state region [Thursday] night into the early morning hrs on [Friday]. A consensus model solution is depicting the potential of this quite well.
What does that mean in laymen's terms? A strong pressure gradient will cause our sustained winds and wind gusts to be higher than a usual cold front passage. If you have light-weight decorations outside, you may want to tie them down or bring them inside.
So, What does this mean rain-wise?
We will be dry in middle Tennessee through midnight tonight, no question about it. Rain chances begin going up tomorrow morning and last through tomorrow night with lingering isolated showers into Friday.
No severe storms are expected.
Rainfall amounts will be between 1-1.5″ through the day Friday.
This Weekend and The Start of 2019
Music City Bowl: Some isolated showers will be possible Friday afternoon behind the passage of this frontal system. Temperatures will be seasonably warm, warming into the low 60s by the afternoon hours. May want to have a poncho on hand, just in case.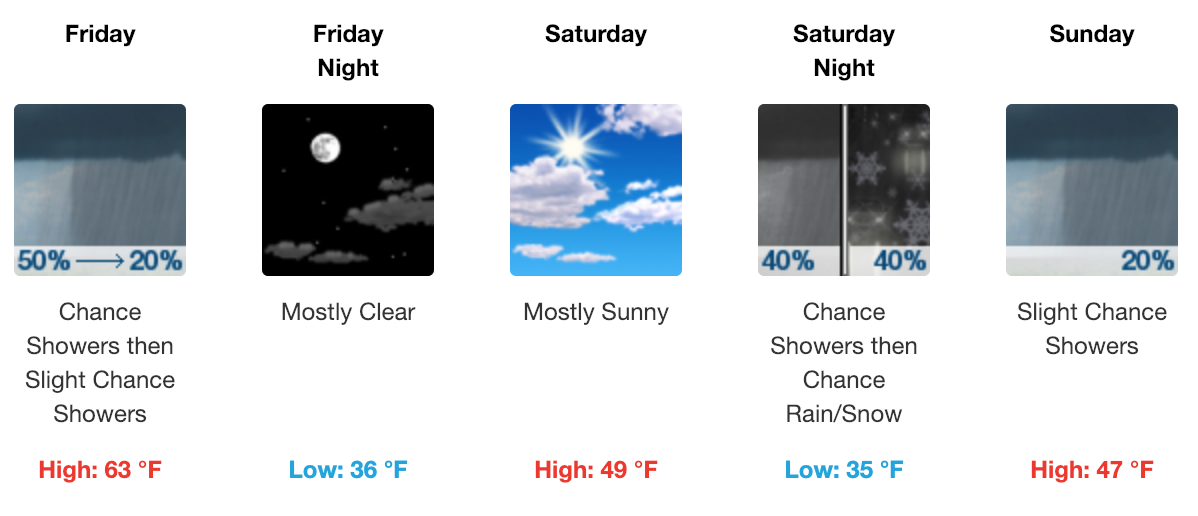 Mostly cloudy to cloudy skies are expected this weekend with isolated scattered showers and storms. Temperatures will range from the low 60s on Friday to the upper 40s on Saturday. Temperatures Friday and Saturday nights will be in the mid-30s. We may need to watch for some wintry weather Saturday night, no impacts, however.
Colts at Titans: Officially, there's a 30% chance of showers Sunday night, so rain can't be ruled out. We're going to keep an eye on this and adjust as we get closer. Temperatures will start around 40° and fall throughout the game with a light north wind.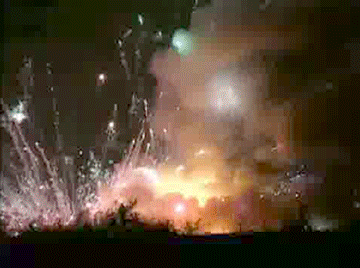 New Year's Eve
Wet. Wet. Wet. Monday and Monday night look to be quite wet. No concerns for winter weather, but rain does appear likely. Temperatures will be near average with a high in the low 50s and an overnight low in the upper 30s. Bottom line: not a good fireworks night.
---