Few Very Light, Scattered Christmas Showers
Thursday Night: Heavy Rain, Even a Few Weak Thunderstorms Possible
Music City Bowl: Kickoff Rain Possible
Colts at Titans: Probably Dry & Not Too Cold
Mostly Cloudy, Few Raindrops Christmas Day
A few light, mid-morning Christmas showers are possible.
So says the HRRR model: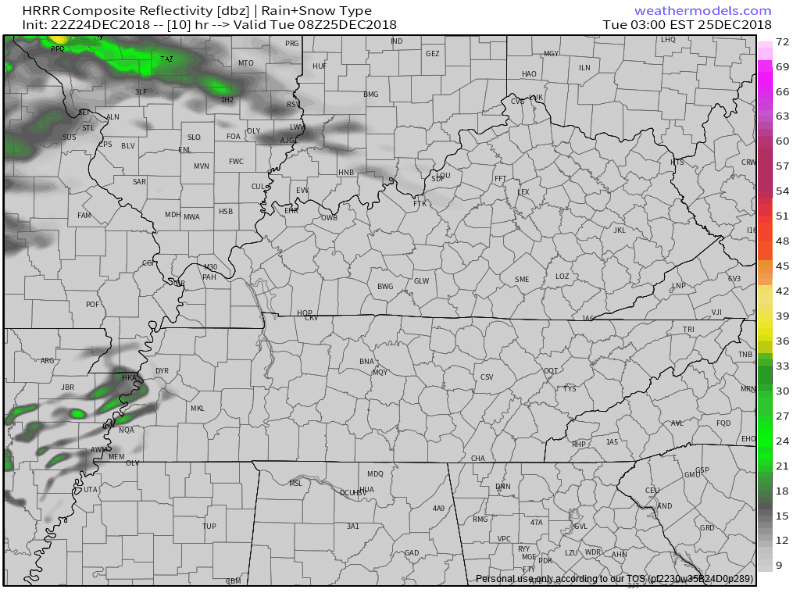 NAM3 model agrees: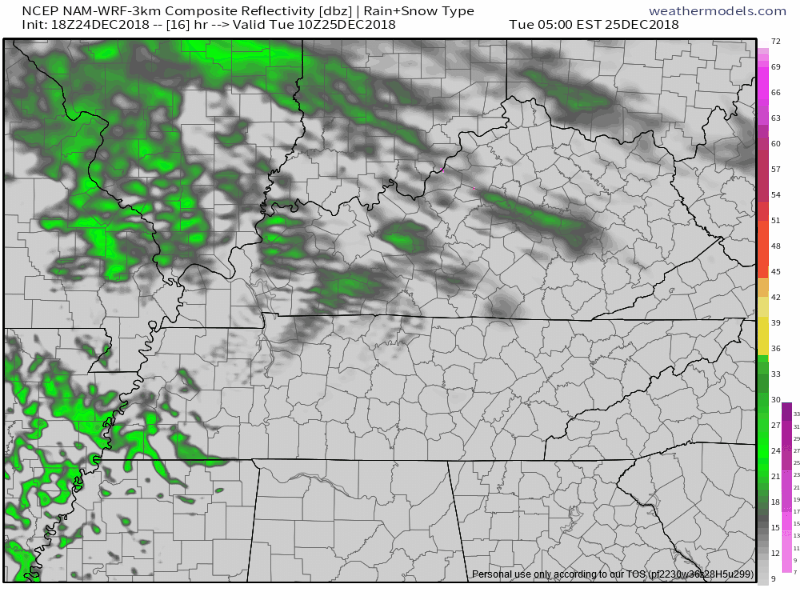 These won't be a problem, just a nuisance. You'll have plenty of time to be outside tomorrow.
Temps hovering around freezing when we wake up, but afternoon high 50°.

Wednesday looks nice.
Rain, Maybe Storms, Thursday – Rain Continuing Into Friday
No real changes since this morning.
ETA: A few light showers are possible as early as Thursday morning. The heavy rain event is expected to begin around/after noon and continue into or through Thursday night.
How Much: About 0.5″ to 1″, most of it falling Thursday night.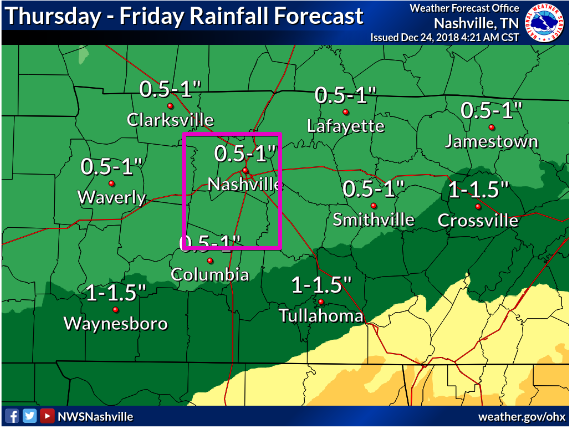 Flooding? Nah. Not enough rain, not falling fast enough.
Storms? Maybe a few thunderstorms, thanks to a little surface instability, but upper dynamics will be missing. Our severe concern is somewhere between low and non-existent.
ETD: Best thinking is the rain will be gone just before noon Friday, therefore before kickoff at Nissan Stadium, but this remains a very close call. Your Music City Bowl luggage should include rain gear in case you need to pull it out Friday morning.
Expect low-to-mid 60°s for the Music City Bowl, with temps falling into the 50°s after the game ends.
The Weekend – Colts at Titans Sunday Night
New Euro model runs still predict a dry weekend. The 12z run of the GFS model had it wet, but the latest run (at 18z) follows the Euro: dry. The rain stays to our southeast.
Draw few firm conclusions. The best data suggests a Dry Weekend, but inside the margin of error is a rain event. NWS-Nashville wisely hedges its bet, putting rain chances around 20% to 30%. Model accuracy for X place at Y time at this range is poor. It has changed a few times already. Stay tuned, much can (and will) change.
Temps will be mild this weekend. Lows above freezing. Highs around 50°-ish. Winds north, but light.
---