Tonight, winds turn north. Wind chills will approach freezing.
Freezing Fog Possible Monday Morning
Temps should drop below freezing shortly after 3 AM and stay below freezing until 8 AM or so. Early morning patchy fog may lay down a thin layer of ice on roads where fog settles. If you're up early Monday morning and see fog on the road, assume a thin layer of ice has formed. Any such hazard will end about an hour or two after sunrise when temps rise above freezing.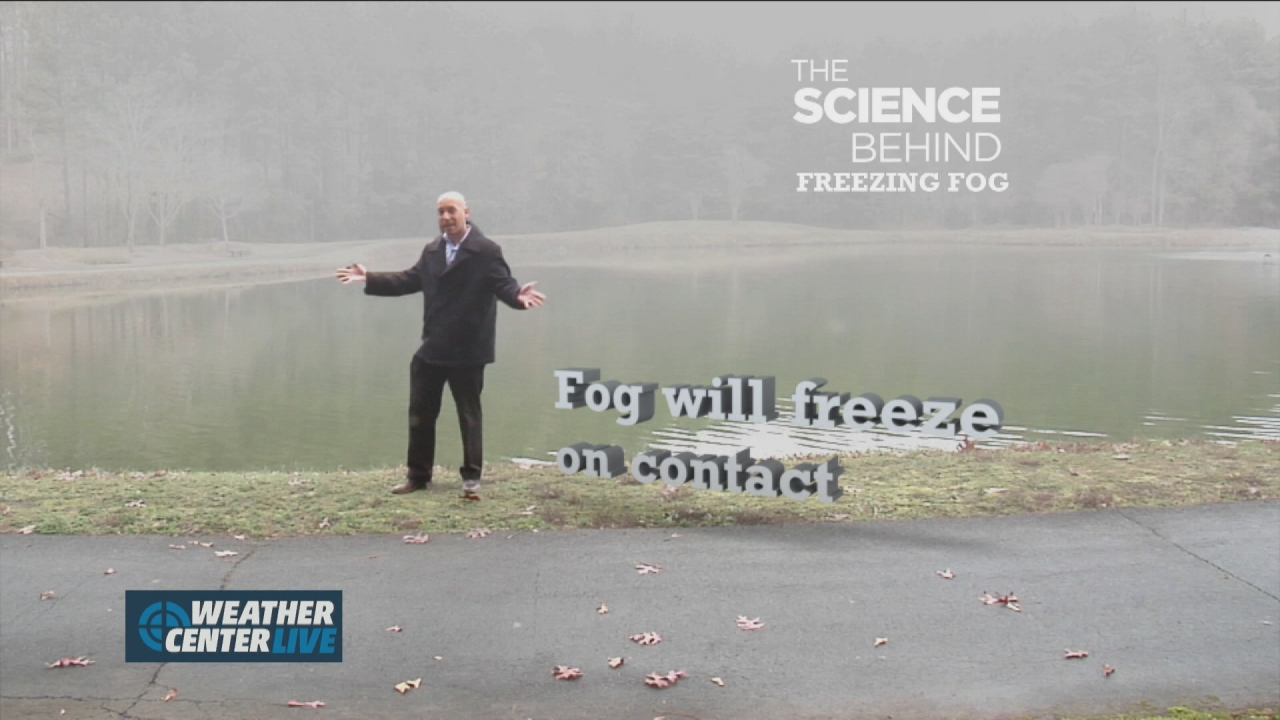 Otherwise, sunny and high 47° Christmas Eve.
Maybe a Few Sprinkles Christmas Day
Keep outdoor plans. A few models think very light rain will move through, but most models think it'll just be cloudy, high 51°. Even if it does rain, it'll be brief and light, so any plans to play outside appear safe.
Wednesday: Good. Thursday-Friday: Washout.

Most of Wednesday — and probably all of Wednesday — looks great. Almost 60°, in late December, means something's up.
Thursday we will see:
Washout? Yes. Heavy rain, 0.5″ to 1″ total. Not enough rain to cause flash flooding concerns.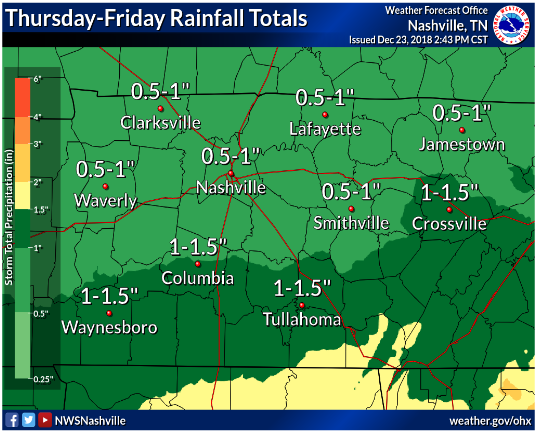 Severe Thunderstorms? No, but non-severe thunderstorms will be possible. Ingredients won't come together to cause bigger storms. Predictability about storm intensity remains "too low," but it's a good sign the Storm Prediction Center hasn't outlooked us, and there is no reason think they will.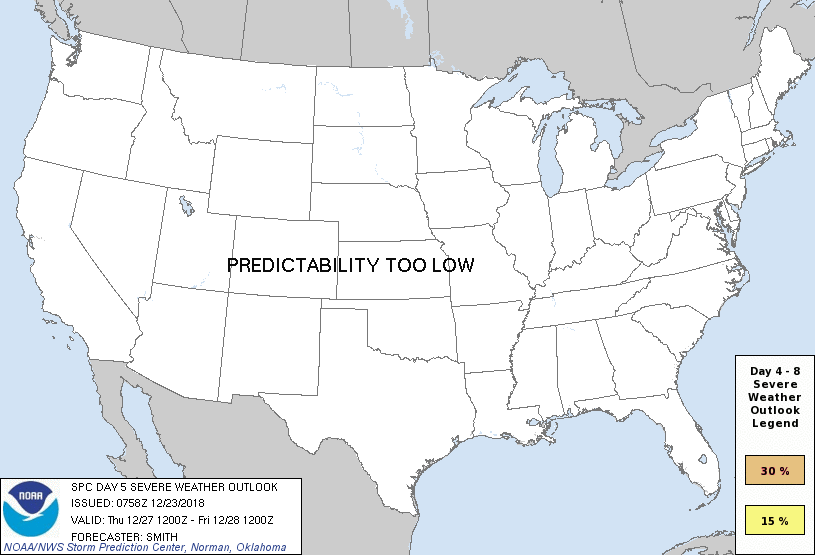 ETA remains bit fuzzy. Rain could start as early as Wednesday night into Thursday morning. Most likely rain time is noon Thursday into Thursday night.
ETD even fuzzier. Some models clear out the rain before lunch Friday. Others think it'll linger into Friday afternoon and evening. Rain remains a possibility for the Music City Bowl.
Long range models think next week another storm system will pass SE of us, which puts the rain/snow/nothing question on the table for NYE. Odds of snow: very low.
Our Annual Year-End Letter!
First, warning to tweed-wearing wordsmiths who read Shakespeare in the original language: you may hate this year's 2018 Festivus Letter, believing the Festivus theme lacks certain yuletide gravitas.
I like you, English prof, there is place for you in society, you are loved and needed. Someone needs to tell students: "what you just wrote makes no sense, here is your F. But you can do it! I believe in you." Those of you teaching Deep Things to the masses in middle and high schools are the Protein of Society.
It's trending on Twitter today, kids: Today is #Festivus, from the old TV show Seinfeld.
If you're over 30, you probably know about #Festivus. Frank Costanza invented it after raining blows on a man in a department store dispute over the last remaining doll.
Rest easy, theologians, Festivus is not a better way – there is No Substitute for Non-Amazon, Actual Christmas – Festivus is a different way, it's a joke. But be clear, #Festivus is today, December 23, and it encroaches nothing. Release any clutched pearls, it's not even Christmas Eve.
Still confused? Watch this:
Festivus features an aluminum pole with a high strength-to-weight ratio (stored in the crawl space), the airing of grievances, and feats of strength. This is how I will review 2018.
Pole
Don't at-me Grammar Police, this is as close as we got to a pole in 2018:
Poll done January 17, 2018:
Do you prefer:

— NashSevereWx (@NashSevereWx) January 17, 2018
Same poll, July 1, 2018:
Do you prefer:

— NashSevereWx (@NashSevereWx) July 1, 2018
Give us the heat!
Fork Up or Down in the Dishwasher? We're a community divided:
Not weather related but seriously how should you put a fork in that dishwasher basket thing? I have strong feelings about this.

— NashSevereWx (@NashSevereWx) November 12, 2018
Airing of Grievances
Sirens lose credibility when overused. Was true in this study published by the NWS in 2011 (Joplin) and it's still true today. pic.twitter.com/3mlGNc3RJ5

— NashSevereWx (@NashSevereWx) September 2, 2017
It had the votes!
The Siren Resolution (RS2018-1037) just passed its Metro Council committee unanimously. Read it below. Thanks to its sponsor @DaveRosenbergTN, special thanks to @CNeese_Realtor, who took time out to appear & speak in support. This is a big step forward.https://t.co/FF3fUp7k5K

— NashSevereWx (@NashSevereWx) February 6, 2018
We asked quite politely:
If you see @MayorBriley around, ask him to stick a few pennies in the budget to modernize our outdated tornado siren system. We need leadership to put an end to those tornado sirens crying wolf. pic.twitter.com/6tyPnUZQNe

— NashSevereWx (@NashSevereWx) September 17, 2018
It didn't happen.
Budget includes no money to bring our outdated (by 10 years) outdoor tornado siren system current. Prepare for at least another few years of sirens going off outside the warned area. https://t.co/aoE9PFlv9y

— NashSevereWx (@NashSevereWx) October 9, 2018
And the problem continues:
Repeating, there is absolutely no reason for a tornado warning siren to be activated outside the tornado warning polygon. This has been a problem for several years and will continue to be a problem until we commit some money to modernize our outdated siren system. https://t.co/nBHSt0TYln

— NashSevereWx (@NashSevereWx) November 6, 2018
You Are So Nashville If . . . you just don't trust the tornado sirens.
You are so Nashville if…

Our fave was:

You just don't trust the tornado sirens. — Tony Gonzalez

Honorable Mention:

You Airbnb your tornado closet. — Jackie Hughes https://t.co/1zX0nRXvoW

— NashSevereWx (@NashSevereWx) July 19, 2018
It's been a wet year, easily top 20 on record.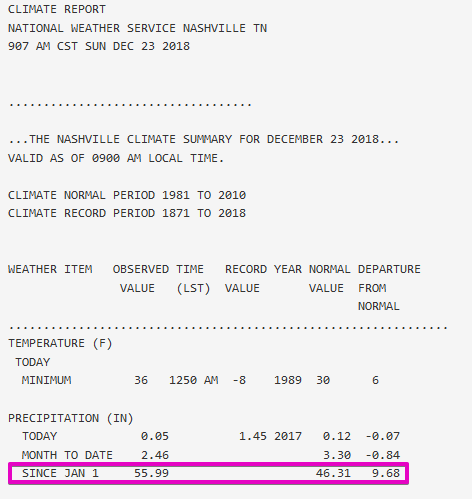 Currently 9.68″ more than normal has fallen, and we're getting more before 2019 rolls in.
Feats of Strength
Best of Nashville. Yassss! Thanks y'all.
This means more to us than just about anything. Thanks everyone for voting for us. Sincere appreciation. #BestofNashville2018 Readers' Poll, Best Local Twitter Account. Also, thx @NashvilleScene. pic.twitter.com/0JfxMuRWuf

— NashSevereWx (@NashSevereWx) October 18, 2018
Our Patreon support has kept us going. Thank you for your recurring financial support.
Thanks for reading, and for following.
Make 2019 Tornado Free.
---