High pressure is here today, leaving us with sunny and mostly-clear skies.
Our high temp will rise into the low 50°s. Tonight's low will fall into the upper 30°s.
As for getting out and about today: it's a great day for it! If you've got outdoor plans, expect calm winds from the south with a max speed of 8 mph, with no rain for the afternoon kickoff.
Next Rain-Maker is Already in the Works – ETA Sunday Morning
Models predict rain begins in the wee hours of Sunday morning. Both NAM and HRRR agree it'll be around 3 AM and will last until early afternoon. See NAM3 model, below.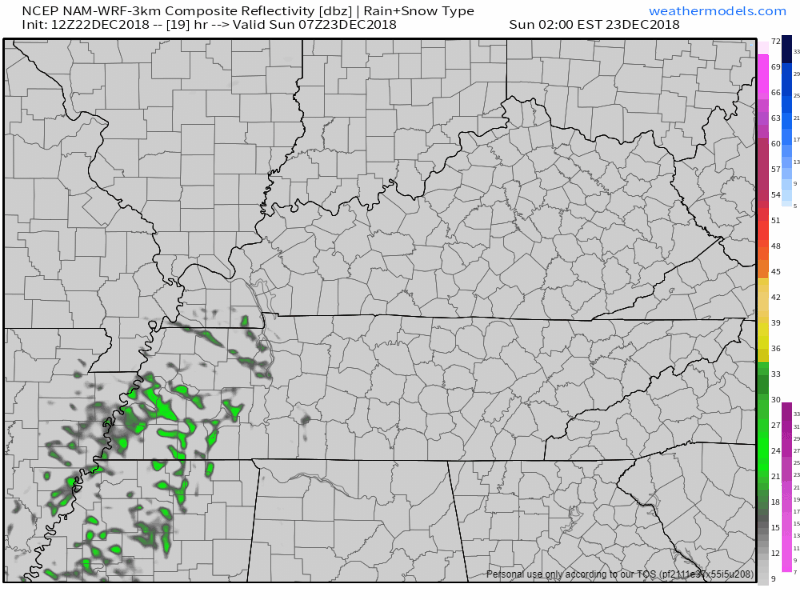 Sunday's high will again flirt with 50°, while the overnight low will fall to around 30°.
Christmas Eve & Day
Christmas Eve (Monday) looks to be pleasant again with dry skies. Temps near 50° are expected, with an overnight low close to freezing.
A few scattered showers are still expected for Christmas Day, but no thunderstorms. Temps a few degrees warmer than Christmas Eve.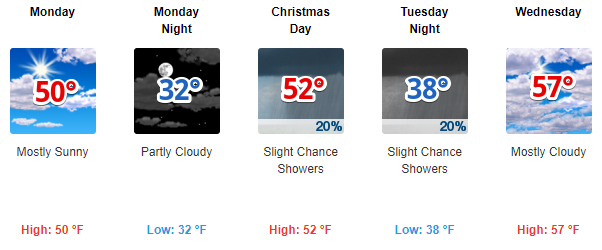 Next Notable Weather – Late Next Week
On Wednesday, another strong low pressure center is expected to dip out of the Rockies and pass well to our north. Due to its northern path, we'll have above average temps than normal.
A few models think thunderstorms are possible Thursday, with an outside chance of a strong storm or two. Currently (a) too much uncertainty + (b) models giving reason to think they won't be that strong = low concern.
---