Periods of on-and-off rainfall continue today. We could see upwards of 0.5″ of rain through midnight tonight, the NAM shows below.
Clouds will keep us a bit cooler than we have been with a high creeping into the low 50°s. Tonight's low will remain in the low 40°s.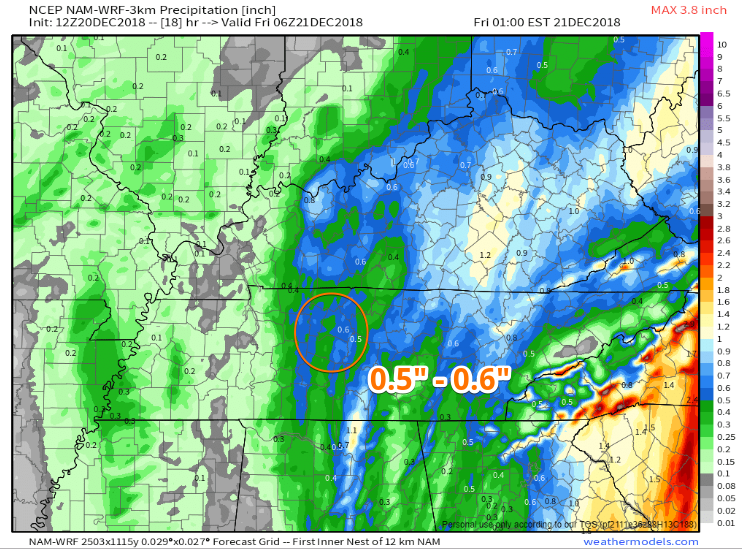 Rain Friday Morning, Drying Out by Evening
Rain continues on Friday. Periods of on again, off again showers will cover the area – another 0.25″ of rain possible – but only for the morning. By afternoon, dry, cool air will begin wrapping into the system, which will begin to taper off the precip. High temps hover around 45°, temps falling to mid/low 30° after sunset.
By late afternoon, we could see a very brief switch over to wintry precipitation with no impact. Anything that reaches the ground will melt.
[Editor's Note: Wintry precip is not in the official forecast for us, so pay special attention to the underlined words above. Not expecting any problems.]
According to the NAM, rain should be done by early evening. If you have outdoor plans, keep in mind that light drizzle could hang around past the rain cutoff.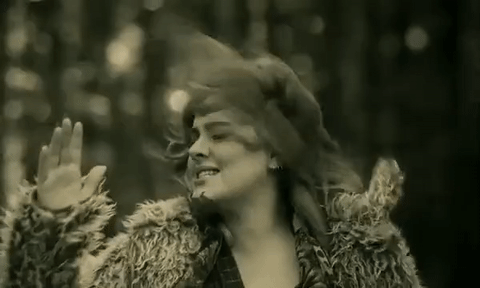 Winds will pick up around sunrise; breezy at about 16 mph with gusts to around 25 mph. This will make the day feel colder than it truly is. Winds won't calm until midnight.
Nice Saturday
A very pleasant day returns on Saturday as high pressure takes over and we dry out.
Calm winds will switch from the west to the south as the high pressure swiftly moves east. This will allow for slightly warmer temperatures from our south to move north once again. High temps will struggle to reach 50°, morning low in the low 30°s.
Christmas Eve & Day
Looking ahead to next week and Christmas, models are still working out the answer. They're showing a zonal flow – no major weather events. Even with zonal flow a few shortwaves could pass through, bringing clouds and very low rain chances.
Although models are varied right now, NWS Nashville is calling for "no significant [weather]" for Christmas Eve and Christmas.
---