Most of Nashville and Will Co stayed just above freezing tonight. Those in far north Nashville, and anyone at elevation, saw icing.
Trees ice-glazed in Oak Hill. Elevation matters. pic.twitter.com/CzzfBH7avW

— NashSevereWx (@NashSevereWx) December 9, 2018
A degree or two colder and we probably would have had a widespread ice event. Instead, ice stayed north and northwest of Nashville. You can read those tweets on Twitter @NashSevereWx, and/or on our fancy page here.
More Wintry Precip Today & Tonight?
Rain will slowly pull east this morning as temps climb "warmer" into the mid, then upper, 30°s.
HRRR, NAM3, and Euro models think very light precip will linger early this afternoon, of little consequence. HRRR model this morning through 3 PM: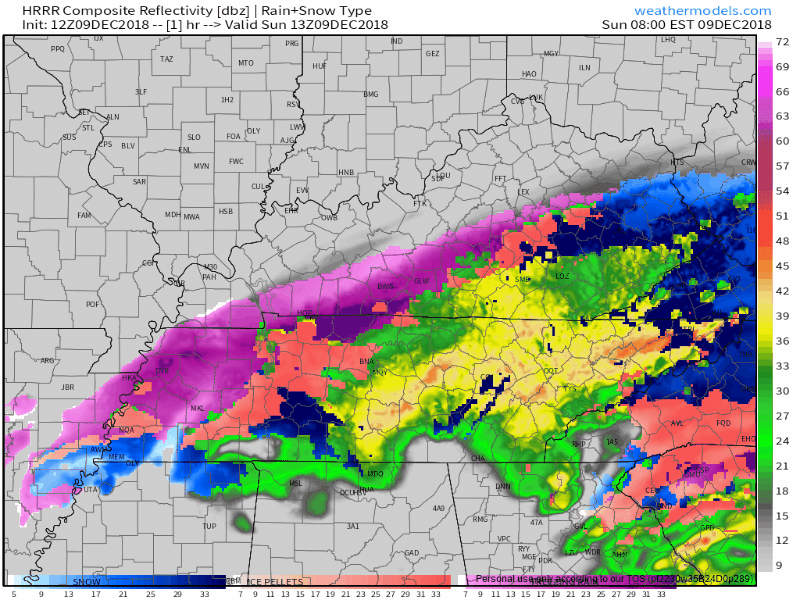 Then again tonight, a shortwave may kick off more wintry precip, but precisely where is unclear from review of the models.
The Euro thinks we'll see snow for a few hours beginning around midnight, but it pulls away around 3-4 AM, when freezing surface temps arrive.
The NAM3 model disagrees and instead says it'll be a very light dusting for those east of us up on the plateau, with no additional local precip for us.
The HRRR model (see below) thinks a cold rain will start after dark tonight and last until midnight before it moves east and away from us.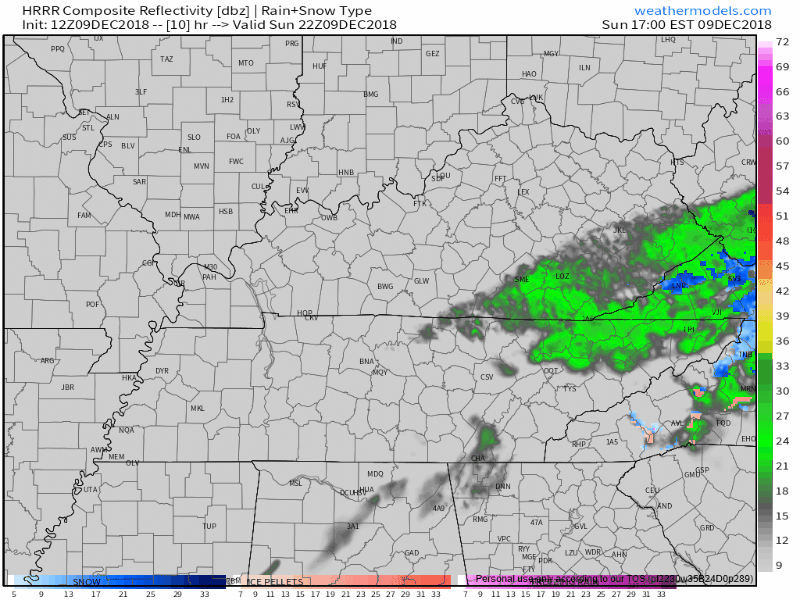 Three meaningfully different solutions to the same forecast problem. Importantly, tho, none of them co-locate snow with at/below-freezing surface temps. The Euro and HRRR think the precip will pull east before we get to or below freezing, and the NAM3 doesn't think we'll see any additional evening precip at all.
We'll be watching. With models not in consensus, trust nothing!
Will Roads Refreeze Tonight?
Yesterday's rain brought 0.73″ to 1″ in Will Co. in most spots, though College Grove got 1.4″! Nashville got generally under 1″.
Roads are wet now, but will dry some today thanks to a 10 MPH wind and the fact it won't be held in place by freezing.
Tonight, temps are forecast to drop below freezing well after midnight, and stay below freezing only for a few hours before warming back above freezing. Those at elevation may see freezing temps longer. So while some black ice is possible — especially those commuting in from Sumner, Robertson, Montgomery, and other northern Middle Tennessee counties — local travel should generally free (but not completely free) from black ice from rain that fell this weekend. Bridges and overpasses, areas at elevation, more susceptible to icing.
However, if the Euro model is correct and we get new precip/snow tonight, or if the HRRR is right and we get more cold rain tonight, all bets are off.
Blerg Alert! Temps/Wind Chills
A cold north wind at 10 MPH today will keep wind chills in the 20°s almost all day.
With (1) no sun, likely (2) no snow, and (3) temps under 40°, Blerg Alert!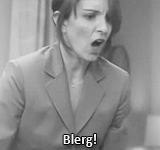 Monday also looks like no picnic, but we should break the Blerg when we hit 40° some time after noon.

Note that very early morning low of 21° for Tuesday morning, which for no good reason the crappy clip art thinks is "Monday night."
Later This Week
Rain returns Thursday – Friday. That "rain chance" for Wednesday night on that crap app above is not helpful, that's the earliest anyone thinks rain could possibly start. All liquid, no ice. Maybe even a thunderstorm Friday. Severe weather not expected. Most likely ETA is late Thursday night into Friday morning.
---