If we were about five degrees colder right now everyone would be: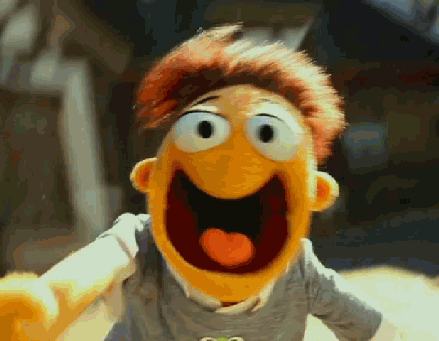 But, we're in the mid 30°s, embracing uncertainty as part of the social contract involved in, you know, living here and stuff.
Before diving into tonight's [ominous music] Winter Weather Advisory [end music] and related rain/ice/snow chances, it will help if you go to your freezer, grab an ice cube, and drop it on the floor. Then imagine watching it slowly melt (you won't actually do this, takes too long and then you'll need a paper towel, so just imagine it). So temporarily, there's ice on your floor. Soon it'll just be a wet floor.
Now do the same thing on your deck. Ice gonna hang around a while longer.
Tonight we don't know if your [insert local route] will be your deck or kitchen floor. It will depend on elevation, surface type, and several other super local factors.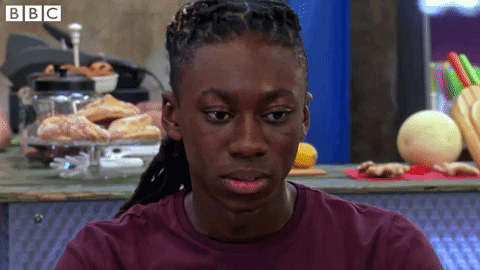 If you came here looking for us to tell you "what it's going to be at x time at y place," gird your loins for disappointment, then perhaps till the soil of your mind to receive information.
If unable to comprehend nuance, or if you are wildly intoxicated, stop reading right now!
Winter Weather Advisory
It's now hour 3 of the Winter Weather Advisory.
But only for Nashville.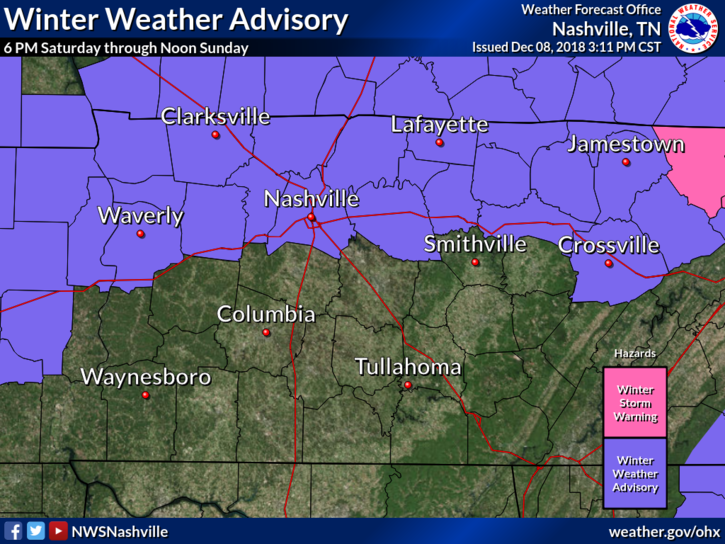 Will Co is uninvited to the Winter Weather Advisory . . .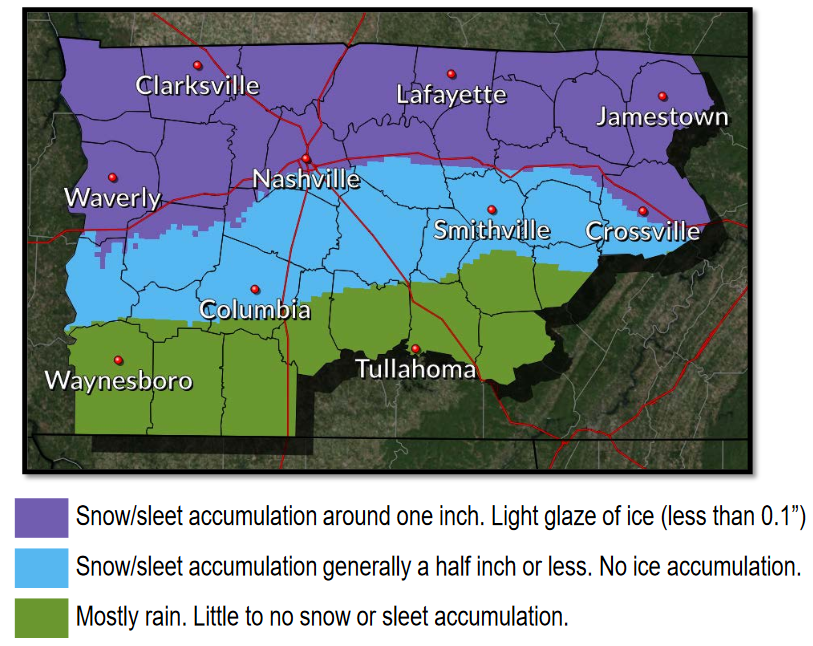 . . . however, check it out, Will Co may see "snow/sleet accumulation generally half inch or less. No ice accumulation."
Also it appears Fairview is included in Nashville's 1″ snow/sleet accumulation with a light ice glaze around 0.1″.
Below are the forecast points from NWS-Nashville:
Rain will mix with and change to a mixture of sleet, snow, and freezing rain near and after sunset across areas shaded in

purple

and

blue

[see above].
Occasional wintry precipitation expected through the overnight hours before mixing with and changing back to rain Sunday morning.
A Winter Weather Advisory is in effect for areas shaded in

purple

[see above] where light icing may cause hazardous travel conditions.
A slight change in temperature could have significant impacts on snow/ice amounts.
That "slight change in temperatures" is the big uncertainty. When the precip lands /splat/, will it be too warm and mostly rain, or too cold and icy and maybe snowy?
Precip can fall as rain, or ice, or snow, but the key to impacts is "what's the ground temp going to be?" What will your temp be when it goes splat?
Splat matters.
Splat temps will dance around freezing tonight, and will vary based on elevation (higher is colder) and surface type (bridges cool faster than earth-attached roads).
Officially, the low for Nashville is 34°, 33° for Franklin. Areas at elevation (Fairview and Joelton) will be a bit colder and more receptive to ice. So will bridges and overpasses, which hold ice before earth-attached roads do. Also, dewpoints are forecast to drop to or below freezing, so it's possible evaporative cooling will lower the temperature governing your friendly neighborhood road/surface to the at/below-freezing dewpoint.
This is going to be a really close call.
The good news is, as I'm publishing this, road temps are running 6° to 7° warmer than the air temp, so for most roads, even though the air temp may eventually get to freezing tonight or Sunday morning, the road may not. The exception — again — is areas at elevation and bridges and overpasses, which are colder and will freeze first.
Plenty more precip is on the way.
Below is the HRRR model's brand new extended run. When the model changes from greens and yellow (rain) to corals and pinks and blues, that indicates wintry precip.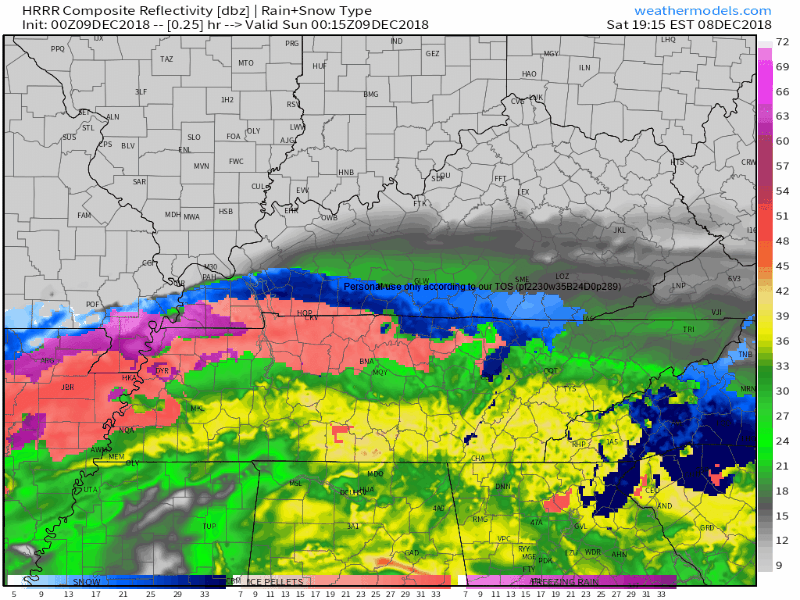 Note most of that is green for us tonight and most of Sunday morning. If it wasn't already so "warm" right now, we'd be buried in snow. But if this model is just a bit off, such that your local area experiences temps a smidge this way or that, your ice/rain amounts will follow.
The Euro model seems to agree with the HRRR, that the most likely location for wintry precip and hazardous travel is northwest Nashville (Joelton), over to Fairview, and those along and north of I-40; basically, that purple area in the map I'm reposting here: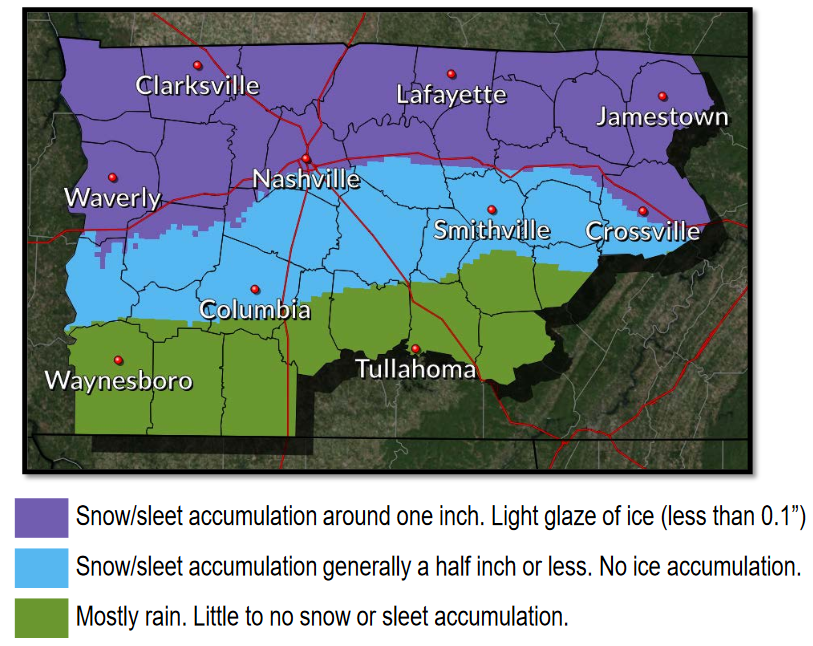 Even the NAM3 model (hot off the presses) agrees with this general idea: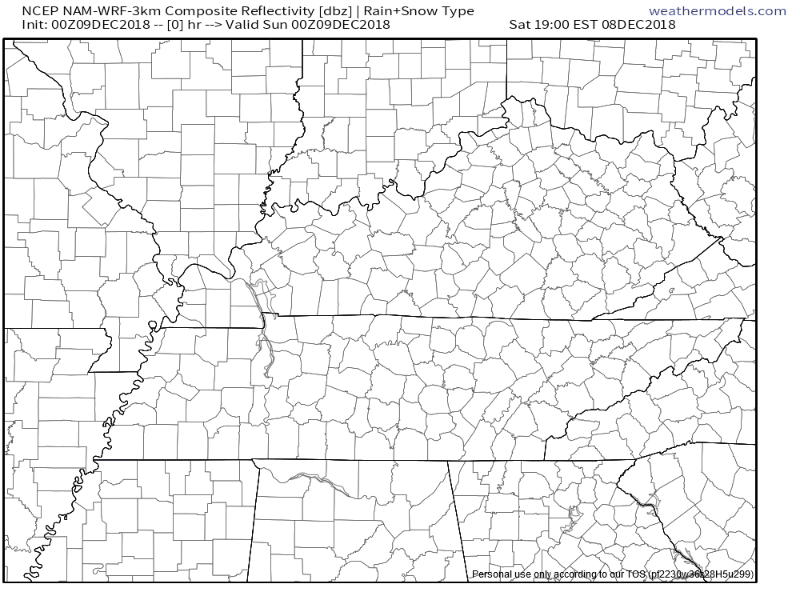 So, the forecast is for up to 1″ in Nashville with a little ice, less everywhere in Will Co except Fairview. Expect variability because water freezes at 32° but not at 33°, and that's right around where temps will settle tonight and Sunday morning.
From NWS-Nashville, the second bullet point is key: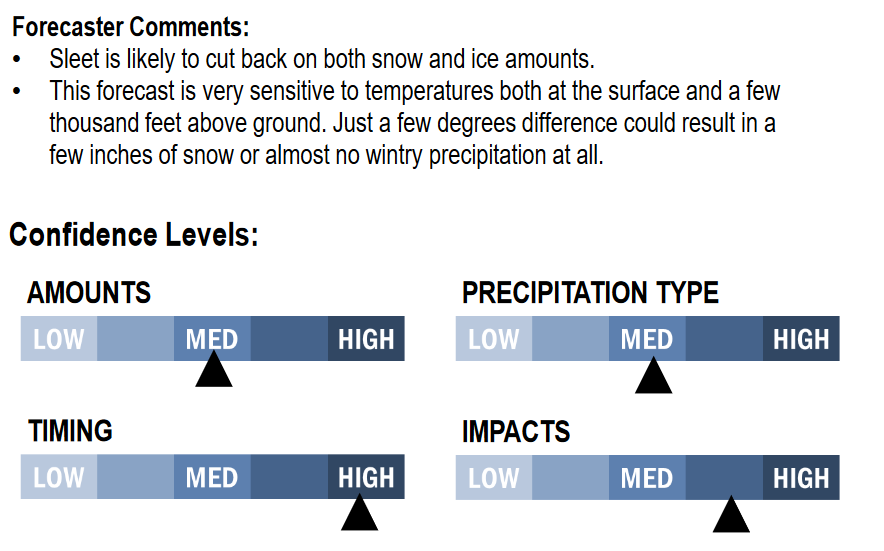 Such is life in Middle Tennessee.
Precip should end sometime Sunday afternoon.
Some models think snow will redevelop late Sunday night into the wee hours of Monday morning, but that looks to be more of an issue east of us. I'm not a believer in us catching snow on the back side of a departing low with drier, colder air racing in from Kentucky. Certainly we'll watch for this, but I've still not located my sled and I don't plan to. If you see me around, I am wearing snow pants because being wet and cold sucks, not because I think it's time for sledding.
Wet roads Sunday night will have opportunity to freeze Monday morning with temps expected to dip below freezing. However, gonna be pretty windy (and really wind chilly), which will help dry the roads. Therefore we may have to contend with black ice early Monday AM, and you'll be hearing a lot about bridges and overpasses again.
Another rain system is expected Thursday-Friday, but no winter weather is seen in the models. Just rain. More on this after we get past this winter weather "event."
Updates on Twitter @NashSevereWx, and/or on our fancy page here.
---