After Will's morning blog forecast and my Twitter review of model data, NWS-Nashville held a special briefing, the substance of which you'll read below.
Wait, You Reviewed Model Data?
In 6 tweets, this morning I laid out all the model data on Twitter. You can read it here.
Basically this morning I tweeted that some models are pro-rain, some are pro-rain/snow mix, and the Euro model trend is for most, if not all, of this precip may miss us completely (though this is not the forecast from NWS-Nashville below).
There's much we don't know. Draw no firm conclusions. This forecast will be edited, trimmed, and possibly torn down and rebuilt. Stay connected. Tis the season.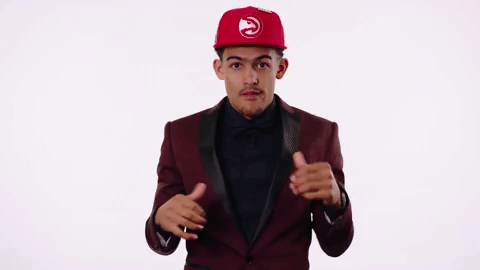 NWS-Nashville Lunchtime Update
First, no watches, warnings, or advisories are in place right now.
Parts of Middle Tennessee could see some winter travel impacts. but local sledding is unlikely.
Pay special attention to bridges and overpasses, especially when it's dark and the sun isn't out to heat temps above freezing.
Along and North of I-40: NWS-Nashville's confidence is high for some type of winter weather along and north of I-40.
South of I-40: Confidence is also high it'll be mostly rain south of I-40. The probability of all rain – this will be a very cold rain – improves the further south you go. However, "light snow may fall Sunday night into Monday."
There is nothing about the interstate itself that makes this so, it's just the most identifiable east-west line.
So, what did the NWS say about what, and when?
Here you go.
Friday Night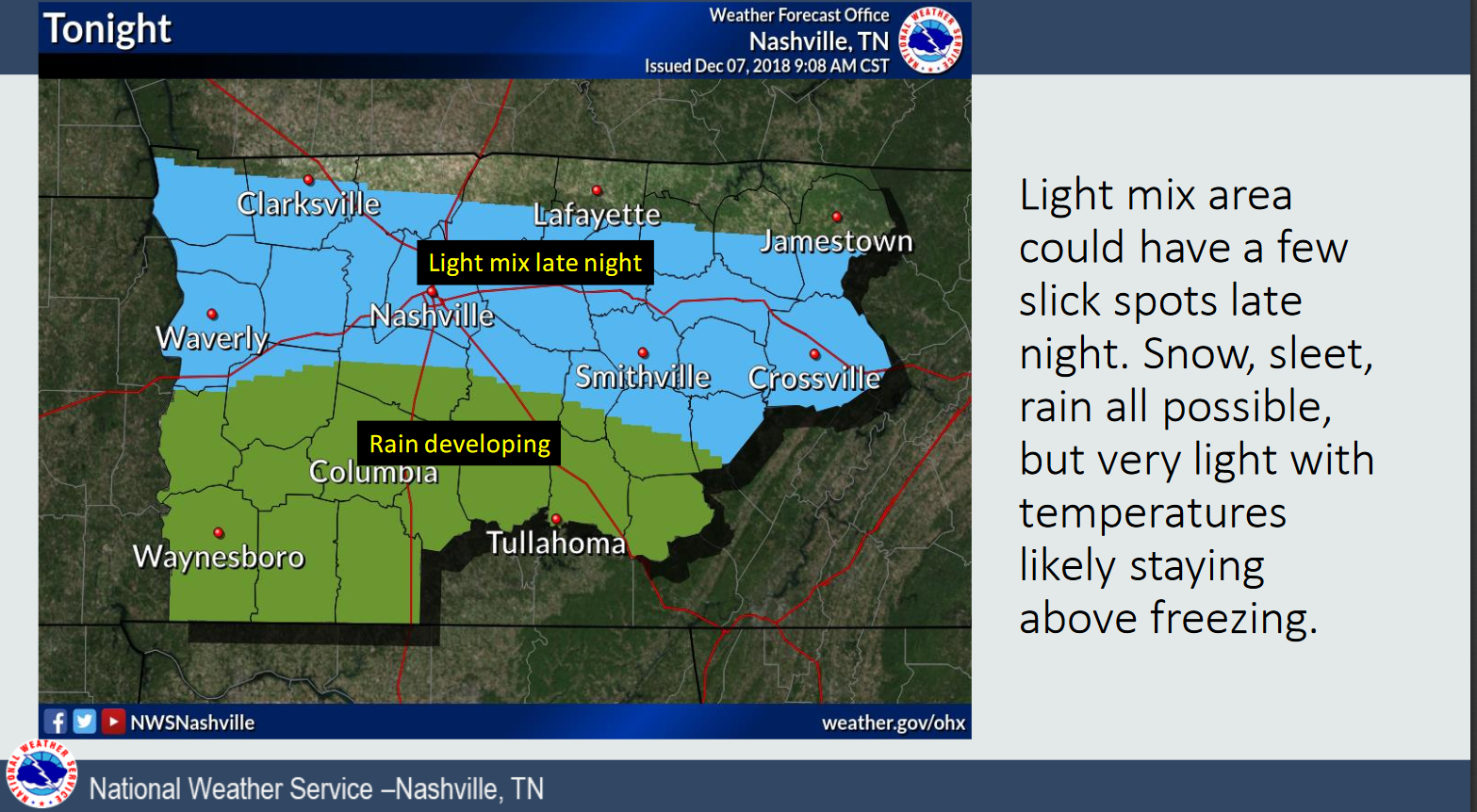 Saturday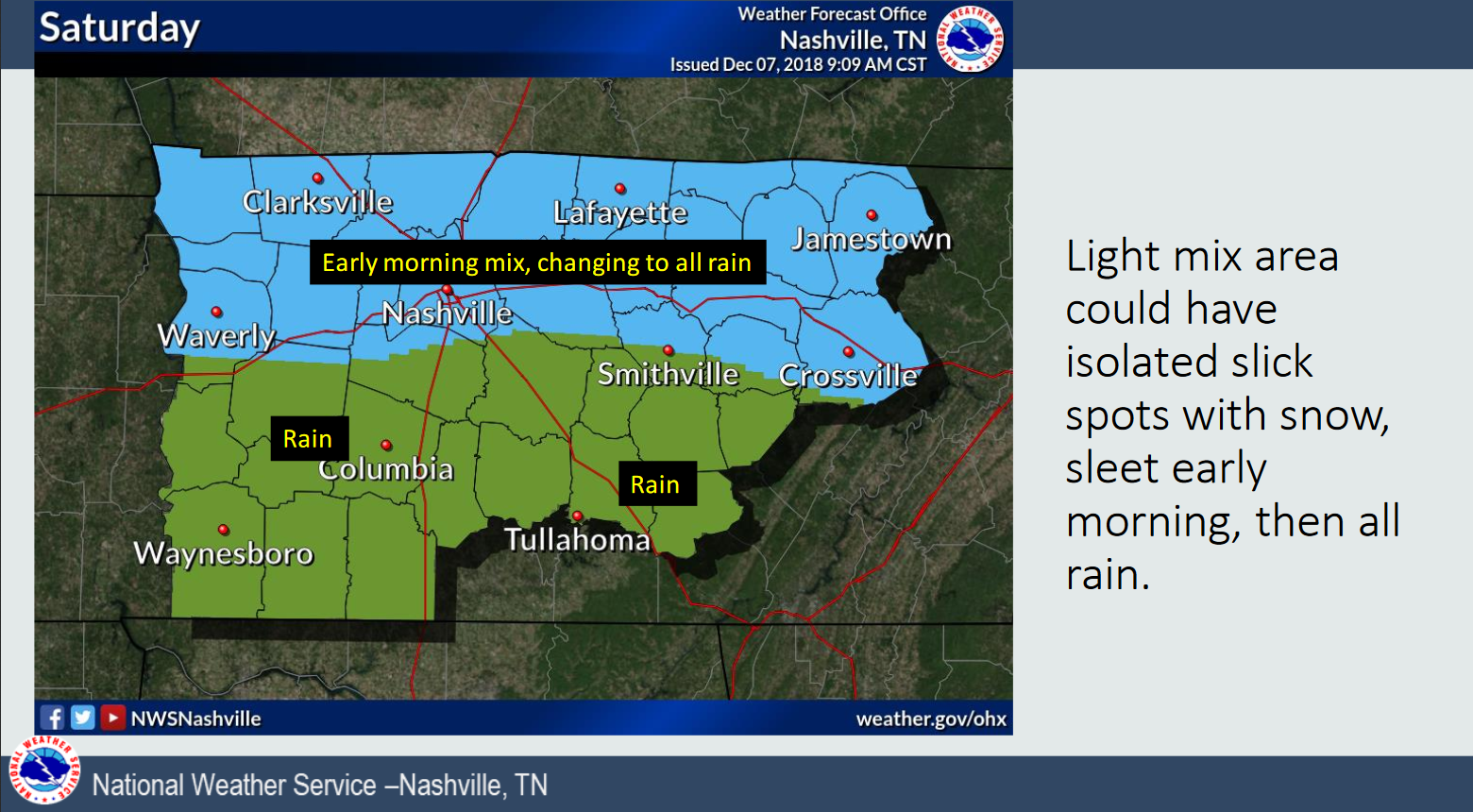 Note that the blue shaded area in Will Co and Nashville should change to all rain in the afternoon.
Saturday Night
The concern is a low-end, travel impactful event mostly north of us, along the northern row of those counties bordering the TN/KY line. For us, likely mostly rain; however, those higher elevations (Fairview, Joelton) are susceptible to some icy spots after the sun goes down and temps can drop (or "wet bulb") down to freezing.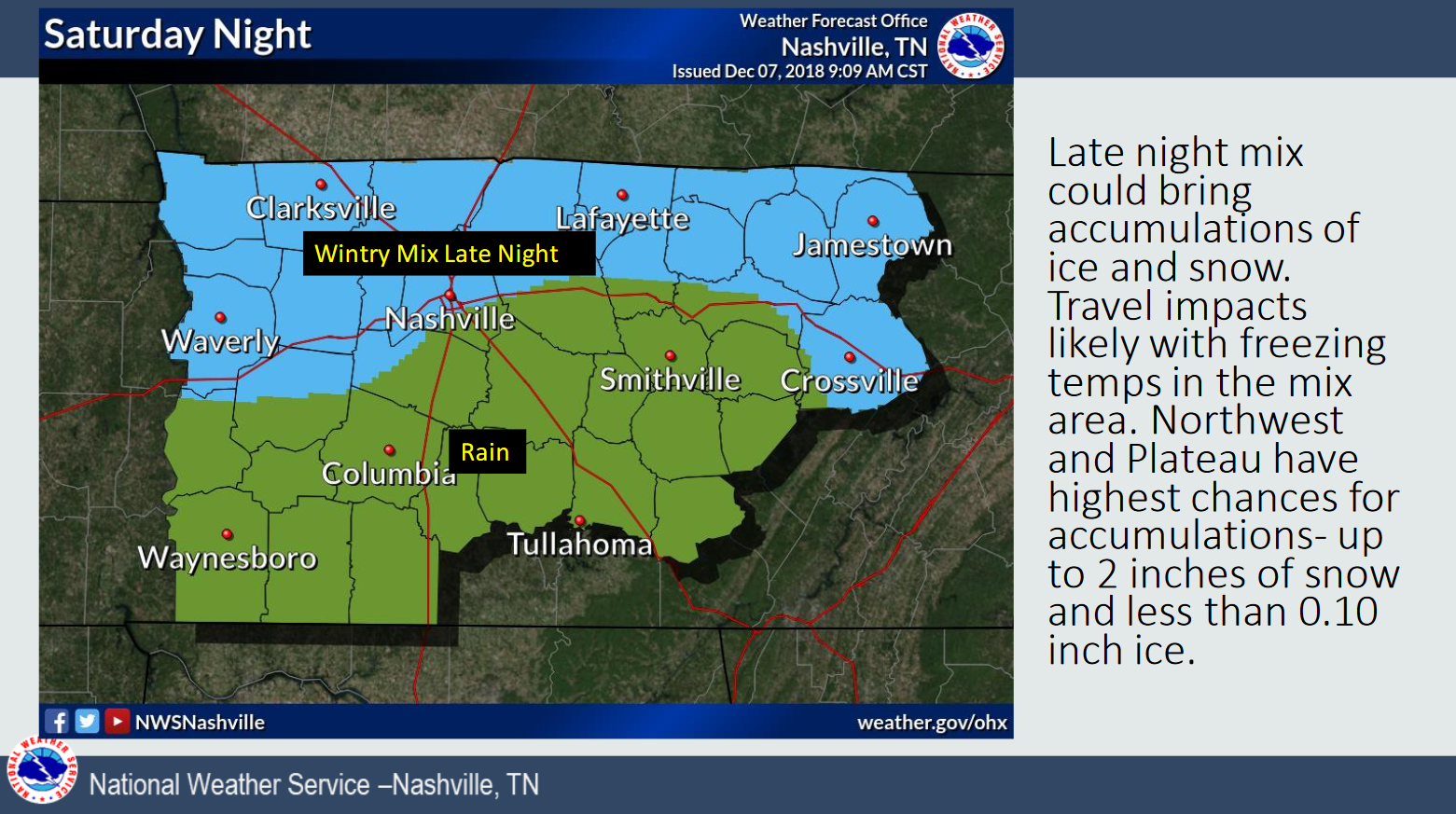 Sunday
A wintry mix is possible early Sunday morning, changing to rain soon after sunrise.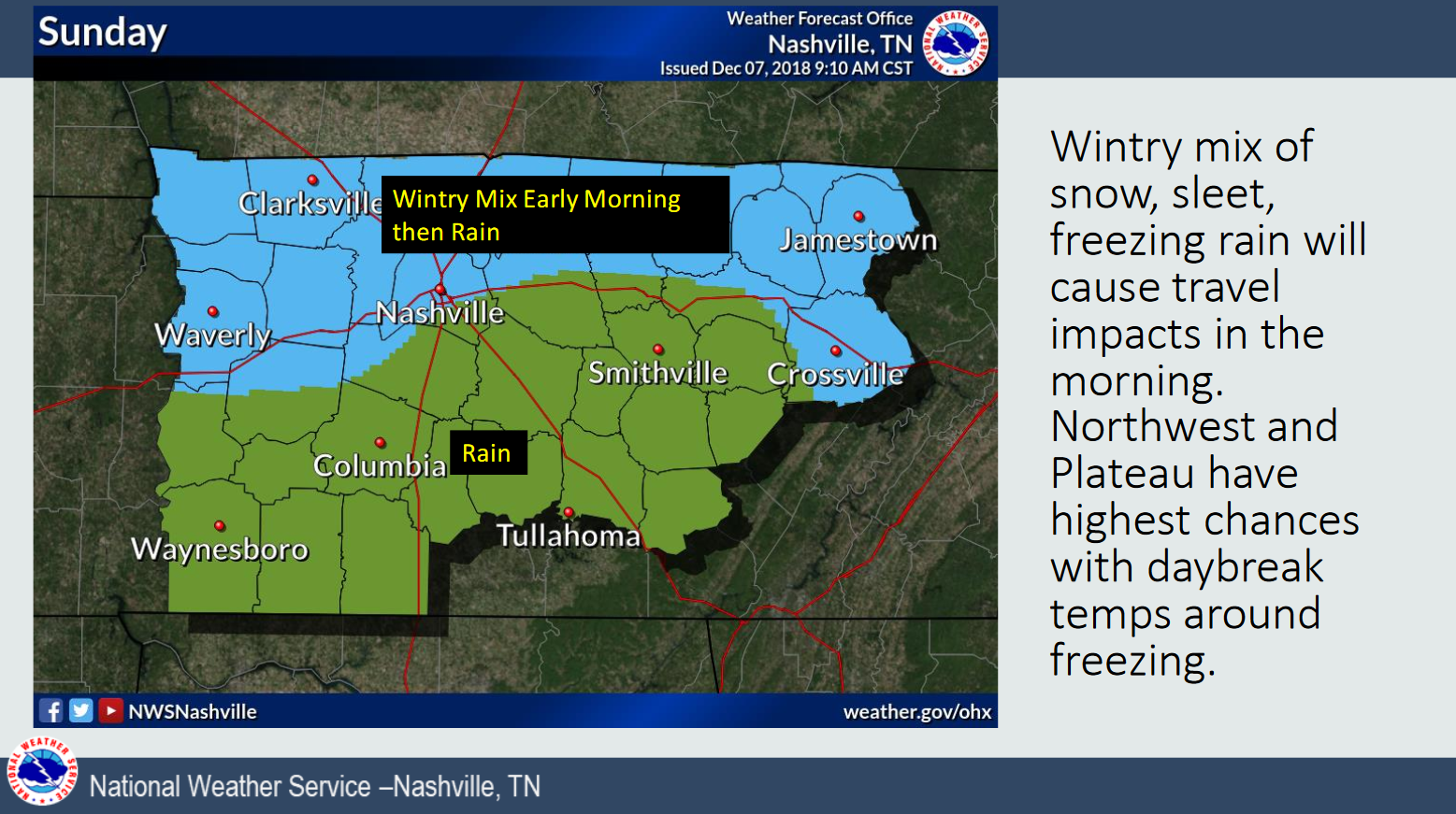 Sunday Night thru Monday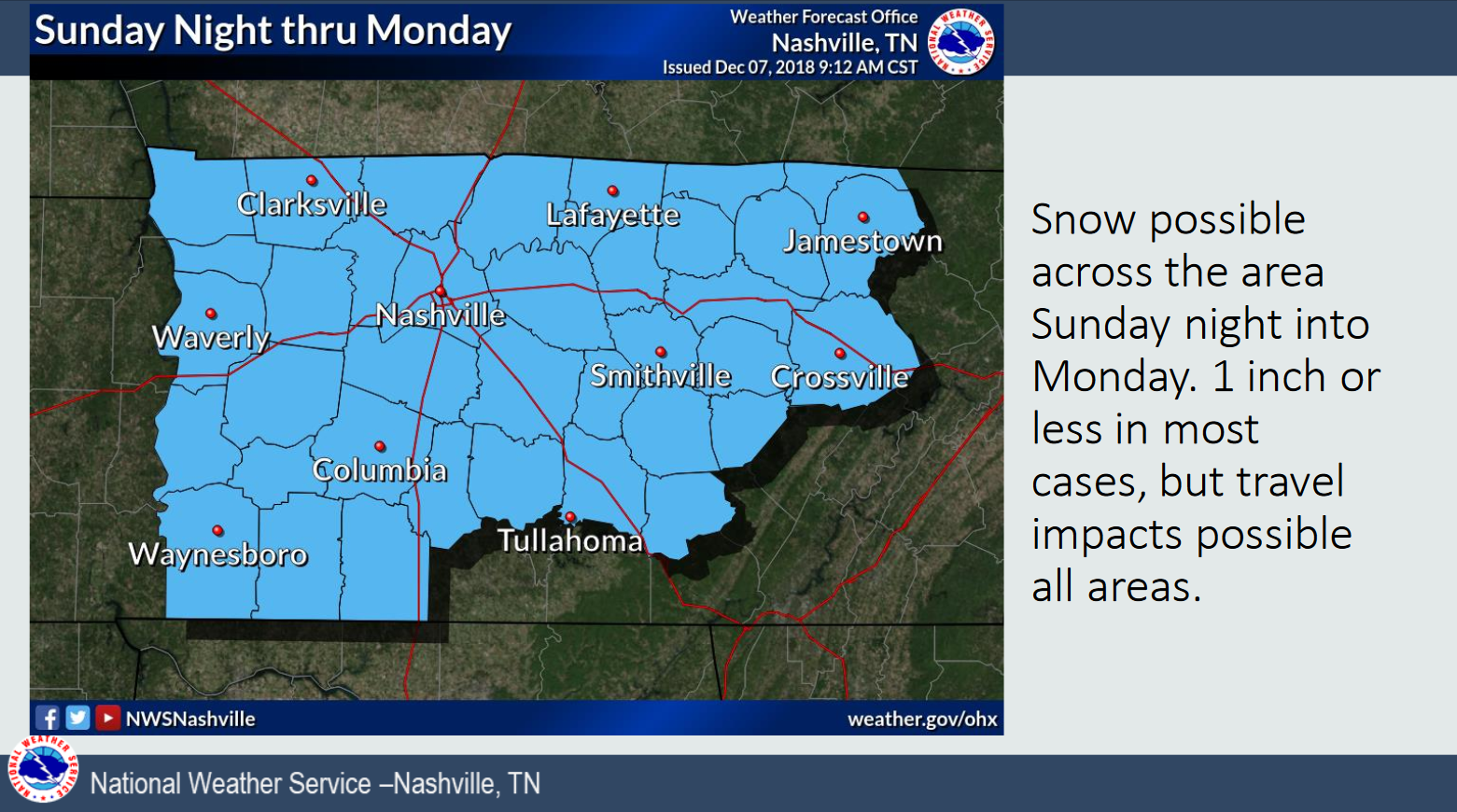 As the center of this storm moves into NC, the back side of it could spread snow in here. Confidence this will happen is lower, and even if it "happens" it'll be a marginal event, mixing with a bit of snow and rain. More on this below.
Event summary
Accumulating, sled-friendly snow is unlikely for us. Snow accumulations should be light and confined to the TN/KY border. Our ground is warm and frozen precip should melt during daylight hours, although bridges and overpasses may be slow to respond to the melt, and first to refreeze at night.
It's worth reiterating: the little snow that falls should not accumulate, but bridges, overpasses, and elevated surfaces should be able to hold ice and snow, especially during sundown hours.
Here's the Special Weather Statement for all of Middle Tennessee: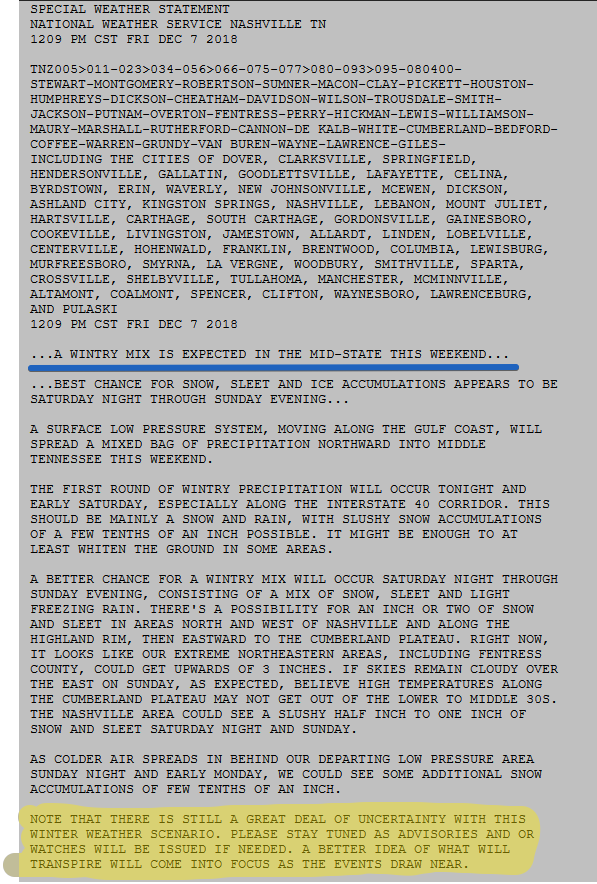 How This Forecast May Change
It's possible cold and dry air races in Sunday and Monday, and shuts down all the precipitation. This is the trend of the Euro model. Therefore, "bust potential" is real. If the Euro is correct, that dry air will come barrelling down from KY Sunday night, and nothing will happen Monday. This is possible, so if you're thinking of not studying for something Monday, it's a risk.
Could we get more? A few spots in Middle TN may experience "banding" of snow with higher accumulations, but that risk is higher safely far away from us, to our NW.
Sled Index Update: I still don't think I'll need it. I have no plans to find it.
More on Twitter through the day and throughout this event.
---