Today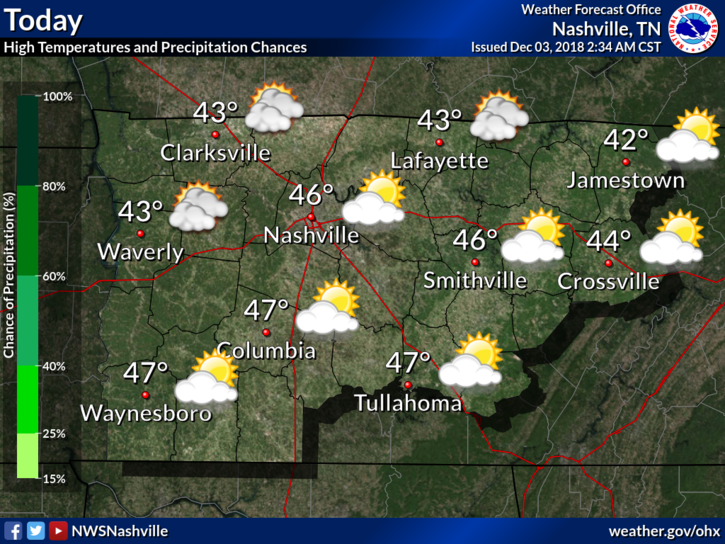 Dry air and cooler temperatures are going to be the story of the week for us here in Middle Tennessee. Expecting a high of 46º with the passage of a dry frontal system today. This front will just sweep a reinforcing shot of cold air through, no precipitation will fall.
Chilly Week Ahead


A rather chilly week ahead. Temperatures will not approach 70º like last week. Instead, we are looking at highs in the low to mid-40°s with overnight lows in the low 30°s and upper 20°s. Variable clouds are expected through the week.
With the colder air in place, there is the potential for some wintry mix beginning Friday night.
Winter Weather This Weekend?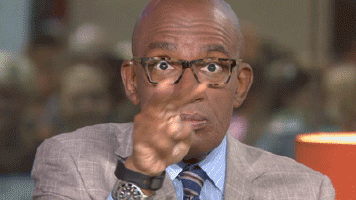 Old Man Winter has his eyes on Nashville for some potential impacts this weekend. There are wide-ranging inconsistencies with our computer models run-to-run however, NWS Nashville had an excellent breakdown of the possibilities:
The next significant weather maker is still due in here for Friday, Saturday and maybe even Sunday. As is typically the case, there are some changes and significant differences from model to model. We could be looking at a light wintry mix at precip onset Friday, a changeover to all rain, then more wintry mix on the backside. This is the GFS solution. The Euro is has the biggest changes from last night run. It has a much further south trajectory of the surface low. This could spell less of a mix and more of a snowy forecast than the GFS. Needless to say, more changes can be expected with future runs.
Editor's Note: A useful forecasting tool is Euro Ensemble Model data — a collection of Euro model member runs distilled into one collective approach called the "ensemble mean." The mean accounts for extreme solutions on both ends of the spectrum, and also centrist/reasonable solutions. Anyway, this "EPS" data shows probabilities of 10% Friday night, 15-28% Saturday night, and 30-36% Sunday night for an accumulation of at least 1″ of ice/sleet/snow for the entire weekend. That does not mean 1″ of snow on the ground, instead, it means 1″ of several forms of wintry precip total over the entire weekend. Were it to fall it would probably melt during sunlight hours, or be mixed with rain and wash away on the inhospitable ground. Remember confidence for wintry mix is low and "just rain" is the favored solution. As you can read from the quoted and italicized language above, the non-ensemble "deterministic" run of the Euro (the run that predicts only one result) trends the troublemaking low pressure center south of us, which would increase our chance of being on the cold, snowy side of this system. Draw conclusions today only to induce panic, or because guessing is your thing, or you are incapable of nuance, or you're unwilling to embrace the hard truth of forecast uncertainty. Of course you're not any of those people, right?

Blue Circular Sled Index: Not sure where it is (garage?) and I don't feel the need to go digging for it.
We, of course, will be watching all of the new information as it comes in. For now, just know that this weekend is going to be cold, miserable, and wet. What kind of wet? Well, we just can't answer that question exactly just yet, but we're sure it's going to be cold and miserable.
The only thing we can answer: there will for sure be no school on Saturday and Sunday. 
---