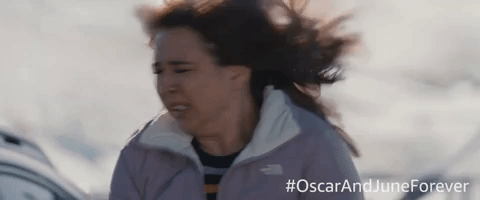 Cold air is pouring in from the north, making for a breezy day. Wind chills will go no higher than the upper 20s this afternoon, with breezy winds driving the wind chill into the upper teens after sundown.
Normal high temps for the end of November are usually in the mid-50s!. High could crawl close to 35° even though we'll see more sun through the day.
Some flurries are possible but no impacts are expected. Just be careful if you see a wet road, there may be a thin layer of ice.
Wednesday Morning – COLD
Overnight temps will fall even further into the low 20s. This is due in part to clouds breaking up, cold air and calm winds. Here's what NWS Nashville has to say:
"CAA [cold air advection; fancy term for cold air moving from one place to another] 
today will also bring drier air with dewpoints in the teens, and with winds
calming down a bit tonight, there won't be anything to keep temps up."
Remainder of Wednesday looks dry, with daytime high temp in the low 40°s.
Warming and Rainy Later This Week
A break in the cold comes late Wednesday when a surface high slides to our east, shifting our winds to the south. These winds will bring warm, moist air from the south air back to Nashville.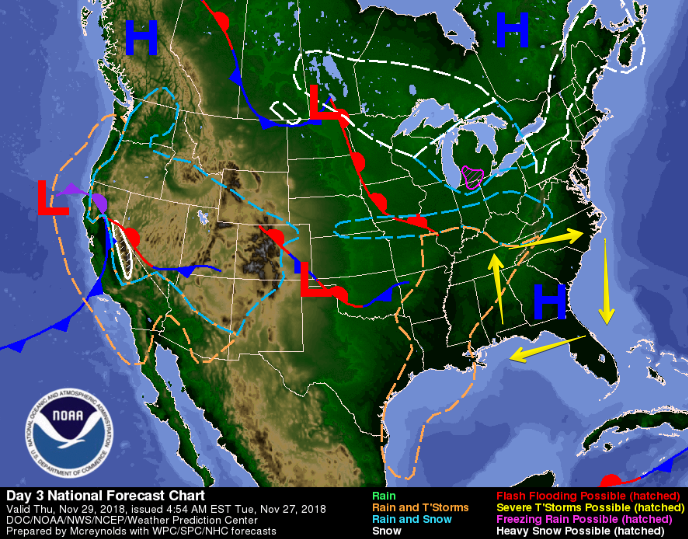 Increased moisture will kick up scattered showers on and off all day Thursday. Rainouts aren't expected. If caught beneath a heavier shower, it will move through quickly.
NAM's idea of what the radar could look like through Thursday evening: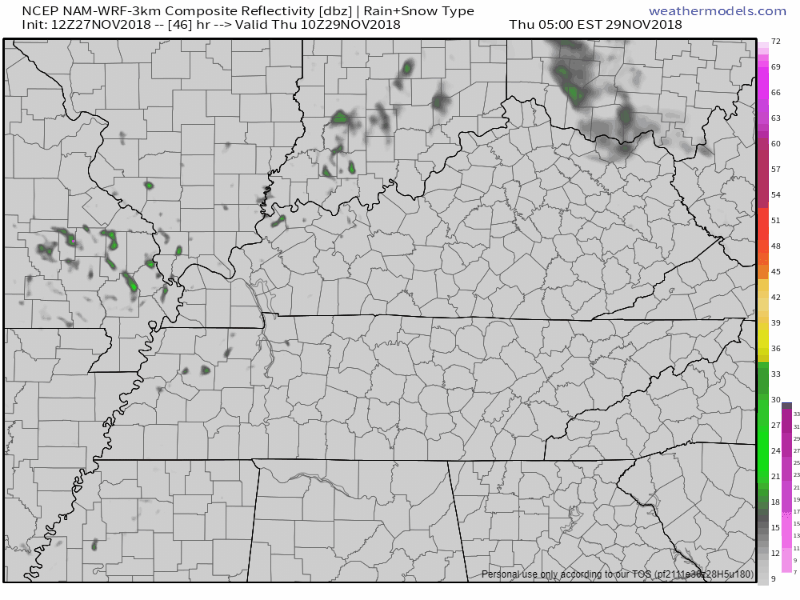 Since cold air will be cut off on Wednesday, high temps through the weekend will be in the low/mid 60s.
A large low pressure center is expected to push out of the Great Plains this weekend, bringing us more rain . As of now, Friday evening through Saturday afternoon looks rainy, with a few rumbles of thunder in the mix. No severe weather is currently forecast. Rainfall just over 1″ is forecast beginning Friday night through Saturday: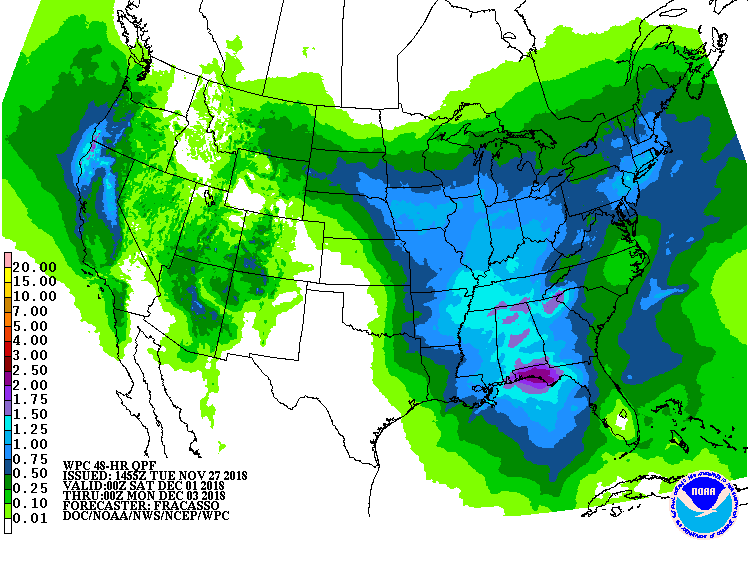 Expect the rain clear out by or before Sunday afternoon.
As we move closer to the weekend we will keep you updated on rain chances and totals.
---