Today
A nice warm-up is underway today with sunny skies and a high temp forecast at 52°. Tonight, we fall to 33°.
Here Comes Turkey Day!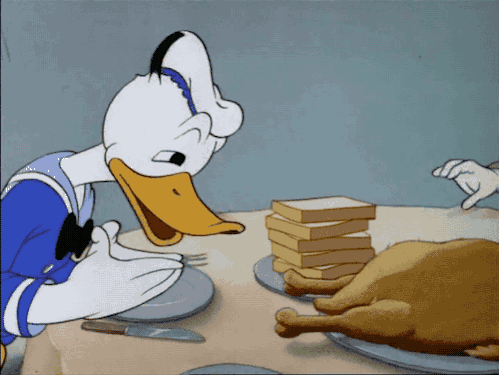 High pressure is our main weather driver this holiday week. Drier conditions with warming temperatures will follow suit through tomorrow.
High temperatures will be in the upper-50s with overnight lows hovering in the mid/upper 30s. No issues weather-wise!
Rain Moves in on Black Friday
By Friday, cloud cover will build in from west to east as a front progresses towards Nashville. Winds will also be on the uptick, expected to be around 15 mph with gusts between 25 and 30 mph. Rain will begin between noon and 3 pm and intensify after sunset. 9 PM – 6 AM Saturday looks to be the best shot at heavier rainfall.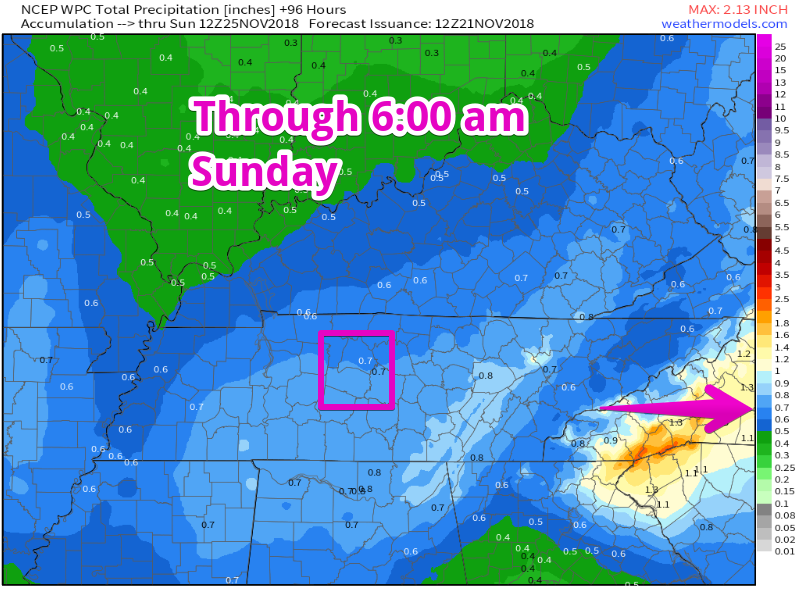 Current storm total rainfall is forecast to be around three quarters of an inch in Williamson and Davidson Counties.
Keep this in mind as you are planning for those outdoor Christmas decorations. 
Now It Gets Complicated
We may (emphasis on the may) have another shot at some more wintry weather at the start of next week. NWS Nashville has a great break down of the scenarios below:
A much stronger upper closed low will be the next story for the mid state Sunday. Long term models lined up a bit better yesterday, and today's solutions are different from each other. Both the GFS (American) and ECMWF (European) have the upper low much further north. Instead of the upper low over KY/Ohio River Valley, they now place the upper low over central IL 00Z Monday. The Canadian is now lagging quite a bit behind having the low over the OK/KS border at the same time. Went with the GFS/ECMWF blend on timing for now which places the best precip chances in Sunday afternoon through early Monday morning. Even with the further north location of the low, there may still be some air cold enough behind the cold front to have some mixed precip/snow, but still looks too dry for any mention. Waiting on higher confidence and consistent model solutions to try and nail down any precip other than rain Monday morning.
[Editor's Note/Translation: Notice the wording "waiting," "may," "too dry for any mention." In other words, it's not even in the forecast yet. So, there's that.]
After that…
Tuesday and the rest of next week looks A-ok. High temperatures will be a bit cooler next week, mainly in the 40s Monday through Wednesday.
---