Tornado Anniversary!
One year ago today, at 4:31 PM, a 200 yard wide EF-0 tornado touched down just north of I-24 in Joelton. It ran parallel to the interstate for 2.34 miles with no injuries. Twenty-two minutes later another tornado touched down at the Villages of Long Hunter subdivision in Antioch, crossed Percy Priest Lake and churned 10.93 miles into an EF-1. No injuries, but there was property damage.
For both tornadoes, sirens blared all over Nashville in unwarned areas. This was yet another crying wolf siren event. It prompted this position paper seeking siren modernization. All four local TV chief meteorologists agree modernization is needed.
Political action got going through @DaveRosenbergTN, resulting in a Metro Council committee hearing and general consensus reform was needed; former Channel 5 meteorologist-turned-local-realtor Charlie Neese attended that hearing. The Council is ready to modernize.
The last step is paying for it. Would the Mayor include it in our capital budget? I understand the entire budget, total, is around $2B; it would take a half million to modernize our siren system. Birmingham and Oklahoma City have already done this.
But siren modernization money was not allocated in this year's budget. The Mayor's office has to balance many pressing needs. Siren modernization is one of them, but I do not pretend to be in position to prioritize this need among all projects and needs, and say what project should have been rejected so this one could be funded. We can't have everything we want.
Every year we reject modernization, our sirens become less effective, and we fall further behind cities like Birmingham AL and Oklahoma City OK who've already taken this step. I'm hope we don't have another November 18 situation next April, with sirens going off causing mass confusion during the unwarned Marathon or NFL Draft. It's not as if April is peak tornado month for us, oh wait, it is.
Sunday – Monday
Pretty great Sunday. Humidity will rise this afternoon ahead of a light-rain maker arriving Monday morning. Rain will last a handful of hours but will be weaksauce, unable to rain anything out.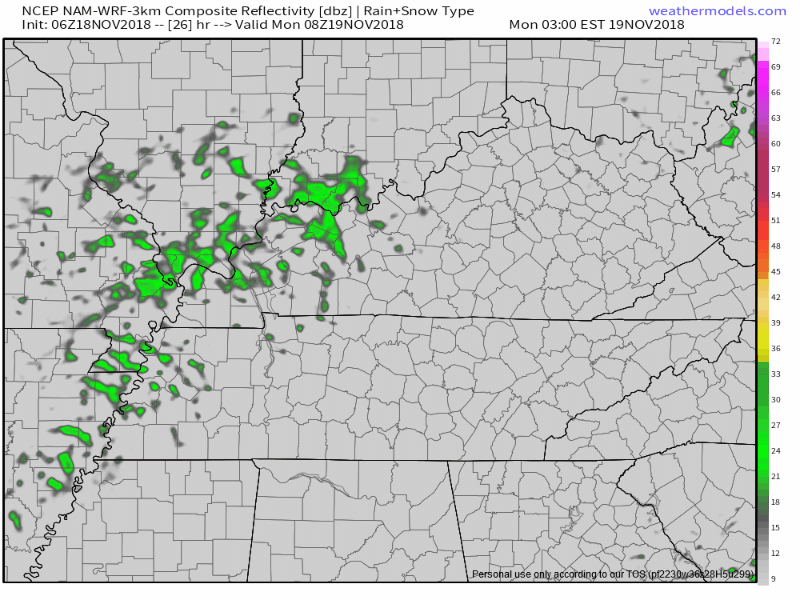 Cooler air follows the rain, so a colder week is ahead. A proper week of autumn temps.
Happy Weather Traveling To Turkey
Not the country. The food.

Wet Weather Traveling From Turkey
Take it away, NWS-Nashville!
Next weekend looks to be a wet one, with a fast-moving system coming through Friday night, then a more progressive frontal system bringing additional showers to the region later in the weekend or possibly the start of the following week, although the GFS & Euro models have their differences on timing being so far out.
If gambling, I'd bet on Saturday being wet instead of Friday because that's what the Euro model says. Probably too cold and relatively dry to cause storms, but too soon to tell. Likely just rain, and, if the Euro is right, a lot of it, close to 1″ over 24 hours.
---