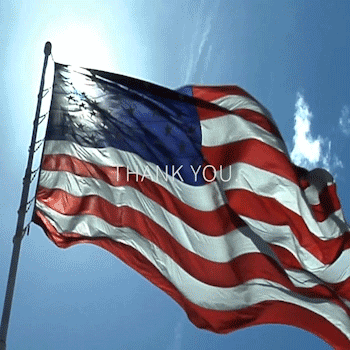 Tornadoes were the topic one week ago. Today, snow chances. Don't get excited.

Rain Monday
Rain is likely Monday morning.
ETA: after the Monday morning rush-hour, according to the extended HRRR model: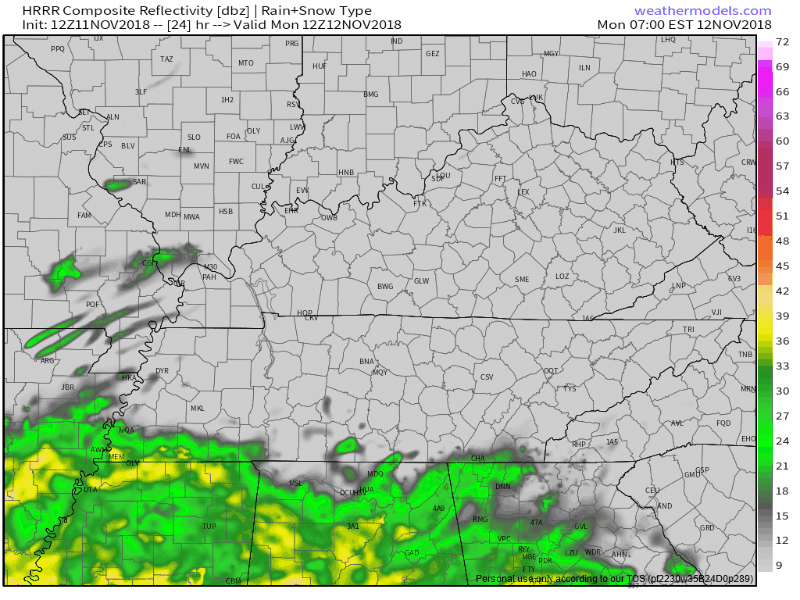 Rain should last most of the day Monday. Outdoor stuff will likely rain out.
The NAM3 model thinks rain will take a break around 5 PM Monday, only for it to turn back on late Monday night into the overnight hours of Tuesday morning, which is when things get only mildly interesting in a meh way.
Wee Hour Tuesday Morning "Snow" Chances
Below the NAM3 model runs from 2 AM to 11 AM Tuesday: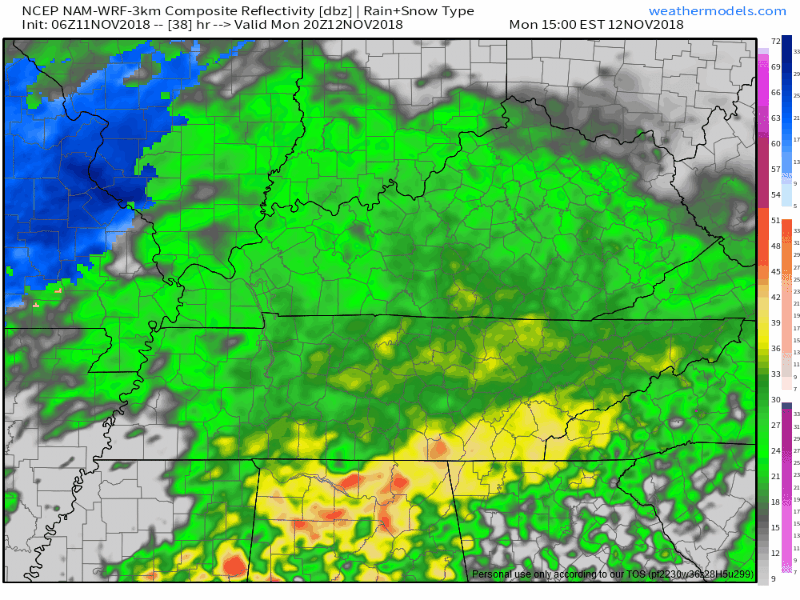 Notice the tail end of this model shows some blue, which means snow. This particular model run does not drag snowflakes through Nashville or Williamson County. The snow is well north.
There's a chance sub-freezing temps aloft change rain to sleet or even snow early Tuesday morning, but if that happens neither accumulation nor impacts are forecast. Reasons include:
no model thinks surface temps will reach freezing at any time Tuesday morning.
temps can't drop below the dewpoint, and models think the dewpoint will be above freezing for this entire "event."
most of the moisture will have departed before the coldest air arrives.
even if snowflakes make it all the way to the surface, the ground will be way too warm to cause problems.
Therefore, the Tuesday morning "snow" event is hardly that. Small chance of some No-Worries Flurries; a light, cold, intermittent rain is our most likely precipitation form Tuesday morning.
Stay connected in case of forecast changes.
Panic/Party level: that feeling you get finding a political campaign postcard at the bottom of your stack of unread junk mail.
Blerg Alert! Tuesday
Tuesday may be our first Blerg of Fall 2018.
Blerg means:
No sun, and
No snow, and
Temps under 40°.
Tuesday's high is 39°. A cold north wind blowing 10 MPH will drive wind chills into the 20°s for most of the day. Snow isn't expected and skies appear overcast.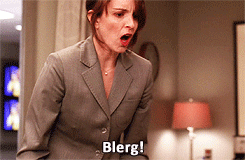 Possible the sun could peek out, or temps briefly peak above 40°, to spare us from Day Full of Blerg.
Blerg is an Official Weather Term for us but no one else. Resist false prophets calling 40°+ days blergs.
Wednesday
Better! Still cold but we should see some sun.
Late Wednesday – Thursday
This one is especially complicated. Some Poor Soul at NWS-Nashville had to grapple with the forecast this morning, and wrote this:
Onset of precip type with these lows Wed night tough to figure. Temp profiles even toward 12z Thu trying to show all liquid with only a very small window of sufficient moisture within the DGZ for ice formation. Also hard to tell if warm rain processes overcome icing with warm nose showing up throughout the mixed phase. Overall it seems the onset will be some liquid/freezing state…possibly transition to maybe frozen period before changing to all rain Thursday morning. Either way we will need to stay tuned for this one.
Above I highlighted all intentionally-placed and intellectually-honest qualifiers and conditions. Ignore them at your peril.
I doubt unpacking all of this will do anyone good. Explaining the dendritic growth zone (at parties refer to this as the "DGZ," roughly, the DGZ is the altitude where the temp is between -10°C and -20°C where snowflakes usually form) adds no real value to anyone given the number of uncertainties and differing model solutions.
So let's boil this thing down to a few check-back-later-for-more-info summary ideas:
The Euro model has an all rain event Thursday with perhaps a very brief changeover to snowflakes Thursday night. If this is correct, nothing will stick to a (barely) above-freezing, already wet ground. And there won't be enough snow/sleet to cause problems.
Instead of rain, the 6z run of the GFS model has more of a wintry mix most of the day Thursday, but the mix is light. Ever go to school with a kid with who completed homework assignments on the bus by copying the homework of a B-minus student, then ends up taking the test without cheating? That's the 6z run of the GFS. The 0z GFS run is a better student with some competence, and it looks as confusing as a tax regulation, just look at it do whatever that is: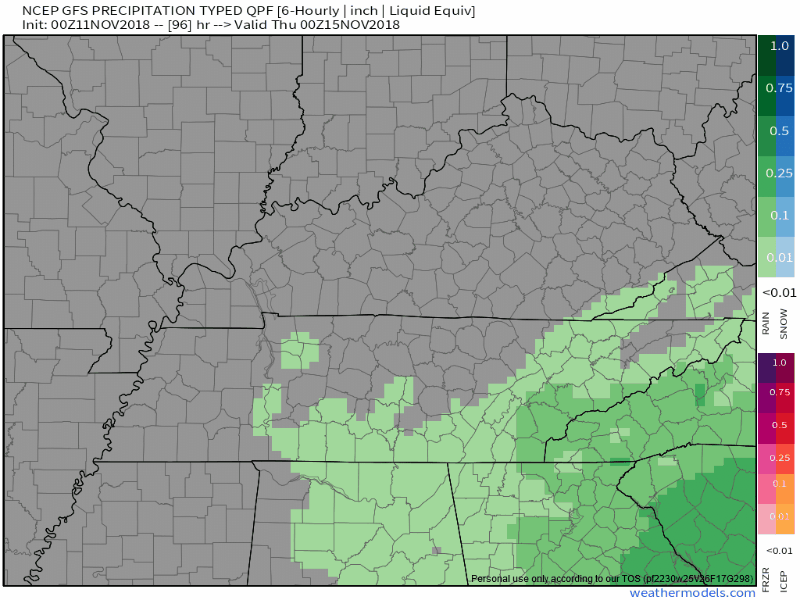 Should wintry things fall from the sky, we'll still be dealing with light precip and a relatively warmer surface.
Meh.
Stay connected.
But, yeah, meh.
Friday – Weekend
NWS-Nashville gets the last word:
Once the precip vacates Thursday…dry period for the most part expected throughout the weekend.
---