I don't want to bury the lead about Monday night's severe weather concern, but I will, because chronology prevents confusion.
Today
Fog has been a pre-dawn problem in spots. It should lift around sunrise.
Afternoon high 63°. No rain.
Today is our last day of regular daylight because: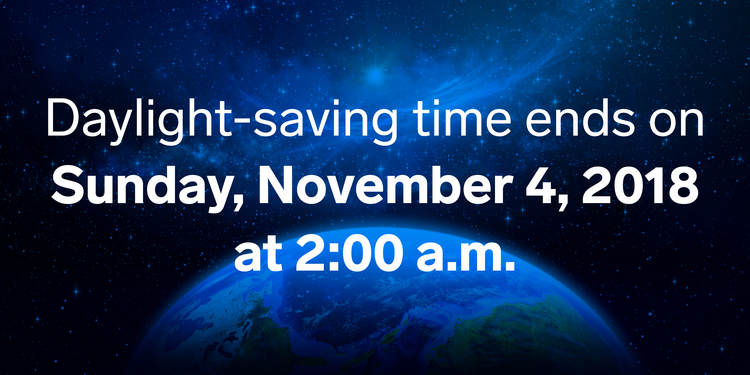 Sunday
Light rain is expected by most weather models by mid-afternoon. Light rain should turn off then on through the rest of the afternoon and early evening. Insignificant rainfall totals under 0.1″ are forecast. No storms, no lightning. NAM3 model: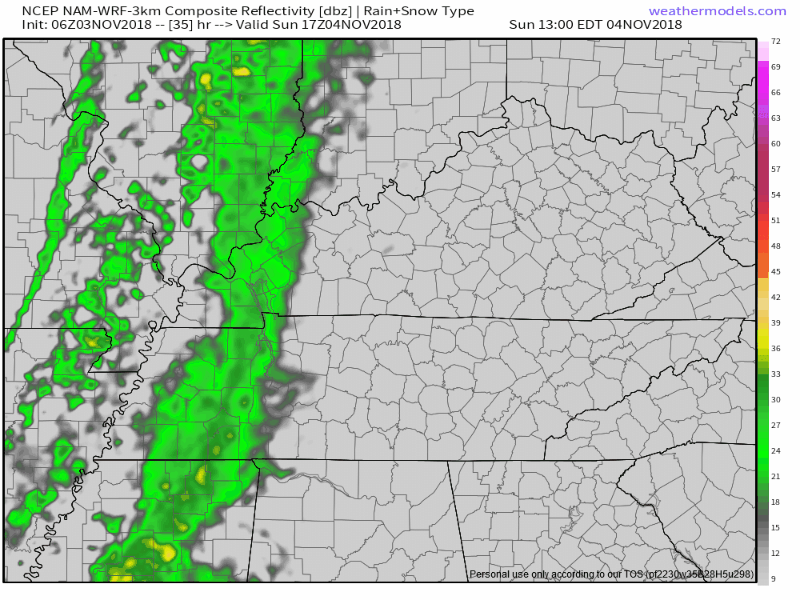 Monday Night Severe Weather
When
Monday night. Some data has it arriving as early as 7 PM. It may arrive later, perhaps much later, into the wee hours of Tuesday morning. My guess it it'll be late Monday night.
ETAs will require constant adjustment and updates. So will the forecast in general. Stay connected!
What
Quoting the Storm Prediction Center in Norman, OK:
Potential still exists for significant severe weather to transpire Monday evening and overnight, mainly from the lower MS Valley into the Tennessee Valley regions.
Note the language used: "potential." Let's not get carried away.
Mixed storm modes including a squall line and supercells are likely to develop along and ahead of advancing cold front Monday afternoon initially over the lower MS Valley, and continuing east into the TN Valley and Southeast States Monday night.
Two rounds of storms are possible. The first round — supercells — are less likely, but also usually more dangerous. The second round — a line of heavy rain and storms — is more likely, and can be dangerous, but aren't as concerning (in my view, anyway) as supercells.
Impressive wind profiles with large hodographs and an intense upper jet will promote a threat for mainly damaging wind and tornadoes, though some hail will also be possible.
Meteorologists use a chart called a hodograph to visualize wind speed and direction. When a hodograph is large and curved the right way, it means there's plenty of rotation and shear present, a necessary ingredient for severe storms, including tornadoes. As you just read, weather models for Monday night depict a large (and curved) hodograph. Therefore, damaging winds are the main concern, followed by tornadoes, then hail.
Confidence Levels
Right now this is a "regional" concern, which is to say no data is reliable or high-res enough to provide local specifics. As the event nears more specific and local information becomes available. So for now, the best way to assess risk is to examine probabilities from the Storm Prediction Center.
We are in an "Enhanced Risk," which is on the higher side of ruh-roh-ness from the SPC for an event three days away.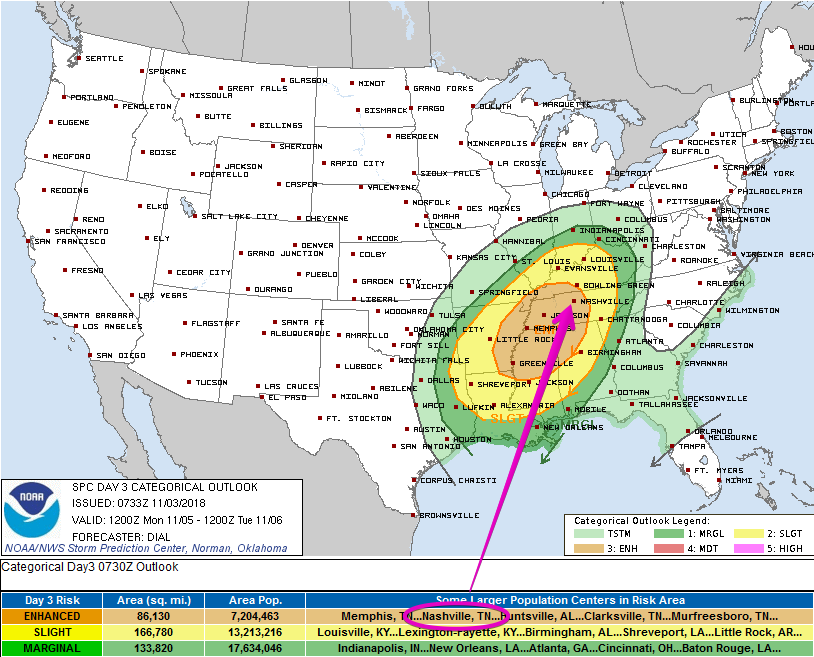 Three days away, this risk is here on the SPC scale: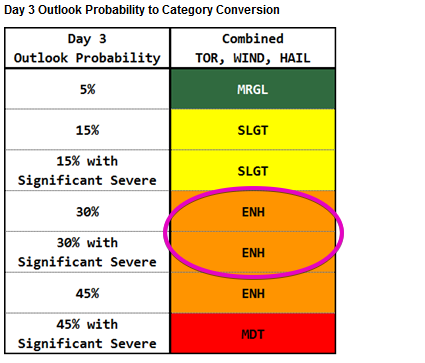 Also, yes, that map looks like an avocado.
The companion SPC map below lays out the probabilities: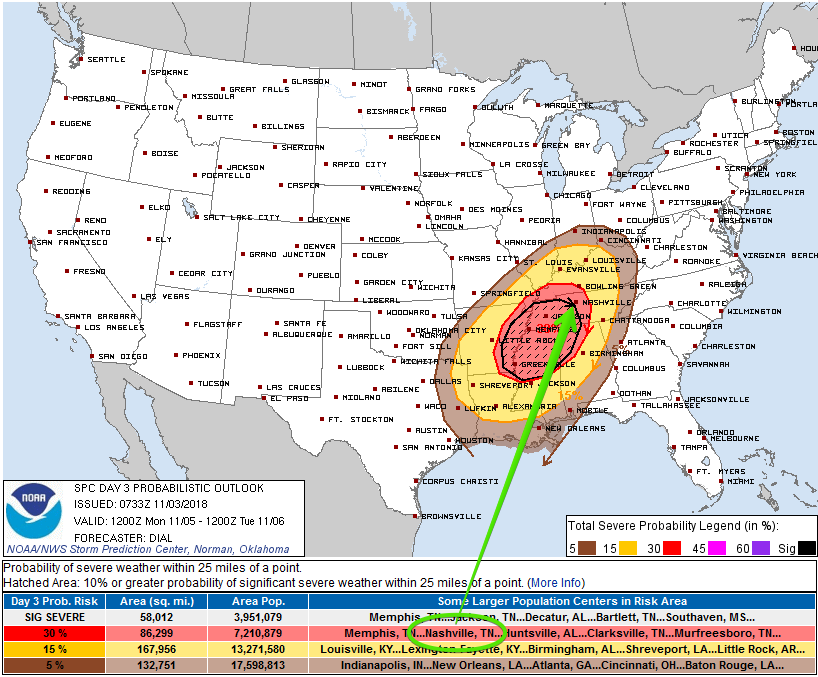 Our inclusion in the red-shaded area means SPC thinks the probability of a severe weather event (wind and/or tornado and/or hail) happening within 25 miles of you is 30%.
That uncomfortably-close-to-us shaded "hatched" area means the probability of a "significant severe" event (within that 30% area) is 10% or greater. "Significant severe" events include:
A tornado that produces EF2 or greater damage.
Wind speeds of 75 mph (65 knots) or greater.
Hail 2 inch in diameter or larger.
These probabilities will be updated several times. The next update arrives while we sleep overnight tonight.
Could this forecast "bust" and nothing bad happen? Yes! There are several ways that could happen. The usual way a forecast like this busts is by a lack of instability in the atmosphere. Right now, the Euro model thinks we'll have enough instability to cause problems.
What To Do Now
Clean out your safe space this weekend – just in case. Even if this event busts and nothing happens, another storm event may be shaping up late next week.
Got kids? Make them wear helmets in case of warnings. One horrible lesson from April 27, 2011, is that many injuries to children could have been prevented or reduced had kids been wearing a helmet. I'm a grown man and I wear one during warnings.
Also, remember your shoes! I have stood in major and minor storm damage, you need shoes.
Severe weather refresher — terminology, tips, safety — here.
Also if you're one of those people who gets irate when the Titans game is interrupted to deliver potentially life-saving weather information to someone, plan ahead and figure out another channel (ESPN, streaming may be options) to watch the Titans game in case Channel 2 has to break in.  I understand that the world revolves around your love of the Titans and nothing should get in your way, your majesty. I know you don't care about someone else getting a warning if it means you miss another punt by the Cowboys, but be sure you have a way to get warnings. Jerry's World may be tornado-proof. Not sure your house is.
Should You Panic?
Nope. Be prepared, stay informed, it's more likely than not nothing will happen to you. You will probably be fine. But you should be ready and respect these storm systems.
Have a great weekend! Much more about this later today, Sunday, and Monday on Twitter and on this dot com.
---