Breezy and Warm Evening
Winds out of the south are nice and breezy, could see some gusts at 15 to 20 mph. Overnight temps in the low 60s.
No rain.
Wednesday Rain – Trick-or-Treat Update
Models continue the trend of slowing down this cold front's passage. Trick-or-treat hours now look mostly rainless, though a few quick showers could push through.
Expecting 2-3″ here in Nashville from Wednesday evening to Thursday evening. Counties to the west of Nashville have been issued a Flash Flood Watch, but as of right now we aren't included.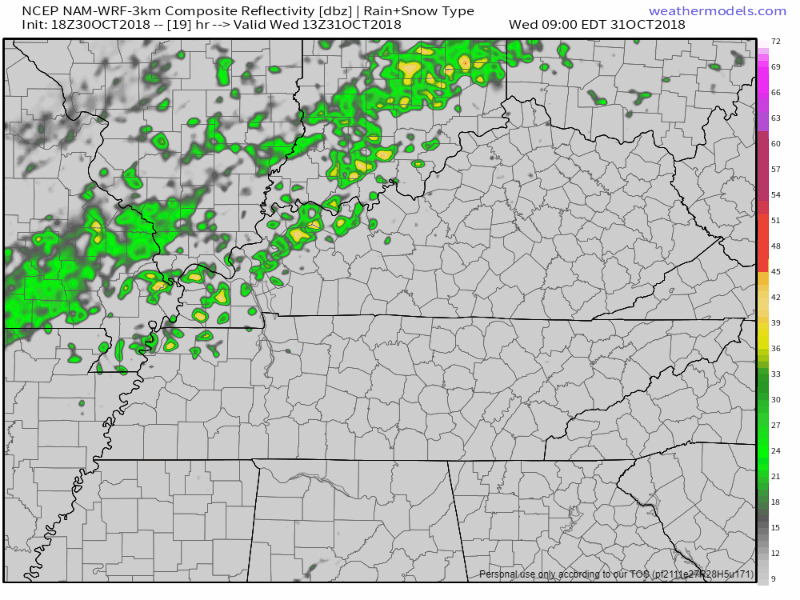 Timing
Spotty light rain could begin falling over Davidson and Williamson counties in the late afternoon, ahead of the front. Showers and storms increases in coverage until bulk arrives about 11-12 PM.
If you plan to trick-or-treat with the little ones:
Expect there to be periods of light rain in the late afternoon/early evening. You'll want to wrap things up pretty quickly as heavier rain moves in as the night goes on.
Heavy Rainfall Expected
Keeping with NWS Nashville's thinking, we could see 2 to 4 inches of rain between Wednesday evening and Thursday evening. More rain falling west of Nashville, less to the east.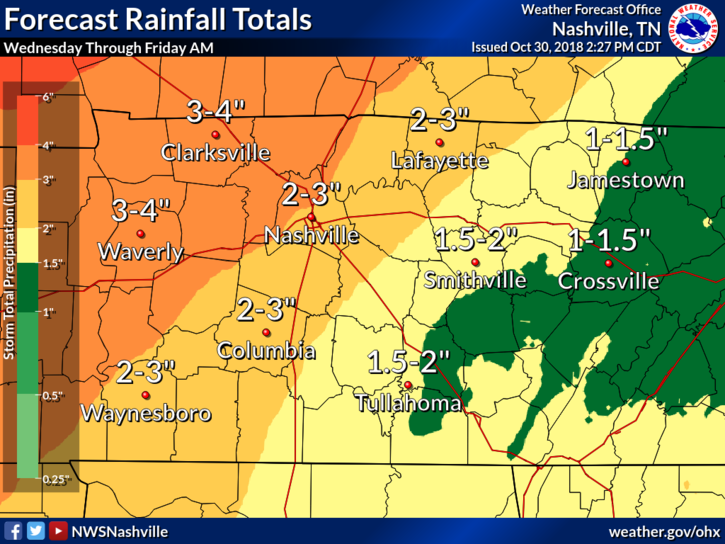 Low Chance of Severe Storms Could Hold Off Until Thursday
Ahead of the front, we don't have much instability – just a warm atmosphere with a lot of moisture. Wednesday evening will be rainy and gross, but it looks like severe storms will hold off until late Thursday morning after the sun has risen.
Even then, there isn't much instability on Thursday morning. Air won't want to rise on it's own, but the front could cause the forcing storms need to take off. An upper level jet will set up over Tennessee lending to increased uplift.
Thursday will be a low cape, strong shear event. This means there isn't much energy in the atmosphere, but there is strong wind shear.
The jet over Middle Tennessee will cause wind speeds to increase with height, and model soundings from Thursday morning show a strong turning of the winds at the surface. This could lead to some very weak rotation in storms with strong updrafts.
I don't think rotating storms will be much of a hazard with this cold front, but always remain weather aware!
(Editor's Note: SPC currently does not have us outlooked for severe weather. The 1 out of 5 risk area stops at our southern border. We'll be watching to see how this evolves, if at all, as we get closer to Thursday.)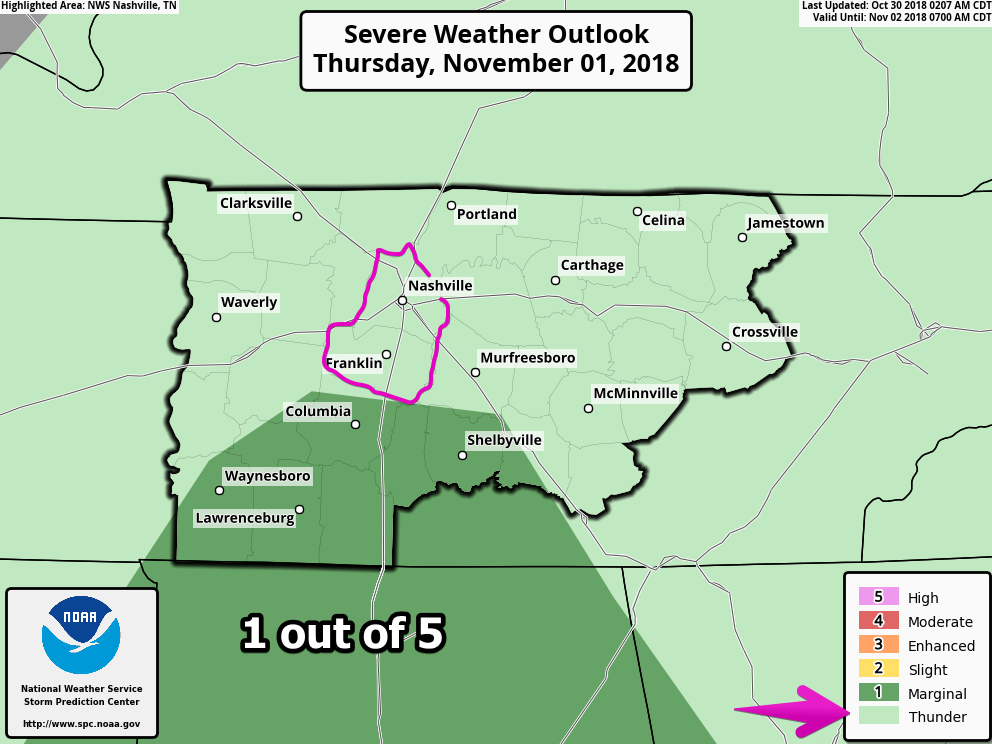 Recap on this week
Warm and windy today. Rain chances increasing Wednesday afternoon with heavy rain arriving in the evening (timing adjustments likely).
All day rain with some strong/marginally severe storms on Thursday – cold front passing.
Cooler and drier conditions on Friday, before a cool and dry weekend.

---