Tranquil Now
No weather concerns today and Tuesday. Yesterday's front made today's weather tranquil, with high-pressure dominating the pattern. Clear skies today and tomorrow with temps approaching 70º today and 80º tomorrow.
Halloween Concerns
Winds increase Wednesday afternoon as a cold front pushing a significant amount of rain and wind energy closes in.
A windy, driving rain should approach Middle Tennessee right around trick-or-treat hours. Rain will begin to move in right in the early evening time-frame, possibly during peak trick or treat hours. However, the exact timing is still up in the air, and you may be able to get everything done before the skies open up. It may be smart to cover trick-or-treating on the early side Wednesday, rather than waiting until closer to 9 PM.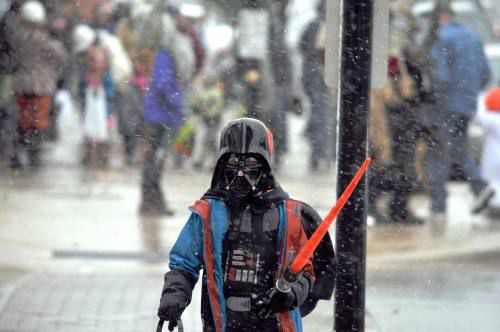 Editor's Note: Regional, higher resolution weather models covering Wednesday night arrive tonight, which will provide a look at rainfall arrival times on an hour by hour basis instead of in 3 or 6 hour chunks. I still have hope there will be a few hours of rain-free dusky/dark trick or treat time. It's going to be windy, and the rain will be close, so you'll want to keep an eye on it. No one will want to open their door to hand out candy if the wind is going to blow water inside. I'll be updating timing during the day and night on Twitter @NashSevereWx. We'll also be busy on radar Wednesday to provide info for Go/NoGo decision. Not on Twitter? This is for you.
HERE ARE THOSE UPDATES:
Here's 6 PM Wednesday night, first time the NAM3 weather model has come into range. Rain will move NW to SE through the night. Those in Joelton will have less trick or treat time than those in E Nashville. College Grove/Will Co get the most time. All *if* this model is right. pic.twitter.com/L7iOFFr97O

— NashSevereWx (@NashSevereWx) October 29, 2018
Updated (12z) run of Euro model encouraging for trick or treating; rain may hold off a few hours after dark Wednesday. ETAs remain iffy. As a general rule with this event, those in NW Nashville will have less trick-or-treat time, you'll have more time the further SE you go.

— NashSevereWx (@NashSevereWx) October 29, 2018
We may be able to squeeze this in.
Severe Weather? It is still in the equation for Wednesday night into Thursday. Here is a break down from NWS Nashville:
Models continue to show this Wednesday-Thursday system as being very dynamic. Forecast soundings still show a modest amount of instability and plenty of unidirectional shear for several strong storms to develop Wednesday evening, through the night and into the morning hours on Thursday… Severe weather not completely out of the question at this point.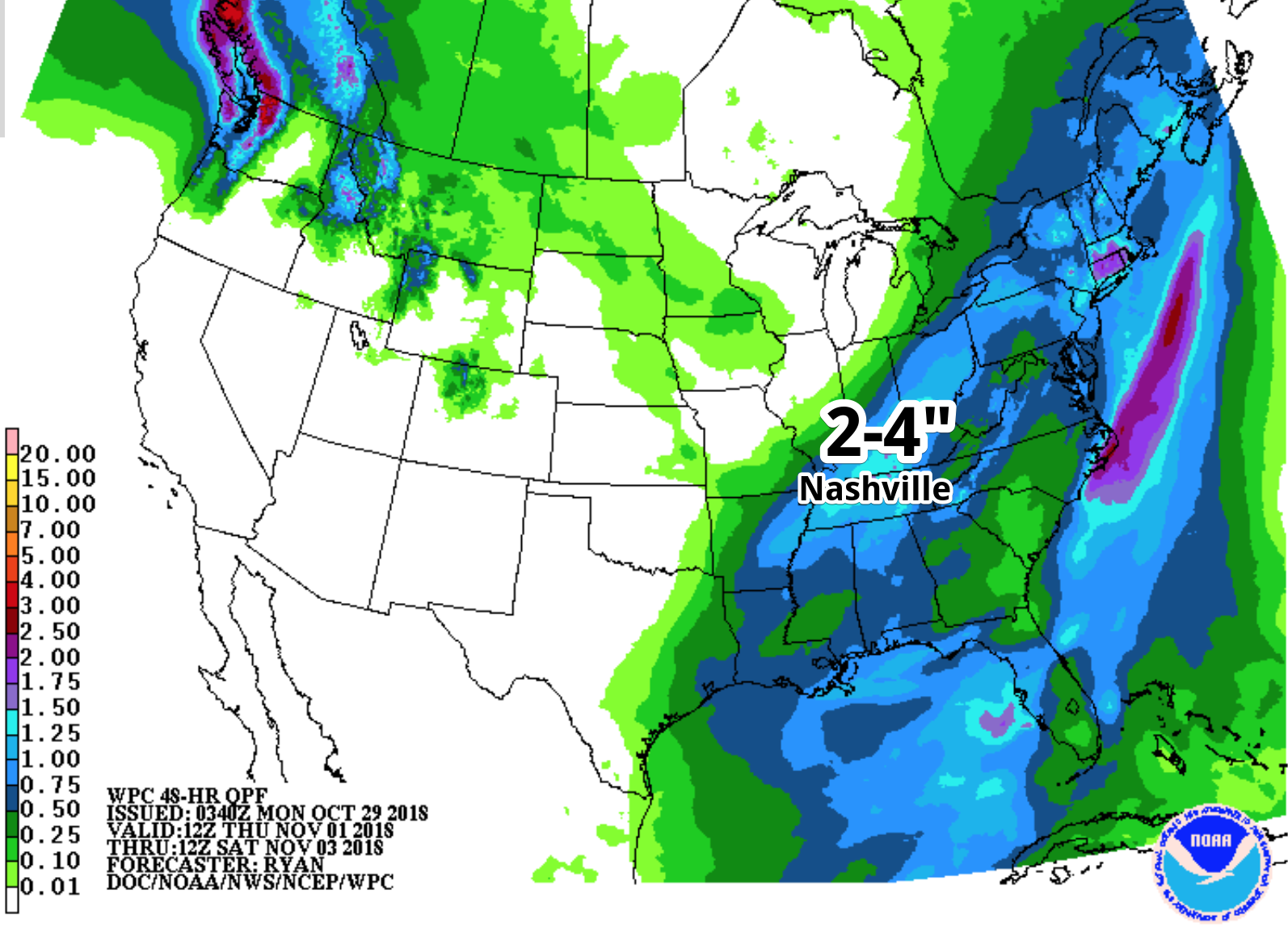 That said, the Storm Prediction Center has not outlooked us for anything bad Wednesday night. That's a good sign.
Flooding could also be a concern for Wednesday evening and Thursday morning. Models are continuing to show high precipitable water values, in fact, close to record values for the first of November. 2 to 4 inches of rainfall easily could be squeezed out of the atmosphere; we will be able to fine tune this value when the hi-res models run tonight with this event included.
This will be a nocturnal  event — worst of the weather coming while most sleep — so remain weather aware as we close in on this upcoming weather system.
Late Week
All rain will taper off Thursday morning and afternoon and should conclude Thursday evening. A tiny clipper system may give us a sprinkle or two Friday and Saturday, but nothing major or of concern; in fact, the models are trending drier and drier. Regardless, it will provide Middle Tennessee with cooler temperatures on Friday and Saturday morning. Morning lows will be near 40º.
---