Drying Out Tonight
It'll take most of the day to clear these clouds, seen below shortly after noon.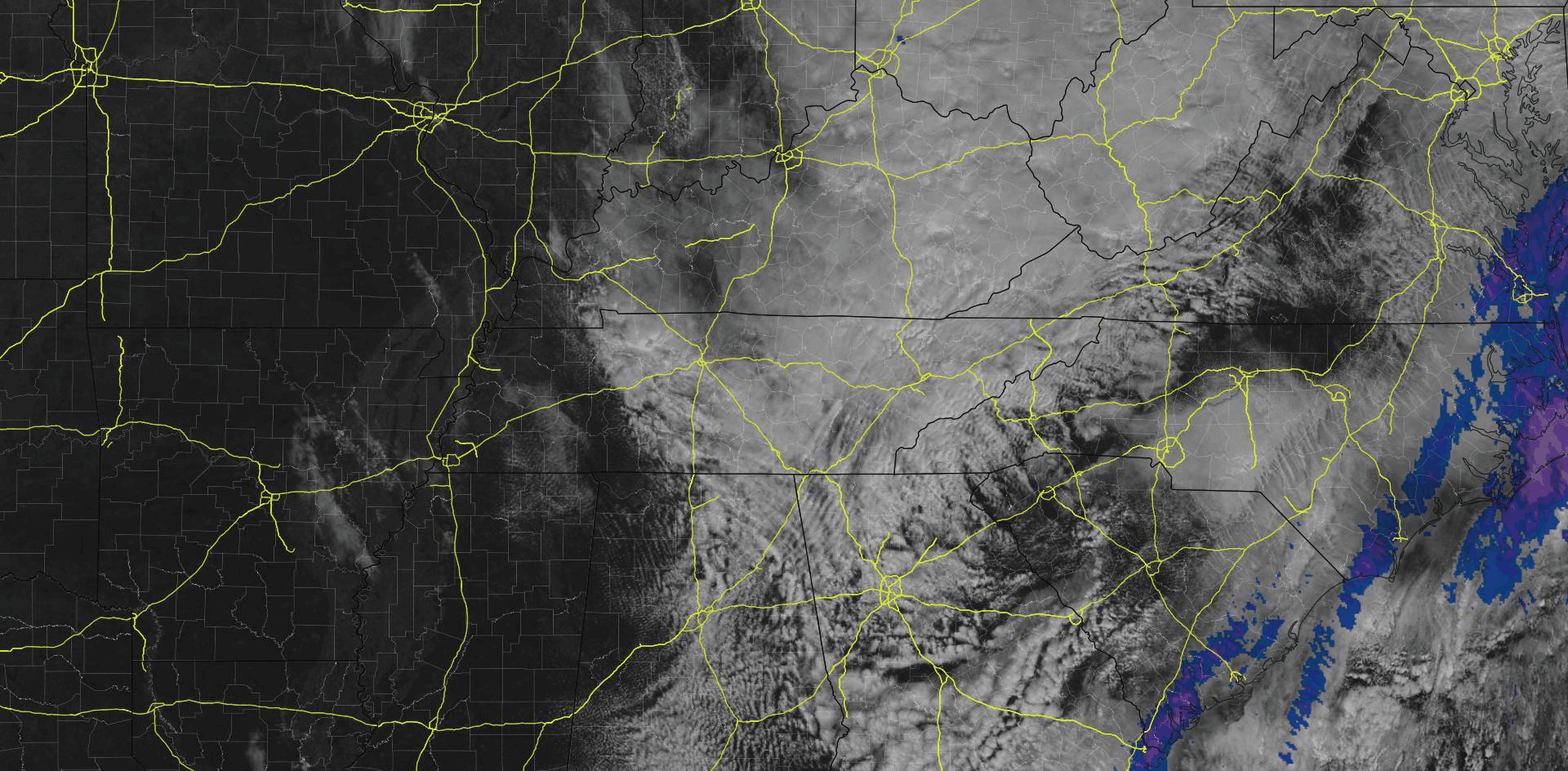 High temps in the upper 50s.
Afternoon & Evening Plans
If you plan to take part in the holiday festivities this evening, you're good to go! Temps will drop into the mid/upper 40s, with a calm out of the southwest.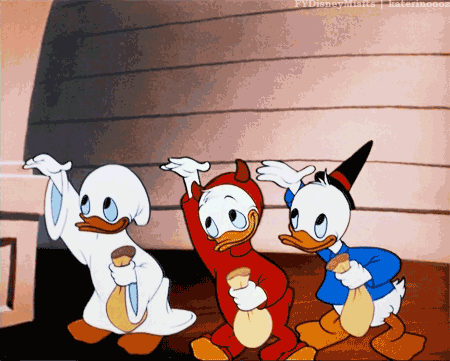 Sunday – Warmer & Windy
A weak cold front will push through tomorrow. Before it gets to us we'll have winds from the southwest, bringing warm air. Our high temps rise into the mid 70s.
Models agree we'll have a dry Sunday afternoon, with lingering mid-level moisture creating a sprinkle passing just NE of us: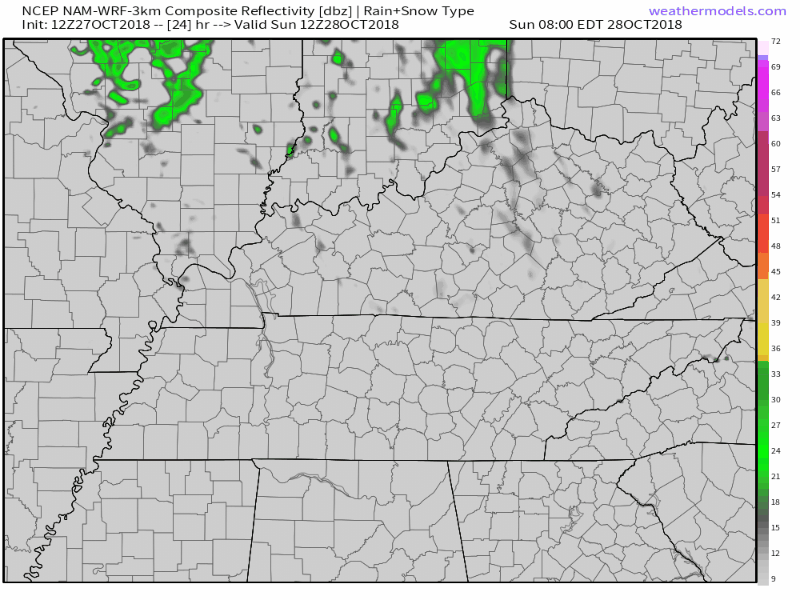 That's a little too close for our liking. We don't completely rule out rain but know it's not in our forecast.
As the cold front nears, winds speed up, blowing from the southwest at 10-20 mph, with some gusts upwards of 30 mph. Hold on to your hats!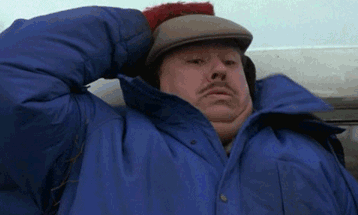 Monday and Tuesday: Dry
Dry, high pressure will control our weather on Monday and Tuesday. No rain both days.
Monday will be pleasant, clear, with temps in the mid 60s.
Tuesday will warm into the mid 70s.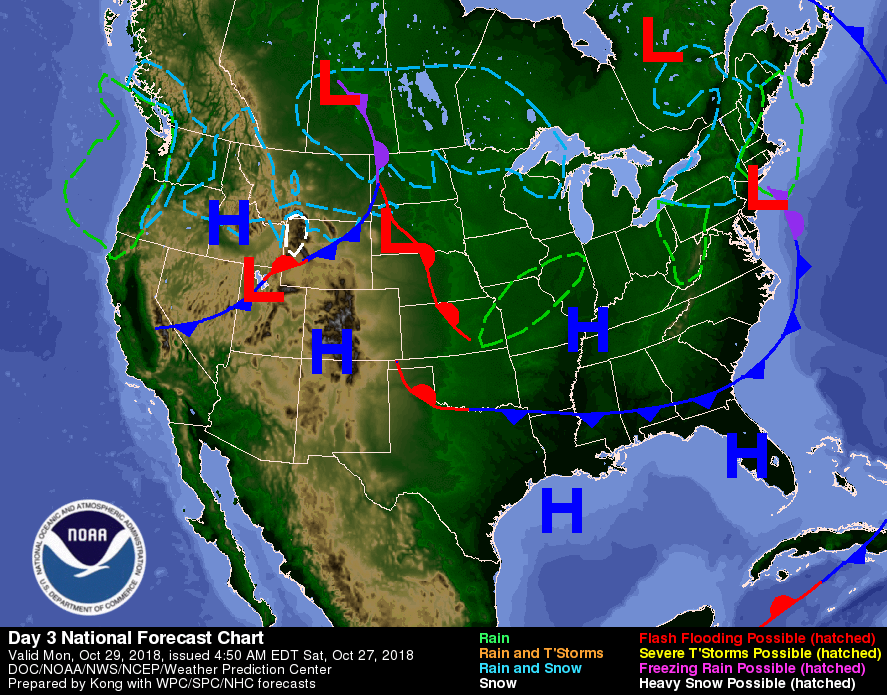 Trick or Treat – Looking Grim for the Little Ones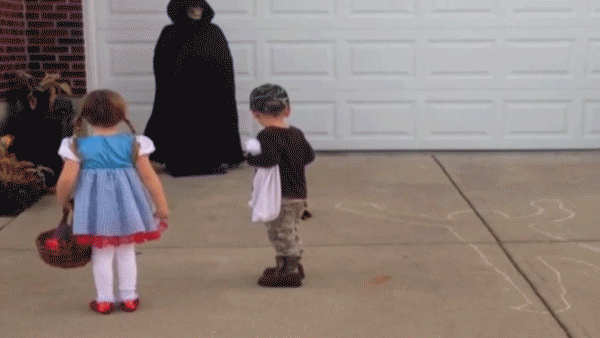 Looks like rain Wednesday evening. We're too far away to attach a reasonable degree of meteorological certainty* to that, but those in charge of festivities should pay close attention.

(*denotes editor's insertion, don't blame Marty for that phrase)
Models only vary slightly about the timing of rainfall on Halloween evening. The Euro thinks we could see rain begin as early as Wednesday afternoon with rainfall increasing into the evening, with Thursday sitting dry. The GFS thinks rain arrives a bit later than that, but still raining during free candy hours.
The Euro model has locked onto this rainy forecast for the last handful of runs. That's a bad sign.
The Data

This map of model-estimated rainfall takes us from Wednesday morning to Thursday morning.
From 7 AM Wednesday to 7 AM Thursday, we could see anywhere between 1.5 to 2.5″ of rainfall.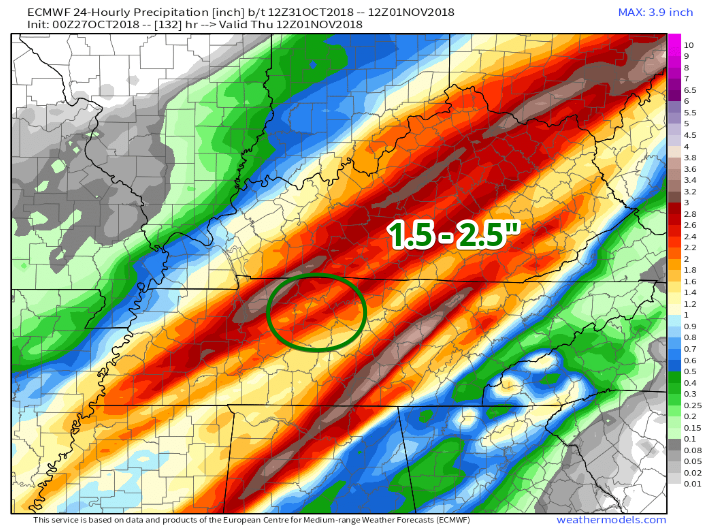 The Euro's temperature forecast map shows where the cold front is located and rain is falling. Wednesday at sundown you'll see your temps drop from mid 60°s to mid 50°s as the rain is falling.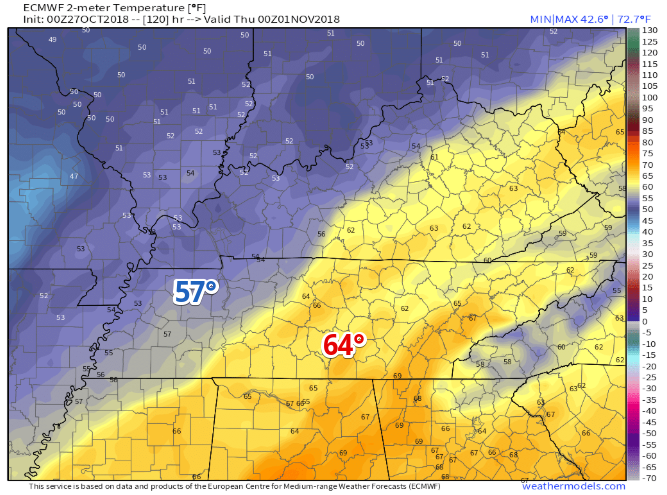 So Euro thinks colder rain Wednesday night. But 2.5″ total is probably an exaggeration, although even at 10% of that no one will want to be out in it.
Below is the GFS model's prediction during free candy hours, showing 0.4″ to 0.6″ of rain: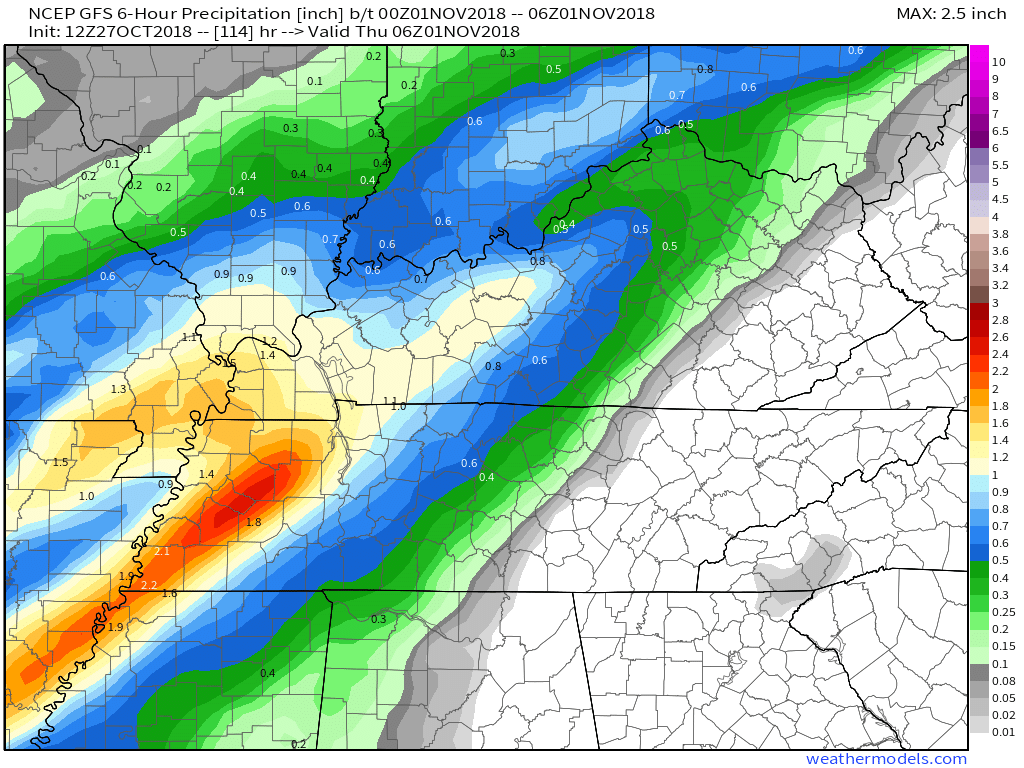 The NAM model is not yet in range. Regional models will be in range Sunday, giving a higher spatial and temporal resolution to this forecast. I'd wait until Monday before making any adjustments to festivities; next best option will be Tuesday night.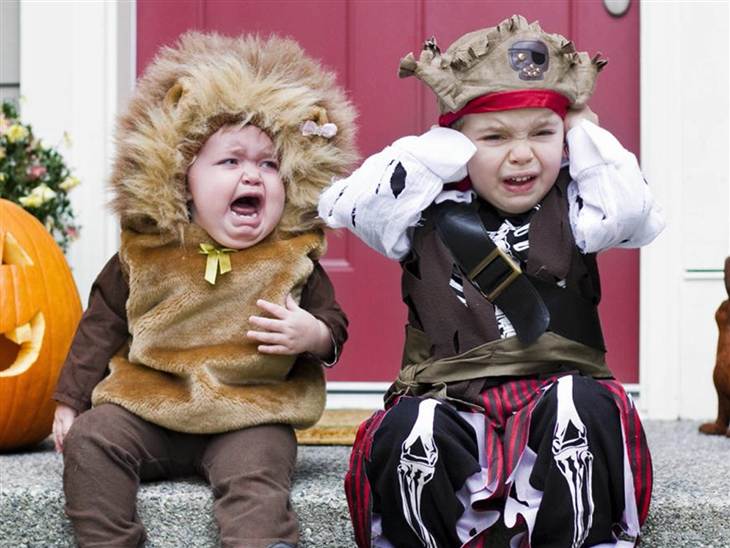 Click back here tomorrow or tune in on Twitter @NashSevereWx for updates to our Trick or Treat forecast!
---