This is the last day of our summer airmass. Goodbye muggy dewpoints (near 70°)! With clouds, our high temp will only hit 84°.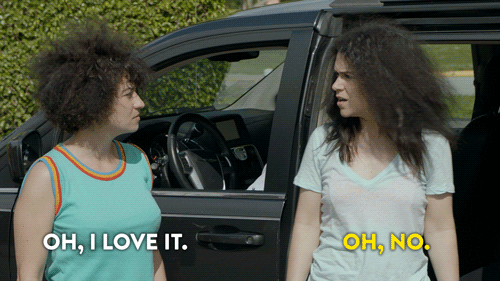 Here's the map at 6 AM. Notice all the warm air. But look to the left (west). That's a cold front and it's moving east.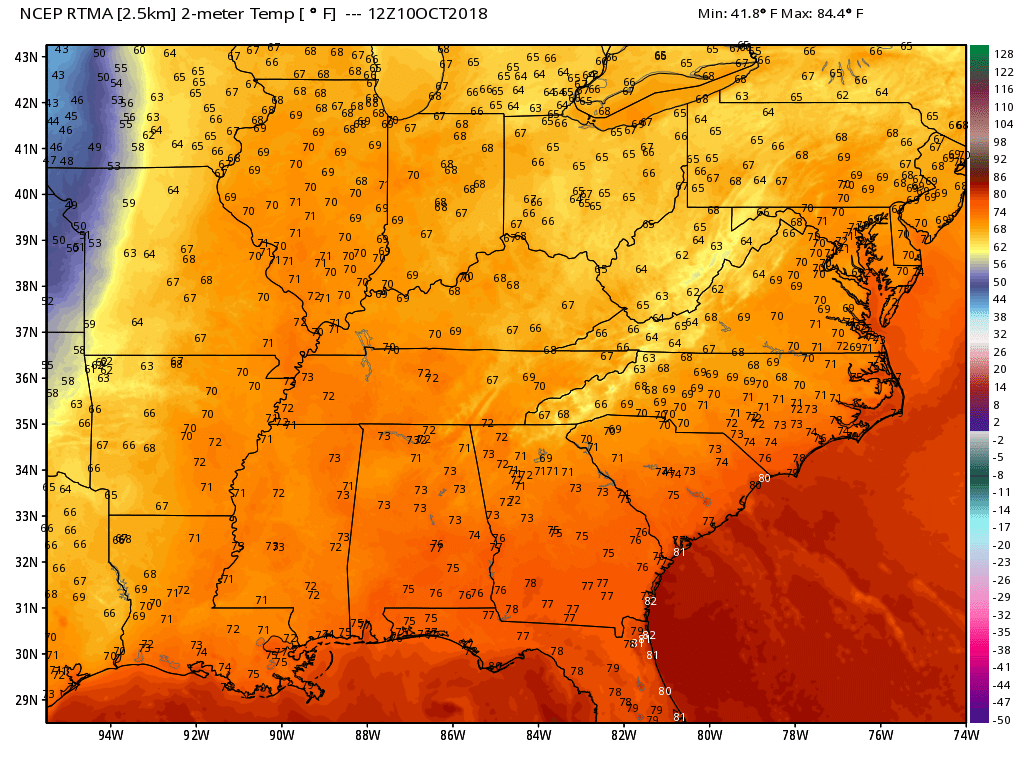 Cooler, drier air will be in West Tennessee by midnight.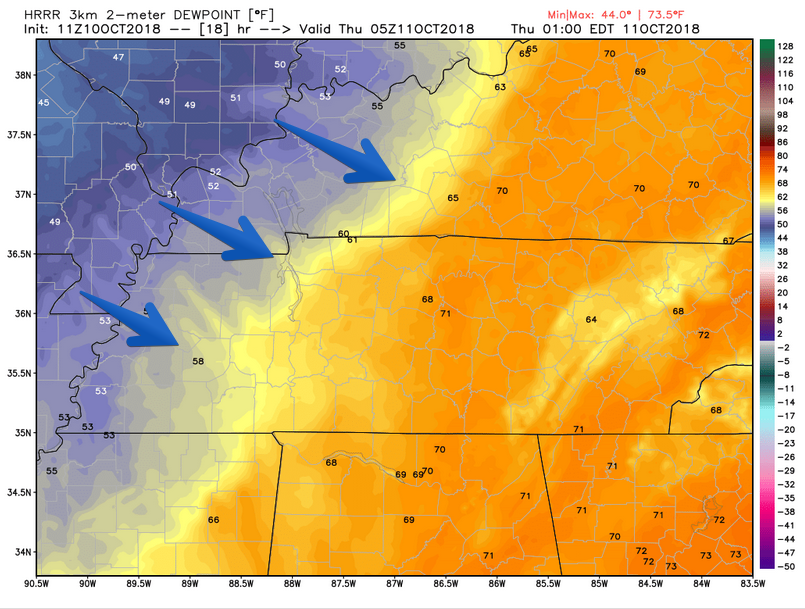 It'll arrive here a few hours after midnight.
Rain Today/Tonight
Rain will form ahead of the cold front. Rain chances increase this afternoon and especially tonight. I think it will rain some, but I'm not convinced.
To see why, check out the local and regional views of the HRRR model below.
Local: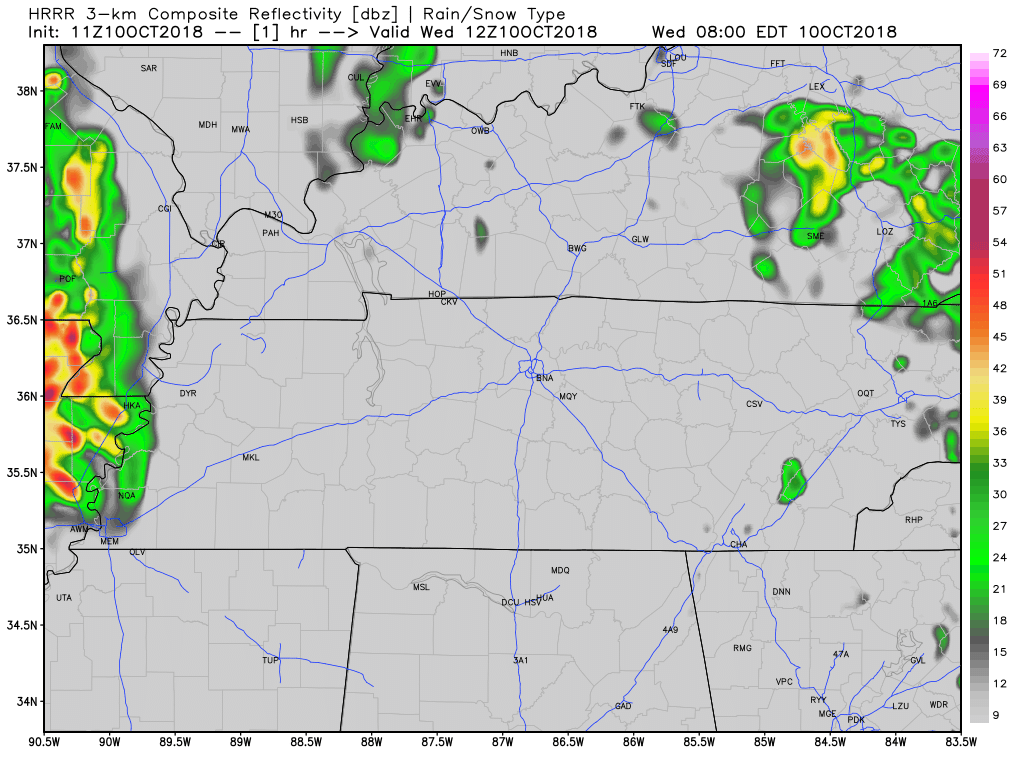 Regional: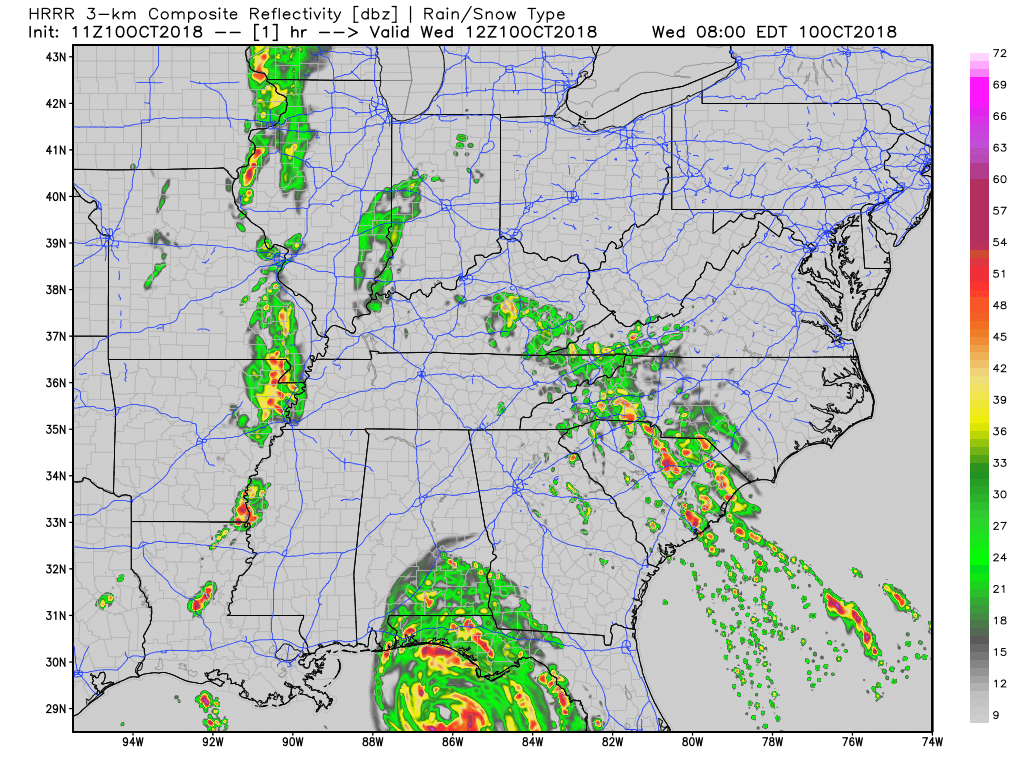 Hurricane Michael will landfall the Florida Panhandle early this afternoon. In Nashville and Will Co, notice how rain disappears right as the northern edge of Michael slides over the plateau to our east. I think the HRRR thinks sinking air associated with the periphery of the hurricane will suppress our rain chances and possibly leave many of us without rain at all tonight.
The NAM3 model disagrees. It has rain showing up early tonight and especially around midnight: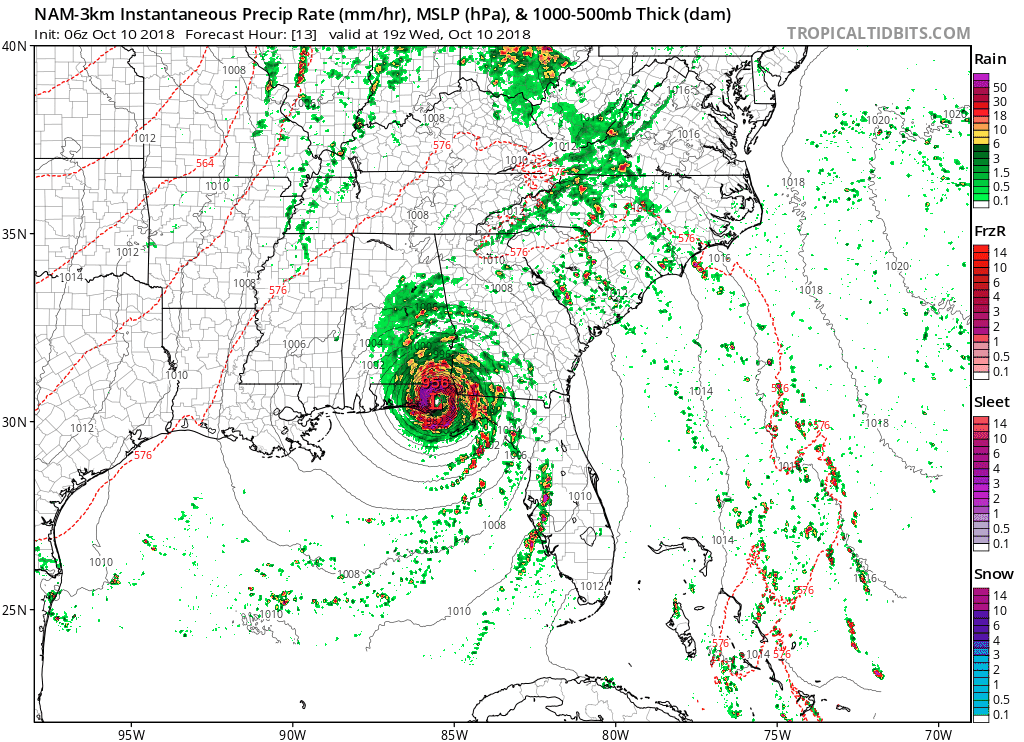 Thunderstorms are possible here, but nothing strong or severe is expected.
Rain chances end rapidly overnight. No rain expected after sunrise Thursday.
About Michael
Hurricane hazards come in threes: wind speeds, storm surge, and inland flooding. Cat 4 references only wind speeds; winds 145 MPH would be the worst recorded hurricane to strike the Florida panhandle. A 13 ft storm surge will be especially devastating on the NE side of the eye wall. Inland flooding 6″ to 10″ won't come close to the scale of Harvey or Florence, but flash flooding is still a threat.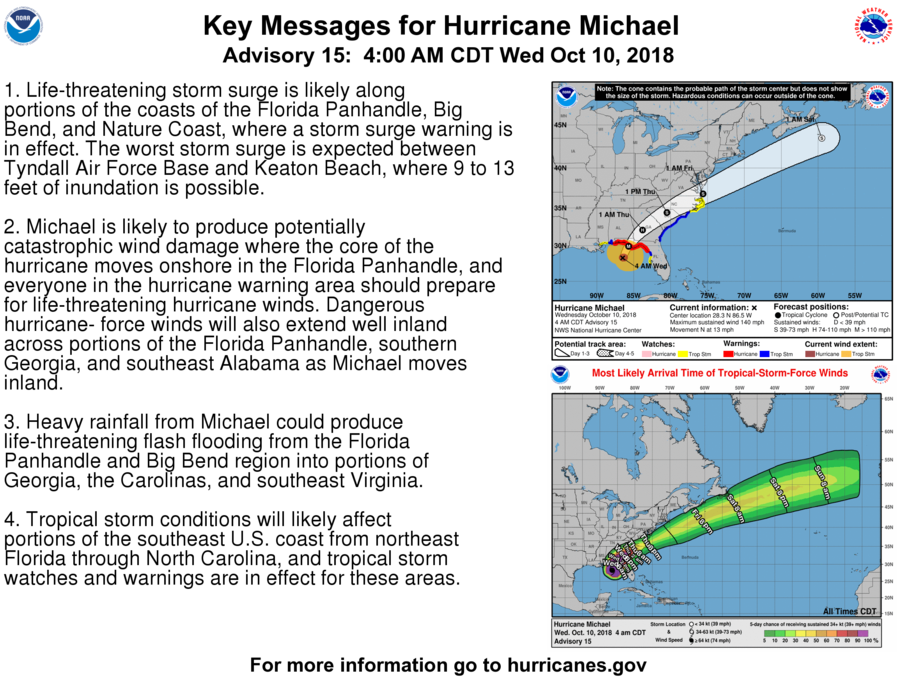 Personal note: Tom Johnstone was the Warning Coordination Meteorologist at NWS-Nashville when I started @NashSevereWx and #tSpotter. He made possible what you read here and on Twitter. Since then Tom was promoted to Meteorologist-in-Charge at NWS-Corpus Christi. Then Harvey happened. This summer he earned another promotion as Meteorologist-in-Charge at NWS-Tallahassee. Now this. For those looking for someone specific to pray for, he's your man.
We may only get Michael's sinking air or maybe some very light rain if it tracks a bit further west. No direct impacts to us.
Fall Arrives!
From NWS-Nashville:
Highs on Thursday will be only in the upper 60s to lower 70s. Turning even cooler by Friday as the surface high moves closer. Friday morning will carry lows in the lower 40s, highs Friday 60 to 65.
Dry weather until Sunday, when another cold front approaches bringing perhaps a few showers. After that front moves through, it'll reinforce the cold air. Then, middle of next week, another cold front and another reinforcing shot of cold air.

The Euro model has a low of 41° (!!!) Tuesday morning and again Thursday morning.
Find updates to this forecast today on Twitter @NashSevereWx.
---