Sunday
A few late afternoon/early evening rain and storms should develop in today's hot and humid airmass. Exactly where is unknown. The HRRR model (below) thinks we're among the rain/storm chosen in Middle Tennessee.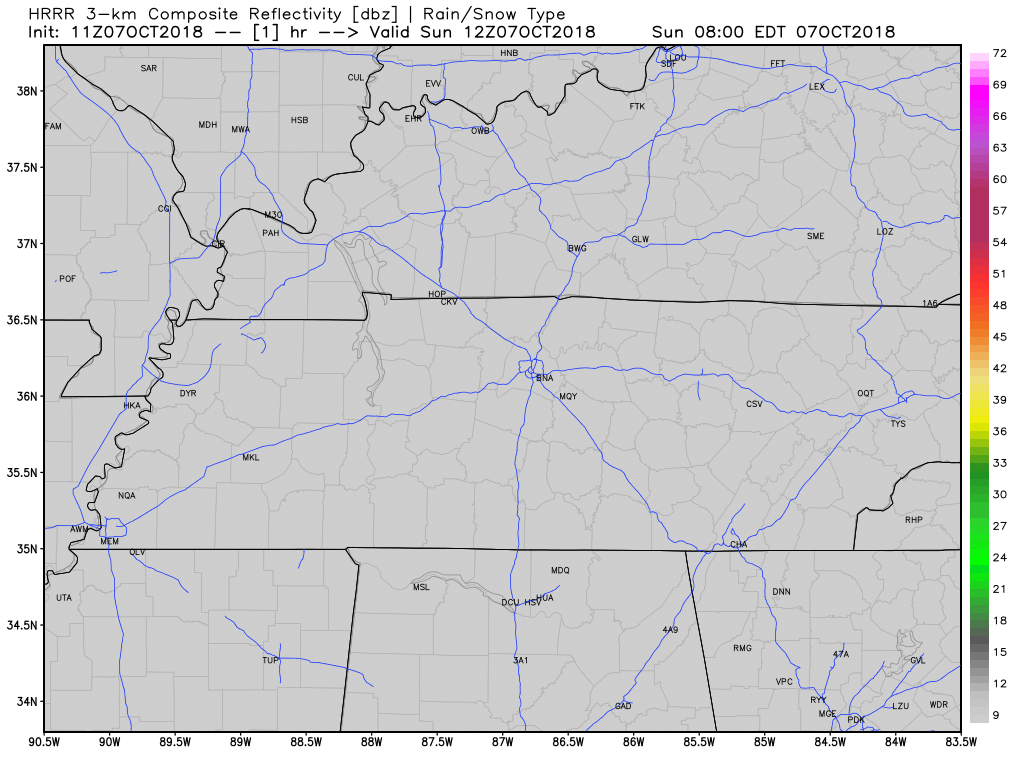 HRRR model may be wrong. Rain may totally miss us. NAM3 model has only a sprinkler running through Will Co. Rain passes to our southwest: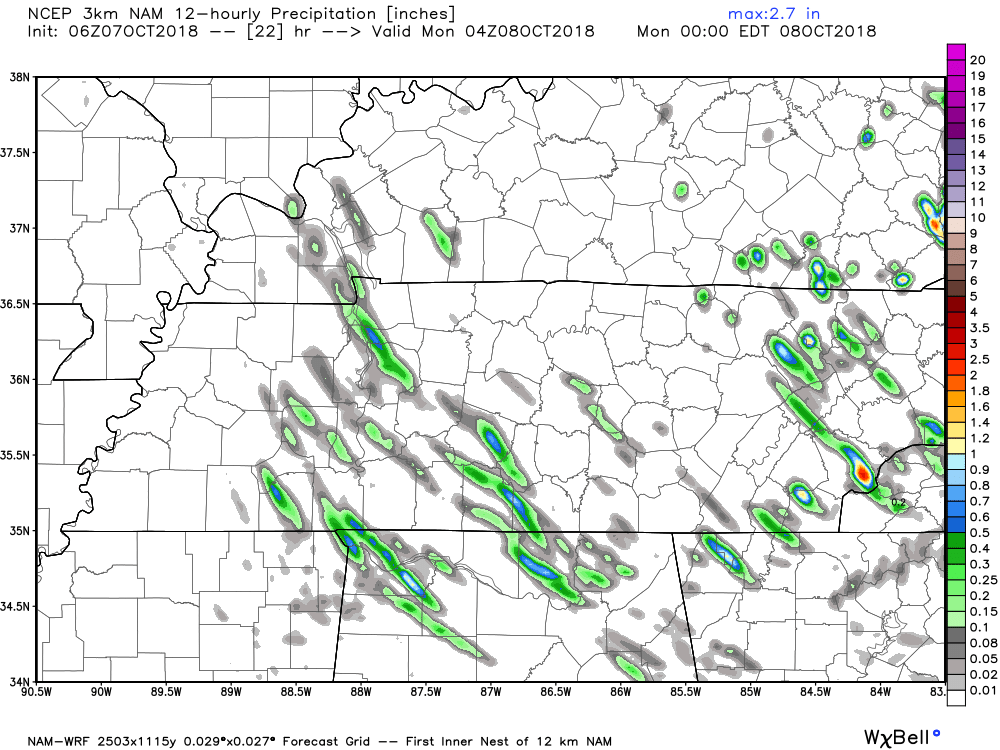 Showers should move from SE to NW, as if driving from Chattanooga to Clarksville along 24. If we get one it'll be brief and should not rain anything out. Nothing strong or severe expected. Lightning and briefly heavy rain the strongest punch.
No football-delaying weather awaits the Titans game in Buffalo, N.Y.
Hot here though. High 90°, dewpoint near 70°; this is really humid for summer. Average high for October 7 is 74°. Record is 93° in 1941.
Monday – Wednesday: Heat & Humidity, Then Rain and Storms
High humidity remains through Wednesday. Hot Monday (high 89°, afternoon random pop up rain/storms possible again), then clouds arrive Tuesday and Wednesday shading high temps to low/mid 80°s.
Rain and storms expected Wednesday, mostly Wednesday night, ahead of legit cold front.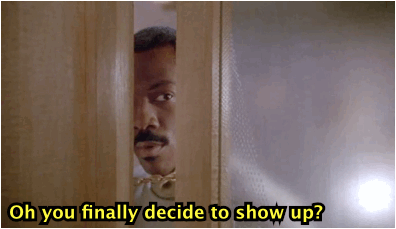 Scattered light rain expected Wednesday afternoon: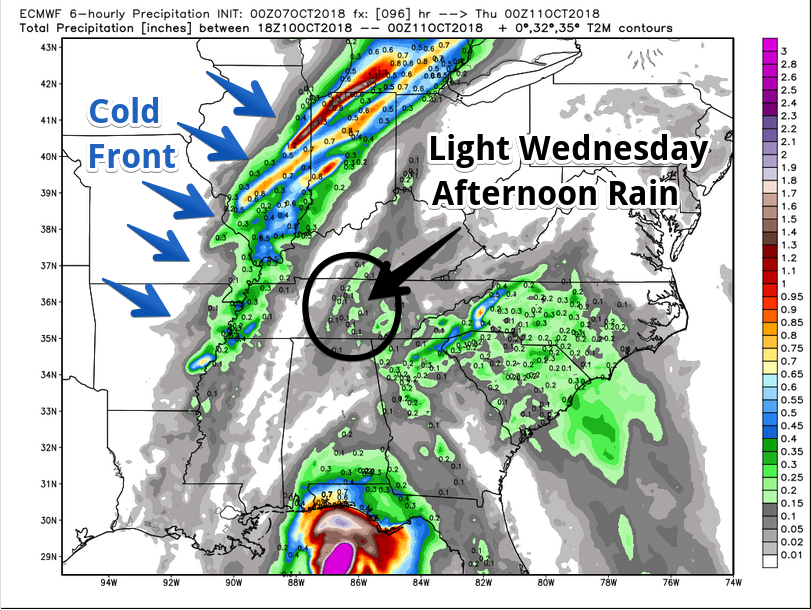 More rain Wednesday night as the cold front crashes through: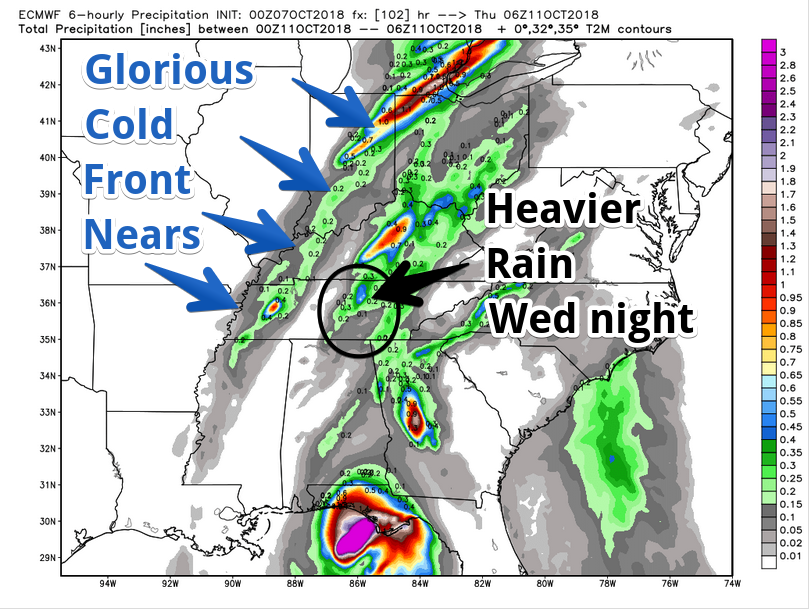 May squeeze in games/practices Wednesday night, but that's not looking good.
Bad Storms Wednesday Night? Probably Not.
Cold front crashing into unseasonably high humidity should mean very strong storms, right? Sometimes true!
Here, probably not.
Afternoon rain will have energy/instability but insufficient wind shear to cause problems. Evening storms will have wind shear but not instability/fuel because afternoon rain will use most of it up.
The Storm Prediction Center describes it so:
While organized [storms] may be noted along a well-defined front over the OH Valley Wednesday, buoyancy may be inadequate for meaningful severe.
Storms possible, but nothing bad expected. Stay tuned, forecast may change.
We Getting Rain from that Hurricane?
Unlikely.
A Gulf of Mexico hurricane should form Wednesday . . .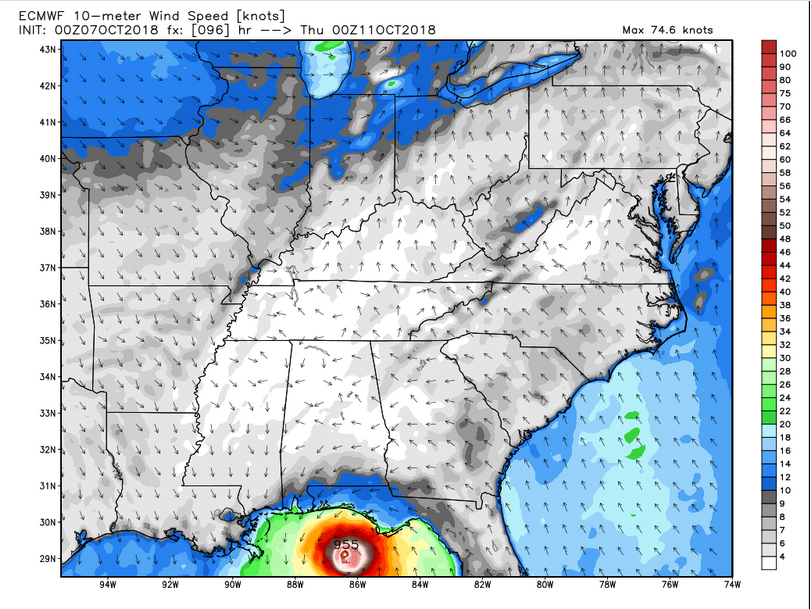 . . . without impacting our weather: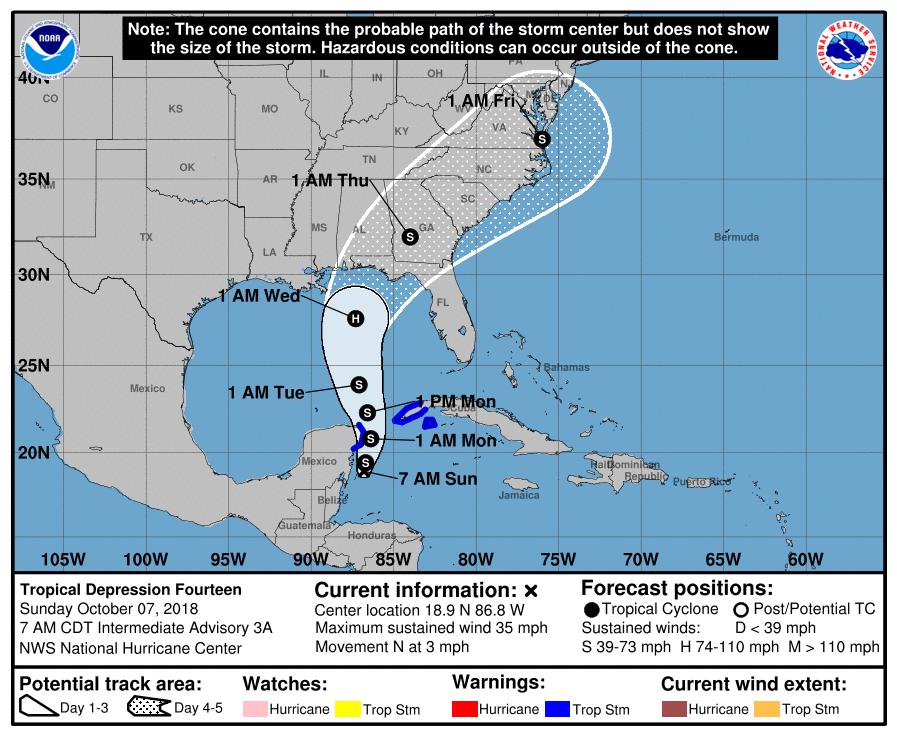 Thursday – Weekend SWEET RELIEF!
Wednesday night's cold front will work fast. Lingering rain possible Thursday morning/afternoon.
Meanwhile: Humidity, gone! Temps, seasonal! NWS-Nashville wrote this:
Highs are currently forecast to only reach the low 70s on Thursday and they may get even cooler than that as we head into next weekend and a broad upper troughing pattern remains in place for the last half of the work week.

Toward the end of the forecast [late next weekend, Monday the 15th, there] is some uncertainty about another frontal passage and if it will bring any precip for next weekend, but plenty of time to look at that in the coming days as models get a better handle on it.
You'll need a jacket to: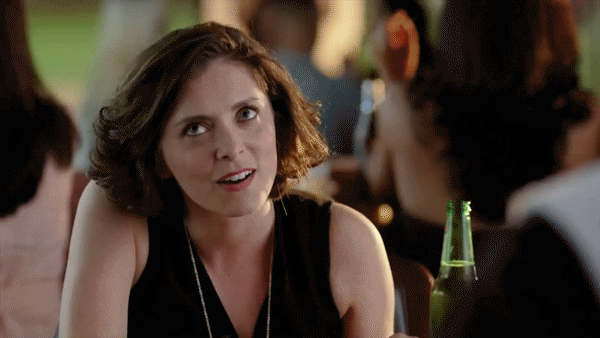 Stay clicked here and @NashSevereWx on Twitter for updates to the forecast!
---