Possible Record Heat
Yesterday we tied the record for the highest recorded temperature on October 5.
We tied the October 5 record high today, 92° set in 1954.

— NashSevereWx (@NashSevereWx) October 5, 2018
Due to no clouds and low rain chances, we could possibly tie or break a few records over the next few days.
NWS Nashville has the record high temps for the 6-8th for us:
Record highs at BNA:
10/6 93 1941
10/7 93 1941
10/8 91 1939
We'll be watching our high temps closely!
Rain Chances This Afternoon
Today's high temp could reach into the upper 90s. Couple that with dewpoints in the upper 60s,  today will be hot, sticky, and downright uncomfortable.
HRRR thinks we could see some rain showers in the mid afternoon. These rain showers will clear as the sun sets. Afternoon or evening plans: if you can handle the heat and humidity, you're good to go!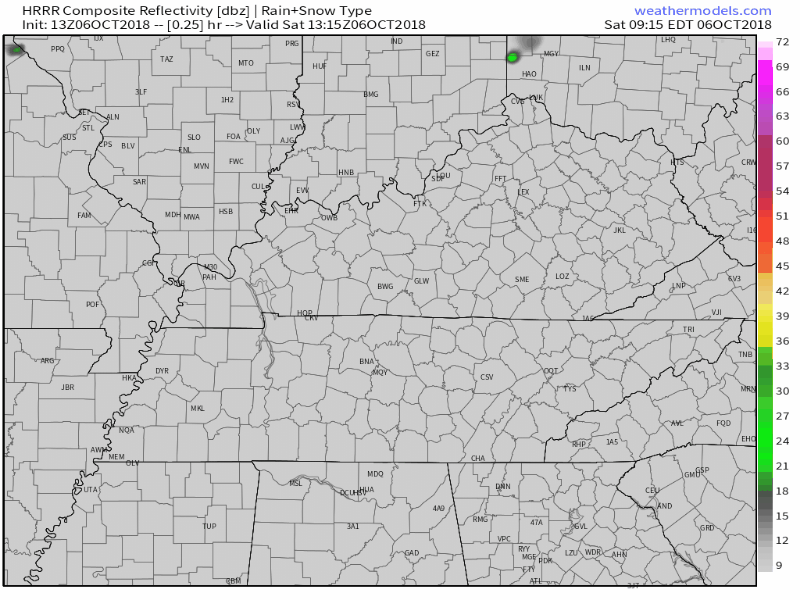 Sunday & Monday
We'll have the same story on Sunday and Monday. High pressure continues to spin just east of us, squashing most rain chances. Few, very isolated, showers in the afternoons, highs in the low 90s.
Relief Within Sight!
Beginning Tuesday, clouds will return to our skies ahead of a cold front. Rain chances increase for late-day Wednesday, we could see a few thunderstorms.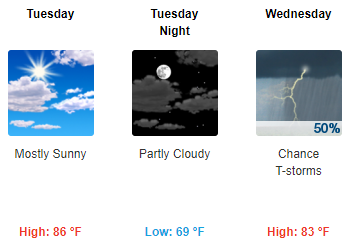 As for now, we have a few uncertainties about the cold front. Models are unsure of timing, and we don't know how the excess Gulf moisture could interact with it. We aren't expecting a severe potential or for this to be a huge rainmaker, but the forecast could change.
Stay clicked here and @NashSevereWx on Twitter for updates to the forecast!
---